5 Hospital Appropriate Gifts for the New Mama
Jump to Section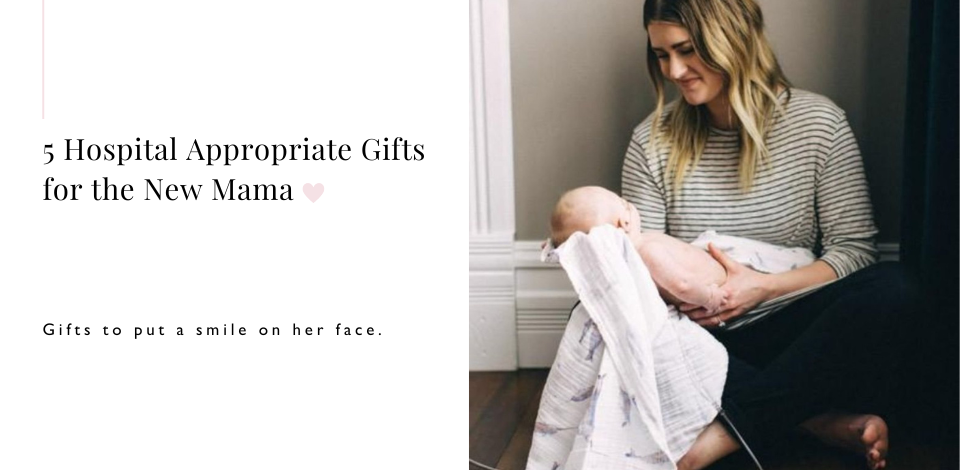 The sweet little bundle of joy is HERE!
You've supported the mama-to-be through every stage of her pregnancy and now the journey really begins. If you've been invited up to the hospital to meet the new addition (keyword 'invited'), it's always sweet to bring a small token along to welcome the baby and express your congratulations. Flowers, balloon bouquets, and home-cooked meals are classic and kind gestures that are ALWAYS well received, but we suggest saving those for baby's first few weeks at HOME. 
There is nothing more inconvenient for new parents than having to cram awkward offerings into the backseat with baby for their first car ride home. But that doesn't mean you have to show up empty-handed! From sweet and sentimental to uber practical—we've got you covered with a list of hospital-appropriate gifts to bring to the new mama and her sweet little bundle of J-O-Y!


 AN EYE MASK FOR MAMA
It's always nice to feel at home – even when you aren't. Up the cozy a few notches by presenting the new mama with something just for her, a useful eye mask!

Hospitals have a reputation for being cold and sterile (we see you, fluorescent lights) so why not bring the comforts of home and the serenity of a spa to the hospital?

If she's been instructed to stay at the hospital a few nights longer than expected she will certainly appreciate this gesture. Plus, "Sleep when baby sleeps" is a common piece of advice for new moms but napping in the daylight is tough! An eye mask will equip the new mama with the tools she needs to sleep like a baby long after she's been discharged. With options like blackout, silk and satin, monogrammed, or cooling gel inserts — you really can't go wrong.


 A SENTIMENTAL SWADDLE
Blue and pink striped hospital blankets may be iconic (they've been a staple in hospitals since the 1950's) but they literally go through the wringer and are often cleaned using bleach and harsh chemicals. Consider bringing the new little one a sentimental soft swaddle blanket that can be used right away. From mountain tops to marble — stripes, sailboats, and sloths — we LITERALLY got you covered in the design department.

Has this pregnancy been years in the making?
Welcome a rainbow baby with a "Dream Come True" Milestone Blanket that speaks to their journey earth-side.

Did the parents keep the gender a surprise?
Now is the perfect opportunity to present them with something gender specific like summer poppy for a precious baby girl or a food truck for a boy.

Can one ever have enough soft and adorable swaddle blankets on hand? We think not.


A KEEPSAKE PIGGY-BANK

It's never too early to start saving for baby's education! Consider gifting the new addition with a keepsake piggy bank a gesture that says, "I'll be supporting you for years to come."

We love the "piggy" banks from Pearhead — they make the perfect delicate keepsake. Grandpa will love dropping all his loose coins into baby's first piggybank— it's a win-win.
CHA-CHING! $$


AN ADORABLE BABY NIGHTIE
Everyone loves to purchase itty-bitty-baby clothes for the new addition. We agree that baby bowties and miniature frilly dresses are adorable but you might want to opt for something cute AND practical for the newborn stage.

Did you know that newborns have 6 or more diaper changes a day? Make it easier for the new parents with a cute open-ended gown that will make those first few weeks of diaper changes easier.
You can't put a price on convenience!

We love the cute styles from Juddlies,  plus they are  Canadian-made.
HERBAL PERINEAL SPRAY
This may not be the handpicked lovey-dovey keepsake that you imagined presenting your BFF but believe us the sentiment is certainly here!

The new mom might feel a touch overwhelmed post-delivery so she will appreciate that a friend has anticipated her needs. This product WORKS and is something the new mama will certainly use. It's called New Mama spray for a reason. She will thank you for it later, promise.
MAMA APPROVED

FINAL THOUGHTS
Regardless of what you choose to bring as a gift, remember to keep your first few visits SHORT. The new little family needs time to bond, adjust, heal, and SLEEP – so a quick 15-minute visit is ideal.

What do you think of our suggestions above? Are these gifts YOU would have been grateful to receive?

If the traditionalist in you insists on welcoming the baby with blooms to brighten up their hospital room be sure to do your research first. Some hospitals don't allow certain flower varieties because of pollen and other allergens.

Now you are set for your first visit with baby. Don't forget the room number!
---