What to Pack in Your Hospital Bag
Jump to Section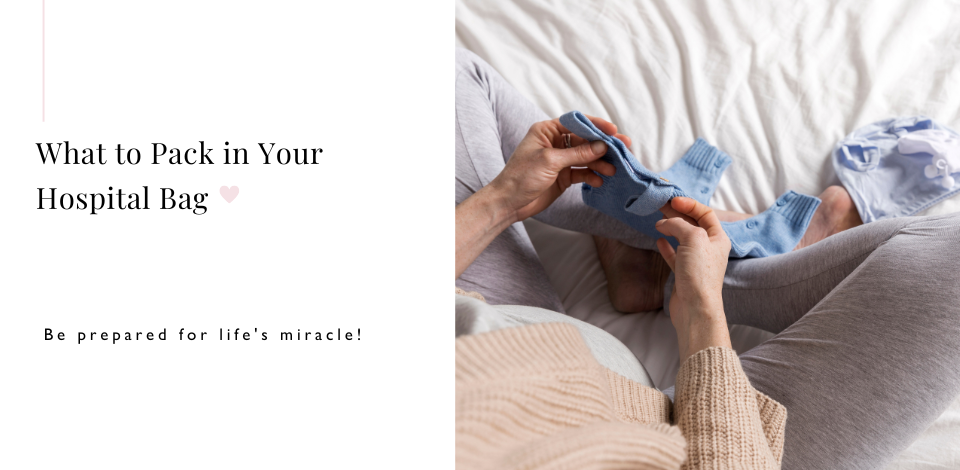 We recommend getting that bag packed by 36 weeks just in case of any early surprises so that you will be all set for when the baby is ready to make their grand entrance.
So, what do you need to pack?

Today we are sharing our top suggestions and favourite brands to help inspire you as you begin putting yours together.


A MULTI-PURPOSE BAG
Let's start at the very beginning (a very good place to start), because you'll actually need something to put everything in! We have lots of bags to choose from.

Whether you're looking for a diaper bag, or something even bigger to get you to the hospital with all your must-haves, our wide selection of bags are sure to please and are large enough to fit everything for mom and baby, and versatile enough to that you'll want to keep using it for years to come. Going on a babymoon? A nice big bag allows you to get some use out of it even before baby comes.


BREAST PUMP + NURSING PILLOW
We know that there is nothing better than fresh baby snuggles, but you'd be surprised how quickly a little 7 or 8-pound babe can weigh down on your arm! Stay supported with a nursing pillow as you learn to take on the journey that is breastfeeding. A nursing pillow helps to keep baby up nice and high – and it saves your back especially while you are learning all about proper latch and positioning.

Now, why bring your breast pump with you? For many different reasons, you may be separated from your wee one for a period of time after birth. This is why we suggest bringing along your breast pump, so you can keep the milk supply pumping (pun intended) for a time until you are reunited with your little babe. Not just that, but having a pump on hand can help to establish your milk flow in those early days – even if baby is suckling just fine at the breast. We love the Medela Freestyle Handsfree Double Electric Breast Pump for its compact design and USB-chargeable battery, so you can take it anywhere but there are many other options to choose from.

Want to get educated on all things breastfeeding before baby comes? Check out our Podcast, 40 Weeks to Forever – in "Episode 2: Is Breastfeeding Supposed to Suck?", where we dispel myths and share some tips and tricks for getting started.
THE BIG STUFF
TOILETRY BAG OF POSTPARTUM ESSENTIALS
You never can predict how long you may need to stay in the hospital after birth, so we suggest being prepared with items for both labour and after delivery to keep you feeling fresh. Put it all together in a fabulous On The Go Pouch like the ones from Pehr Designs!

Think about all the regular items you would pack for overnight – plus some great products that are specifically designed for postpartum use. We love everything from Earth Mama and the FridaMom line — all of their items were thoughtfully created with you in mind.
Deodorant (self-explanatory)
Peri bottle like this one we love from Frida Mom
Soothing perineal spray
Lip balm
Nipple cream (trust us on this one!)
Breast pads (our selection of disposable or washable nursing pads can be found here)
Maxi pads
Toothbrush and toothpaste
Cleansing body wipes or gentle soap (because pushing out a whole human can make ya sweaty!)
LITTLE NECESSITIES
COMFY COZY CLOTHING
As a parent, you learn to be over-prepared – and the same goes for your hospital bag. We recommend making sure you have some comfortable extra items on hand, such as:
Postpartum underwear (like these disposables that we love from Frida Mom, or their C-Section specific undies) take it from us – this is so much easier and more convenient in the first week or so as you body is healing.
Nursing bras because your melons are about to get even bigger than you thought possible
Nursing tank or maternity shirt (be cute, comfortable and still feel covered in this Classic Nursing Cami from Bravado Designs)
PJ's, a comfy robe, and slippers
Flip Flops (you'll want these in the hospital shower)
An outfit to go home in, you'll want something comfortable and loose to wear after you're released from the hospital (you'll still have your belly, so plan to wear maternity clothes home)
…And don't forget a scrunchie for your first official "mom bun"
COMFORT IS KEY
WATER BOTTLE + SNACKS
It goes without saying, bringing a baby into the world is hard work, and you'll want to stay hydrated during your hospital stay, and reward yourself with your favourite snack when the tough stuff is out of the way. A water bottle with a straw is ideal!


ELECTRONICS + CHARGERS
Trust us, there will be LOTS of pictures, videos, and FaceTime calls happening, so you'll want to make sure you pack you electronics and chargers to stay connected with the ones you love in order to share the wonderful news of baby's arrival. We know you'll want to just stare at baby all day – but nothing wrong with bringing your iPad for a little Netflix binge. Grab another convenient pouch for all of these cords, or dedicate a pocket in your bag to act as their home so that your partner can easily grab them for you when required.


FOR BABY
DON'T FORGET
Your birth plan (if you have one) - Having extra copies will prevent you from panicking if someone new becomes involved in your birth
Eye mask and earplugs – it can be hard to get some much-deserved rest post-birth or in the downtimes of labour when you're in a busy maternity ward.
If you have a favourite pillow at home, don't be afraid to bring it with you. You deserve to be as comfortable as you can be!


FINAL THOUGHTS
Most importantly, enjoy the experience!
Once it's over, your whole world is going to be completely changed. Your heart now lives outside your body. Good luck mamas and support systems. Snuggle Bugz is rooting for you.
For more to help you navigate through delivery and the 4th trimester, check out our Related Content below!
---