5 Ways to Aid Your Teething Baby
Jump to Section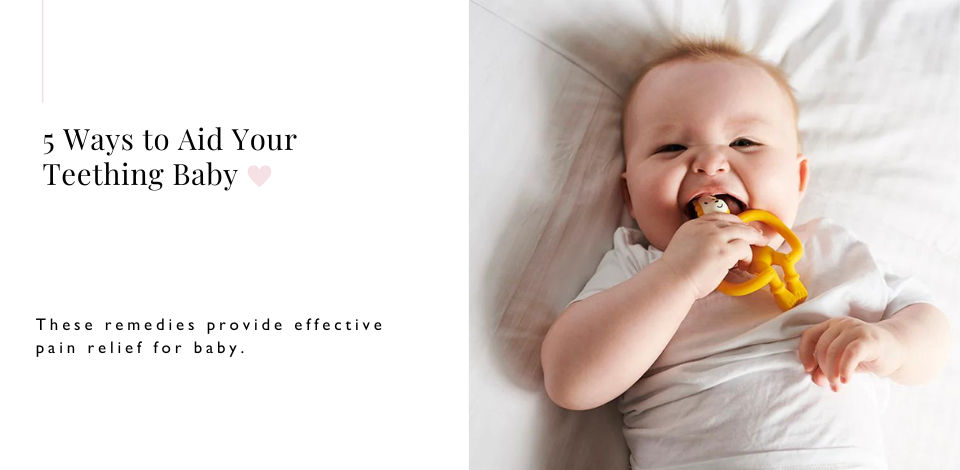 Is your little one showing signs of teething?


There is really no predicting when baby will cut their first tooth, but one thing is for sure it's horrible to see your sweet baby in pain.

If only the Tooth Fairy could wave her magic wand over baby to provide some relief! Unfortunately, the Tooth Fairy won't be making her appearance in your home until baby begins losing their chompers [WOMP WOMP] so allow us to help equip you with a few remedies that we think might just provide that magic touch!

Read on for 5 ways to aid your teething baby.

1. EMBRACE THE ZOO
From
Sophie Le Giraffe
to
Matchstick Monkey,

 
these
teething toys
are a game-changer and for good reason, they work!
Sophie the Giraffe is very flexible and has lots of parts for baby to chew (ears, horns, legs). She is perfect for soothing baby's sore gums when teething and is completely safe. Made of 100% natural rubber and food paint.
Matchstick Monkey is ergonomically designed for the effective pain relief of teething. This fun, soft-textured teether has toothbrush bumps that are soft & kind to your baby's gums.
It doesn't stop there! 
Teethers
come in a variety of textures and fun shapes — some might even inspire dinner. Some fun options include a bunch of kale, avo, burgers, tacos, and even a doughnut-shaped one for dessert. 
Check, please!

2. LET THEM CHEW
If you haven't already discovered this, little ones love to explore using their mouths!
Have you noticed baby sucking on a
washcloth

 
during bath time? It's because it feels so good on those sore gums.
Kick the relief up a notch by soaking a soft and clean washcloth in cold water and then putting it in the fridge to chill.
The soft fabric massages and the cold temperature soothes sore gums.
Baby washcloths disappear just like baby socks — so be sure to stock up on both. 
3. LEND THEM A HAND
You know those days when you wish you had an extra pair of hands? Well, this is about as close as you are going to get — enter the
Munch Mitt!
One of the greatest features of the Munch Mitt is that it comes with a secure adjustable strap. Your child will love the sensation of pressure on their sore gums and the Munch Mitt allows them to provide their own relief— keeping your hands free for other things.
No need to worry about baby dropping [or throwing] their teething toy — which is why we think the "M" stands for magical!
It is made with BPA and Phthalate-free, food-grade silicone.
The cherry on top? It makes a crinkly noise that will help keep baby entertained.
Munch on, little one!
4. ICE ICE BABY
If your baby has started solids then this trick might be a helpful one. Frozen food to the rescue!
No, we are not suggesting you feed baby a microwavable frozen dinner. Your stash of ripe, frozen, bananas aren't just for smoothies and baking anymore. When filled with frozen banana, the
Haakaa Fresh Food Feeders
is the perfect tool to help sooth your little one's gums. 
Cool. Tasty. Relief. 
But don't just stop there! Frozen mango or even frozen breast milk [known in your mom group as a boob-cicle] will distract baby from the pain.
No frozen fruit on hand?
Desperate for a last resort while you chill your child's favourite teether or washcloth?
Here is the ultimate mom hack for you. 
Try digging to the bottom of your freezer for that package of frozen waffles. You know, the ones that you purchased during your third trimester when cravings were at an all-time high? Don't knock it till you try it! 
5. PICK ME UP, BUTTERCUP
Teething is hard work and sometime those hot little red cheeks just want to stay close to mama.
This is when your carrier of choice comes into play!
Grab your
wrap
,
sling
, or
ERGObaby Cool Mesh 360
carrier — a hands-free way to also keep close to baby during their time of need. Aren't you glad you opted for features like breathable material and ventilation that will help to keep both of you cool? You're welcome. Babywearing will allow you to carry on with those tasks that just won't wait for those adorable little chicklets to come in. Babywearing for the win!
---