Top Compact High Chairs of 2023
Jump to Section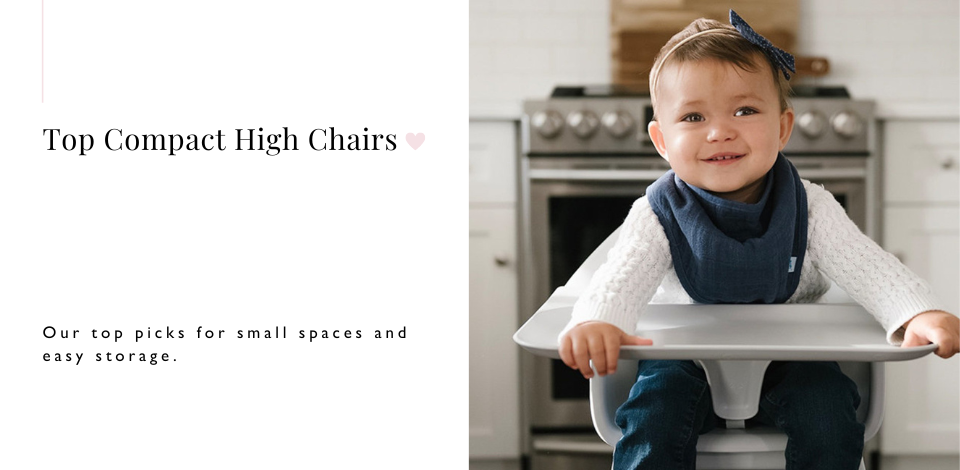 Let's just be honest, for being such tiny little humans, babies sure can require a lot of things! But if we're being honest again, we don't necessarily always want everything out and about, and that goes for
high chairs
too.
So, whether you live in a smaller space, travel frequently, or just want to tuck things away for your first fancy dinner party post-bebe, we're rounding up our top picks for compact high chairs.
So pull up a chair as we dive in!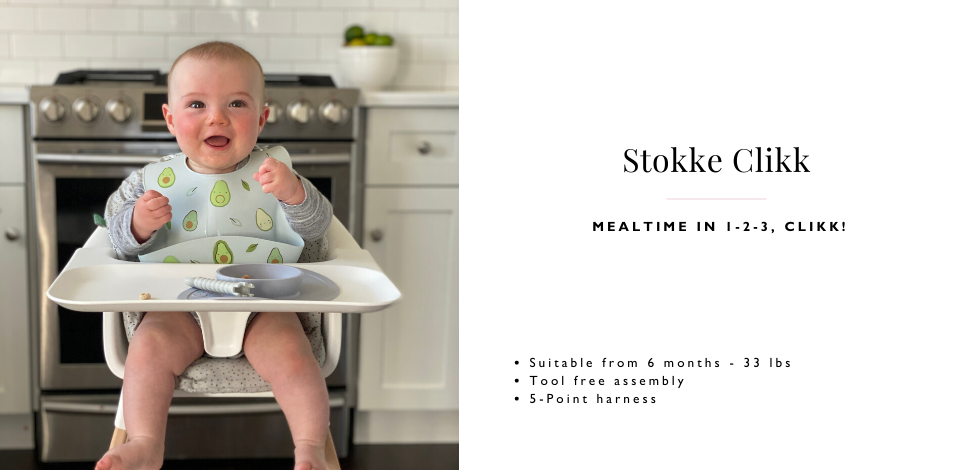 STOKKE CLIKK
Weight: 8.3 lbs.
Weight limit: 33 lbs.
Let's kick things off with our lightest and most compact option, the
Stokke Clikk High Chair
.
There's a reason this chair was awarded the "Red Dot Award" for design and innovation! The simple assembly of this high chair means it's easy to tear down and tuck away. You're just a few clicks away from putting it together for a meal or taking it apart to carry on your next adventure with baby for family dinner at Grandma's house.
The travel bag option is the cherry on top as you can easily take it with you or store it away once your little one outgrows it. It's small but mighty as it can hold 8 pounds and can comfortably seat your little one up to 33 pounds. And with it's cute, sleek design [including a footrest for your little + a 5-point harness] we know you'll love the
Stokke Clikk
as much as we do! Oh, and did we mention it's available in literally every colour under the rainbow?
Read our full review of the
Stokke Clikk
,
HERE
.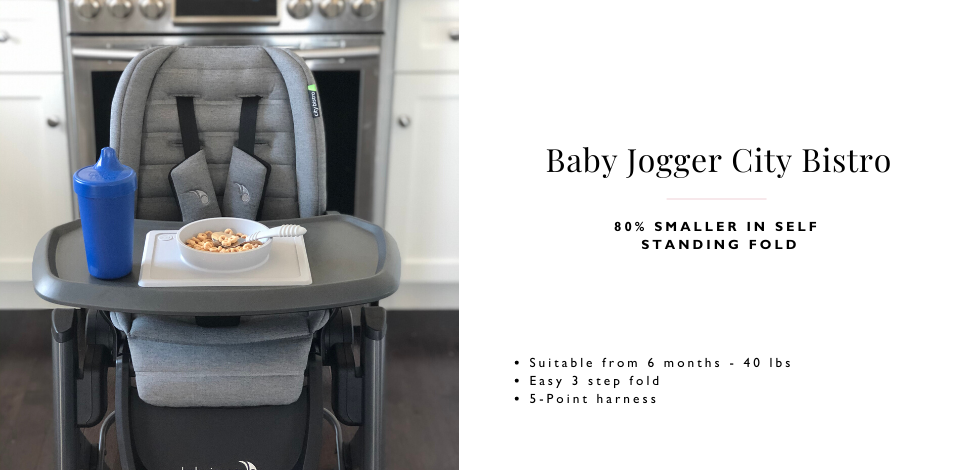 BABY JOGGER CITY BISTRO
Weight: 15.4 lbs.
Weight limit: 40 lbs.
Next up, the
City Bistro High Chair
from
Baby Jogger
.
This chair becomes almost 80% smaller when it's folded than when it's in use, making it a no-brainer for saving space! It's spacious when it's in full swing, but sleek and slim when compacted for storage.
Weighing in at just over 15 pounds, it can hold baby until they're not quite a baby anymore - up to 40 pounds. Add in the other features we love with this chair, like the machine-washable fabric and adjustable height, and it makes this chair an excellent space saving choice.
Read our full review of the
Bistro
,
HERE
.
MAXI-COSI MINLA
Weight: 25.3 lbs.
Weight limit: 50 lbs.
Last, but not least, the
Minla High Chair
from
Maxi-Cosi
.
While this chair is the heaviest option in our round-up, weighing in at 25 pounds, it can also hold the most weight, up to 50 pounds. It's also what we would refer to as "fully loaded" with its various recline positions, tray positions, and available heights, having it fold down to be compact is an even bigger bonus!
The
Minla
is functional, flexible and fashionable, making it a great choice to finish off our top compact
high chair
picks.
Read our full review of the
Minla
,
HERE
.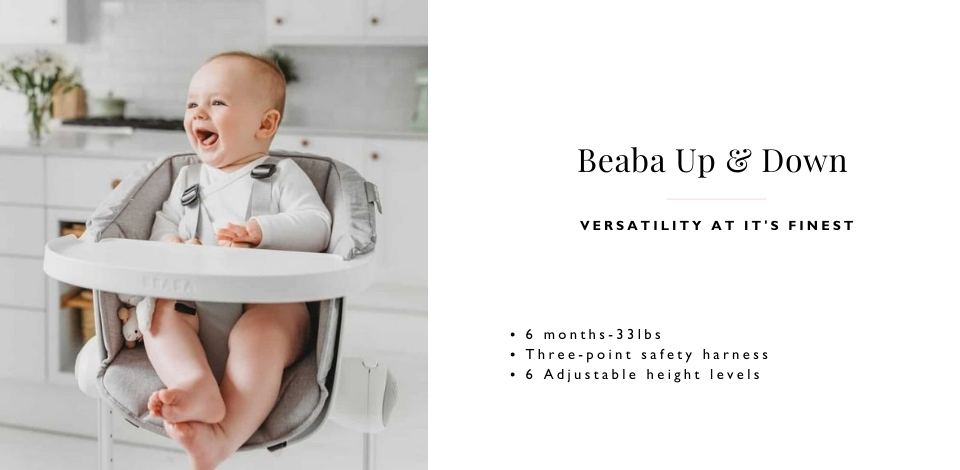 BEABA UP & DOWN
Suitable from 6 to 36 months
Weight: 16 lbs.
Weight limit: 33 lbs.
Next up is the
Beaba Up & Down High Chair.
When you think about versatility in a highchair, the Beaba Up & Down comes to mind. This highchair can be used separately, or you can remove the tray and pull it up to your kitchen table. What's more, it offers not one, not two, but 6 adjustable height positions — making it functional at any height table. Versatility: Check.
Now, what about safety? The Up & Down features a three-point harness that can be used for babies as young as 6 months to toddlers up to 36 months or 33 lbs. Its super cute design is made with a removable footrest and quality stain-resistant materials, including a cushion that can be wiped clean or thrown in the washing machine. Adding to its functionality, the removable tray is super easy to clean too.
If you aren't quite ready to say "oui-oui" to this French high chair, be sure to check out our full in-depth review,
HERE
.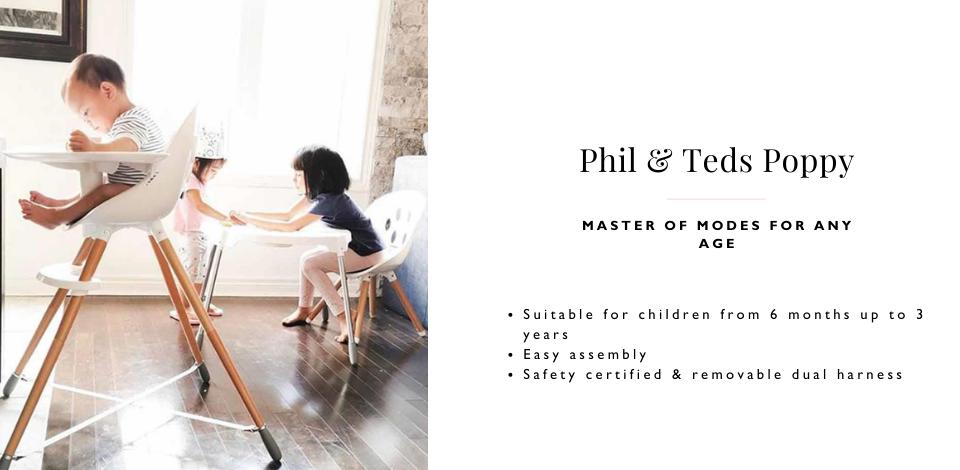 PHIL & TEDS POPPY V2
Weight Limit High Chair Mode: 33lbs
Weight Limit My Chair Mode: 44lbs
Product Weight: 9lbs.
Phil & Ted
has created the master of modes with its
Poppy Convertible Highchair
. The Poppy isn't just a cute name, this convertible high chair is a people pleaser with its amazing grow-with-me features. The Poppy seamlessly converts from a stylish highchair to a toddler sized chair that is compatible with an array of accessories for years of functionality and use!
This seat is designed to last! A smooth plastic shell with drainage holes makes clean-up time that much easier. Oh, but don't worry, this doesn't compromise the comfortability. The Poppy also has a supportive footrest, and the cushiony black aerocore seat liner is waterproof, non-toxic, and super comfy for your little one. The Poppy also features great safety features such as a certified and removable dual harness. Its super lightweight design (just 9lbs!!), amazing functionality, and useful grow-with-me features make this the perfect compatible highchair for home and travel!
Read our full in-depth review of the Poppy V2,
HERE
.
TIME FOR SUPPER?
We know that any of these
high chairs
would be a great addition to your home and space saving journey. Still on the hunt for the perfect throne for your little? Check out our
Top High Chairs of 2023
 for even more options.
Happy high chair hunting!
---