Jump to Section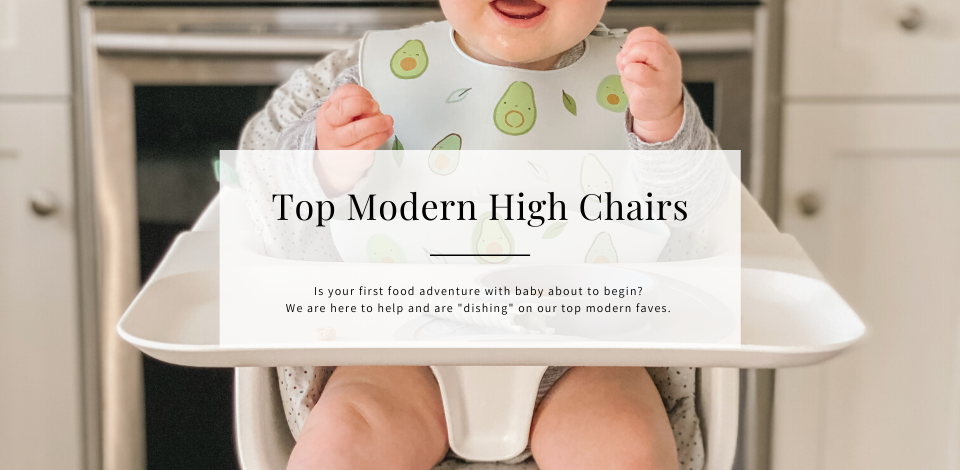 It's time to eat!
If your first food adventure is about to begin and you are looking for the right
high chair
for your little one we are here to help! Today we are dishing [see what we did there] the details on our favourite high chairs. We've got a feeling your diet is about to consist of mashed avo, banana, and left-over fishy crackers. #momlife 
Let's start with the basics and then work our way up to a luxe leather throne.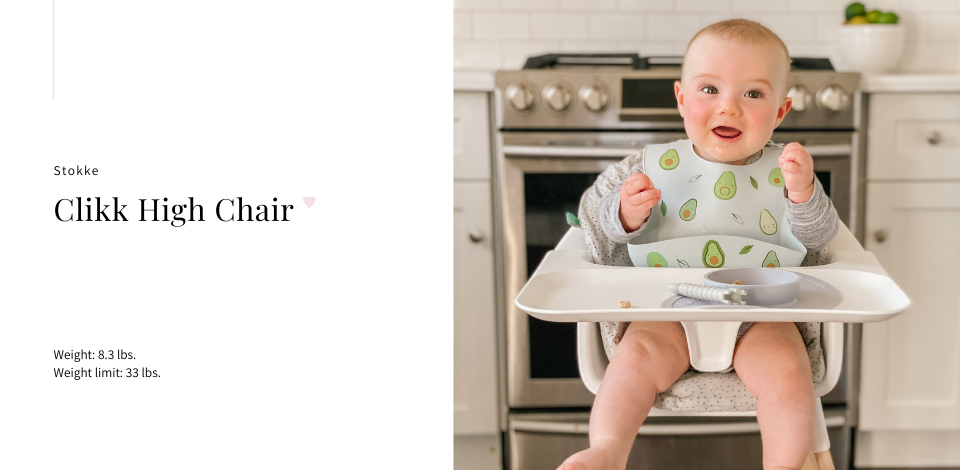 CLIKK HIGH CHAIR
If you are sparse on space then you will love the
Clikk High Chair

 
from
Stokke
. If you are living in a condo or have a small eat-in kitchen we love that you can disassemble the chair between meals which is one of the reasons we've featured it in our article
The 6 Must-Haves for Small Space Living
. You don't need any tools to assemble, the legs and tray simply "clikk" into place in seconds which is how this chair got its name.
It comes in four pretty colours and offers three configurations for optimal seating at each age. You can also choose to purchase a
cushion
to up the comfy cozy factor.
For more information of the Clikk high chair, check out our full in-depth review,
here
.
Dimensions: 27.2" L x 32.5" H x 22.1" W
Weight: 8.3 lbs.
Weight Limit: 33 lbs.
Price: $$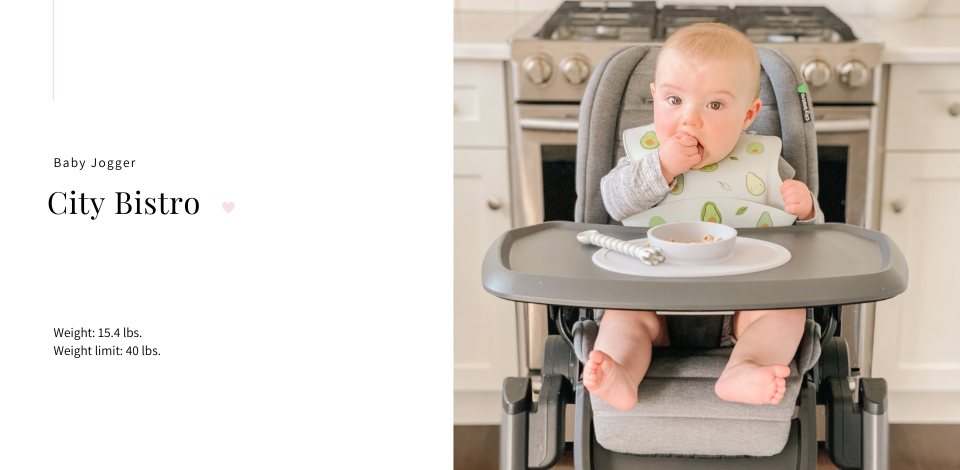 CITY BISTRO HIGH CHAIR
Baby Jogger
has jumped into the home space and we are quite impressed with the thoughtfully designed
City Bistro High Chair
. It has a modern black frame and plush grey seat padding that is machine washable, removable, and stain-resistant. We love that you can easily snap off the fabric and throw it in the wash if required – and believe us – it will be required when baby gets ahold of the spoon. The padding makes this chair cozy for baby when set-up but it's sleek, slim, and streamlined when stored away – 78% smaller when folded!
Did we mention that tray can easily be stored on the back of the frame when not in use and that it comes with an adjustable calf rest? Check out our full
City Bistro Product Review
 to learn more!
Dimensions: 42" H x 19.5" W x 25" D
Weight: 15.4 lbs.
Weight Limit: 40 lbs.
Price: $$$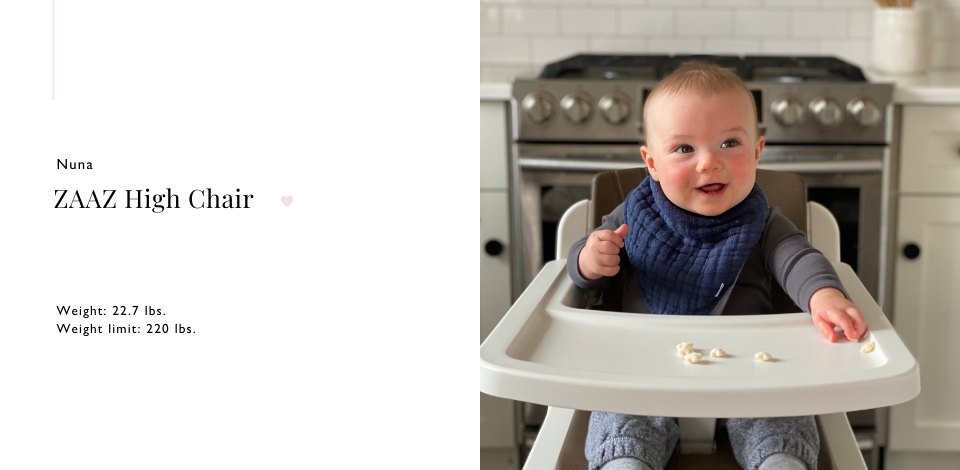 ZAAZ HIGH CHAIR 
Truth: There's more than enough cracker crumbs in your car seat to last a lifetime, right?
If you can relate to that then you will love the no-crevice design of the
ZAAZ High Chair
 by
Nuna
 – which makes cleaning up after mealtimes a breeze. It has a hidden lift mechanism that adjusts the height of the chair depending on the age or stage of your child. As your little one grows [or as older nieces, nephews, or cousins join you for dinner] you can customize the chair by removing the tray, armbar, and footrest. It's padded with air-foam cushion for both big and little tushies and all plastic parts are dishwasher safe.
Read our full in-depth review,
here
.
Dimensions: 45" l x 58" W x 87.1" H
Weight: 22.7 lbs.
Weight Limit: lbs. 220 lbs.
Price: $$$$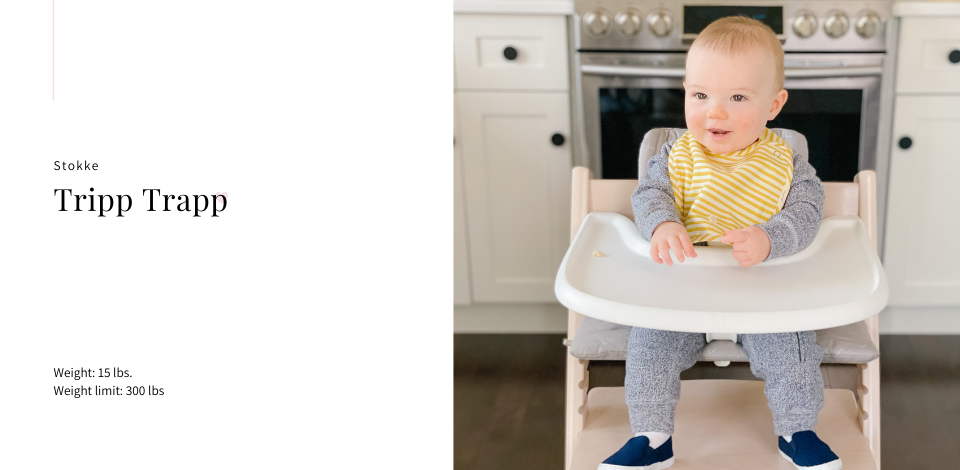 TRIPP TRAPP COMPLETE 
Chances are you have heard of this chair before but, if you haven't, allow us to introduce you to the
Tripp Trapp Complete
 by
Stokke
! It is a special "bundle" that includes everything you need for your first food's journey including a removable tray and a cute-comfy-cozy cushion. It has an adjustable seat and footrest that can be modified in both height and depth as your little one grows [like REALLY grows] which means you'll get a ton of use out of this chair. Want to see something wild? Go check-out the weight limit that we've listed below because it is impressive.
If you want to use your high chair early on, then you will love the functionality of the
Tripp Trapp Newborn Set

 
[sold separately.] It's an accessory that conveniently connects to the top of your Tripp Trapp keeping baby up high where the action is. It's cozy, convenient, has a 5-point harness, and allows you to hang a toy to keep babe entertained.
You can learn more about the
Tripp Trapp Complete
and its x3 stages of use by reading our 
Stokke Tripp Trapp Product Review.
Dimensions: 19.3"L x 31.1"W x 18.1"H
Weight: 15lbs.
Weight Limit: 300 lbs.
[not a typo, it can hold an adult!]
Price: $$$$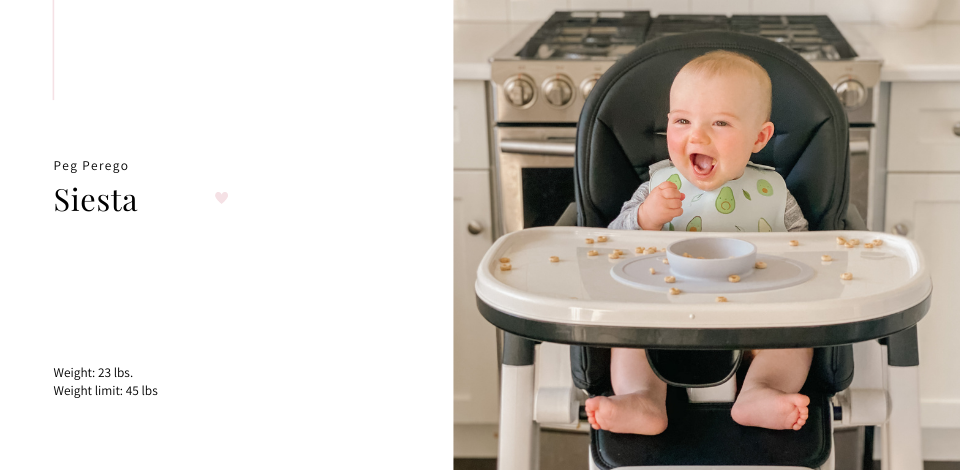 SIESTA HIGH CHAIR  
Finally, let's talk about the Siesta by Peg Perego – one of the most high-end high chairs available. The Siesta is made in Italy and has x5 recline positions allowing you to bring baby to the table even from infancy. Your little one can chill at the table until they are ready to use the upright position at mealtimes—around 6 months old. It has x3 footrest positions, a 5-point harness, and can adjust to x9 different heights. You will love the oversized tray that can be removed with ONE hand and the removable dishwasher safe tray liner. You can fold it up when not in use, but chances are your little one will love their special chair and you'll be using it for crafting and colouring well into toddlerhood. 
You can learn more about the Siesta and read our full Peg Perego Product Review here!

Dimensions: 29.75" L x 23.75" W x 41.5" H
Weight: 23 lbs.
Weight Limit: 45 lbs.
Price: $$$$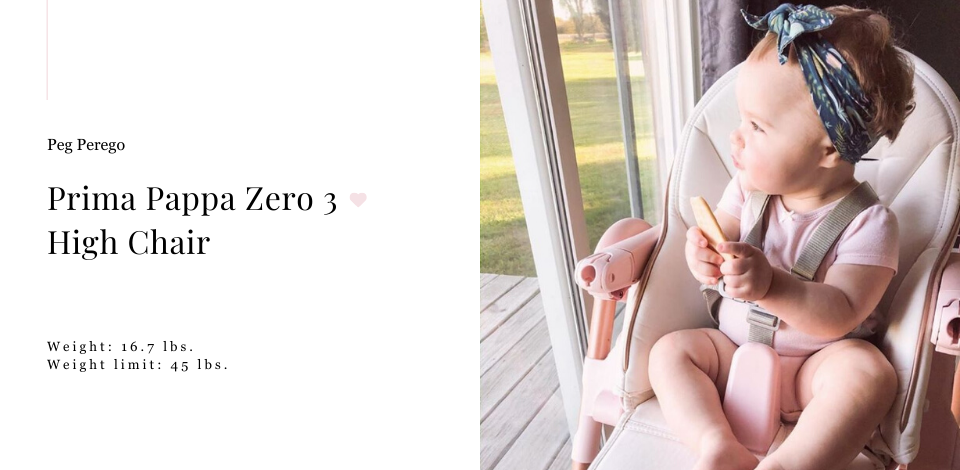 PRIMA PAPPA ZERO 3
Peg Perego
has done it again with the
Prima Papa Zero 3 High Chair.
The Prima Papa Zero 3 screams premium quality and functionality with its ultra-light and multi-functional design. This highchair is meant to last as it grows with your baby from 0-3 years of age. It offers a comfortable reclining option for those early stages, then as your little one grows it can be used upright for playing and feeding. When not in use, you can easily store it away with the compact standalone fold.
This modern highchair is not only chic but super functional. The Pima Pappa Zero 3 weighs in at only 17 lbs and includes non-scratching rubber wheels, making it easy to move from one place to the next. Its removable tray, 7 different height settings, and 5 recline options make it super adaptable, allowing baby to sit in comfort at any stage!
For the full in-depth review of the Prima Pappa Zero 3 High Chair,
here
.
Dimensions: 11.6" x 37.16
Weight: 16.7. 
Weight Limit: 45 lbs.  
Price: $$$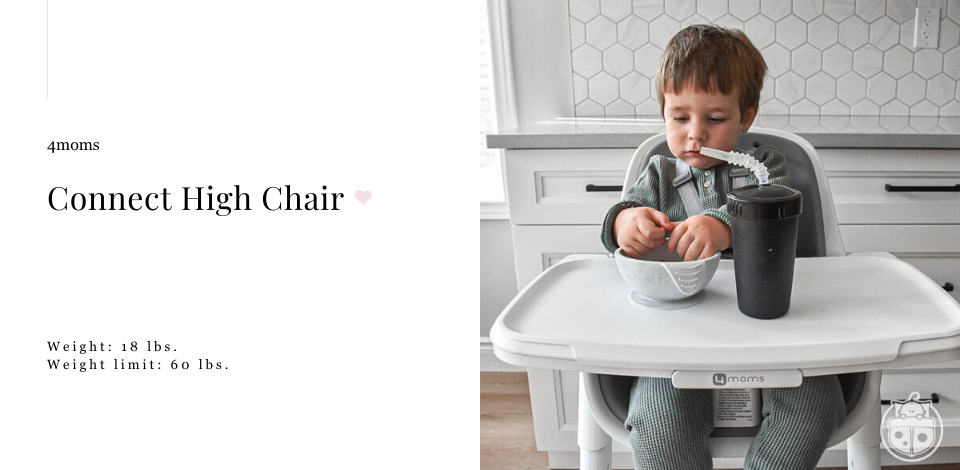 CONNECT HIGH CHAIR
If anyone understands the needs of baby, it's
4moms. The Connect High Chair
has a modern look and is super functional, featuring easy recline positions to safely support your newborn's head and adapt with them as they grow. Around the 6-month mark, baby can use the high chair in the standard seating position with the 5-point harness. During the toddler years, you can remove the tray and bring your little one to the table for mealtimes.
The Connect's safe tray liner and removable foam seat insert are lifesavers when it comes to those spaghetti Sundays! This high chair also gives parents peace of mind with its one-handed secure tray attachment that connects the tray to the high chair using magnets to keep baby safe and sound.
Find out more details with our full in-depth
4moms Connect High Chair Review
.
Suitable 6+ Months [but can be used from birth]
Dimensions: 37.21" (H) x 20.41" (W) x 27.84" (D)
Weight: 18lbs
Weight Limit: 60lbs
Price: $$$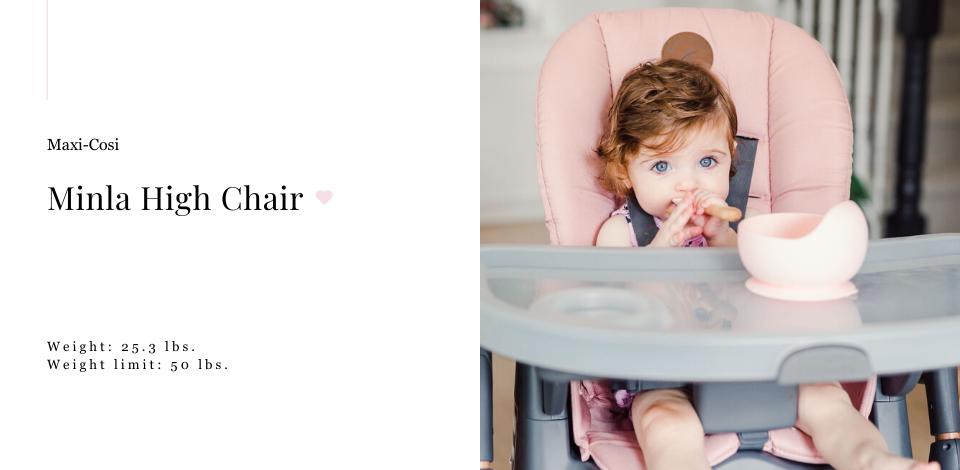 MINLA HIGH CHAIR
Are you looking for a high chair that's easy on the eyes and the wallet? Well, you've come to the right place. With a modern look, trendy wood-tone legs, and 5 available colour choices, you will love how the
Minla High Chair by Maxi-Cosi

 
fits your vibe.
But don't think you need to trade function with fashion, this 6-in-1 high chair also has five recline positions, four tray positions, and eight different heights to adapt to your growing child.
In addition, this seat was made with parents in mind. The Minla features water-repellent fabric and a zip-off cover, making messy meals a little more manageable.
For more details, check out our
Maxi-Cosi Minla High Chair Product Review
.
Suitable from birth up to 6 years old
Dimensions: 84.64 x 55.25 x 106.68 cm
Weight: 24.3lbs
Weight Limit: 50 lbs.
Price: $$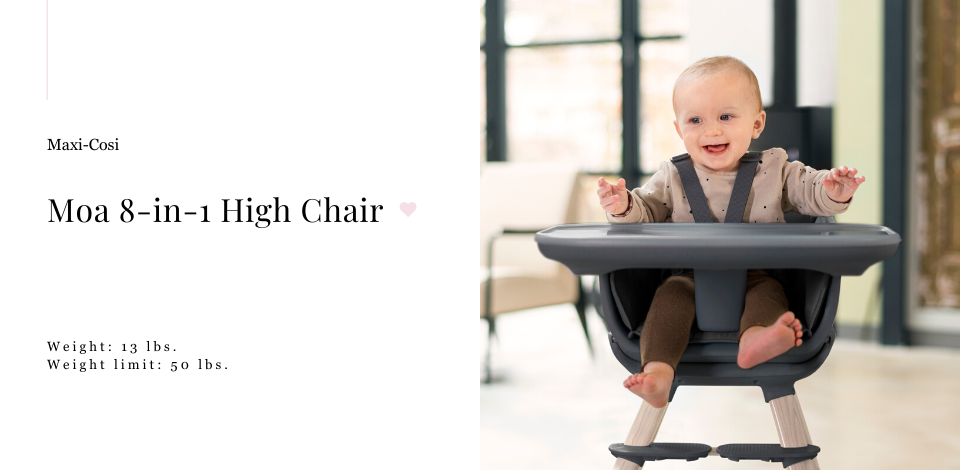 MOA 8-IN-1 HIGH CHAIR
The
Maxi-Cosi Moa 8-in-1 High Chair

 
is a game-changer! Seriously, it's like the Swiss Army knife of high chairs, with 8 different configurations to accommodate your growing baby.
First of all, it's super easy to assemble. You know how some products come with a million tiny pieces and you end up pulling your hair out? Not so with the Moa — it's a breeze to put together.
Now, let's talk about the different positions. You can use it as a traditional high chair, a booster seat, or even a toddler chair. If your little one wants to draw or needs a desk for activities, the chair can even transform into a small desk and stool!
But wait — there's more! The Moa also has a removable, dishwasher-safe tray, as well as a machine-washable seat cushion, and an adjustable footrest for your little one's tiny toes! Overall, the Maxi Cosi Moa 8-in-1 high chair is a versatile, practical, and stylish choice for any parent looking for a personal assistant for mealtime.
For our full in-depth review of the Moa 8-in-1 High Chair, click
here
.
Dimensions: 15.55" L x 13.66" W x 20.55" H
Weight: 16.53 lbs.
Weight Limit: 50 lbs.
Price: $$
BON APPÉTIT
So, what do you think? Are you and your little ready to get comfy cozy in the kitchen? Limited space? No worries! Check out our
Top Compact High Chairs!
To shop our entire extended collection of highchairs, click 
HERE
!
---