UPPAbaby VISTA V2 vs. Nuna MIXX Next Stroller
Jump to Section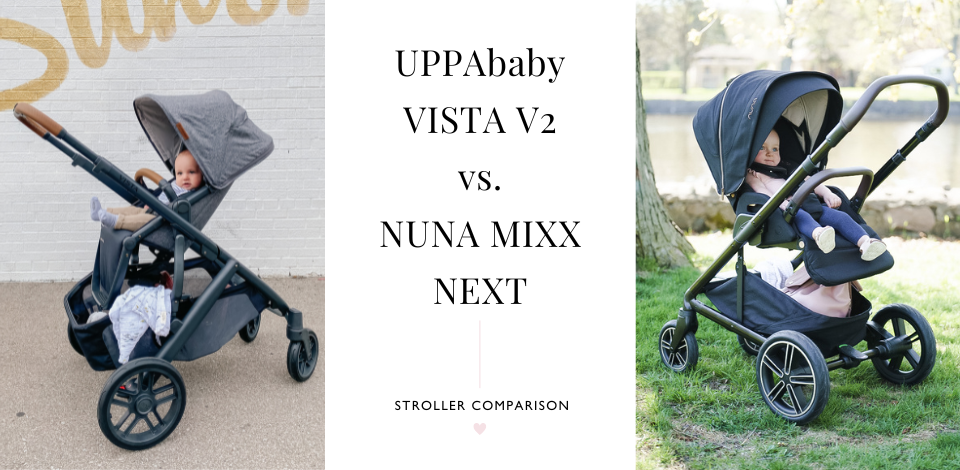 Let's get rolling!
From a short stroll around the block to soothe a fussy baby to longer adventures about town with your toddler, a good
stroller
is an essential part of every parent's daily life. But why settle for a good when you can have great!
This article will compare two amazing strollers: the
UPPAbaby VISTA V2
and the
Nuna MIXX next.
These strollers roll in at a similar price point and are both suitable to use from birth up to 50 pounds, so let's take a look under the canopy to find out what makes each one unique.
WHAT'S IN THE BOX?
The VISTA V2 arrives with a few more bells and whistles, including a bassinet, toddler seat, rain shield, and bug shield — so the stroller can grow and change with your child. The toddler seat is fully reversible with a high back and deep footrest so your toddler can ride forward-facing or backward, completely upright, reclined, and anywhere in between.

In contrast, the MIXX next arrives with a ring adaptor as part of a one-click travel system — but doesn't require switching seats or attachments as your baby grows. This stroller features an all-season seat that keeps your baby cozy in winter and then converts to mesh for summer, as well as a 5-position recline with adjustable calf support and integrated footrest.


THE BASICS
VISTA V2 SPECS:
Toddler Seat: Suitable from 3 months to 50 lbs 
Bassinet: Suitable from birth, up to 20 lbs, or until infant can push up on hands and knees [whichever comes first] 
Folded: 17.3" L x 25.7" W x 33" H 
Unfolded: 32.8" L x 25.7" W x 39.5" H 
Stroller Weight: Frame + Seat: 27 lbs 
Bassinet Weight: 8.8 lbs 
NUNA MIXX NEXT SPECS:
From birth to 50 lbs.
Unfolded: 23.6"w x 32.7"d x 45.3"h
Folded: 23.6"w x 19"d x 27.5"h 
Stroller weight: 28.3 lbs. (without arm bar and insert) 
Both these strollers weigh about the same, but with some crucial differences that will come into play as your little one grows. The VISTA V2 stroller frame and seat are a little lighter at 27 pounds, but the included bassinet adds on another 8.8 lbs. The MIXX next weighs a reasonable 28.3 pounds, which is light enough to pack in and out of the car even with a toddler in tow.
Unfolded, the MIXX next is a little narrower than the VISTA V2, but six inches taller. Both strollers offer easy one-hand fold systems, however, the MIXX next folds down a bit smaller, thanks in part to a fold-away axle. Despite being a shorter stroller when unfolded, the VISTA V2 is still 33" high when folded, which means it will take up a bit more space in the trunk.
Now that we've covered the nuts and bolts, let's take a look at some of the unique features on board each stroller and how they can shape your strolling experience.
VISTA V2: CUSTOMIZE, ACCESSORIZE, AND GROW
The included bassinet and toddler seat are a big asset for the
VISTA V2
. The bassinet easily detaches with one hand, so your little can nap on-the-go. The bassinet canopy features a zipper on the back to help you control temperature and airflow, and the easy slide UPF 50+ canopy is extendable and adjustable, providing excellent sun protection.
The VISTA V2 has a 5-point, no-rethread harness, which means you don't need to fuss or worry about proper fit and safety over the years. The premium full-grain leather handlebar provides excellent grip and is both adjustable and extendable, making it a great choice for parents of different heights.
One feature that parents absolutely LOVE about the VISTA V2 is the extra-large basket. Seriously this thing can carry up to 30 lbs worth of baby gear! The independent shock system and all-wheel suspension are also super functional, ensuring a smooth ride across uneven terrain.
However, the real draw of the VISTA V2 is its ability to grow and change alongside your family.
With the addition of the
RumbleSeat
and/or
 

PiggyBack
accessories, the VISTA V2 expands to accommodate your family with space for up to three children, allowing you to explore the world with your newborn AND their older sibling(s) without having to buy a whole new stroller.
Additionally, the VISTA V2 pairs directly with the
MESA Infant Car Seat
as an easy-to-use, portable travel system option, or you can choose from select
Chicco
,
Maxi-Cosi
,
Nuna
and
Cybex
infant car seats, but
these require adapters
.
MIXX NEXT: COMFORT AND STYLE
One of the real stand-outs with the
 

MIXX next
is the 5-point, no-rethread harness with a self-guiding MagneTech Secure Snap™ buckle that uses magnets to draw it into place and lock without having to fiddle around fitting clasps together. This handy little feature means you spend more time enjoying the stroll and less getting your little one in and out of the seat.
Combining style and functionality, the MIXX next has a sleek matte frame and black chrome wheels. The foam-filled tires and separate suspension systems for both the front and rear wheels provide a smooth ride over bumpy sidewalks, plus a strong, responsive one-touch braking system means you're in control no matter where you're rolling.
The luxe leatherette handlebar is height adjustable, and the extendable UPF 50+ canopy is water-repellant and features a flip-out eyeshade, ventilation panel, and window.
While the basket on the MIXX next can only hold a third of what the VISTA V2 can, it still has plenty of storage for all your on-the-go essentials. The two-compartment basket features a secret zippered pocket (perfect for hiding valuables) and the seat back has a cell phone pocket so you can easily check the weather or snap a cute pic while out and about.
For parents who want to customize their strolling experience, the MIXX next pairs perfectly with the
MIXX series bassinet
and the
PIPA series infant car seats.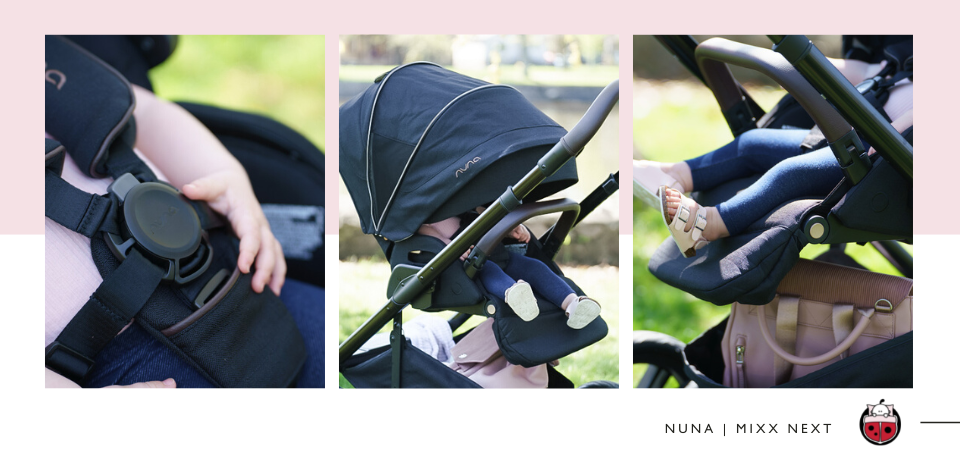 A FINAL THOUGHT BEFORE YOU HIT THE ROAD
Both these strollers offer excellent safety and comfort for your little one, so the choice between these two
strollers
comes down to whether you are interested in the modularity and expandability of the
VISTA V2
or the simplicity and portability of the
MIXX next
. Either way, you'll be rolling in style!
For more information, be sure to check out our YouTube reviews on the
MIXX next
and
VISTA V2.
---