Jump to Section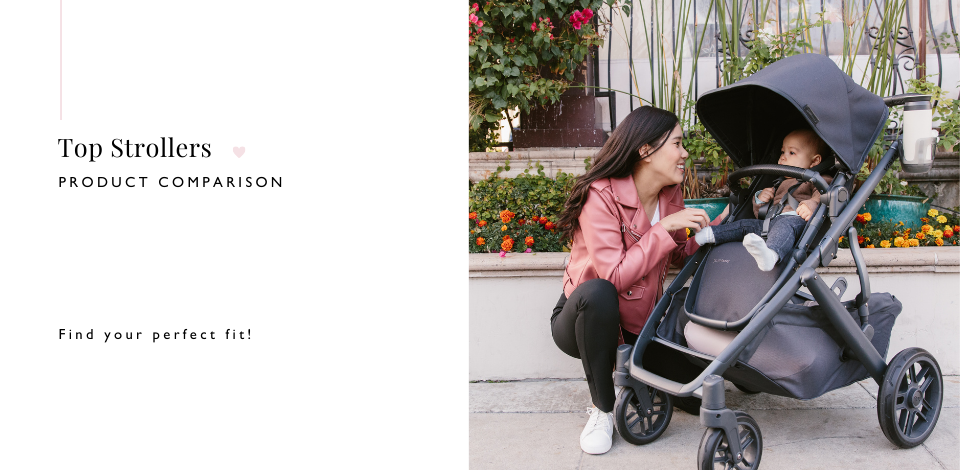 It's time to start brainstorming baby names, begin building your
baby registry
, and digging in on researching for your dream
stroller
which is like first time parent rite of passage! Here's the thing, if there was one perfect stroller on the market—we would all have the exact same make and model. The truth is, you have a unique list of needs and wants that are different than the Mama who is expecting down the street.
So, today we are going to walk you through some of our top
stroller
picks of the year to help you decide which one might be best for you.
GETTING STARTED
With so many options on the market, you'll want to get familiar with what questions to ask before you buy so we recommend checking out our
Stroller Buying Guide
, then reading on to decide which
stroller
might be best for you and your growing family!
Let's get started with a few things all of these
strollers
have in common:
An adjustable handlebar to accommodate a variety of heights
A reclining and reversible seat so that baby can face you or the world
A UPF 50+ canopy
Adjustable calf-support
Leather details throughout [some are genuine leather and others are vegan]


The
VISTA V2
has been a popular choice for parents for many years. Why? It is luxurious and easy to use for parents and grandparents alike.
The fold is simple and the
VISTA
is decked out with lots of great features like an included
sleep safe bassinet
, no adapters required when using the
UPPAbaby MESA V2 Infant Car Seat
, and the ability to hold a second child when the time is right. We also love that the
VISTA
can accommodate bigger kids with a 50 lb weight limit on the seat and a no re-thread harness and canopy that can move up and down as your little one grows. Oh, and the basket that can hold up to 30 lbs. which is a great feature for your maternity leave shopping trips. The all wheel suspension and large wheels is what allows the
VISTA V2
to glide easily through snow, sand, or whatever the weather throws at you.
You can customize your
VISTA V2
with lots of great accessories to really make the
stroller
work for you—we've highlighted our favourite in the article, our
 

Top 8 Must-Have UPPAbaby VISTA Accessories
 to start shopping!
THE SPECS:
Weight: 27 lbs
Weight Limit: 50 lbs
Second Seat Weight Limit: 35 lbs
Expandable: YES!
Last updated: 2020
For our full in-depth review of the UPPAbaby VISTA V2, click
here
!
Baby Jogger
has stepped up their game with a new aesthetic that we are loving on the
City Select 2
and
City Select 2 ECO
strollers. The Select 2 models have gotten an overhaul in design and function and now have an improved fold to be about 20% more compact than other
strollers
on the market. With 24 configurations to choose from, this single stroller can be converted to a tandem
double stroller
for twins or when the time comes to add a second baby to your family. We love that both the included seat and the second seat can hold 45 lbs each. Suspension? Front wheel only.
So – what are the biggest differences between the
Select 2
and
Select 2 ECO
? 
The
Select 2 ECO
models are made with an earth friendly TENCIL fabric on the canopy and seat pads. The
ECO
model also comes with an included belly bar that is wrapped in a trendy perforated leatherette fabric. You can read all about the Baby Jogger ECO Collection in this article
HERE
.
THE SPECS:
Weight: 26.7 lbs
Weight Limit: 45 lbs
Second Seat Weight Limit: 45 lbs
Expandable: YES!
Last updated: 2021
For our full review of the City Select 2, click
here
. For a review of the City Select 2 and City Select ECO,
click
here
! Want to accessories your City Select 2? Find all the latest and greatest add ons
here
.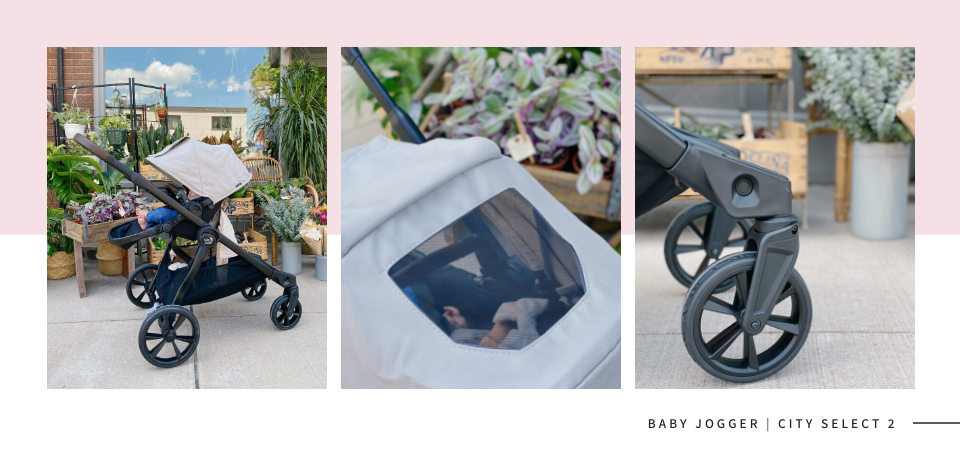 SILVER CROSS WAVE
The
Silver Cross Wave
is the epitome of versatility with its 30 possible configurations – 7 of which are ready to go right out of the box. Use the Wave right from birth with the
included bassinet
or an
infant car
seat paired with adapters, grow into the included main seat, and then make room for more with the
tandem seat
!
The Wave 2023 features
Silver Cross
' ergonomic Genius™ harness system – a magnetic 5-point safety buckle that is so easy-to-use and fastens together with three simple clicks. Combine that with its 4-way dynamic suspension and easy, hassle-free fold, and the Wave is a guaranteed smooth ride.
Did we mention that it's super stylish, too? The new Onyx fashion features sustainable outer fabrics woven exclusively with yarn from recycled plastic bottles. The Wave is also now compatible with the
Silver Cross Snack Tray
!
THE SPECS:
Chassis Weight: 22.2lbs
Bassinet Weight: 8lbs
Main Seat: 4.4lbs
Tandem Seat: 5.6lbs
Weight Limit: 55 lbs
Second Seat Weight Limit: 55 lbs
Expandable: YES!
Last updated: 2023
Check out our full
Silver Cross Wave 2023
product review
here
.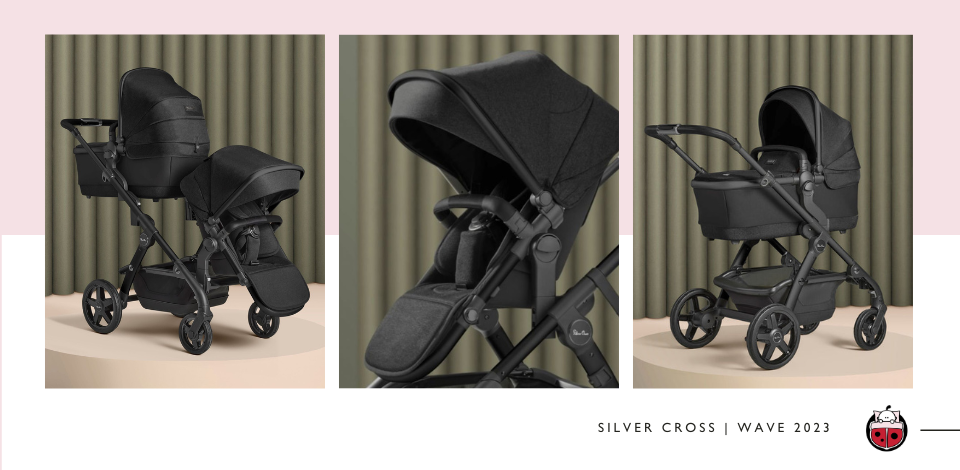 Next up is the 
Nuna MIXX Next Stroller
. It has a compact fold and is packed with features that keep it functional for families but it's also a great choice because it looks really good too.
You will love the no re-thread 5-point harness with self-guiding magnetic buckle for loading your squirmy little one in and out [oh, toddlerhood!] The flip out eye shade and all-season seat means it's great for the summertime offering baby lots of protection from the sun and lots of ventilation.
Yes, that's right. The fabric in the seat can be completely removed to offer up a fully ventilated back for your baby! The 
MIXX Next
 from
Nuna
is a single 
stroller
 only — but it really does pack a lot of punch.
THE SPECS:
Weight: 28.3 lbs
Weight Limit: 50 lbs
Expandable: NO
Last updated: 2022
For the full in-depth review of the MIXX Next, click 
here
.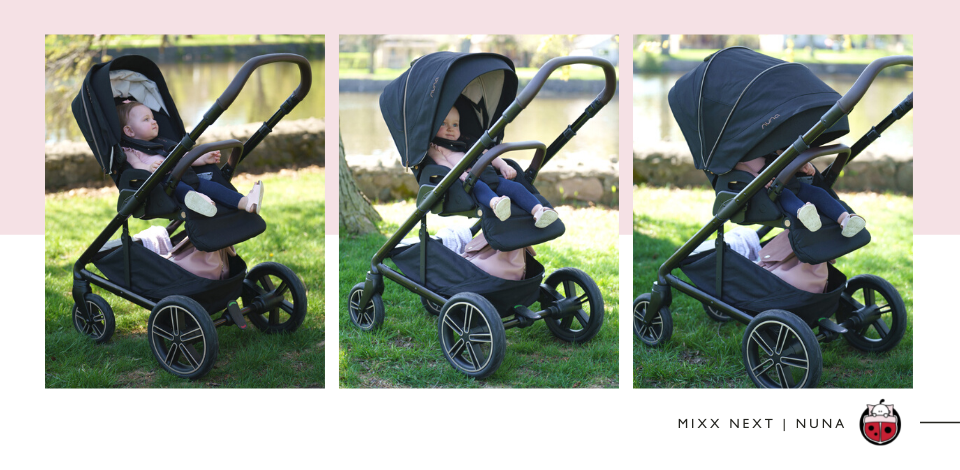 BUGABOO FOX 5
Say, "
hello
" to the
Bugaboo Fox 5 Complete Stroller!
Talk about luxury features! 
Bugaboo strollers
are known for their smooth operation – but the Fox 5 has even more to offer than a fingertip push.
Expecting a summer baby? You will appreciate the impressive ventilation and "breezy panel" that surrounds the base of the included pram [bassinet] and a full coverage canopy that can be zipped out to create a cocoon suitable for napping on the go. We also love that the
canopy
can be changed to customize the look of your
stroller
[sold separately] depending on your mood, including a cool new
Astro Purple colour.
Other features we love? A 50 lbs rider limit to keep up with the competition and a must-have no re-thread harness. The Fox 5 also features a height adjustable canopy, an extendable footrest, and one-hand adjustments to grow with your little one.
Just like the
Nuna MIXX Next
, the Fox 5 is a single
stroller
only but if you are looking for something just a premium but with
double stroller
capabilities read on – because the
Donkey 5
may be the right choice for you.
THE SPECS:
Weight: 22.9 lbs.
Weight Limit: 50 lbs.
Expandable: NO
Last updated: 2023
For our full review of the Bugaboo Fox 5 Complete Stroller, click
here.
 Want to take your Fox 5 to the next level? Check out its top accessories,
here
.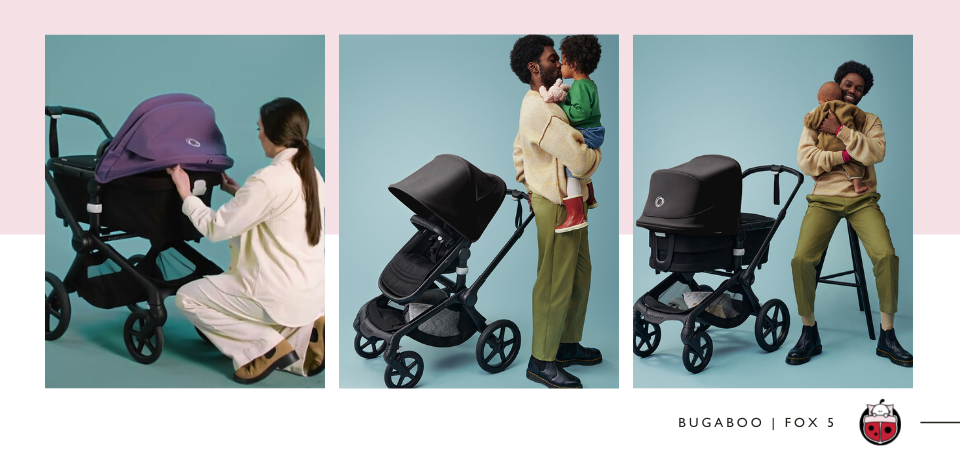 The
Donkey 5
is customizable and can grow with your family offering configurations as a
double
or single
stroller
and is the only side-by-side option we've showcased thus far. When you think about pushing TWO children – side by side just makes sense.
When using this
stroller
in mono mode [single] there is a convenient little side storage basket that you can use to store your goodies. It has a zippered top to keep valuables safe – or can be used as a shopping bag when you are out and about.
Ready to convert to a
double stroller
? You can easily make this change in x3 easy clicks – one on the handlebar, one on the bottom of the basket front, and the basket back. Then just expand the frame and add your second seat [sold separately] So, can you really push this
stroller
when it is fully loaded with TWO? The answer is a big Y-E-S! We credit that to the
Bugaboo
1-touch smooth push paired with a killer set of 10" and 12" wheels that can power through any terrain. Go ahead and picture your little ones sitting side-by-side holding hands and taking in the world around them together!
You can learn more about the difference between a side-by-side double and a tandem double stroller in
 this
 article
. 
THE SPECS:
Weight: 26.9 lbs
Weight Limit: 50 lbs
Second Seat Limit: 50 lbs
Expandable: YES!
Last updated: 2022
For our full review of the Bugaboo Donkey 5, click
here.
PEG PEREGO YPSI STROLLER
The
Peg Perego YPSI Stroller

 
is an excellent option for parents looking for a product that will grow with their family. This stroller is lightweight and compact yet offers all the features you would expect in a deluxe stroller — including a reversible seat, multi-position recline, and height-adjustable handlebar.
Made in Italy, this stroller is easy to maneuver and offers a super smooth ride. The YPSI can be used for babies up to 50 lbs and easily converts from a single to a double stroller with the
YPSI Companion Seat
. The stroller is also compatible with the
YPSI Bassinet
, which is suitable for babies from birth up to 20 lbs and is approved for overnight sleep.
Dream of exploring the world with baby in tow? No worries, the YPSI can become an instant travel system when used with the
Primo Viaggio 4-35 Nido Infant Seat.
To top it off, this baby is designed for one-handed operation, has a large storage basket and canopy, a swing-away bumper bar, and stands when folded. With these features and more, the YPSI line is sure to meet any and all of your family's needs.
THE SPECS:
Weight limit: 50 lbs.
Second Seat Weight Limit: 50 lbs
Expandable: YES!
For our full in-depth review of the YPSI Line-UP, click
here!
BUMBLERIDE INDIE ALL TERRAIN STROLLER
The
 

Bumbleride Indie All Terrain Stroller – 2022
is the perfect choice for active parents who want a stroller that can take them off the beaten path. It features three 12" air-filled tires and an all-wheel suspension for a smooth ride, a generous canopy to protect your child from the elements, and adjustable features for both parent and baby.
The stroller is infant-ready right out of the box and can be used until your little one is 55 lbs. It has a lightweight, compact frame that makes it easy to maneuver and a one-step fold and standing stow feature for added convenience. Babies require a lot of stuff, thankfully, the Indie's spacious cargo basket will allow you to bring along whatever you need for your adventures.
We love that this stroller is responsibly made with PFAS-free, recycled materials, and solution dye, and that it comes with a bumper bar, air pump, and wrist strap. The 2022 model also comes in three new fashions for parents to choose from. This stroller is perfect for parents who want a stylish, lightweight stroller that can take them anywhere, from city streets to scenic trails.
THE SPECS:
Weight limit: 55 lbs.
Expandable: NO
To read our full review, click
 

here
.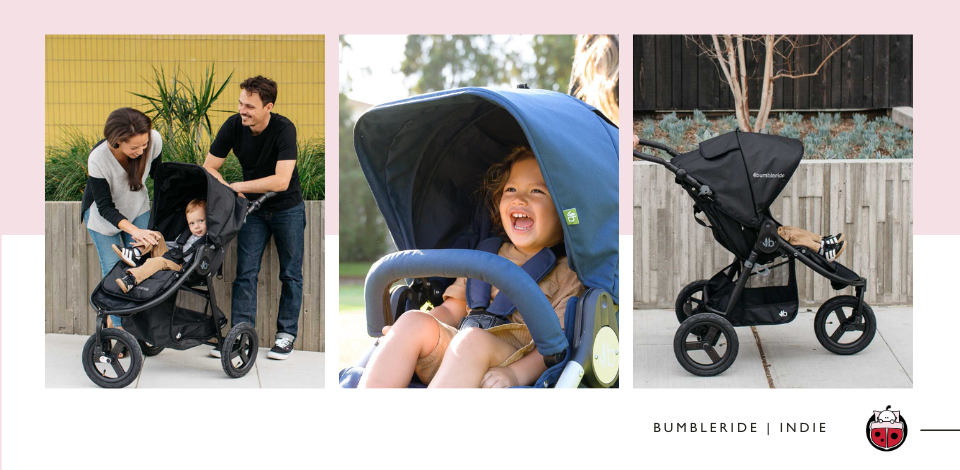 FEELING CONFIDENT?
So, how do you feel? We know that finding your dream
stroller
is a process which is why our
Learning Centre
is dedicated to helping you make the best decision for your family. Check out our Related Content below for more product reviews and comparisons!
---