Nuna MIXX Next vs. UPPAbaby CRUZ V2 Stroller
Jump to Section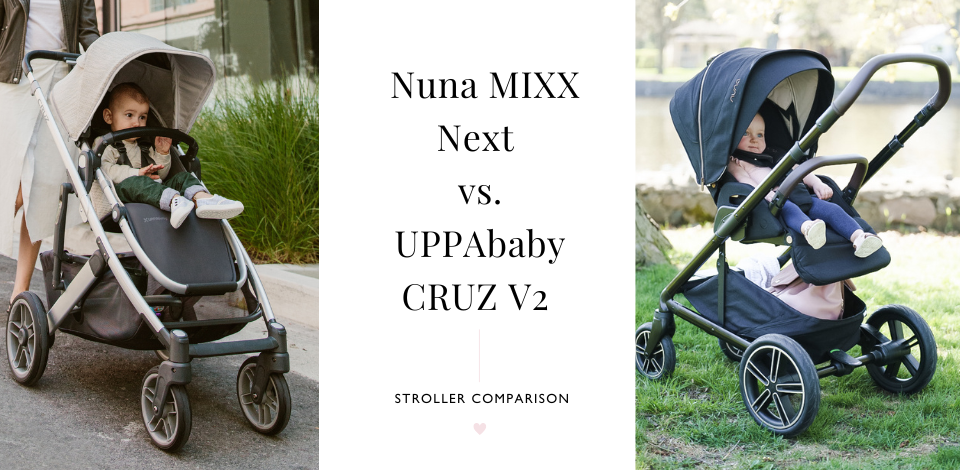 Going for a stroll with your little one?
Then you'll want to get the best of the best
strollers
to keep them happy and safe while you run errands and take them out on the town!
When it comes to baby product powerhouses,
Nuna
and
UPPAbaby
are right at the top. With strollers being such an important item for parents, we thought it time to see how two of the most sought-after models stack up against each other; the
Nuna MIXX Next
vs.
UPPAbaby CRUZ V2
.
At first glance, these two look strikingly similar, but how do they look when you break everything down?
So without further delay, let's dive in and we'll let you know which one comes out on top.
THE SPECS
Nuna MIXX Next:
Suitable from birth to 50 lbs. 
Stroller weight: 28.3 lbs. 
Dimensions: 32.7" L x 23.6" W x 45.3" H 
Folded Dimensions: 19" L x 23.6" W x 27.5" H 
UPPABaby CRUZ V2:
Suitable from 3 months to 50 lbs. 
Stroller weight: 25.5 lbs. 
Dimensions: 37.5″ L x 22.8″ W x 40″ H
Folded Dimensions (with seat): 16.5″ L x 22.8″ W x 33″ H 
Folded Dimensions (without seat): 12″ L x 22.8″ W x 30″ H 
The MIXX Next is a bit heavier and physically larger than the CRUZ V2. However, when folded, the MIXX Next is more compact, with a reduced length of 5". The MIXX Next can be used 3 months earlier. If you want to use the CRUZ V2 from birth you can purchase the
 

Infant SnugSeat
or the
CRUZ V2 Bassinet
.


HOW THEY LOOK
With so many shared features between the two, it's no wonder there's so much confusion among consumers as to which stroller is superior!
FASHIONS:
The CRUZ V2 comes in a wide range of colours, from bright and cheery to muted and modern, there's something to suit any lifestyle and make babies look like a million bucks! The MIXX Next, on the other hand, only has 3 colours to choose from — and they're all dark. While this is great for hiding spills and stains, it doesn't quite have the same level of fashionable versatility that the CRUZ V2 offers.
SEAT:
Both strollers allow parents to position the toddler seat in either forward-facing or parent-facing positions. The MIXX Next comes with a plush and padded all-season seat, which can be removed during the summer months. The stroller's back is lined with mesh for venting baby during those sunny, sweaty days! The CRUZ V2's toddler seat is slightly larger compared to most strollers, which makes it a great choice for larger babies and growing children.
HOW THEY FEEL
WHEELS:
Nuna and UPPAbaby have made two strollers that are smooth in their handling and as rumble-free as possible. Both are outfitted with rugged, all-terrain foam wheels, and they also use all-wheel suspension systems to keep your baby snoozing on even the roughest of surfaces.
HANDLEBARS:
A telescoping handlebar wrapped in leather is included on each stroller. It can be height adjusted, giving you a comfortable grip every time you take your child out. Additionally, they're also designed with a bumper bar to keep baby safe in their seat and give them something to hold on to.
REST & RECLINE:
Each stroller comes with a 5-position reclining seat and an adjustable footrest so your child can rest their tired little feet. With the footrest in the up position and the seat fully reclined, your baby will be asleep in no time!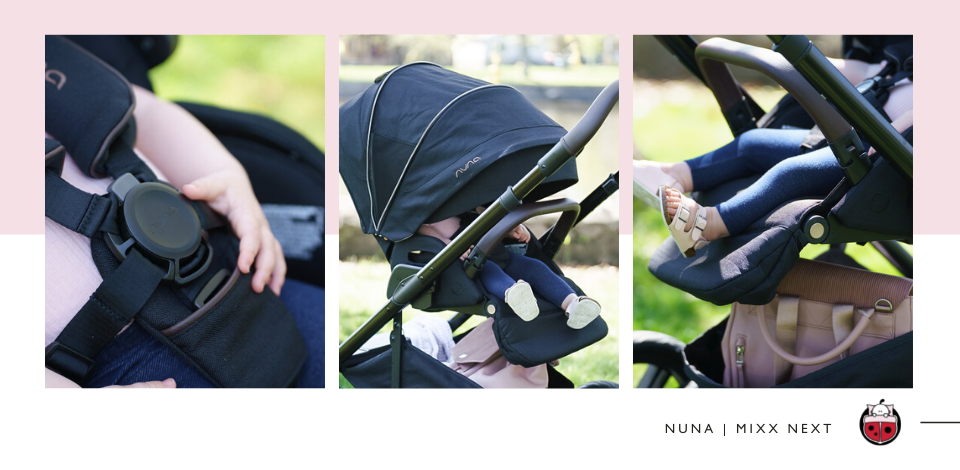 HOW THEY PROTECT
HARNESS:
5-point, no-rethread harnesses are the most convenient for busy parents of fussy babies. So it's no surprise that both of these strollers use these harnesses to keep your baby comfortable and safe in their seat at all times.
CANOPY:
Babies need lots of protection from the sun during their early years. These strollers provide generous amounts of shade and UPF 50+ protection. They also have extendable zip-out panels, peekaboo windows, and lots of mesh for keeping baby cool. The main difference is the MIXX Next has an extra flip-out sun shade, while the CRUZ V2's canopy can be height adjusted to accommodate your growing child.
HOW THEY'RE CONVENIENT
FOLDING:
Taking either of these baby vehicles with you is super easy for parents! They're both designed to "fold and go" in just a few simple steps and fit into your car's trunk or small storage spaces. The MIXX Next folds forward and lays horizontally (which can then be towed like luggage), while the CRUZ V2 folds backward and stands upright.
 
STORAGE:
Each stroller has a generously sized basket under the seat — with the MIXX Next having 2 compartments and a zipper pocket and the CRUZ V2 with a larger weight capacity, holding up to 30 lbs. However, Nuna includes a cell phone pocket on the back of the MIXX Next, so parents always have their device at arm's reach.
TRAVEL SYSTEM
Both strollers can become instant
travel systems
too!
UPPAbaby's
 

MESA V2 Infant Car Seat
attaches to the CRUZ V2 frame allowing you to move baby from the car to the stroller seamlessly. Additionally, it's also compatible with a wide range of third-party car seats, including
Chicco
,
Clek
,
Cybex
,
Maxi-Cosi
,
Nuna
, and
 

Peg-Perego
(adapters sold separately).
The MIXX Next pairs perfectly with the
PIPA series infant car seats
to make the ultimate travel system. A ring adaptor is included for an easy on/off one-click travel system.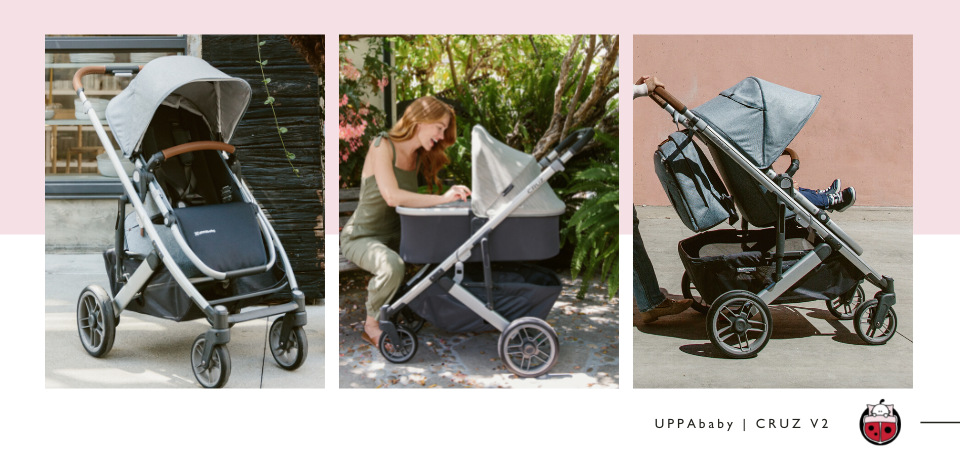 ACCESSORIES
There are a few different accessories available for each stroller, but here the CRUZ V2 really shines.

The MIXX Next stroller can be used with:

CRUZ V2:

In addition to the toddler seat rain shield and bug net that's already included with the CRUZ V2, you can also purchase the following as standalone items:

THE VERDICT IS IN
By now it should be obvious that there is very little that separates these two stroller titans. However, if you look at the pricing, the
MIXX Next
is roughly $300 more expensive. That's not exactly chump change for most families these days! The
UPPABaby CRUZ V2
 is also available in more colour options, there's more accessories, and it's a solid, safe bet to stroll around town in style!
However, the MIXX Next allows you to use the stroller from birth which is a HUGE plus, while the CRUZ does not. If you factor in the additional cost of purchasing the CRUZ V2 Bassinet, it's basically a wash when it comes to dollars and cents. If you are happy with the classic colours of the MIXX Next and aren't fussed about the accessories, your family may be well suited for this stroller.
Whatever you decide, you are guaranteed a high-end stroller that will get you where you need to go in style.
To learn more about the CRUZ V2, read our full review
here
. If you can see yourself hitting the sidewalk with the MIXX Next, you can learn more
here
.
---
---