Baby's First Easter Basket
Jump to Section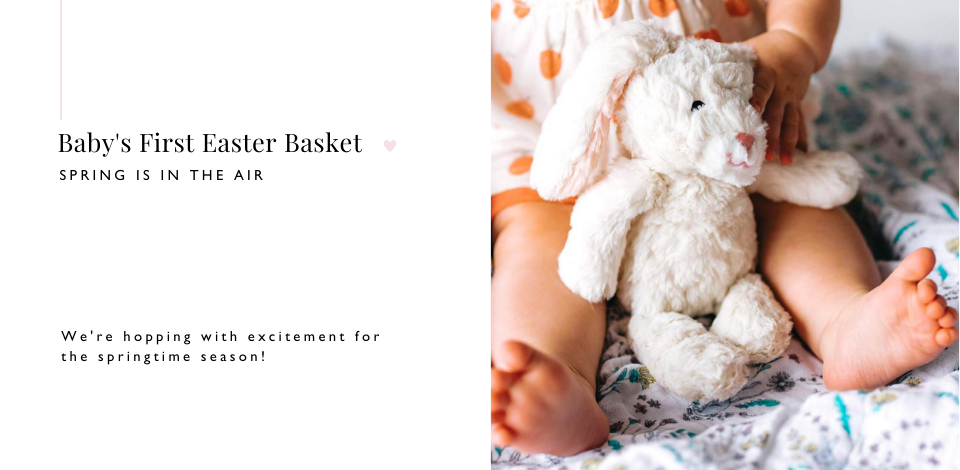 Baby may not be walking just yet, but don't count them out for the holiday Easter egg hunt!
In honour of baby's first Easter, we've rounded up some of our favourite age-appropriate Easter essentials to help you fill their basket and make their first holiday as your baby bunny one to remember.
A PRETTY PASTEL BIB
We love the gorgeous pastel colours of these Wein Meister Bibs, Loulou Lollipop Bibs, Mushie Bibs, and BabyBjorn don't you?

They remind us of some pretty painted eggs decorated by the Easter Bunny himself. Plus, these adorable bibs are comfortable, lightweight, waterproof, and easy to clean! 

A CUTE BUNNY TEETHER
Baby may be too little to chomp on the ears of a chocolate bunny but they will certainly enjoy sinking their sore gums on this adorable Bunny Teething Rattle from Kaloo. Tame their teething with this smooth wooden teether decorated with a sweet bunny-shaped head and twinkling bell.

Check out our other must-have teethers, here.


A BLANKET OR SWADDLE
Another perfect addition to your little one's Easter basket is a cozy blanket or Swaddle. Pehr Designs Hatchlings Blanket is a beautifully quilted product with a luxurious look and feel. This oh-so-cute blanket comes with a number of adorable animals printed on them, such as bunnies, ducks, and elephants.
More cuteness overload can be found in the wide array of on-theme options available in the Luxe Muslin Quilt Blanket from LouLou Lollipop. From "Bunny Meadow" to a pretty spring feel of "Hydrangea", there's something to take every baby basket to the next level.
For cuddles and snuggles on the go, you can't go wrong with the Bunnies By The Bay Buddy Blanket.
A HOLIDAY STORY
Add an educational component to your Easter basket with the beautifully illustrated book, Little Star. Suited for newborns through to toddlers, this is the perfect book to add to baby's budding library.

For more great options, check out fun selection of books.


A FLUFFY EASTER BUNNY 
Your little one's Easter basket just wouldn't be complete without a sweet little bunny stuffy!

Jellycat has some of the cutest little plush toys. Made with super soft and etched fabric, Mary Meyer Putty characters are available in stuffies and lovey blankets. We bet you won't be able to choose just one!

FINISHING TOUCHES
Depending on how full your basket is, you could always add a fun Easter-themed toy, like these animal-themed Natural Rattles. For babies over 6 months of age, these Sort & Squeak Eggs offer stimulation and help develop fine motor skills. 

Presentation is everything (at least for the all-important Eater morning photo-op). These cute pom pom storage bins are a great alternative to a basket and are useful long after the Easter bunny has come and gone.

Remember, jelly beans and chocolate eggs are off limits for baby...but not mom and dad.

For more Easter essentials, click here.

Happy Easter!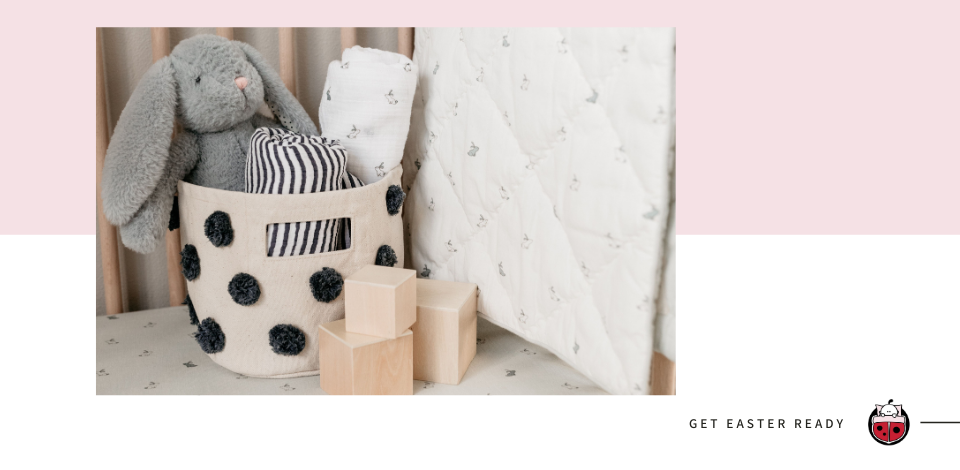 ---
---