Britax Highpoint 2-Stage Belt-Positioning Booster Seat Review
Jump to Section
Booster seats
 are an essential piece of gear to keep your child secure and comfortable until they are big enough to sit in your vehicle's seat safely. One of our favourites here at Snuggle Bugz is the 
Highpoint 2-Stage Belt-Positioning Booster Seat
 from 
Britax.
Driving on the road with precious cargo in the back seat can be nerve wracking, that's why this booster seat has thought of it all. From easy and secure installation, to top-of-the-line safety features, and effortless cleaning, there isn't much the Highpoint 2-Stage Belt-Positioning Booster hasn't thought of. This booster seat also grows with your child through easy adjustments, allowing you to use this product for years.   
Let's take a closer look at the details that make the Highpoint 2-Stage Belt-Positioning Booster a fantastic purchase for your family.   


Quick and Painless Installation 
THE SPECS:
High Back Suitable for Children: 40 to 120 lbs and 44-63"  

 


Backless Booster Suitable for Children: 48 to 120 lbs and 46-63"

Product Weight: 12 lbs

Product Dimensions: 16" L x 21.5" W x 27.5"H

Seat Dimensions: 12.5" D x 12" W 

 


Lower Seated Shoulder Height: 15" 

 


Upper Seated Shoulder Height: 21.5" 

 


Shoulder Width: 15" 

 


Headrest Dimensions: 35" H (fully extended) x 14.5" W (exterior width) and 12" W (interior width) 

 



You will love how quick and easy it is to install this lightweight booster into your vehicle. This seat is delivered to you assembled, so you don't need to worry about spending time piecing it together.    

The first step to installing this seat is using the premium lower connectors. The chair has images on its sides to show you exactly where to insert and clip these connectors firmly secure the booster seat base onto the vehicle seat. Once the base is secured, the seat has colour coded belt guides, so you know where to run the seatbelt to have it comfortably sitting across your child's lap and over their shoulder.   


Safety First
This booster has tons of quality safety features to ensure your growing child is safe on your adventures.  
The Highpoint has a SecureGuide clip to secure your child into the seat. The interior of the chair features soft, squishy padding, with an additional three layers of body side protection through external cushions, and an energy absorbing exterior shell. The high back design of the chair also offers extra protection to your child's head and neck.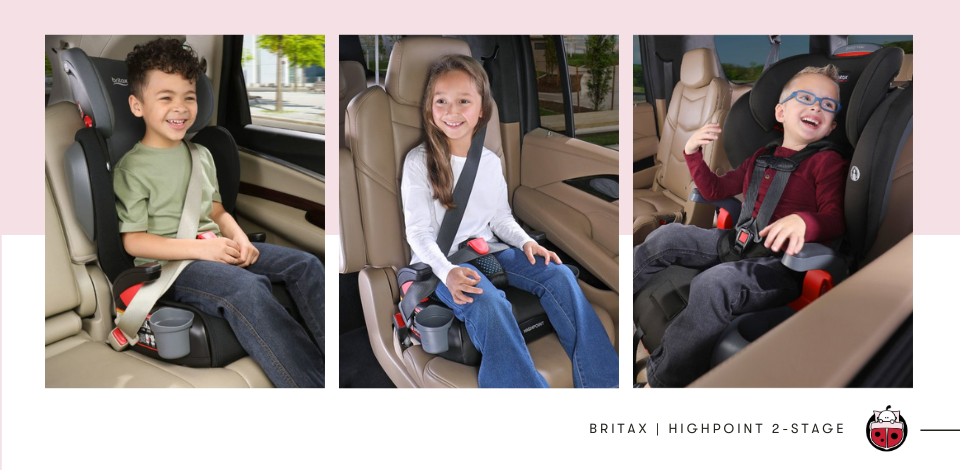 Comfort & Style
The Highpoint Booster Seat really is fashionable and functional. Offered in several different colours, this seat is made of breathable fabric to keep your child comfortable on all your outings. The built-in arm rests and headrest, which can be adjusted into ten different positions, are designed to provide your child with the ultimate comfy ride as they grow. While the seat is narrow enough to fit 3-across in most vehicles, it is still incredibly roomy! 
On longer car rides, the cup holders on both sides of the booster will come in handy for holding snacks and drinks. They are both removable and dishwasher safe, making them super easy to clean. Oh, and did we mention that the seating fabric is removable and machine washable? You don't even need to move the harness or connectors to get the seat cover off! Talk about convenient!  


Grows with your Child
We also love that this booster seat can be adjusted in a snap. 
Once your child weighs 40 lbs and is 44" tall, they can use the seat as a high-back booster. This will provide your little one with extra support and comfort while they are small.   
At 48 lbs and 46", you can remove the back of the booster to give your child more space. When your child is ready to transition to a backless booster, simple bend the back of the seat all the way back until it detaches from the base. This feature ensures you can use this seat up to 120 lbs or 63" tall!  


The Best of Both Worlds
The Highpoint 2-Stage Belt-Positioning Booster from Britax offers the best of all worlds: safety, comfort, and style.  
This booster seat promises a quick and stress-free installation and its breathable interior fabric, triple layered external cushions, and energy-absorbing exterior material ensures all journeys are safe and comfortable.  
Your child can enjoy their car ride with snacks and drinks within reach, while you can quickly and easily take care of any messes that may happen by throwing the cup holders into the dishwasher and the fabric cover into the wash.  
If you're looking for a booster seat with all the bells and whistles that will also grow with your child, the Highpoint 2-Stage Belt-Positioning Booster is an excellent option.   
If you're interested in exploring more booster seat options for your family, check out our Top Booster Seats of the Year for more information on top-of-the-line products.  
---
---