Is My Child Ready For A Booster Seat?
Jump to Section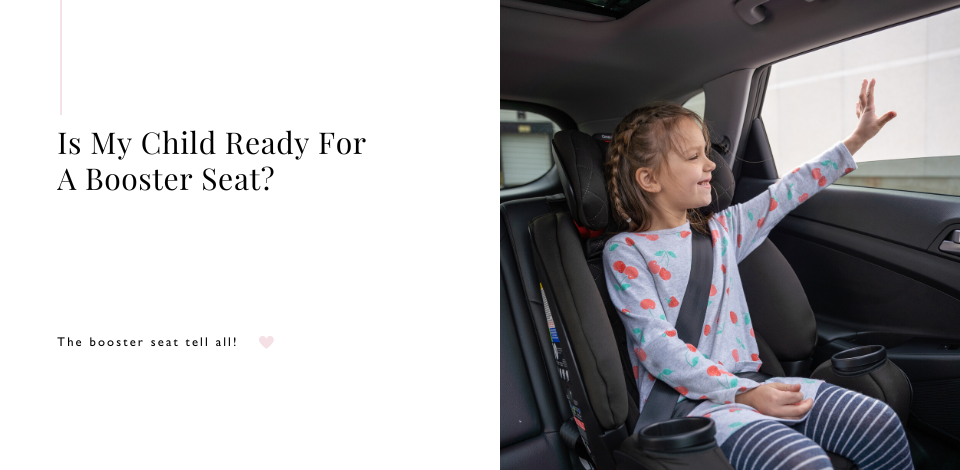 So, you're wondering if the time has come to take that "baby" of yours out of a
5-point harness
and transition them to a
booster seat
, eh? This can be a very [maybe the most] confusing time for parents because car seat decisions you've made in the past occurred before your child was really vocal about
their
wants. BUT NOW they're in school! They have friends who are riding in
booster seats
, they're car-pooling more often and their impressionable little minds have decided that they are done with the
car seat
. Sound familiar?
We hear this a lot at Snuggle Bugz. Our own children have whined and we've seen parents cave countless times. But believe it or not – the 4-year old doesn't know best.
According to Transport Canada, there are 3 times more injuries to children ages 5-14 compared to 0-4 years old – properly restraining your child can and does save lives.
So, in this Learning Centre post, we're breaking down booster car seats in an effort to keep those older babes safe in the car!
When to graduate from your forward-facing car seat
The different types of

 

booster seats
Booster seat fun facts
As a quick FYI, here are visuals of the different child restraints & positions mentioned throughout this article.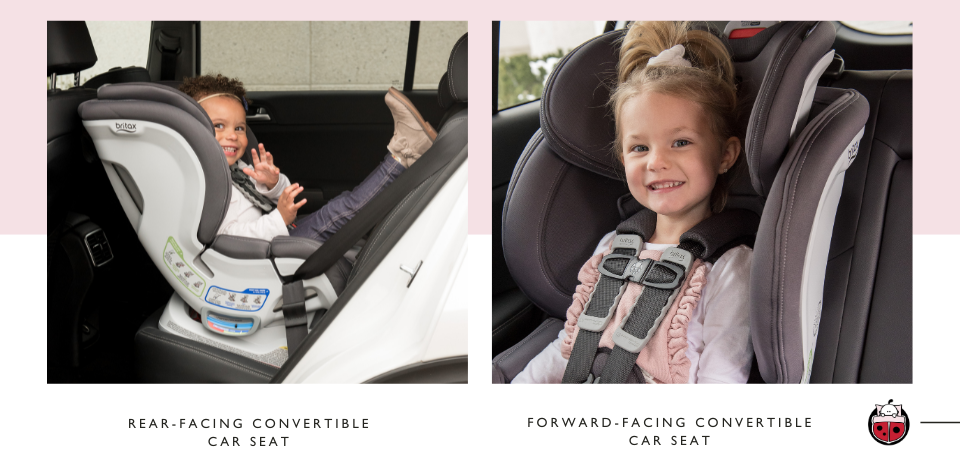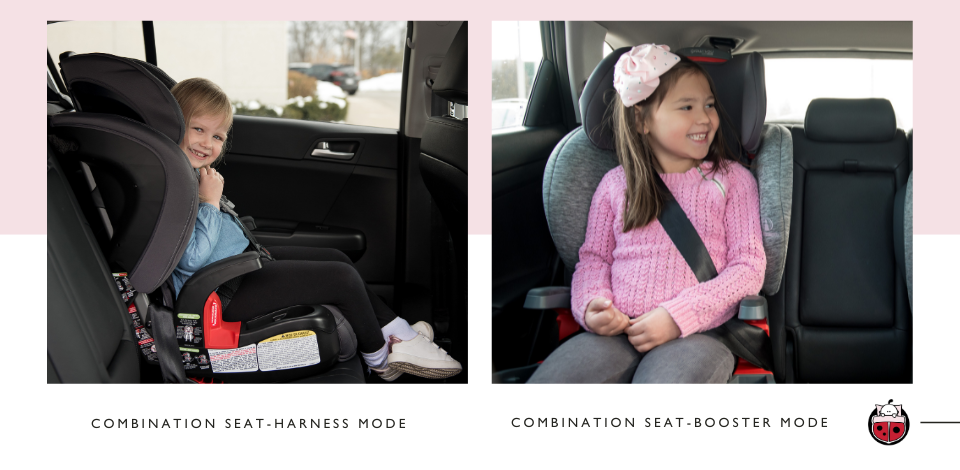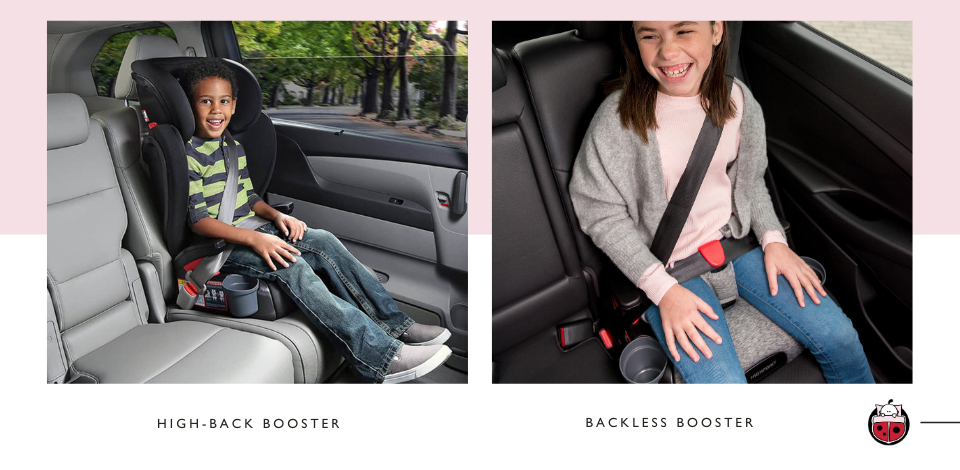 WHEN TO GRADUATE FROM YOUR 5-POINT HARNESS:  
At Snuggle Bugz, we recommend maxing out the limits of your forward-facing harnessed car seat prior to moving to a booster seat. Each car seat has different limits, but some general rules for ensuring a proper fit in a forward-facing 5-point harness are:
Child weighs less than 65 lbs [unless a lower maximum weight is specified by your car seat manual]
Shoulder harness straps come from

 

at or above

 

your child's shoulders when in their highest harness height
Tips of your child's ears are below the top of the shell or headrest of the car seat [unless otherwise indicated by your car seat manual]
Your child does not exceed the height or weight limits as specified in your car seat manual
If your child does not meet EVEN ONE of the above-mentioned requirements, it is time to do one of the following:
 a) Transition to a combination seat with higher harness limits,
 b) Transition to a booster seat, or
 c) Purchase another car seat that properly fits your child
Which option is right for your child?
For the sake of this article, we're going to talk about options A & B.
[If you choose to go with Option C we recommend visiting us in-store with your child and vehicle to determine which car seat is right for your family].


OPTION A: TRANSITION TO A COMBINATION SEAT
A combination seat is a child/booster seat that does not permit rear-facing. It is used forward-facing only and converts from harness-mode to a booster seat as your child grows and develops. Some of the most popular combination seats on the Canadian market are the Britax Harness-2-Booster seats because of their high harness heights.
We often see a child outgrow their 5-point harness because of their shoulder height [you'll remember the straps must come from at or above your child's shoulders], and the high harness height of OVER 20" allows you to continue to harness those taller riders who have outgrown their ~17" or ~18" harnesses – which is standard on convertible car seats.
In order to use a Britax combination seat, your child must be AT LEAST 25 lbs and AT LEAST 2 years old [although we recommend rear facing as long as possible for your family prior to moving to a forward-facing car seat or turning your convertible car seat around]. The Britax Harness-2-Booster seats convert to a high-back booster seat by storing the 5-point harness away beneath the back padding of the seat and instead using the seatbelt to restrain the child once they are ready for a booster seat.


A 5-point harness distributes crash forces across the strongest parts of the child's body – the shoulders, chest & hips. This is the same job a properly positioned seatbelt serves on adults and older children. If a child is mature enough to keep their seatbelt properly positioned at all times during a car-ride then they may be ready for a booster seat. On that note, let's explore Option B – transitioning to a booster seat.


OPTION B: TRANSITION TO A BOOSTER SEAT
Many parents transition to a booster seat too early because it is seen as more convenient – don't be the parent that sacrifices safety for convenience.
In Canada, in order for a child to be in a booster seat they MUST:
Be at least

 

40 lbs [on a regular basis – meaning a flu bug shouldn't put them back beneath 40 lbs]
Be large enough that a booster seat is able to properly position the vehicle seatbelt
Be mature enough to keep their vehicle seatbelt properly positioned the entire time they are in the car
Meet the minimum fit requirements imposed by the booster seat manufacturer
A properly positioned seatbelt has the lap portion of the belt snug and low on the hips/thighs and the shoulder portion of the belt centering the collarbone.


A High-Back Booster Seat
A high-back booster seat is recommended after transitioning from a 5-point harness because many have an adjustable shoulder belt guide that aids in properly positioning the seatbelt on the collarbone. The high-back booster also has head support, allowing your child to rest against it without disrupting the seatbelt placement.
The Highpoint Booster seat by Britax goes one step further and also provides a lap belt guide. The lap belt guide positions the lap portion of the belt across the child's hips/upper thighs and helps to prevent "submarining". Submarining is a term that describes a child sliding out under the lap belt in the case of a crash. This is a great transitional booster as it also reminds new booster seat riders to keep their bums at the back of the seat.

Backless Booster
A backless booster can be used when the shoulder belt guide is no longer required to achieve a proper seatbelt position across the centre of their collarbone, and the child is not dependent on the head support to rest against without disrupting the belt position. 
OR
When your child has exceeded the height or weight limits of the high-back booster.

Overall, because a seatbelt can move freely when a child is in a booster seat, they must be mature enough to understand the importance and necessity of remaining properly seated at all times. If they lean over to tease their siblings often, fall asleep while slumped forward, or are constantly "re-arranging" their seatbelt under their armpits or behind their back, then your child is better suited in a properly fitting 5-point harness for the time being.


The typical provincial/territorial minimum to use a seatbelt alone is a height of 4'9" – the average child does not reach that height until 11 years old [female] and 11.3 years old [male] - CPST Training Manual, 2019


All vehicles are different and your child may not require a booster seat for proper belt positioning in one, but may still require a booster seat to achieve proper belt fit in a different vehicle. Teaching your children to check for proper belt positioning will allow them to advocate for themselves when carpooling.


We often hear "she's almost as big as I am and I'm not in a booster seat!" Our standard response is that children's bones are not as ossified as adult bones and their skeletons are still very much developing and much more fragile.


Although the law in Ontario, Canada states that a child must be in a booster seat until 8 years old, that doesn't mean that a child can sit without one as soon as they turn 8.

 

The law also states that everyone in a vehicle must have a properly positioned seatbelt, and rarely will an 8-year-old without a booster seat achieve that. -

 

Ontario Ministry of Transportation
Although we hope this is changing with the times, once your child gets to kindergarten and sees new friends transitioning to the next stage too early you might start to hear "... but Jimmy doesn't use a baaaaby seat" from your child. We know as well as you that 5-year-old's can be very convincing, especially once they've picked up on some pretty intense negotiating tactics at school! At Snuggle Bugz, we are firm believers in choosing your battles & doing whatever necessary to maintain your sanity, but this is one battle that it's worth it to win.
Any tips and tricks for fellow parents on how you explained car seat safety to your school-aged [and very opinionated] child?
Want to test your child in a combination or booster seat? Need to make sure it fits in your car okay? Visit us at any Snuggle Bugz location to try before you buy with our dry-fit program.
DISCLAIMER: The information provided on this website is intended to help with the selection and safe use of car seats and booster seats. Under no circumstances should this information be used to replace the car seat instruction manual or the vehicle's owner manual. All car seats and booster seats differ and the details provided in the manual accompanying the purchase of the car seat should always take precedence. No two vehicles are alike and the vehicle owner manual should always take precedence over the information obtained on this website.
SOURCES:
Ontario Ministry of Transportation Website - 2019
Child Passenger Safety Association of Canada Training Manual - 2019
---
---