What is a Britax ClickTight Car Seat?
Jump to Section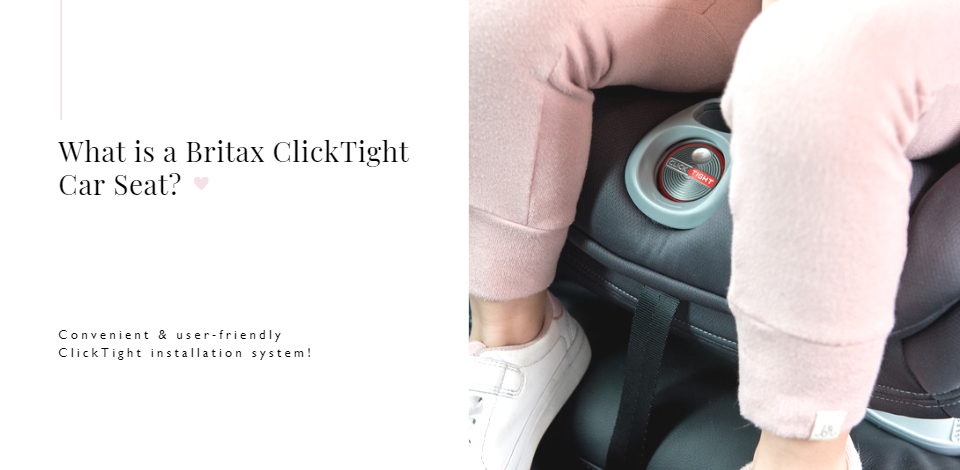 As a new parent, you've become a pro at decision making. You've handpicked a
crib
, a
baby monitor
, and even a
breast pump
!
From the day your little one was born their
safety
, no doubt has been top of mind. You've installed
safety gates
and
baby-proofed
your home—and before you know it that mobile little of yours will be ready to transition to a
convertible car seat
. When the time comes, we KNOW their safety will be top of mind.
We are here to help! Today we are sharing the what's-what on
Britax
's
ClickTight
lineup. And remember, you can always check out our
Terms Glossary
for any
car seat
jargon that might need more explaining.
A car seat can only do its job if it is properly installed—which is one of the reasons we LOVE the revolutionary ClickTight technology from Britax. Their goal was to decrease the risk of user error when installing a car seat, increasing the amount of properly installed [& therefore, safe!] car seats on the market. That's a win for everyone.
So,
what is
the
ClickTight
installation system and how does it work?
We've got you.
Read on for everything you need to know about the convenient and user-friendly
ClickTight
installation system – and some other key
Britax
safety features that we know you will love.
VIDEO
MADE TO ADVENTURE
Fasten your seat belts, let's go! First things first, Britax ClickTight car seats come in the following models:
 
CONVERTIBLE CAR SEATS
Britax Marathon ClickTight  |  Britax Boulevard ClickTight  |  Britax Advocate ClickTight 
[5-40 lbs rear-facing, up to 65 lbs forward-facing]
 
HARNESS-2-BOOSTER SEATS
Britax Grow With You
[22-65 lbs, forward-facing only, up to 120 lbs in booster mode] 


ALL-IN-ONE CAR SEATS
Britax One4Life
[5-50 lbs rear-facing, 22-65 lbs forward-facing, up to 120 lbs in booster mode]

All of these seats feature the ClickTight system – put simply, the ClickTight system is a series of components that are engineered to secure your child restraint to your vehicle seat using your vehicle seat belt as opposed to the UAS [Universal Anchorage System]. This eliminates the need to switch to a seatbelt install when you max out the weight requirements of your UAS – which is generally 65 lbs - restraint and child weight combined.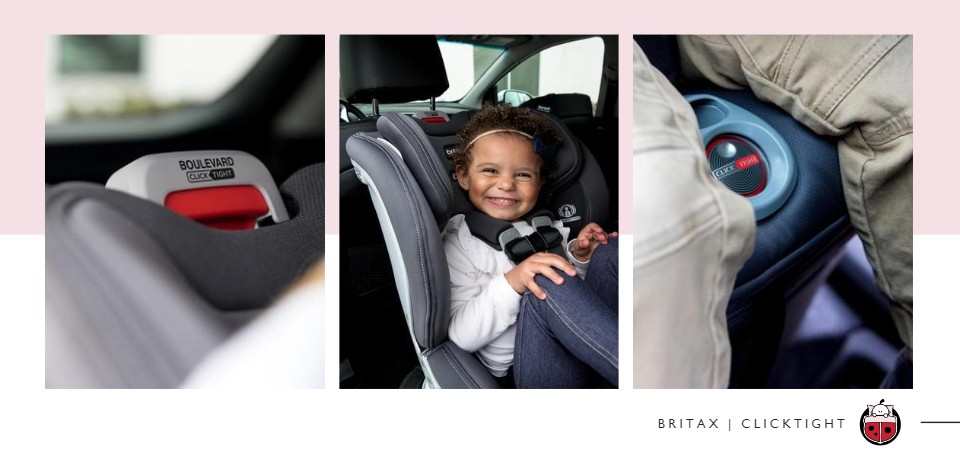 HOW IT WORKS
The Britax ClickTight installation system simultaneously tensions and locks your vehicle seat belt, resulting in a tight and secure installation every single time. This means you won't have to lock your vehicle seatbelt or use a [dreaded] locking clip. It also means you won't have to knee, tug and wrestle to remove all the slack from the vehicle belt. A loosely installed car seat leaves your child vulnerable in a crash, you'll be impressed with the lack of movement that occurs once the ClickTight door is shut!

Britax makes it easy to distinguish between rear-facing and forward-facing belt paths with colour coded indicators located right on the seat itself. Simply thread the lap AND shoulder belt through the blue path when rear-facing and the red path when forward-facing, remove any excess slack from the lap portion of the belt [not too tight] and close the ClickTight door. You'll hear a "click" indicating it's closed securely! After that, you're all set to hit the road.

An additional bonus, the belt paths are right in front of you! You can clearly see and confirm that there are no twists in the seatbelt and ensure you aren't accidentally weaving through the wrong space due to a portion of the seat blocking your view, as some child restraints do when suggesting a seatbelt install.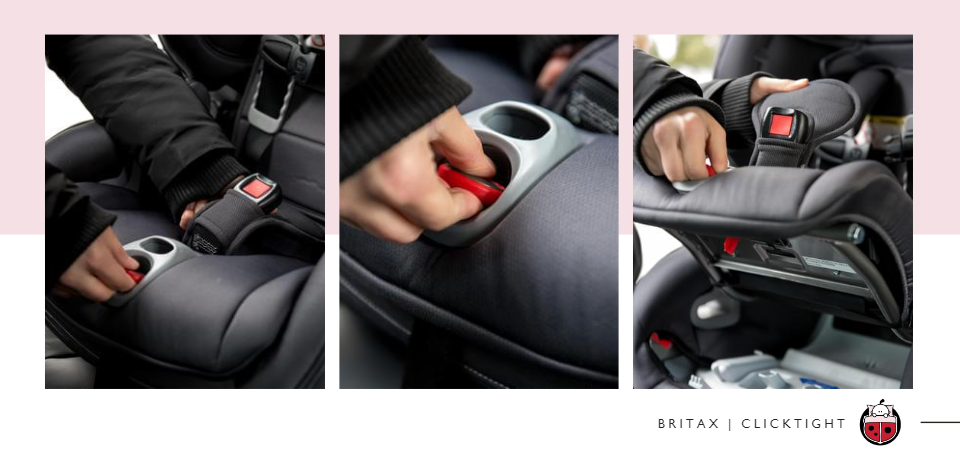 PEACE OF MIND
The ClickTight system really is a revolutionary technology.  This seat is especially perfect for grandparents, nannies, second vehicles or for leaving at daycare if someone else is picking up because the install is SO simple. You can feel confident that your babe is riding securely, even when they're hitting the town without you.
Top 3 Benefits of the ClickTight System:
No need to determine when it's time to switch from your UAS to a seatbelt installation
No need to determine the type of vehicle seatbelt you have – the

 

ClickTight

 

system will do the locking for you
No wrestling, kneeing or tugging required to achieve a secure installation with less than 1" of movement 
---
---