Top Booster Seats of 2023
Jump to Section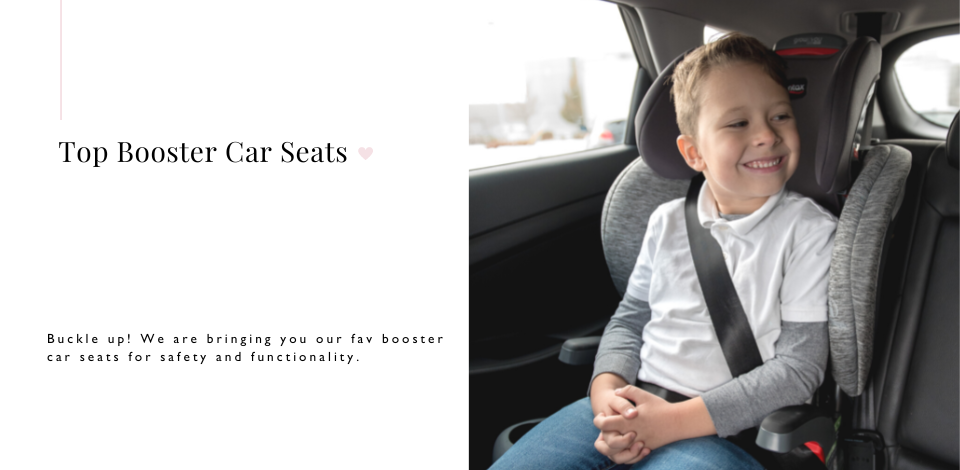 Pack the car because it's time to hit the road! Whether it's a quick trip to the store, or a long-distance adventure, if you're bringing your kids with you, you'll need to get them a
booster seat

 
— it's the law!

Most children are too small for the seating and shoulder belts in cars. A booster seat props them up to the proper height and provides added protection in the event of a collision.

Designed for pre-schoolers all the way up to pre-teens, here are our top picks for booster car seats.


CLEK OOBR
The Specs:
Dimensions: 28" x 17" x 13"
Weight: 20 lbs.
Weight Capacity: 40 to 100 lbs.
Height Capacity: 40" to 57"
The
Oobr Booster Car Seat
by
Clek
is one of Snuggle Bugz's best-selling booster seats and is consistently top-rated where safety is concerned. Available in a wide range of colours to complement any interior, the seat offers 4-inch elevation so kids properly meet shoulder belt heights.
Emphasizing safety, absorbent EPP foam is laid over a magnesium frame, with a protective headrest surrounded by deep side wings and stability in the form of a LATCH locking system.
Comfort is also a priority, with the seat reclining up to 12 degrees for those long car rides. The Oobr Booster Seat also lets you choose from a variety of fabrics — whether you want something soft (jersey knit), water and odour resistant (C-Zero Plus Performance), natural (merino wool), or upscale (C-Zero Plus), you'll have no trouble finding the perfect option for your child.
To learn more about the Oobr, click
here
.
If you're looking for another popular booster seat by Clek, honourable mention goes to the 
Olli Booster Seat
.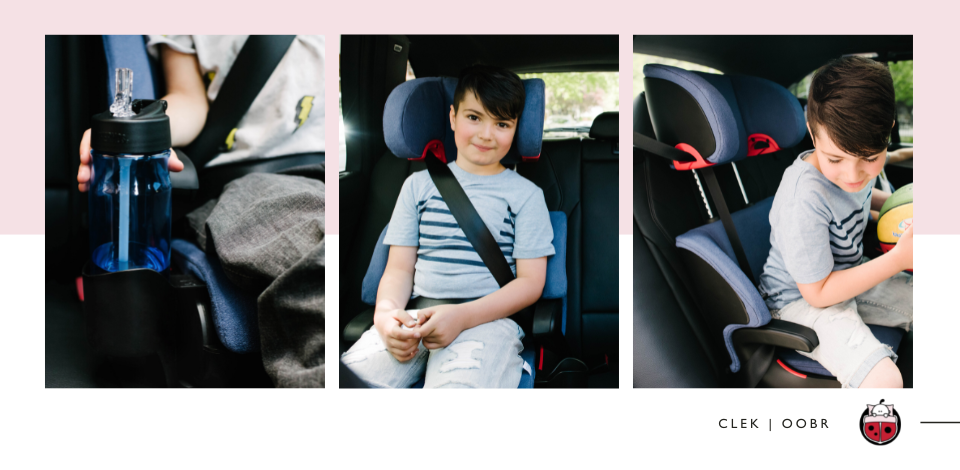 BRITAX HIGHPOINT
The Specs:
Dimensions: 16" L x 21.5" W x 27.5"
Weight: 12 lbs.
High Back Mode Weight Capacity: 40 - 120 lbs
High Back Mode Heigh Capacity: 44-63" tall Backless Mode Weight Capacity: 48 - 120 lbs Backless Mode Heigh Capacity: 46 - 63" tall
Britax
has created the perfect balance of safety and style with the
Highpoint 2-Stage Belt-Positioning Booster
. This seat is designed to provide extra head support for kids up to 63" tall with its quick-adjust headrest with 10-position options.
If you prefer a backless booster, the headrest can be removed, making it suitable for larger children. Safety is always the top priority for Britax, and the Highpoint has it in spades with three layers of full-body side impact protection, external cushions, and an energy-absorbing shell. Comfort is also taken into consideration, with plush foam padding and built-in armrests.
The stylish athleisure-inspired fabric cover is removable, as are the cup holders, to make the seat convenient to clean. Installation is also a breeze, with colour coded vehicle belt guides and SafetyGuard clip. If you are a parent looking to get the best of both worlds (style and safety) the Highpoint is a definite contender.
For the full in-depth review of the Britax Highpoint Booster Seat, click
here
.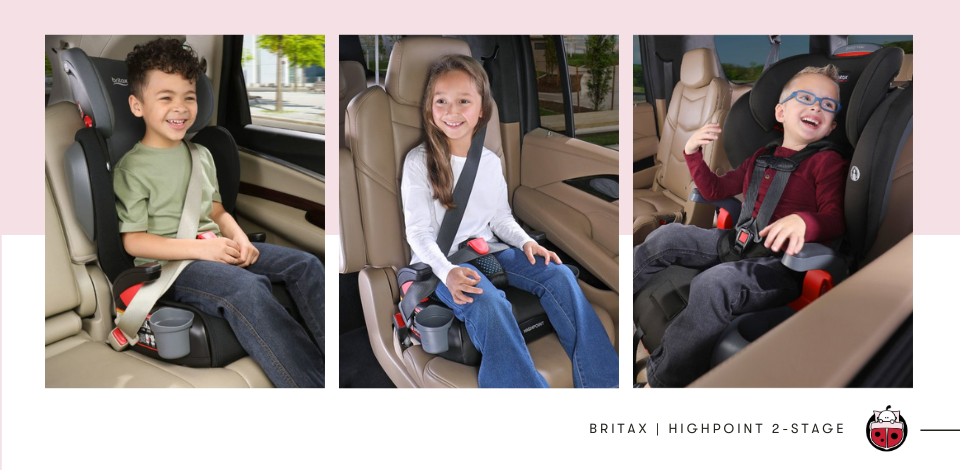 BRITAX GROW WITH YOU CLICKTIGHT
The Specs:
Dimensions: 21" L x 19" W x 25" H
Weight: 25 lbs.
Forward-Facing Weight Capacity: 25 to 65 lbs.
Forward-Facing Height Capacity: up to 49"
Belt-Positioning Weight Capacity: 40 to 120 lbs.
Belt-Positioning Weight Capacity: up to 63"
Britax's
Grow With You ClickTight Harness-2-Booster

 
is an excellent choice for parents that are looking for a premium car seat. It comes with a 9-position expandable headrest ensuring a perfect fit and head protection for your child throughout the years.
Safety features are prevalent, with a V-shaped tether reducing forward motion in the event of a collision and a 5-point harness keeping children firmly in place. This harness can eventually be tucked away once a seatbelt is preferred. This seat is also built with a strong steel frame and padded with energy-absorbing foam for premium protection.
Britax
covers the ClickTight Harness in Nanotex fabric, which is ideal for resisting stains, moisture, and odours.
For the full review of the Grow With You ClickTight Harness-2, click
here
!
Of Note: Britax also offers the
ClickTight Plus Harness 2-Booster Seat
, which is similar but uses a naturally flame-retardant knit cover rather than Nanotex fabric.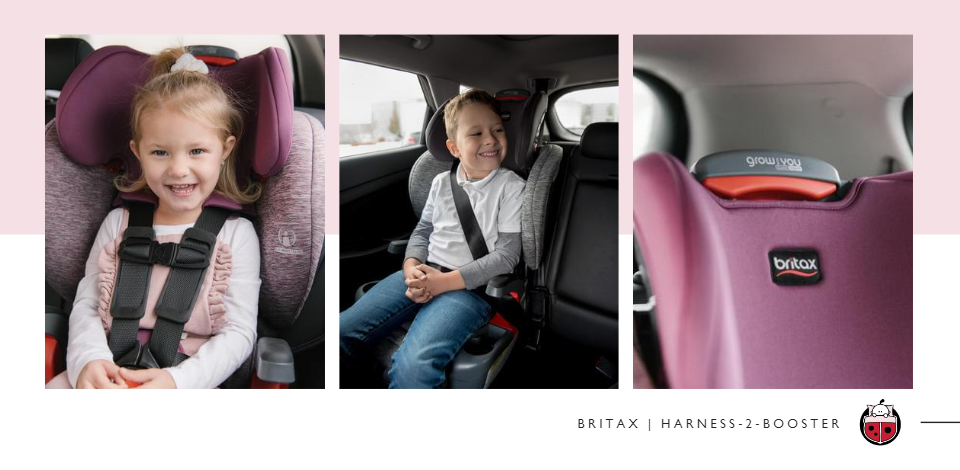 DIONO CAMBRIA 2
The Specs:
Dimensions: 16.1" L x 20.1" W x 29.9" H
Weight: 12.8 lbs.
Weight Capacity:: 40 to 120 lbs.
Height Capacity: 63" max
The
Diono Cambria 2 Booster Seat
is a transformer of sorts. Not only does its headrest have 6-position "grow with you" expandability, but the entire backing can be removed if you wish to use it as strictly an elevation seat.
Available in black, blue, and pink, a LATCH locking system keeps the
Diono
Cambria firmly in place, and a wide, contoured base offers comfort for children of all sizes and ages. Thoroughly tested to meet safety standards, this seat is a fraction of the price when compared to most boosters, making it a terrific option for budget-minded parents.
For a premium version of this model, check out the Diono
Monterey XT Booster Seat
.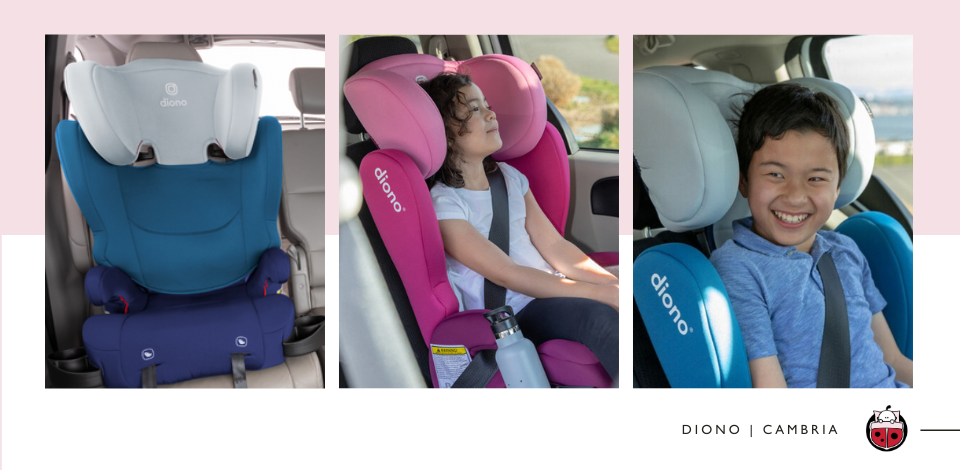 PEG PEREGO VIAGGIO SHUTTLE PLUS 120
The Specs:
Dimensions: 17 1/4" L x 17" W x 26" H
Weight: 14 lbs.
Weight Capacity: 40 to 120 lbs.
Height Capacity: 39" to 63"
The winner for the most convoluted car seat name is the
Peg Perego Viaggio Shuttle Plus 120 High Back Booster.
Jokes aside, it's a very good lightweight option where the headrest, backrest, and side wings can all be adjusted to keep up with your growing child. Once your little one is big enough, the back piece can be fully removed and the seat can be used on its own.
Boasting Italian design and craftsmanship, safety features abound on this booster including a LATCH system for rigid stability, an aluminum-enforced backrest to prevent whiplash, force-friendly EPS foam, and an encompassing headrest with side wings for extra protection.
Additionally, it's quite a fashionable seat that will "class up" any vehicle's interior. Oh-ay! It's Italian!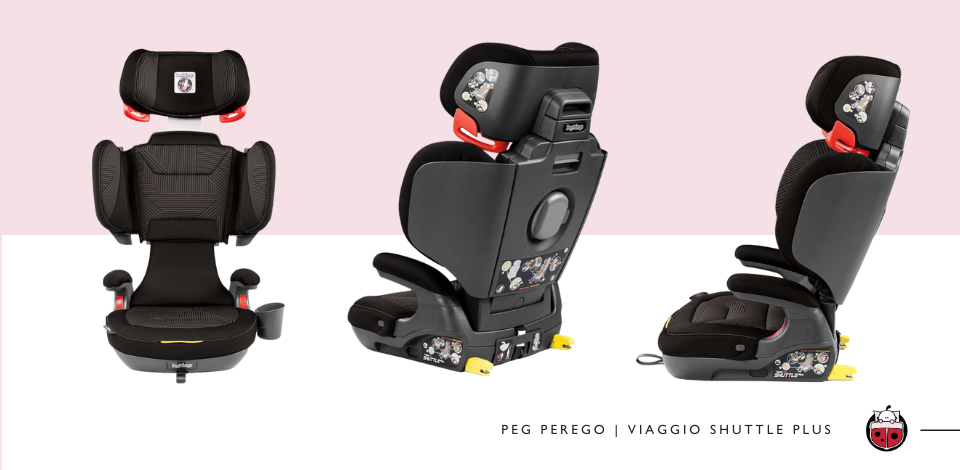 NUNA ROYL
The Specs:
Use From: 30 lbs.
Forward-Face to: 30–65 lbs. (with vehicle belt and tether)
High back booster suitable for children 40–120 lbs or 38"–57"
Highest Harness Height: 57"
Recline Positions: 4
Seat Width: 18.5"


The
Nuna ROYL Harnessed Booster Car Seat
is the perfect companion for growing kids, providing a first-class travel experience from the first moment to the last mile. From preschooler to pre-teen, the ROYL provides the utmost safety and comfort. Your child can start using the ROYL as a forward-facing seat and then later switch to booster mode.
This car seat is designed with luxurious features, like dual flip-open cup holders, a no-rethread, 5-point harness, adjustable calf rest for more legroom, and breathable knit fabric for a comfy climate. Moreover, it has an all-steel frame, energy-absorbing EPP foam, and Aeroflex™ Side Impact Protection (SIP) pods for superior protection.
The True Tension door ensures an ultra-secure fit without the struggle and harness storage for use during belt-positioning booster mode. It is also aircraft-certified, flame resistant, and contains no added fire retardant chemicals.
For more information on the ROYL, check out our full in-depth review,
here
.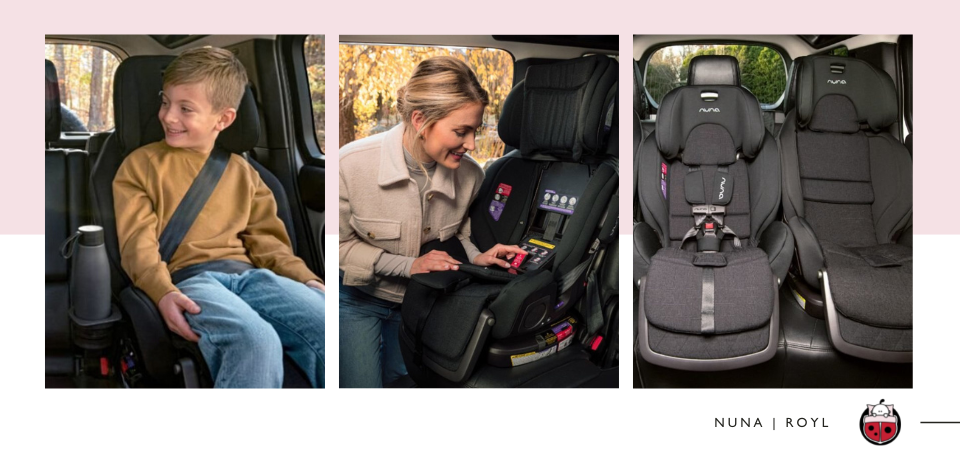 UPPABABY ALTA
The Specs:
Dimensions: 20" L x 19" W x 25.5–33" H (height headrest in lowest and highest positions)
Weight: 16 lbs
Weight Capacity: 40-100lbs
Height Capacity: 38-57"
UPPAbaby
has long been a parent-favourite brand, known for its high-quality products and trendy fashions — and they continue to impress with the
ALTA High-Back Belt-Positioning Booster Seat
. This seat checks all the boxes, boasting safety, comfort, accessibility, and style.
The seat's top-notch safety features include the SecureFit belt routing system, Rigid LATCH connectors, and Side Impact Pods. The ALTA aesthetic also won't disappoint, providing several chic fashions for parents to choose from. The design is not just pleasing to the eye, it also ensures your little one has an enjoyable ride. The dual armrests provide added comfort, making all the difference on long car rides. ALTA also has a seven-position, Active Support Headrest to meet the needs of growing children.
Plus, it's easy to keep this pretty seat clean (even with the inevitable spills and crumbs) thanks to the removable cupholders and washable seat fabric that quickly zips off!
To learn more about the ALTA, click
here
.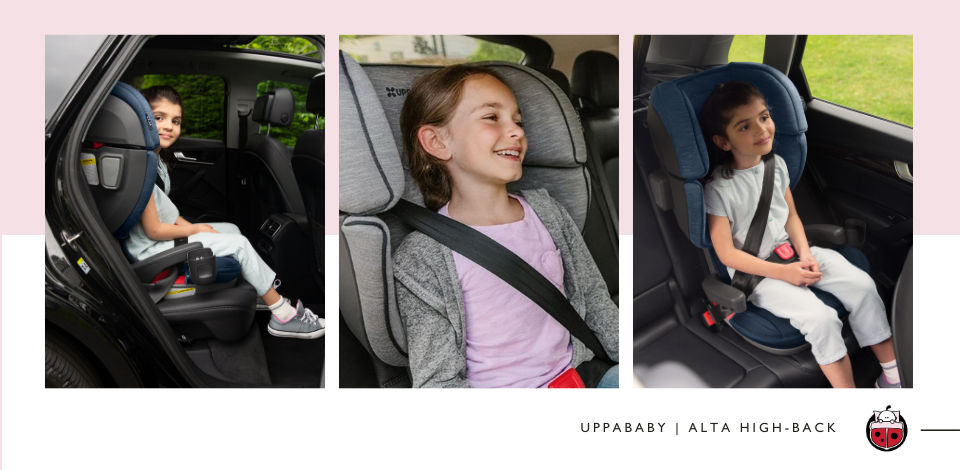 NUNA AACE
The Specs:
Dimensions: 11.8" W x 14" D x 22.4" H
Weight: 16.4 lbs.
Weight Capacity: 40 to 120 lbs.
Height Capacity: 38" to 60"
Nuna's
AACE Booster Seat
is another customizable booster that offers excellent performance for years. Equipped with a 10-position headrest and an 8-position reclinable backrest, the AACE aims to be a seat that can be used from pre-school years all the way to pre-teen ages.
A coloured belt path helps parents identify the correct routing for shoulder belts, and once kids are big enough, the seat can be converted to a no-back booster.
With side impact protection pods, energy-absorbing foam, and removable, machine-washable fabric, your child will feel safe, secure, and comfortable on every outing.
To read our full review of the AACE, click
here.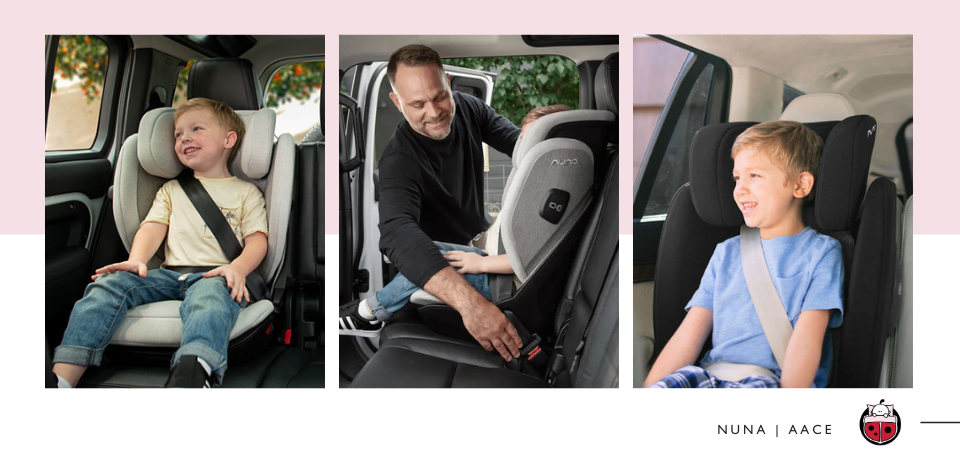 WHICH ONE IS RIGHT FOR YOU?
Today's
booster car seats

 
meet your child's needs by blending comfort with safety. They're built to protect your little angel via sturdy frames and shock-absorbing foam, while expanding to accommodate them as they grow. The right car seat will make time spent in the car more comfortable for them while delivering peace of mind to busy parents.
---