Bugaboo Butterfly vs. BabyZen YOYO² Stroller
Jump to Section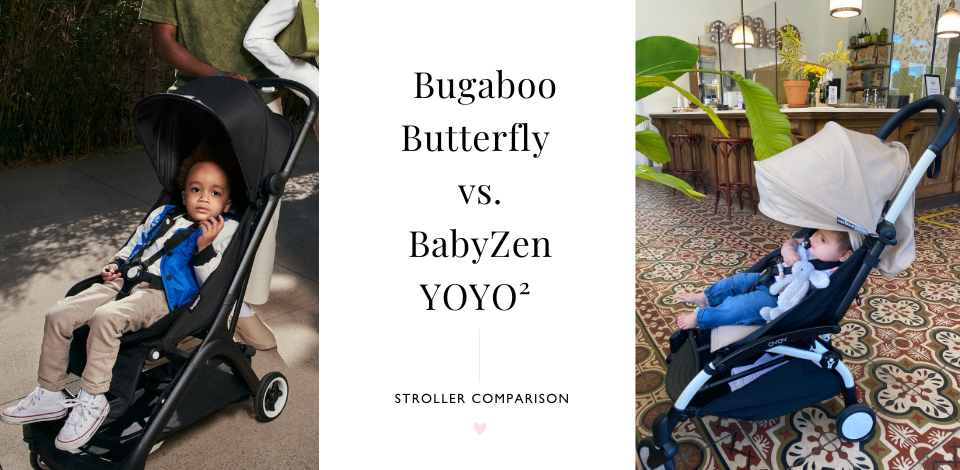 TOE TO TOE
A quick comparison of the physical specs between the Butterfly and the YOYO² show just how close they are in both dimensions and weight:
BUGABOO BUTTERFLY SPECS:
Open Dimensions: 36.42" W x 17.72" D x 40.31" H 
Folded Dimensions: 17.72" W x 9.06" D x 21.26" H 
Weight: 15.21 lbs. 
Recommended Seat Age: 6m+ 
Maximum Weight: 50lbs
Under Seat Bag Capacity: 17.64 lbs 
BABYZEN YOYO² SPECS:
Open Dimensions: 39" L x 17" W x 41" H
Folded Dimensions: 20" L x 17" W x 7" H 
Weight: 13.6 lbs. 
Recommended Seat Age: From birth with the newborn pack 
Maximum Weight: 48.5lbs 
Under Seat Basket Capacity: Up to 11 lbs


UNIVERSAL GREATNESS
Strollers across the board share many of the same design features. Here's a quick rundown of what the Butterfly and YOYO² have in common:
TRAVEL FRIENDLY:
Time to start packing! Both strollers are IATA-approved, meaning they compact down to a size that's small enough to fit into an airplane's overhead bins. These strollers also come with carrying straps so you don't have to wheel them through airports!
ALL-WHEEL SUSPENSION:

Babies will be comfortable in either stroller, as they both use a full suspension system to absorb road shock while on various terrains (perfect for those cobblestone roads you'll encounter on your travels).
SPACIOUS SEATING:

The Butterfly and YOYO² have large seats to accommodate children of all ages and sizes (starting at 6 months). Additionally, the Butterfly's seat lining can be removed for easy cleaning, which you know you'll need!
HELPFUL HARNESS:

Each stroller includes a 5-point safety harness, as well as a single button release to make getting baby out of the stroller easy-peasy and super quick.
HIGH-QUALITY  CHASSIS:

These baby rides are rigid and sturdy! This is due to the use of high-quality materials and top-tier construction, which reduces alignment issues, wobbly wheels, and breakage from general wear and tear.
LEATHERETTE HANDLEBARS:

A grippy handlebar goes a long way, and both strollers wrap their bars in durable leather for parents' comfort and convenience — they also add a touch of elegance to the strollers too.
ADJUSTABLE RECLINE:

The Butterfly and YOYO² can be reclined at various relaxation-inducing angles according to your child's preference. However, the Butterfly cannot recline to a flat position.
FOOT BRAKE:

Each stroller comes with a foot brake to lock them in place when not in use, so you don't have to worry about your precious cargo rolling away.
CAR SEAT COMPATIBLE:

These strollers are designed for use after 6 months of age. But with a pair of adapters, your child can use them earlier by attaching their car seat to the stroller frame! Hello, instant travel system!
Both can be used with car seats from
Clek
,
Cybex
,
Maxi-Cosi
, and
Nuna
(as well as
Bugaboo car seats
for the Butterfly). You can purchase the
Bugaboo Butterfly Car Seat Adapter
or the
YOYO Car Seat Adapter
depending on which stroller you go with.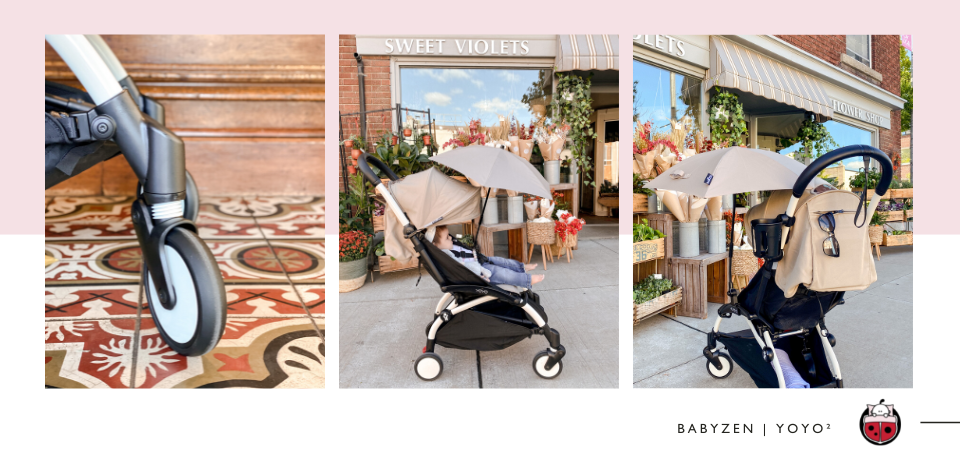 THE DIFFERENCES BETWEEN US
Of course, Bugaboo and Babyzen have a few differences that make them stand out! Here are the main differences between the Butterfly and YOYO².
YOYO² BASSINET:

For the YOYO² can purchase a
Newborn Pack
that allows you to use the stroller from birth (instead of 6 months). Simply, install it on the stroller's frame and your newborn will have a cozy little cocoon where they can lay completely flat and snooze safely.
COMPACTING:

The Bugaboo and Baby compact in different ways. The Butterfly collapses in one smooth motion (you can do it with one hand), while the YOYO² takes longer and is a bit more complicated. It's easy once you get the hang of it, but not as intuitive as the Butterfly.
WHEELS:

The YOYO²'s wheels each measure 5.3" in diameter. The Butterfly uses 4.7" front wheels and larger, 5.7" rear wheels. The Butterfly's wheels also have a raised, centre strip to reduce drag and prolong the lifespan of the tires.
CANOPY PROTECTION:

The Butterfly has a waterproof, 4-panel canopy with an extendable mesh section for extra airflow. It also comes with a loose front panel that can be tucked away or deployed. The YOYO²'s canopy, on the other hand, is waterproof and anti-UV, with UPF 50+ protection on the fabric. It also comes with a rear pocket for extra storage.
COLOURS:

Both strollers are offered in multiple colours. However, the YOYO² can be purchased with a black or white frame.
BASKET WEIGHT CAPACITY:

Everyone knows babies don't pack light, so having proper storage is a must! The undercarriage basket on the YOYO² holds up to 11 lbs., while the Butterfly stroller basket can hold up to 17.63 lbs.
FOOT REST:

The Butterfly includes a 5-point adjustable footrest for your child to rest their legs. Additionally, it doubles as a carrying handle when the stroller is collapsed.
INCLUDED ACCESSORIES:

The Butterfly includes a rain cover, while the YOYO² comes with a carrying bag. There are also extra accessories for each that can be purchased separately:
BUTTERFLY ACCESSORIES:
YOYO² ACCESSORIES:
PRICE:

Only $30 separates the price of these travel strollers. Bugaboo prices the Butterfly at $598.99, while Babyzen is $628.99 for the YOYO².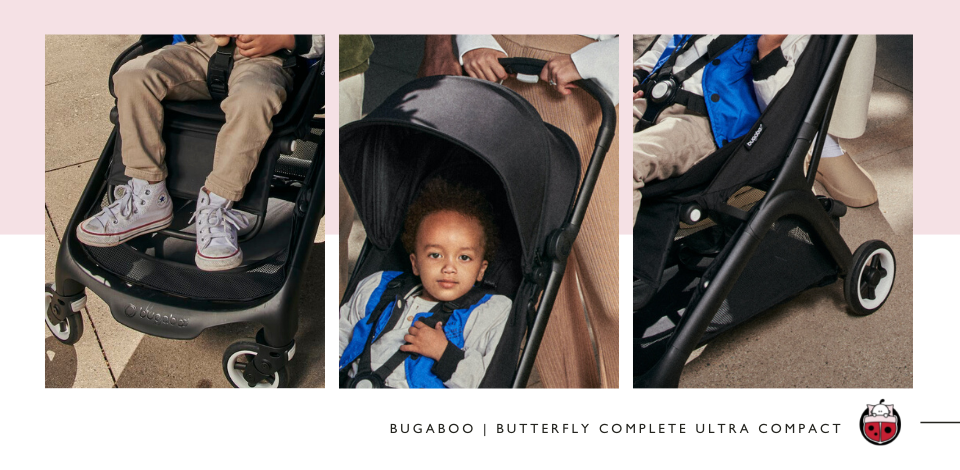 FINAL THOUGHTS
When comparing the
Butterfly
and the
YOYO
² it's hard to declare a definitive winner.
The Butterfly has smoother and faster compacting, more durable wheels, a larger basket capacity, and a handy footrest. While the YOYO² has more colour options, a UPF-rated canopy, and the ability to be used with a bassinet, making it newborn-friendly without an infant car seat attached.
Both the
Bugaboo
Butterfly and the
BabyZen
YOYO² are excellent travel strollers that are designed for form and function, are aesthetically pleasing, and afford parents and children years of use.
For the full review of the BabyZen YOYO², click
HERE
.
For the full review of the Bugaboo Butterfly, click
HERE
.
---
---