Bugaboo Butterfly vs. UPPAbaby MINU V2 Stroller
Jump to Section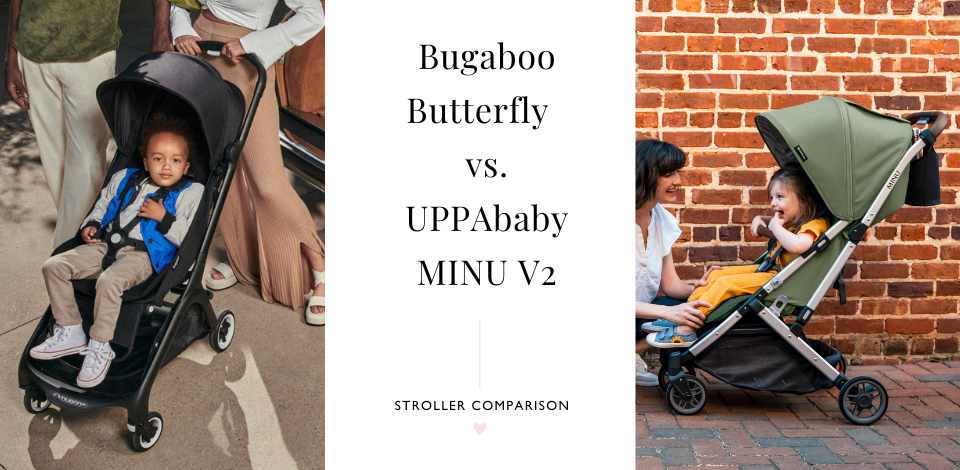 For adventurous parents, convenience is the number one feature to consider!
The Bugaboo Butterfly Ultra-Compact Stroller
and the
UPPAbaby MINU V2 Stroller
are designed with unique features; both strollers are lightweight, compact, and sturdy to be a great companion in your adventure or day-to-day activities.
The retail value of the strollers is different, with the Bugaboo Butterfly coming in a little higher; however, we will compare both strollers and let you decide which one suits your lifestyle better.
THE SPECS
Bugaboo Butterfly Complete Ultra Compact Stroller
:
Stroller Weight: 16.09 lbs 
Age range: six months – approx. Four years old (max 48.50 lbs) 
Folded: 17.72 x 9.06 x 21.26 inches (LxWxH) 
Unfolded: 36.42 x 17.72 x 40.31 in
Seating Capacity: 48.50 lbs 
Basket Capacity: 17.64 lbs 
The UPPAbaby MINU V2 Stroller
:
Stroller Weight: 16.9 lbs Suitable from 3 months to 50 lbs 
Folded: 11.5″ L x 20.3″ W x 23″ H 
Unfolded: 35.5″ L x 20.3″ W x 41″ H 
Seating Capacity: Up to 50 lbs 
Basket Capacity: 20 lbs 


The specifications for both strollers are very similar, but the UPPAbaby MINU V2 (unfolded and folded) is slightly bigger. At the same time, the Bugaboo Butterfly is IATA compatible, meaning it is accepted as a carry-on on airplanes.
The differences may not be significant in day-to-day activities or the city, but if you are a traveller, the differences are to be considered at heart.
HANDLING
The Bugaboo Butterfly Complete Ultra Compact Stroller can be folded and unfolded in One Second. One click, one hand, and then gravity does the work. The stroller can be slung over the shoulder for 100% hands-free carrying. It can also be picked up by the leg rest, the handlebar, or the carry strap (whatever feels more comfortable).
When folded, the stroller stands. The Bugaboo Butterfly is compact enough to be checked in as a carry-on bag and can be stored in luggage overhead compartments. Plus, at just 16.09 lbs it's not too cumbersome to carry around.
The UPPAbaby MINU V2 can also be folded with one hand, but both hands are needed to unfold. This stroller comes with a shoulder strap and comes with a carry handle. When travelling on an airplane, the stroller will require a
Travel Bag Accessory
(sold separately), but the stroller will need to be registered at check-in. (UPPAbaby offers Travel protection when registering the product online). This stroller also weighs 16.9 lbs.
As mentioned, for day-to-day activities, you cannot go wrong with any of these strollers, but they are set apart when hopping on an airplane.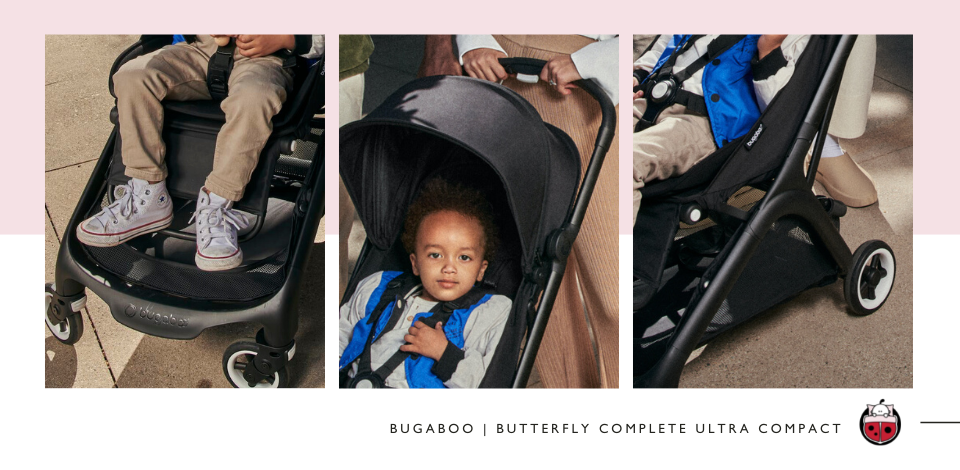 SUSPENSION
The Butterfly offers a 4-wheel suspension, which lets you travel smoothly over bumps. It can be maneuvered with just one hand while your baby snoozes away.

On the other hand, The UPPAbaby MINU V2 also has front and rear suspension and provides a comfortable ride experience.

These strollers will provide a pleasant ride for you and your baby.


SEAT
The MINU V2 is suitable for three months old babies to 50 lbs toddlers; it has a reclinable seat with adjustable leg rest.
What about newborns?
The MINU V2 has your back! This stroller is suitable from birth also; add the 
From Birth Kit
, or
MESA Infant Car Seat
with the
addition of adapters
, and your newborn is set for a nice ride. This stroller has
adapters

 
compatible with other car seat brands too. The Butterfly also offers a reclinable seat and adjustable leg rest and is suitable for 6-month-old babies to 48.5 lbs toddlers.
The Butterfly can be used with a car seat using
car seat adapters
— in this case; the stroller can be used from birth onwards.
These strollers are compatible with most car seats with the use of adapters. However, if your preference is to carry your newborn flat, the MINU V2 (with the From Birth Kit) is the one that makes it possible.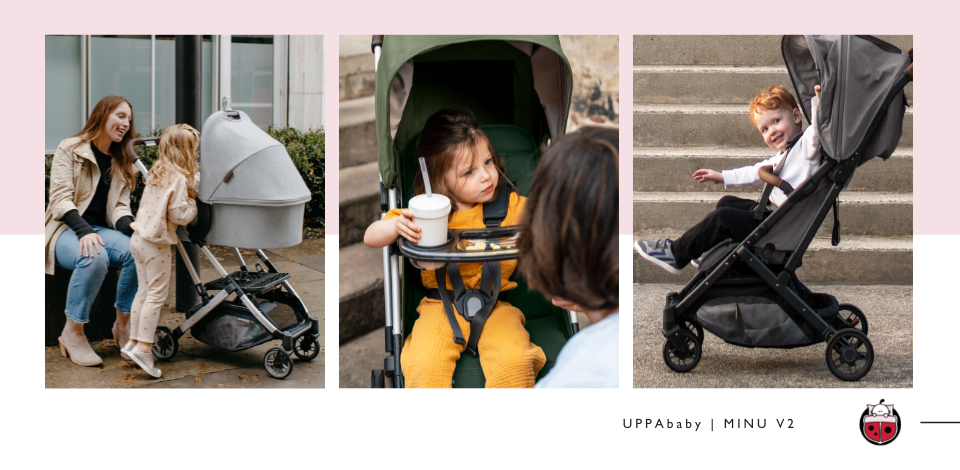 STORAGE
These strollers offer a large storage bag; the MINU V2 is rated to hold up to 9 lbs, while the Bugaboo Butterfly, on the other hand, can hold up to 8 lbs. While the capacity is much smaller than full-sized strollers, there is enough space to hold the things your baby needs most to enjoy the adventure ahead.


FINAL VERDICT
These
strollers
are excellent options, but if your decision is based on size, the
Bugaboo Butterfly Complete Ultra-Compact Stroller
is the way to go. Keep in mind that the weight ratings are slightly smaller (basket and seat), but it still yields benefits when hopping on an airplane.
While a little larger, the
MINU V2
has accessories for parents that want to carry their newborn baby comfortably for longer periods of time, which can definitely be handy.
Whatever stroller you choose, you can count on your next adventure rolling smoothly.
---
---