The Bugaboo Stroller Line-Up
Jump to Section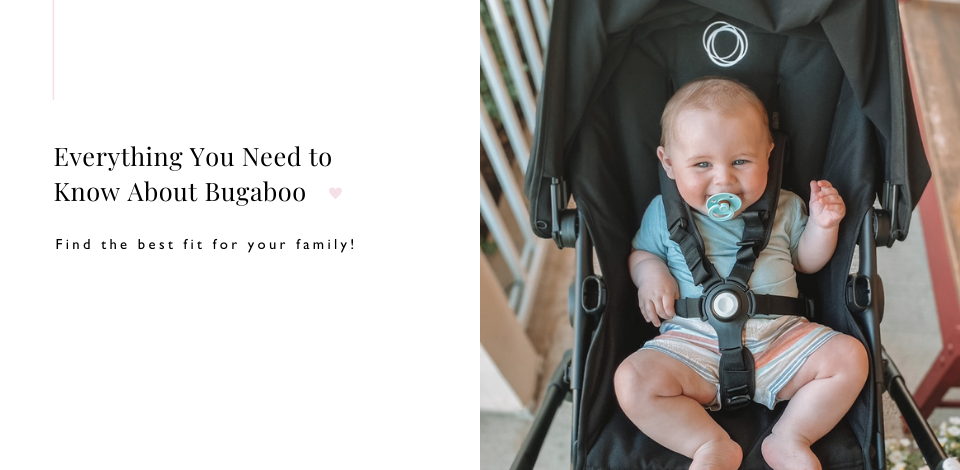 When it comes to choosing a 
stroller
, there is a lot to think about. Some people are planning to have multiple kids in a relatively short timeframe, while others feel that one and done is the right way to go. Either way, knowing what options you have in a 
stroller
 will help you make an informed decision that you can feel confident about.
THE BUTTERFLY
Searching for a stroller that gives you the freedom to fly far and wide, maneuver city streets, and keep up on the trails, no matter the terrain? Look no further – the
Bugaboo Butterfly
is the ultra-compact complete stroller, ready for any journey with its all-wheel suspension, and genius 1 hand, 1 second fold. You heard us right – the Butterfly swiftly folds down with just 1 hand, so you can hang onto the important stuff.
Our favourite part? The
Butterfly
may be compact, but doesn't sacrifice features, style, or functionality. Not only does it feature a hassle-free fold
Bugaboo
calls the "air unfold", but its ultra-compact frame is the perfect travel companion because when folded, it's about the size of a carry-on suitcase, meaning it fits into the overhead storage of an airplane. We can't think of anything more convenient than having our everyday stroller with us while travelling, can you?
Other features we love are the huge storage basket that boasts a weight capacity of 17lbs worth of goodies, and the 5-point no re-thread harness with quick release so that your little is safe, but ready to hit the ground running when it's time to explore. The Butterfly showcases the stylish
Bugaboo
aesthetic we've come to know and love, and is also compatible with all
Bugaboo accessories
– just try and name something cozier in the winter than the
Bugaboo Universal Footmuff
... we'll wait!
For our full in-depth review of the
Bugaboo Butterfly
, click
here
.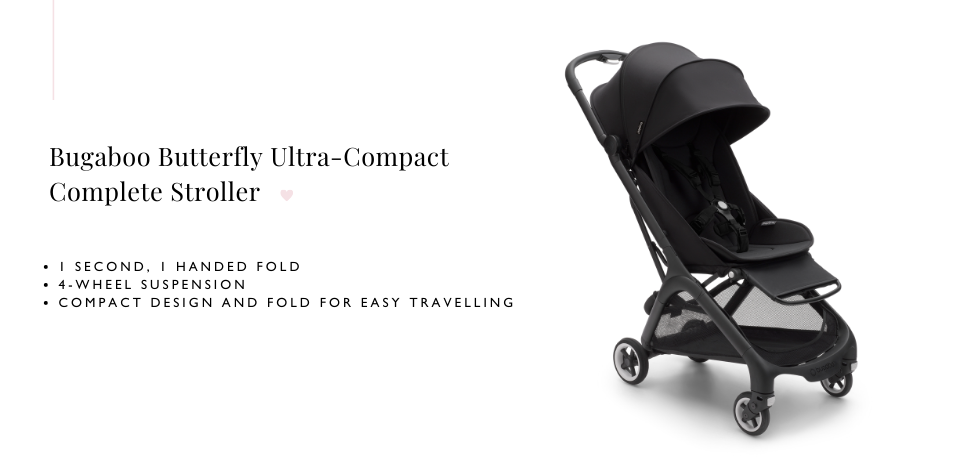 THE BEE6
The
Bugaboo Bee6
is another great
stroller
choice that will also grow as your family does.
A more compact, urban
stroller
made for city living or for someone that prefers a nimble, easy to get around town kind of stroller. The
Bee6
weighs less than 20 lbs and easily folds with a snap of a button. 
You can also add the
Comfort Wheeled Board
for your older child, which offers a place to stand or sit for quick trips to the park or grocery runs. It easily folds and stores and now with the
Self Stand Extension
you can keep your folded stroller upright and off the floor at a café or on the train.
It's brilliant.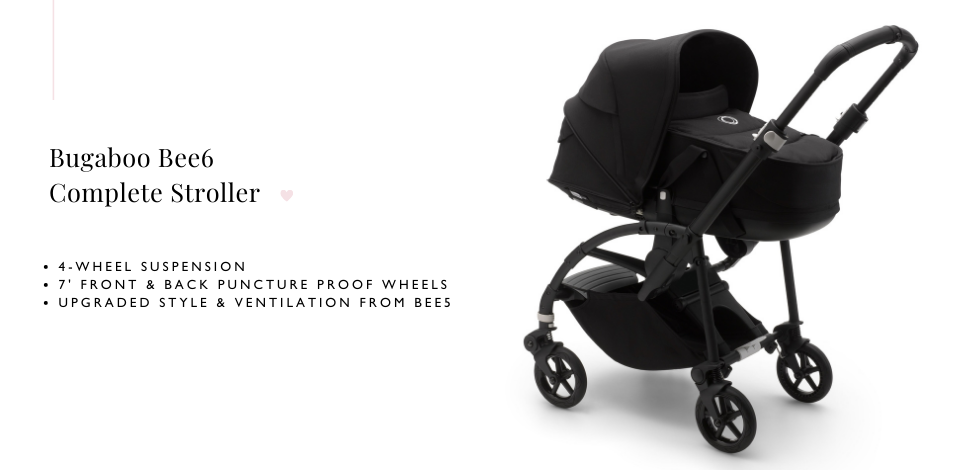 THE LYNX
Meet the
Lynx
–
Bugaboo's
lightest full-size stroller that features a large under-seat basket and is made for maneuvering tight spaces. We love the
Lynx
for parents living an urban lifestyle because you get all the perks of a
full-size stroller
, like accommodating your babe up to 50 lbs, with all the convenience of a
compact stroller
. Take the Lynx through the park with its puncture-proof wheels and 2-wheel suspension that make sure it's a comfortable ride.
Did we mention the easy push? At 20.7 lbs, the
Lynx
literally makes your life easier by putting less pressure on you. You could even say it's a self-care moment, and we know how important those are. Treat your little with care as well with the comfortable, ergonomic seat, and peek-a-boo airflow windows that help them cool down under the large sun canopy.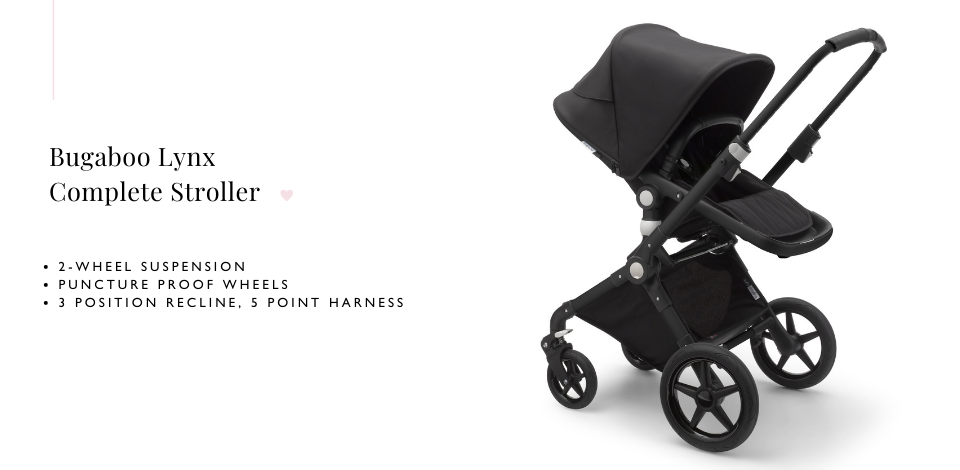 THE FOX 5
Th
e Bugaboo Fox 5
 is the ultimate comfort
stroller
 for your little one.
While there are a lot of things to consider when choosing a stroller, the push and the suspension are definitely at the top. A great push makes your strolls so much more enjoyable, while the suspension keeps baby stable over bumpy terrain. Thankfully, you can count on the Fox 5 to give baby the most comfortable ride and the responsive push is absolutely effortless, you can even utilize one-handed steering.
We LOVE that the Fox 5 includes everything you need from newborn to toddler. With the included pram body, you can comfortably transport your newborn from day one. As your baby grows, simply transition into the reversible toddler seat with the adjustable 5-point harness that easily snaps together with a click of a button. 
The Fox 5 also has two new features to accommodate growing children! The canopy can now slide up an extra 5 centimetres to give you greater length in the seat, and the footrest on the toddler seat is also extendable. These are nice features to help keep your child comfortable as they grow and extend the length of time you can use your stroller.
This stroller allows parents to utilize most of its features with just one hand — leaving your other one free to take care of babe! In addition to the easy, one-handed push previously mentioned, you can recline the seat, fold the stroller, and adjust the handlebar, canopy length, and footrest...all with one hand.
If you're out and about and your baby falls asleep, recline the seat in any of the three positions and fully extend the sun canopy to create a peaceful cocoon for napping. All
Bugaboo
fabrics are UPF 50+ to protect your baby's delicate skin and are machine washable!
If you choose to have another child, growing your stroller is easy. Simply attach the
Bugaboo Comfort Wheeled Board
and your older kid will be able to sit or stand no matter the destination. For more useful accessories for the Fox 5, check out our Learning Centre article,
here.
For our full in-depth review of the Fox 5, click
here
.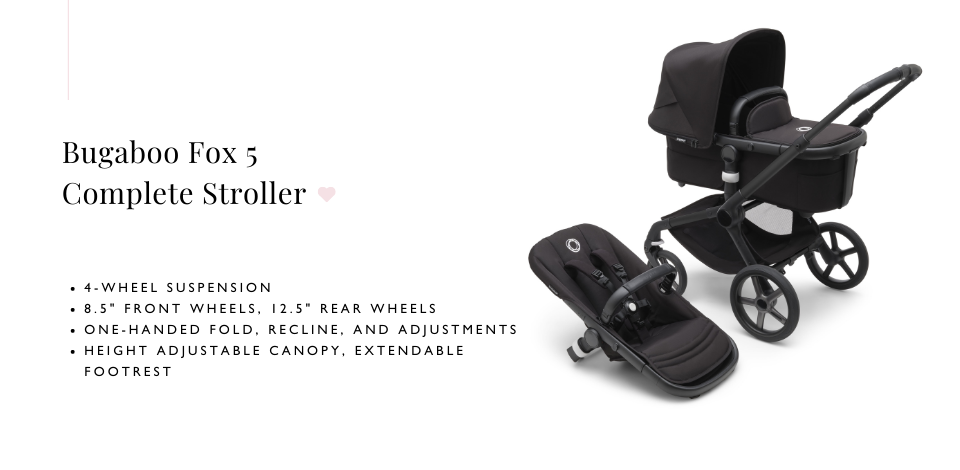 THE DONKEY 5
The
Bugaboo Donkey 5
is one of the best
double strollers
on the market, but did you know it is also available in the mono configuration with an extra-large side storage basket? If you are planning to expand your family but you aren't there yet, this
single stroller
converts to a
double stroller
by adding a second seat and expanding the frame in a few simple clicks. It's also a really great choice for expectant parents of twins.
Made with the highest-quality materials and extra suspension, going over bumps and curbs is effortless. The
Donkey 5
is highly maneuverable and with the extra side storage basket, you can stop by the farmers' market at a moment's notice. Bugaboo has also done a complete restyling in recent years, making the
Donkey 5
so sleek and stylish it's impossible to miss.
With the included pram body, your baby is ready to go out and about from day one. The comfortable mattress will keep your newborn comfy, while the side panels with advanced 3D mesh will help regulate your baby's temperature. 
As your baby outgrows the pram body, they move to the toddler seat, which is reversible, reclinable, and approved to hold up to 50 lbs. If you know a third baby is in your future, you can also attach the
Comfort Wheeled Board
 to the back of the stroller.
If you are planning on using it as a
double stroller
, your little ones will love the side-by-side seating. You don't have to choose who goes in front as you do with tandem seating and your kids can interact with each other. The
Donkey 5
double stroller is narrower than most side-by-side strollers and fits through standard doorways, making it easy to move around in tight spaces. Multiple storage options are integrated into both configurations so you never have to worry about making space for your
diaper bag
or groceries.
For the full in-depth review of the Donkey 5, click
here
.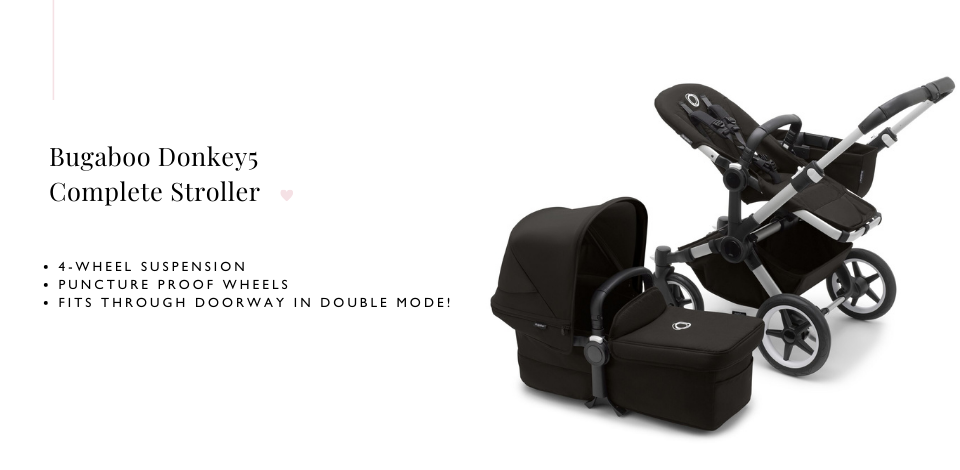 THE DRAGONFLY
The Bugaboo Dragonfly Stroller is a true game-changer in the world of baby strollers, combining innovative design with top-tier functionality to create a stroller that's hard to beat. Packed with features that cater to both the needs of parents and the comfort of little ones, it's a versatile choice that stands out. 
One of the most notable features of the Dragonfly is its ultra-lightweight design, making it a breeze to push and maneuver, even with one hand. The stroller boasts a smooth suspension system that glides effortlessly over various terrains, providing a comfortable ride for your child. 
The Dragonfly is highly adaptable, accommodating infants (with Pram or infant car seat) through toddlers with ease. It offers a reversible seat, allowing your baby to face you or the world, and the recline feature ensures a comfortable nap time for your little one on the go. Furthermore, it is compatible with a variety of infant car seats, adding to its versatility. 
This stroller also shines in terms of storage, with a spacious under-seat basket and an integrated attachment point for accessories, making it convenient for parents on the move. The canopy offers excellent sun protection and the high-quality fabrics are both stylish and easy to clean. 
The Bugaboo Dragonfly Stroller is a feature-packed, stylish, and versatile. Its lightweight design, adaptability, and thoughtful features make it a top contender in the stroller market, ensuring both parents and babies can enjoy a smooth and comfortable ride. 
For a full review of the Bugaboo Dragonfly Stroller check out our article, here.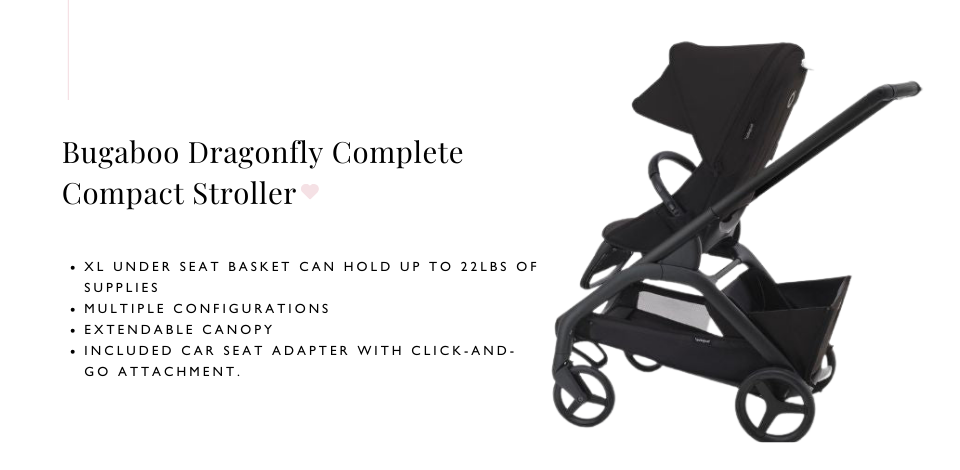 YOU'VE GOT THIS

Whether you plan to have one child, two, or even more, quality and safety are what matters. At 
Bugaboo
, over 1500 tests per 
stroller
 are conducted to ensure each is up to the task. The products are designed with aerospace aluminum and washable high-quality fabrics (because let's be honest – when it comes to little ones, it's best if you can wash it!).
You want a beautifully designed but functional 
stroller
 that will grow with you and your family. We understand. You've got everything you need.
You've got this!
---