Our Top 10 Skip Hop Baby Registry Picks
Jump to Section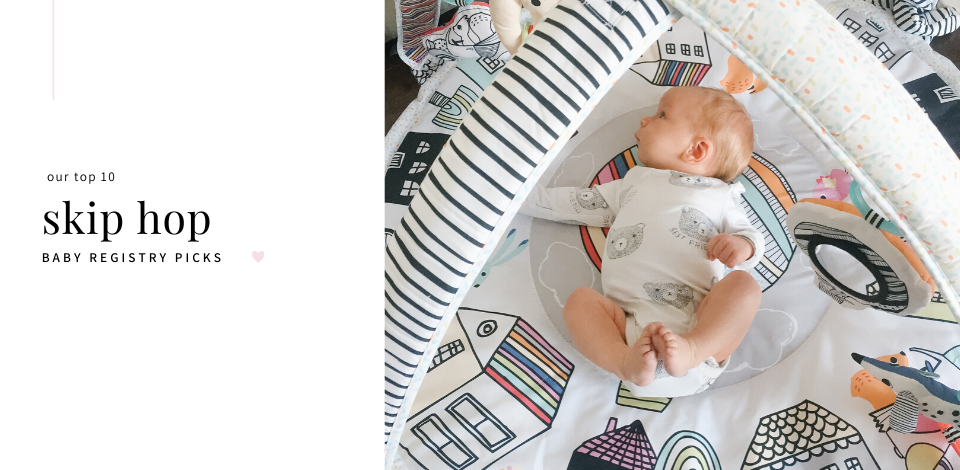 Creating a 
baby registry
 is hard work!
It's a balancing act juggling the things you want, the things you need, and accounting for all the additional items baby might need as they grow. OH, and don't forget to include items at a variety of price points for your friends and family to specially select for you and babe.
Overwhelmed?
Not to worry, we are here to help you navigate along the way. Our 
Baby Registry checklist
 will keep you grounded and organized – and to give you that extra little bit of confidence, today we are breaking down our Top 10 must-have 
Skip Hop
 registry items!
ACTIVITY GYM
Your little love won't be jumping into the GTL routine for at least a few more years [yes, that's a Jersey Shore reference] – but they can get started right away with an activity gym.

It's ideal to have a safe [clean] space for baby, and a play gym is a great option. We also love that most of the time these include fun mirrors, bright patterns, and soothing music.

DIAPER BAG
A diaper bag is 100% an extension of who you are.

It will keep you organized and equipped with everything you need while out and about with your little one in tow. Skip Hop has a variety of styles, textures, and colours to choose from – totes, backpacks, and satchels—oh, my! 

The only question is, which one will you choose?
PLAYVIEW ENCLOSURE
Keep. Them. Contained.

When your little one starts to walk, it will happen overnight. Create a baby-friendly environment in a snap with the Skip Hop Playview Enclosure. It allows you to baby proof anywhere and creates over 20 square feet of play space for your little to play. The little clouds and mirror motif are super adorable, and baby will love interacting with this [included] toy panel. Plus, the printed mesh gives you great visibility when baby is playing.

You can make this space EXTRA cozy and fun for baby by adding in suggestion #6—Skip Hop Geo Floor Tiles. 

PLAYARD + CRIB SHEETS
A playard is ideal to have on your registry for so many reasons. If you have one, you can take baby's safe play space anywhere. Pack up and head to Grandma and Grandpas house, your baby besties, or for fun long weekend away from home.

The Play-to-Night Travel Playard was recently released by Skip Hop and it is unlike any other playard on the market.

Why? It is extendable – by 60% to be exact! If you are currently living in a small space or a condo you will appreciate that you can adjust the size of the playard depending on where it is being set up. When space is available, you can unzip the sides to create a large square play space for baby.

Did we mention it includes a base mattress and a sheet? It does! But don't forget to add a few extra sheets to your registry for convenience.

GEO FLOOR TILES
We have been loving the Skip Hop Geo Floor Tiles since they came out a few years ago.

Why? These are a great way to identify baby's dedicated play space but in a neutral colour scheme will match the interior of your home. Plus, we love that these tiles help to cushion baby as they begin to pull-up, push-up, and scoot around while playing.

We love these so much we even included them in our round-up of 10 Gift Ideas for the Monochromatic Mama.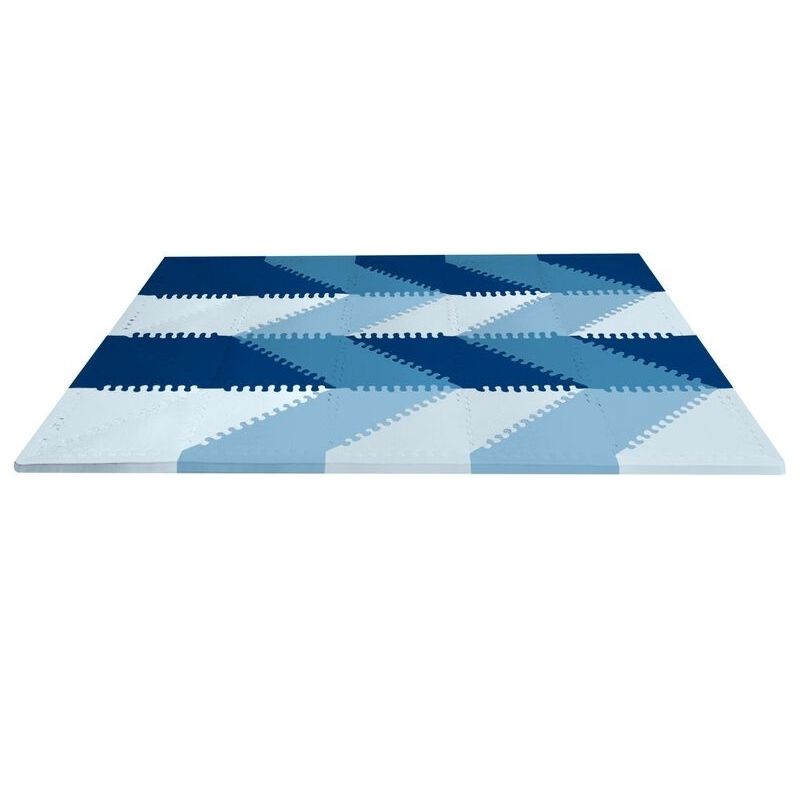 Skip Hop
Sale Price: $206.24
Regular Price: $274.99
BATHTIME ESSENTIALS KIT
Everything you need for baby's first bath and beyond! Get bath time ready with the Moby Bath Time Essentials Kit.

The all-in-one kit includes a spout cover, bath kneeler, elbow rest, and bath rinser. We are obsessed with the Waterfall Bath Rinser that helps to keep soap and shampoo out of your little one's eyes—a BIG "W" in our opinion! The rinser can be purchased separately if you don't opt for the whole kit and kaboodle. 

We love that Skip Hop offers a variety of bath time items that allow you to add 1, 2, or 5 of them to your baby registry. Your guests will love their entry-level price point – perfect to accompany a Snuggle Bugz Gift Card! 
WIPE-CLEAN CHANGE PAD
How adorable is this Wipe-Clean Changing Pad from the Nursery Style collection?

We love that it can easily wipe clean—no washing a change pad cover or dealing with wet messes. This wipeable change pad won't absorb liquids or smells. Also, how cute is the little toy bar? It can be tucked away when not in use or bring it out to entertain baby because there WILL come a day where you opinionated toddler will decide diaper changes are not on his list of things to do—and you'll need all the help you can get!

We also love the variety of styles on the Pronto Changing Station – your perfect on the go, wipe-clean changing pad.

Finally, don't forget the Light-up Diaper Caddy – perfect for those middle of the night changes, and at a great price point to add to your registry. Cross your fingers that someone gifts it to you and fills it up with all the diaper cream that you'll need for baby in those first few months.


DIAPER PAIL
Okay, we realize that diaper changes may not be glamorous BUT your diaper changing station can be! The Skip Hop Nursery Style Diaper Pail is different than many of the others out there. We love that this unit is square vs. round which allows you to make use of every inch of baby's room. It also has an odor-resistant steel bin –and get this—NO special bags needed!

Don't forget to register for the Wipes Holder [sold separately] that conveniently fits right on top of the unit.

If you've been looking for a diaper pail—we think you might have just decided on "the one".
CRY ACTIVATED SOOTHER
8 sounds and melodies.
2 soothing light modes [in 7 colours].
AND the ability to record your voice for baby.

The Terra Cry Activated Soother by Skip Hop automatically responds to baby's cries with its smart sensor, has a great aesthetic, and is combined with being a soothing nightlight!

Pro Tip: Try recording them a custom message for their first night away from home so that they can sense you are still with them.


ON-THE-GO ESSENTIALS
Lucky number T-E-N!

Narrowing down our favourite Skip Hop picks was not an easy task, as there are so many helpful products that we could suggest.

So, for #10 we've decided to call this category "on-the-go essentials". The items below will help you feel down-to-earth and organized, even when you are out-to-lunch.
READY TO SKIP AND HOP?
We love that the price point on so many of the Skip Hop toys and accessories are SO reasonable—so you can register for every last cute one that you see. 
Check out our Related Content below for more of our favourite product breakdowns!
---
---