Jump to Section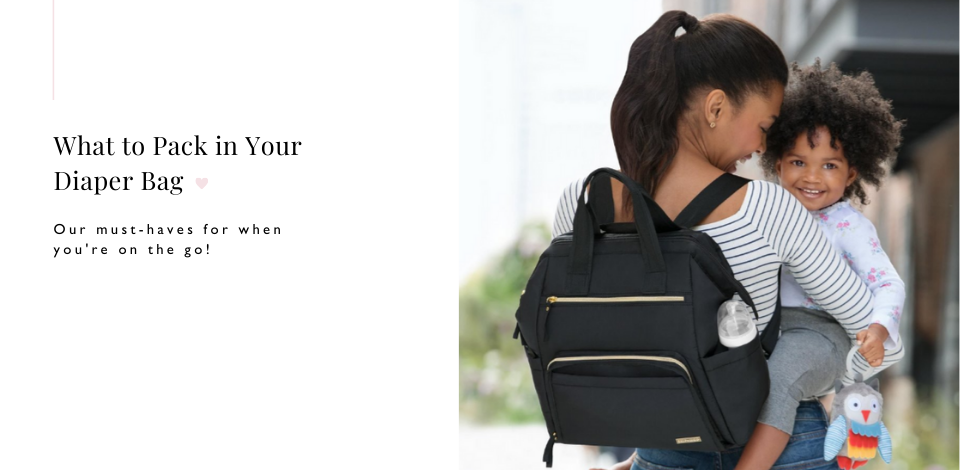 There's something so life-giving about getting out of the house with your little ones – even when it takes forever to leave! While getting out may be half the battle, you also want to enjoy your time out, so it's important to pack accordingly. Murphy's Law says that whenever you forget to pack that extra outfit, it's then that baby will have a diaper blow out.
WHAT TO PACK IN YOUR DIAPER BAG
There are a lot of things to keep in mind when packing up your diaper bag for an outing, whether your children are six months or six years old. There are also a lot of ways to lighten your load, and of course the optimal bag is key.


BUT FIRST ... THE BAG
First of all, the
diaper bag
itself. A Snuggle mama and busy mom of 3 swears by backpack-style diaper bags. She loves having two arms free to tie shoes, grab kids, or change diapers on the fly. We love the trending, backpack style bags like the
Greenwich Backpack
(the pink is so cute!) and the
Chelsea Downtown Chic Diaper Backpack
. If backpacks aren't your thing, check out the ever-popular
Duo by Skip Hop
, and the new line by
Ju Ju Be
for something unique and functional. Once you've got your bag, let's talk contents. These will change with age, so let's start with newborns and babies.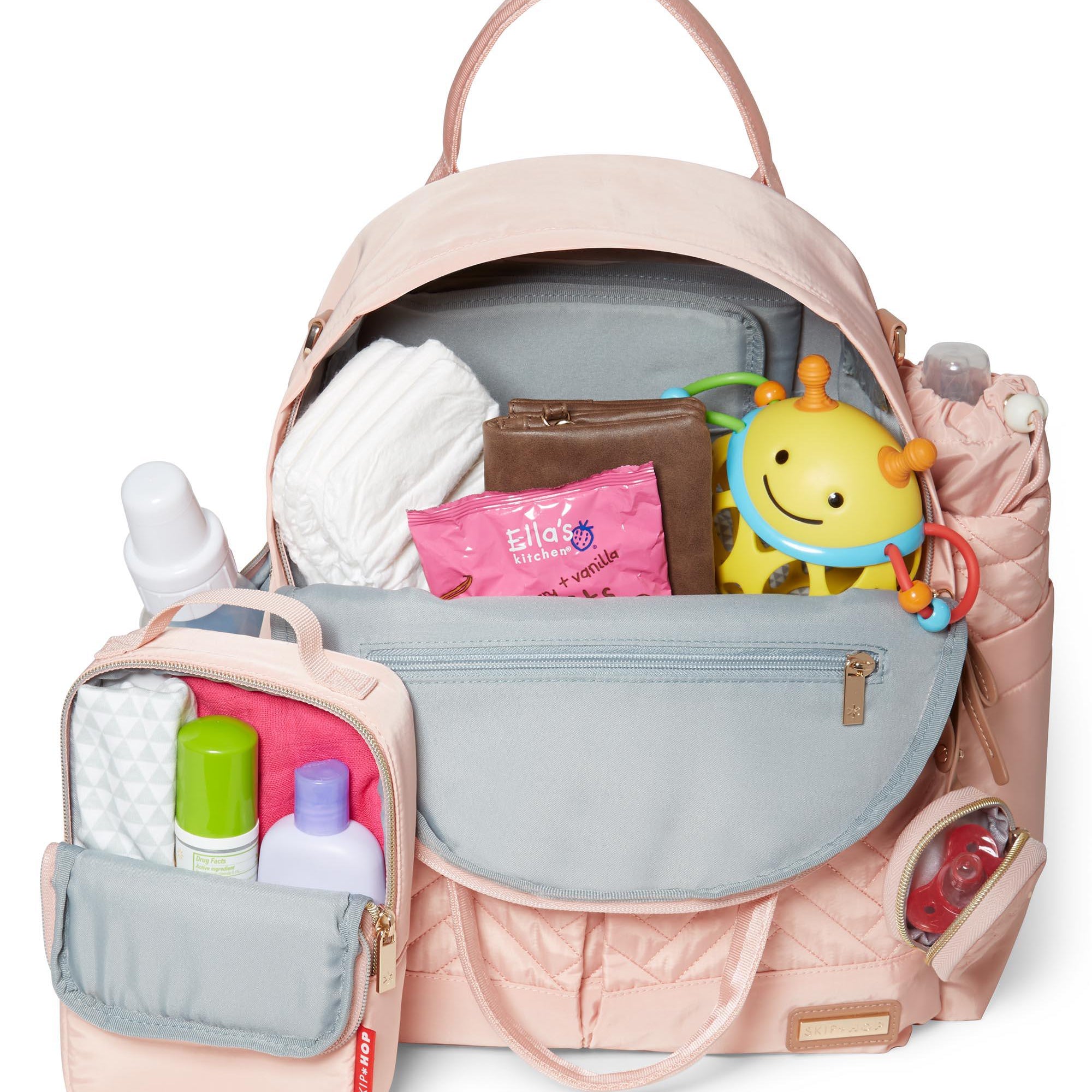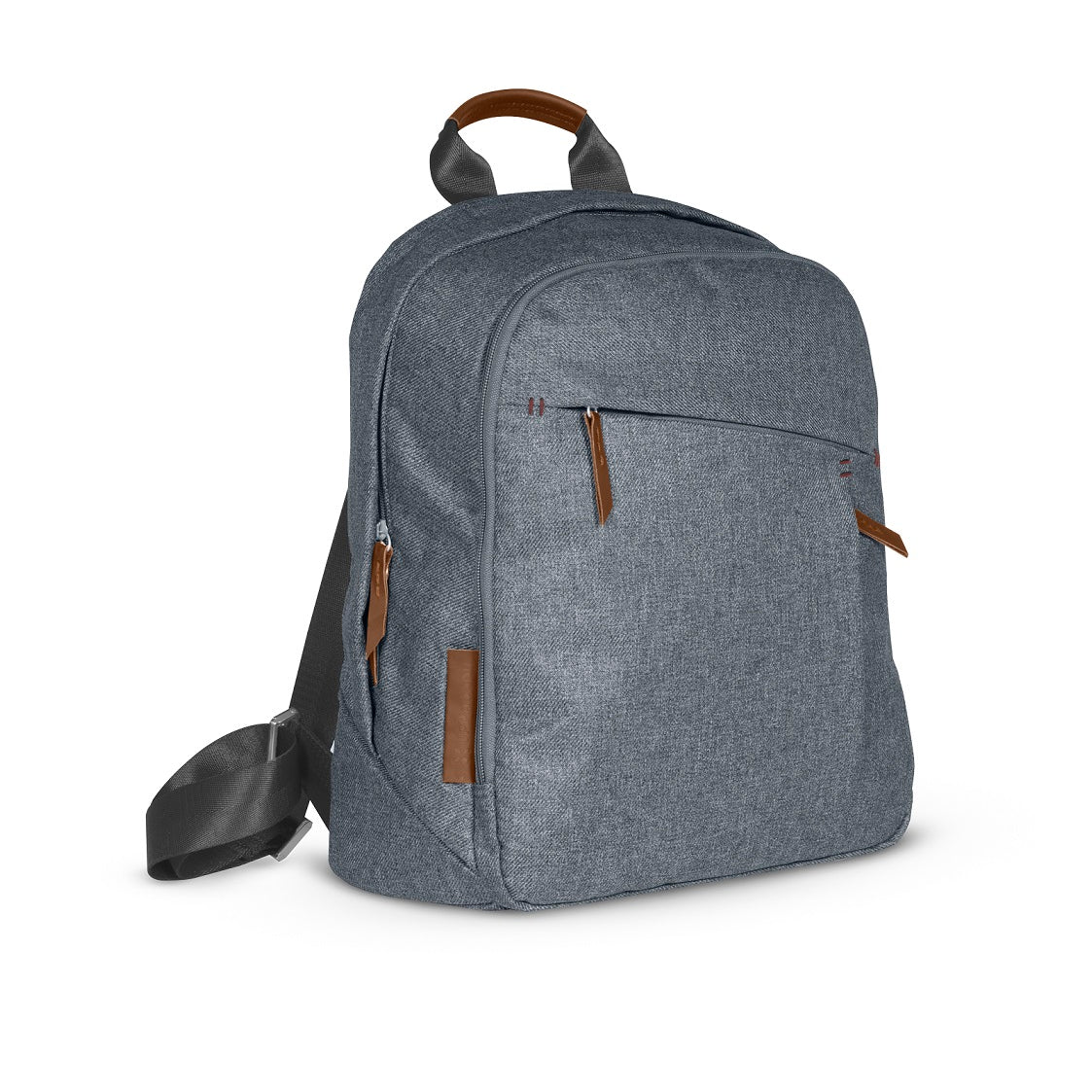 FOOD & DRINK
Wee ones are the hardest to pack for, even for a short outing. Because they're always eating, you will want to have enough formula and
sterile bottles
for your time out as well as an extra – just in case. We've all run a few minutes late before, but babies who are bottle fed can't accommodate to our tardiness, so pack more bottles than you think you'll need. Likewise, breastfeeding mamas will want to prepare for nursing while out, which may include
nursing covers
if you use them, and
 

nursing pads
. For babies who have begun solids, you may want to pack some fruit and vegetable purees. We love these
Easy-Pack Travel Feeding Sets
by
Skip Hop
for storing homemade baby food!
LINENS & CLOTHING
With constant consuming comes the constant clean up. Why are the cutest creatures also the messiest? Linens are what take up the bulk of any diaper bag, but you're better safe with them than sorry and covered in spit up. Trust us! Here's a short list of linens and clothing to always have in your diaper bag.
DIAPERING
Whether you use
cloth diapers
 or
disposable diapers
, pack more than you think you'll need. If you're going out for an hour, pack three. You never know! If you use cloth diapers, it's a good idea to also pack a 
wet bag
 which attaches to the strap on most diaper bags. Don't forget a plastic bag for your soiled disposable diapers – sometimes garbage cans are hard to find. And of course, every mom's BFF,
wipes
! Most diaper bags some with a light weight change pad, but if yours doesn't, don't fret – your extra receiving blanket can act as a change pad on any flat, safe surface.
LIGHTEN THE LOAD
Along with your change pad, you can free up additional space in your diaper bag by leaving a few other things at home. Use an extra baby face cloth for teething instead of packing your Sophie La Giraffe. Same goes with rattles and small baby toys – these things are great to play with at home, but try to pack as light as you can when going out with the kids - babies already require so much packing! Plus going out provides enough stimulation and fun for baby. And as we mentioned above, your baby's change of clothes should be as simple as possible – this isn't the time to pack suspenders and jeans for your two month old. We know, it's tempting!
TODDLERS & KIDS
The older your children become, the easier they are to pack for. The best part is that they can sometimes even carry their own bag! The
little backpacks
are so great for wearing around the house and filling up when you're getting out and about! A refillable water bottle (like these ones by
Klean Kanteen
) for each child and a small, healthy snack prevents having to stop and pick food or drinks up along the way. Wipes are still helpful at any age, especially for cleaning hands after riding the subway, playing at the park, or after a meal. Now that you're all packed, get out and enjoy the fresh air!
---