Jump to Section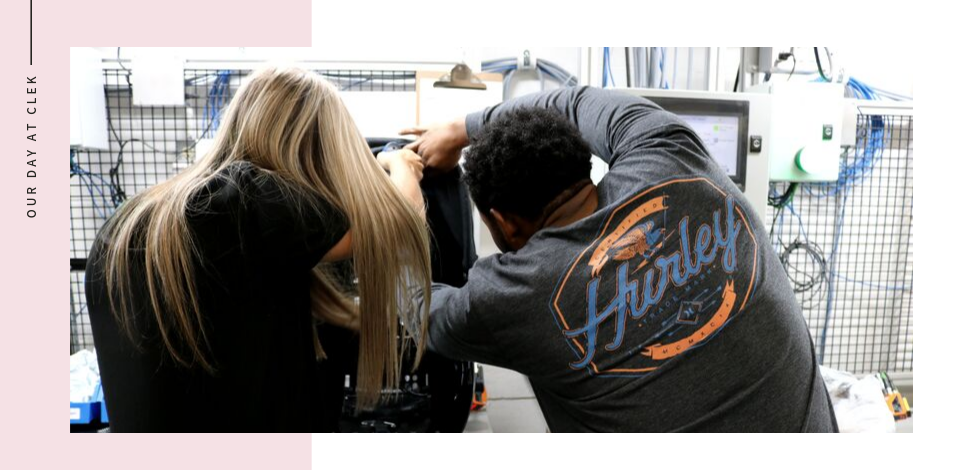 They say it take a village to raise a child but how many does it take to build a car seat? Chris and Jen are the husband and wife duo behind the 
Clek
 brand, and they recently invited team Snuggle Bugz to their Toronto warehouse for a factory tour where we got to look local dead in the eye!
Well, actually—we got to look the 
Clek Liing Infant Seat
 in the eye, so that's who we will mostly refer to today!
THE CLEK FAMILY
If you are unfamiliar with this Canadian brand – allow us to give you an introduction to the whole Clek gang. You will love the clean and contemporary look of each of these seats no matter what age or stage you are in.
OUR VISIT
The Liing has 7 recline positions, a metal load leg, and a 3-position adjustable sun canopy that is SPF 100+ that provides almost full coverage from the sun, with a mesh peekaboo window.

If you've watched our Product Review video on the Liing, you know that we were sold on this seat from the canopy ALONE but after learning about the safety measures and procedures in house –we are ready to go all in with Clek!

Throughout our visit, we were able to learn more about the Clek story, meet some of the faces behind this Canadian company that we know and trust, and they even let us jump on the line to build a Liing of our very own so we could truly understand the process from start to finish.

How awesome, right?

So today we are sharing with you three things we learned on our Clek factory tour.
QUALITY CONTROL
The Vice President of Engineering & Operations took us for our "official" tour.

As he explained, Clek car seats are loaded with the top safety features – and they are built keeping safety top of mind too. Every movement of the build is recorded!

The manufacturing line has a unique function that locks the unit into place at each station so that it can track how it is being built every step of the way. The car seat cannot be released from the station until the operator has done what they need to do. The computer controller will confirm that the operator has taken the correct steps before it is released and is able to move on to the next step. They measure torque, force, and other important elements to ensure that every Liing is up to snuff.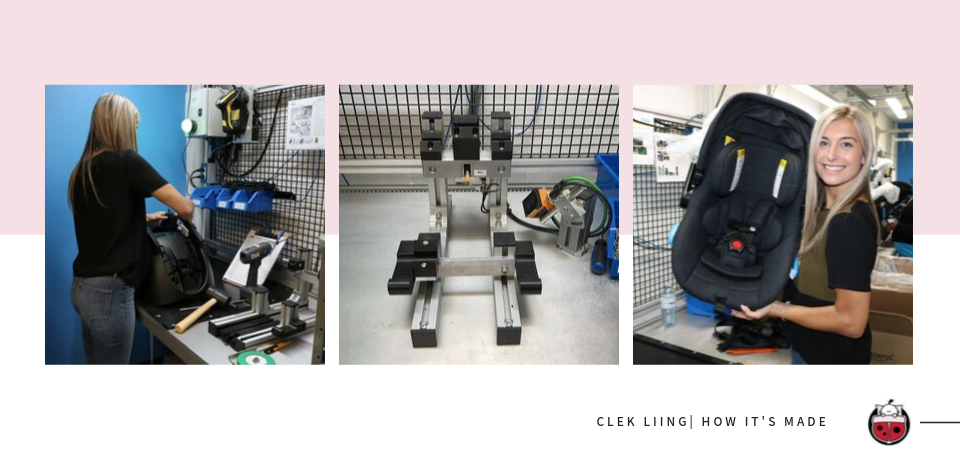 SAFETY
Since starting the company, Clek's goal has always been to incorporate the most advanced safety features into their seats like rigid latch, anti-rebound bars, and recently – a metal load bearing leg that can be found on the base of the Liing. There are 4 attachment points on the Clek Liing – most infant car seats only have 2.

Plus, did you know that Clek releases their crash test results?

Yup, nothing to hide here! They fully stand behind their product and know it will perform should you ever get into a collision with baby on board.

Having their team walk us through how their seats respond in a collision was SO eye opening. As Chris mentioned during our time together – a car seat is really the only thing you can buy that can save a child's life.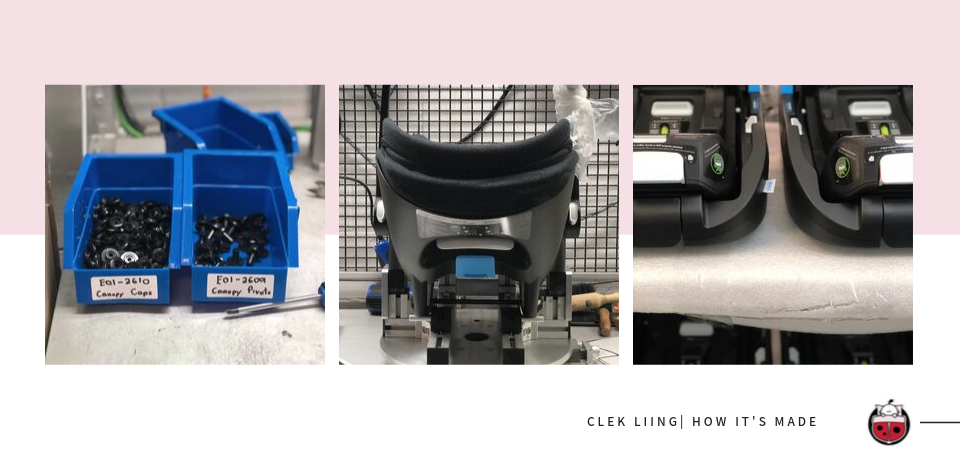 LOCAL
Clek is a local Canadian company, just like us!

They were literally down the road—just a short drive into Toronto from our Burlington office.

The Liing is assembled in Toronto.
The Foonf and Fllo are made in a factory in St. Thomas, Ontario.

It doesn't get much closer to home than that! We love that Chris and Jen are actively involved in the business together. You just can't help but root for a company that produces a high-quality product and provides hundreds of jobs for our local economy.

Everyone we met at Clek was so kind and it just feels good to support local. It feels amazing to buy Canadian made, and putting your baby in a safe and secure car seat is a must. 
---
---