Jump to Section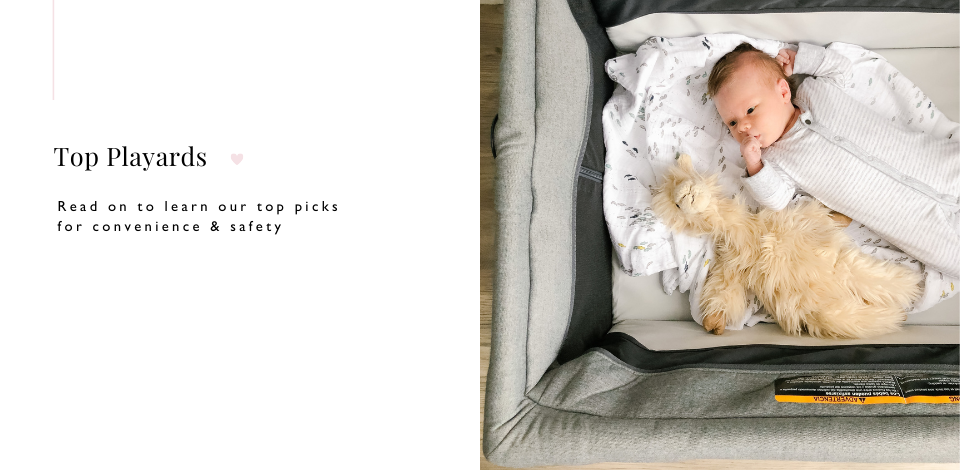 When preparing for babe's arrival you'll probably start your research in this order.
Long gone are the days of the "playpen" with patterned teddy bears and obnoxious velour patterns. The 
playards
we are highlighting today come in gorgeous fabrics and lux materials because we know some shoppers DO judge a book by its cover. Shopping for a
playard
should feel like you are buying a nice piece of furniture that suits your home décor style. The good news is there are so many great options available on the market to suit your needs and budget.
So today we will be exploring functions, features, fabrics, and more.
The first item of business? Explaining to your parents we've ditched the term "playpen" because their future grandchild is a baby – not a cute little piggy that went to market.
As we begin comparing these products take note that each of them has varying height and weight limitations in both bassinet mode and in playard mode. This is officially the best place to start your research. Top playards... Here we go!
Bugaboo Stardust
Dimensions: 33.4" H x 25.6" L x 38.8" W 
Weight: 14.8 lbs. 
Weight limit: 33 lbs. 
Weight limit bassinet: 19.8 lbs. 
Fold: 1 second open. 3-second close 
Changer compatibility: N/A 
Included extras: N/A 
Price range: $$ 
The
Stardust
 by
Bugaboo
is a space saver and a time saver — it can be easily folded and stored away with no need to remove the mattress! The "sandwich fold" is also impressive, as it allows you to store the
Stardust
under a bed or in a small closet when not in use.
It's the only
playard
out there that uses this innovative folding technique, and it makes SO much sense to us. The 1 second open + 3-second close are incredibly easy to use – and the
best
part? The
Stardust
's 33 lbs. weight limit makes it a winner too!
For a full in-depth review of the Stardust, click
here
.
**Please note: the Bugaboo Stardust should only be used for sleep accommodation in when using the bassinet inlay with the accompanying mattress support board, while also complying with the Stardust's Bassinet weight capacity of 19.8 lbs. In play mode, this product is not approved for unsupervised sleep.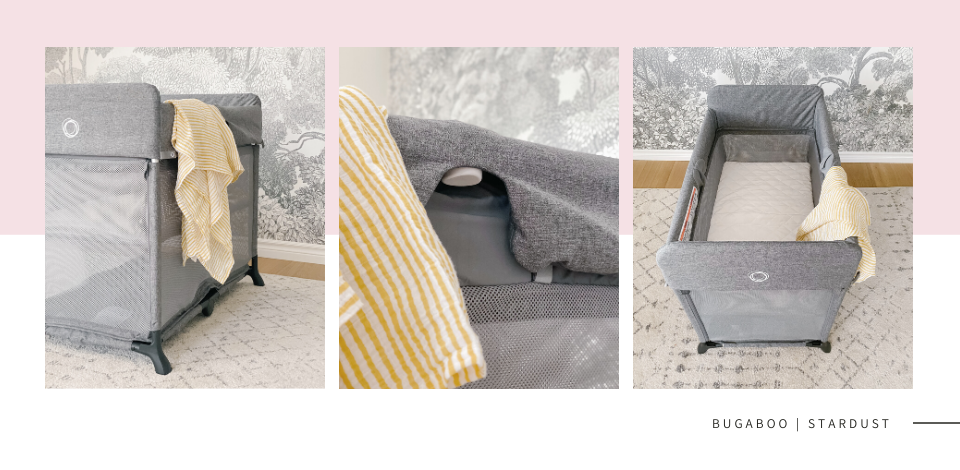 Nuna Sena Aire
Dimensions: 30.7"H x 29.5"L x 41.3"W
Weight: 22 lbs 
Weight limit: 30 lbs. [less than 27" tall] 
Weight limit bassinet: 15 lbs. 
Fold: one-handed fold 
Changer compatibility: attachment sold separately. 
Included extras: organic cotton sheet included. 
Price range: $$$$$
The
Nuna SENA Aire
is most comparable to the
4Moms Breeze Plus
.
The
Nuna SENA
 is most comparable to the
4Moms Breeze GO
.
Confused? We get asked questions about both of these models a lot. Essentially, the
SENA
and the
Breeze Go
are the "base" models from both brands but for the purpose of this article, we are going to compare their premium models.
The
Nuna
SENA
and the 
SENA Aire
 are both 2" smaller and weigh one pound less than the
4Moms
Breeze Plus
and
Breeze Go
, so if you are looking for a
playard
that has lots of notable features and has some impressive included extras then these are the two you will want to look at closely.
Welcome to the mesh party! The
SENA Aire
boasts 360-degree ventilation on all sides of the playard. You'll even find ventilation panels in the mattress (hence the name SENA Aire) which helps to draw heat and humidity away from baby. You will love the ability to fold up the bassinet with the frame and the option to add on a convenient
changer attachment
.  You'll also appreciate the included
organic cotton sheet
which is a $70 value. The SENA Aire has a clever zigzag leg design and has been a popular playard since it first hit the market!
If you want to dig deeper on it and see some close-up images, we've linked the full product review and video, 
here!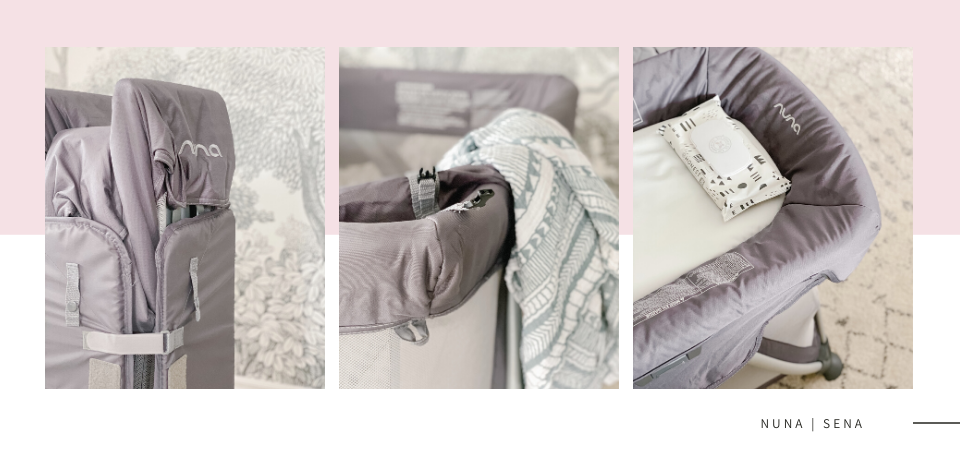 4moms Breeze Plus
Dimensions: 29"H  x 43"L x 30"W 
Weight: 23 lbs.
Weight limit: 30 lbs 
Weight limit bassinet: up to 18 lbs. 
Fold: single motion one-handed setup 
Changer compatibility: flip changer included. 
Included extras: changer attachment. 
Price range: $$$$ 


One push open, one pull close.
The
Breeze Plus
 by
4moms
was revamped and we are LOVING the update.
It may be the heaviest (by a single pound) and the largest of the
playards
we have highlighted, but it also offers a lot of flexibility. If you're looking for a safe space for baby to play, this option offers the most square footage! The
Breeze Plus
allows you to consolidate a bunch of your baby needs into one convenient station. Like the others, it is SO easy to set up and tear down...which is one of the reasons all these
playards
made our "must have" list.
Features you'll love? The flip changer is quite innovative and lets you turn your playard into a changing station BUT it also allows you to utilize space for baby when you need it by simply flipping the changer out of the way to be stored at the side of the playard when not in use. This really is the ultimate feature in a playard. The
Breeze Plus
also has a true single motion one-handed set-up which makes your life a whole lot easier.
For the full in-depth review of the Breeze Plus, click
here
.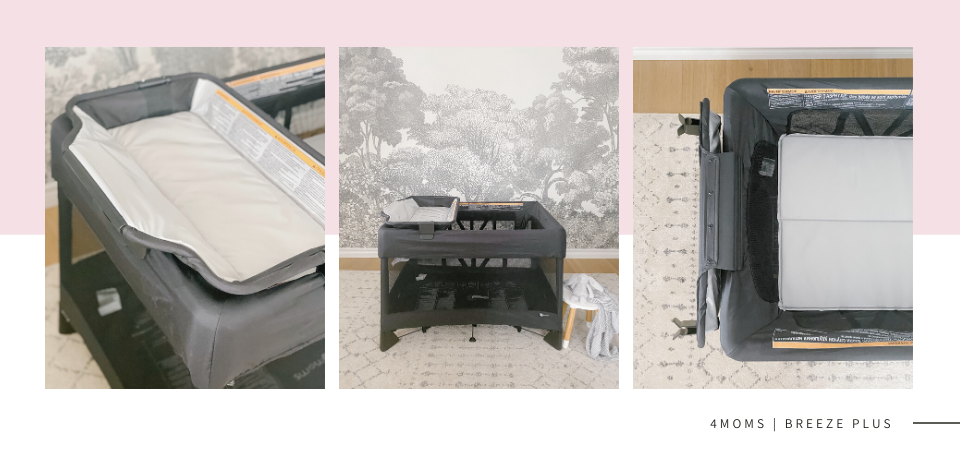 Maxi-Cosi Swift Playard
Dimensions: 41.73" H x 33.86" L x 30.71" W
Weight: 18.5 lbs
Height limit: 35" tall
Weight limit bassinet: 15 lbs
Fold: compact fold/ one handed fold
Changer compatibility: N/A 
Included extras: Travel Bag
Price range: $$$
The
Swift Playard
by
Maxi-Cosi
is fast becoming a parent-favourite…and for good reason. This 3-in-1 playard offers a whole lot of versatility. Useable as a newborn bassinet, a toddler cot, or a durable playpen, the Swift will be with your little one from birth through toddlerhood.
The playard features a unique 2 stage mattress that unzips to fit the bassinet. As your wee one grows, simply zip the mattress back together to make a full-sized mattress for the playard.
The
Swift
is also the definition of travel friendly. Living up to its name, this baby literally sets up or down in a second (with one hand) plus at only 18.5 pounds you can easily bring it with you on holiday or to grandma's house. It even comes with a travel bag! When not in use, it folds to a super compact fold so you can easily store it away or throw in the trunk of your car.
If you want to read more about this playard, check out our in-depth review,
here
.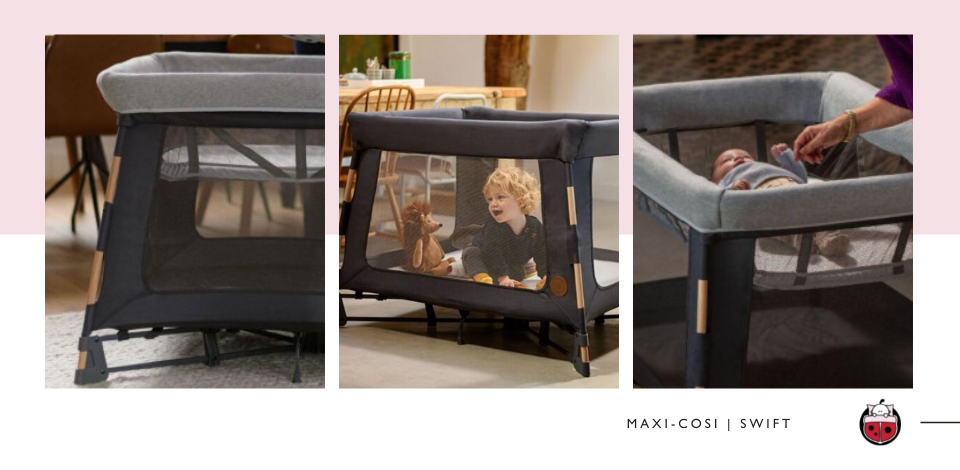 UPPAbaby REMI Playard
Folded Dimensions: 11″ L x 10″ W x 28.5″ H
Unfolded Dimensions: 40.5″ L x 26″ W x 28.5″ H
Weight: (includes playard and mattress): 20 lbs
Weight limit: 30 lbs
Weight limit bassinet: birth-20 lbs
Fold: compact fold
Changer compatibility: Yes
Included extras: mattress cover, playard storage bag, bassinet
Price range: $$$$
Comfort meets portability with the
UPPAbaby REMI Playard
. Whether it be a safe zone for playing or a nap-time solution, this lightweight design makes the perfect travel companion for you and your little one. Its one-handed set-up is a lifesaver when on the go, it also comes with an included storage bag to make moving it around that much easier.
The REMI goes over and beyond with soft and luxurious fabrics. The triple-layer mattress is made from air mesh for improved breathability and overall safety. The REMI's ventilation also helps support your infant's quality of rest and health. To add to this, the fabric is also made from organic cotton, offering an additional layer of comfort for your baby.
This playard is extremely user-friendly. The machine-washable mattress comes with a cover that is easy to remove for quick cleaning. It also comes with a zip-on bassinet for newborns that is super easy to install — when your baby gets a bit bigger, you can simply zip it off to create a safe play space.
As usual,
UPPAbaby
adds those special little features that make all the difference such as the zip-open panel that ensures easy access to baby.
To learn more about the UPPAbaby REMI, you can check out our full in-depth review, click
here
.
BabyBjorn Play Yard Light
Mattress Dimensions: 23.5 x 41 x 1.2" (60 x 105 x 3 cm)
Assembled Dimensions: 32 x 44 x 24" (82 x 112 x 64 cm)
Folded up in bag: 19 x 23.5 x 5.5" (49 x 60 x 14 cm)
Weight: 15.4 lbs
Weight limit: Up to 50 lbs
Weight limit bassinet: N/A
Fold: compact fold 
Changer compatibility: no
Included extras: carry bag
Price range: $ $
The
BABYBJORN Play Yard Light
is the perfect accessory for both home and away. This playard has a super lightweight design that comes with no loose parts — making it easy to set up with a few simple movements. The legs unfold automatically, all you need to do is put the mattress in. Storing it away is just as easy, just fold it up, stow it in the included cover, and away you go! It really is that simple.
Another parent-friendly feature is that the Play Yard Light is made from quality fabrics that are easy to remove and you can just throw them in the washing machine!
Weighing in at only 13lbs, this playard can be taken just about anywhere. It's ideal for both trips to grandmas and long adventures. The airy design provides extra breathability as well as allows you to keep an eye on your little one with ease. We also love there is no upper weight limit on this playard as it rests directly on the ground.
For more details about the Play Yard Light, read our in-depth review,
here
.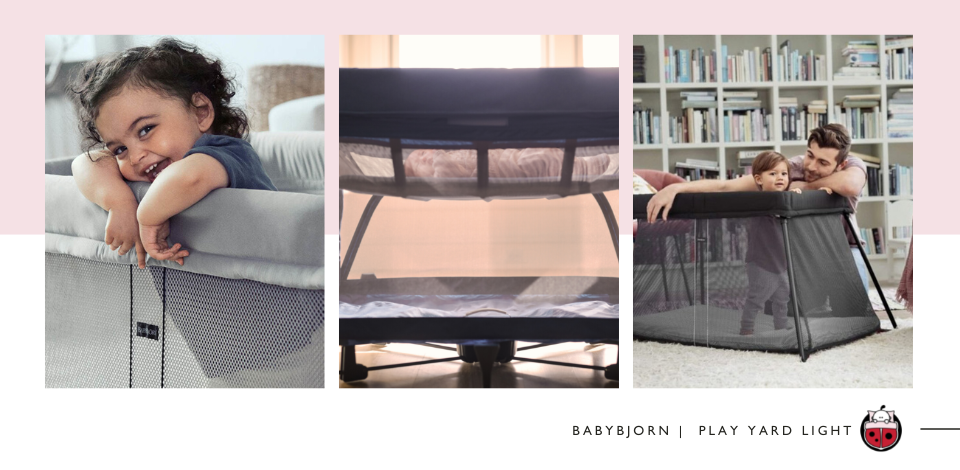 Silver Cross Slumber
Assembled Dimensions: 44"w x 31.5"d x 26.5"h.
Folded Dimensions: 13.4"w x 6.7"d x 35"h.
Weight: 15.4 lbs
Weight limit: Up to 50 lbs
Weight limit bassinet: 20 lbs
Fold: Compact fold 
Changer compatibility: No
Included extras: Bassinet, mattress, travel bag with shoulder strap
Price range: $$$$
If you're looking for a playard that is the perfect travel buddy, this is it. The
Silver Cross Slumber Travel Crib
 grows with your child — it can be used from the newborn stage with the included sleep-safe bassinet or transformed into a travel crib or safe play area for your toddler. Not all playards are sleep-safe, but this one is!
The fun zip-up door design allows for great accessibility, plus, its super sleek design complements just about any space.
Let's talk safety! The Slumber comes with padded sides and mesh fabric, ensuring babe's comfort and providing optimal ventilation. This comfy fabric is also stain resistant!
Oh, wait it gets better! Its shake-open setup is as easy as it sounds, and it stores away just as quickly!
To learn more about the Silver Cross Slumber Playard, read our full in-depth review,
here
.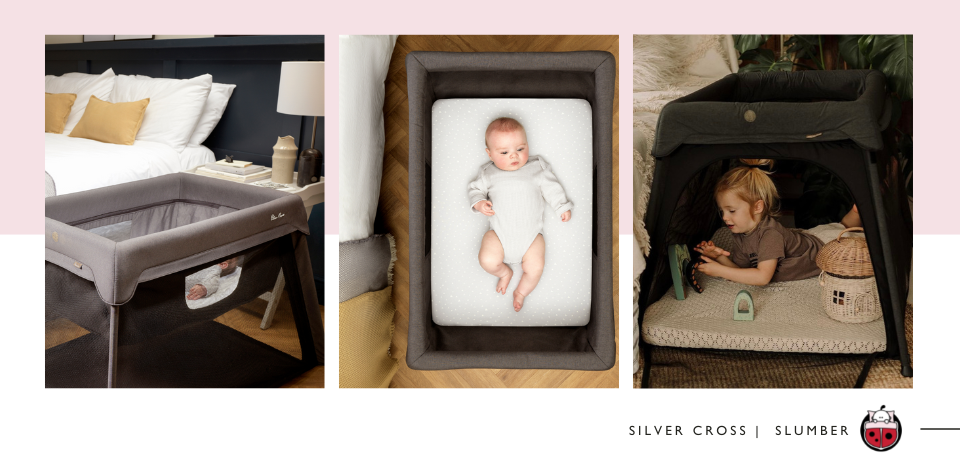 Why a Playard?
In one word? Convenience
In two words? Convenience + Safety

So now you've done some research, how do you choose the best one for you? Start by thinking about your lifestyle, your home, and ask yourself some important questions about HOW you plan to use this piece of gear.


Do you travel every summer to your cottage?
Will you often bring babe to Grandma's house during nap time?
If sleeping on the go is important to you, then you'll want to choose one that has been "sleep rated", which means Health Canada has approved them for overnight sleep. The Silver Cross Slumber is the winner in this category. This is important to note as it allows you the convenience of having baby nap on the go. For more on this important topic – check out our article What Playards Are Sleep-Rated! If you'll be moving yours around often then something more lightweight would be a good choice for you. 


What to Consider
Think About Your Home.
Do you have a bunch of stairs to climb to get to your change table in the nursery? Will you be having a scheduled c-section?
If this is you, you may be more interested in a playard that has a built-in changer attachment to allow for the convenience of a main floor level changing station during those first few weeks and months. The 4Moms Breeze Plus is the winner in this department.
Measure Your Space.
Do you live in a bungalow, condo, or apartment?
If this is you, you've got everything on one level, but you may opt for a space saving option that can discreetly stay in the corner. Alternatively, choosing a
playard
that is easy for you to tear down in a flash would also be a good choice. The 
Maxi-Cosi Swift
, or
Bugaboo Stardust
are our recommendations for you!
Think About Your Lifestyle
Do you have a pet? Do you have a toddler?

We know that babies do not "need" a lot of things but a
playard
is "nice to have" to make your journey into parenthood a lot easier. Once baby begins to crawl, your life is going to change (again) and a
playard
is also a lifesaver for YOU as a caregiver. It also acts as a safe space for baby to lounge and play on their own, away from their fur-baby-brother or older siblings. If it's going to stay put in a common living space in your house and décor is important to you, the
Nuna SENA Aire
is the winner here – the design is stunning! 
Functionality is Key
A
playard
is also a gift to YOU.
Need to skip to the loo? Playard.
Need to prepare yourself some sort of lunch other than fishy crackers and puffs? Playard.

Need to unload the dishwasher, pump a bottle, or just needs a hot second to scroll your phone for some "me" time? Enter. That. Playard. It's the piece of gear you did not know you needed — until now.

Happy shopping!
---
---