Jump to Section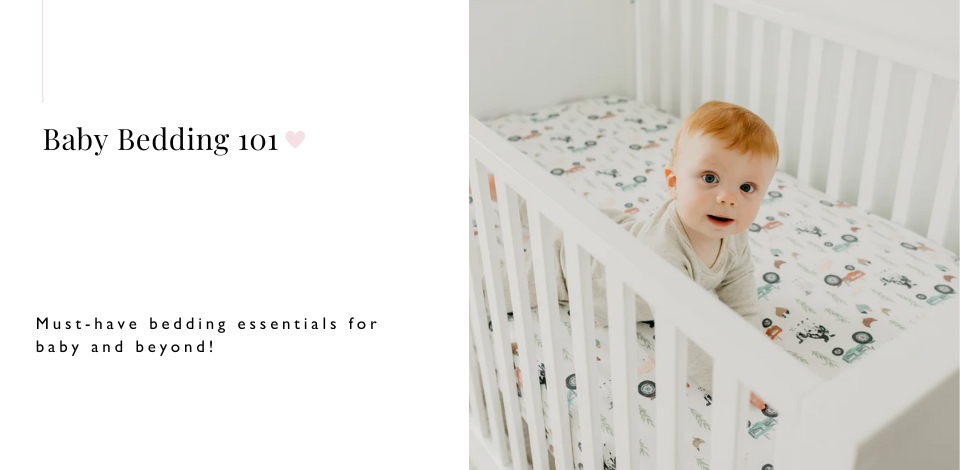 When shopping for
bedding
for your nursery, there are so many different necessities to consider —
bassinet sheets
,
crib sheets
,
change pad covers
,
swaddles
,
blankets
, and more! A lot of parents, especially our first timers, are looking for answers as to what they actually need, how many they should buy, and which materials they should be looking for or avoiding.
WHAT DO I NEED?
When buying nursery bedding, you always want to make sure you have a "back up for your back up" — meaning, if your little one is sick or has an accident, you always have at least 2–3 more sheets ready to go in between laundry loads. This applies to
bassinet sheets
,
crib sheets
and
swaddles
in particular, as these are the items you are likely to go through the fastest.
In total, you will want to have:
3–4 bassinet sheets (for the first 6 months if you are using a bassinet) 
4–5 crib sheets — you may opt to buy more over the years as these sheets are the same size used for a toddler bed conversion, meaning you can potentially use this bedding for up to 5 years! 
4–5 swaddles (these are such a great multi-purpose item; you might even consider having a few extras on top of that!) 
When your baby is little, any soft item in the crib is a suffocation hazard and can increase the risk of
SIDS
. Health Canada advises against the use of pillows, comforters/blankets, stuffed toys or bumper pads in the crib, cradle or bassinet. For further information on how to reduce the risk of SIDS in your little one's sleep environment, please click 
here
.
To keep baby warm, we recommend using a
sleep sack.
SLEEP SACKS
Sleep sacks
and wearable blankets can help reduce the risk of SIDS by eliminating the need for loose bedding. Using a sleep sack while your little one is in their bassinet or crib helps to provide warmth and comfort without the use of additional bedding inside the sleep environment. Sleep sacks are available in a range of different fabrics and thicknesses (TOG – Thermal Overall Grade) to ensure that there is something that will suit babies and nurseries of all different temperatures.
For more information on sleep sacks, check out our Learning Centre article
here
.
BLANKETS AND TODDLER PILLOWS
Once your child is a bit older,
blankets
and
toddler pillows
are the next items on the list.
Small lightweight blankets can be introduced to the crib between 12–18 months (we recommend the latter), while a toddler pillow is not recommended to be used under the age of 2. Many parents wait until they convert their crib into a toddler bed (usually around the 2.5 to 3-year mark). For more tips for transitioning from a crib to a toddler bed, click
here
.
Crib skirts
are completely optional as they are used solely for aesthetic purposes — some parents prefer to use a crib skirt to hide underneath the crib and cover the mattress support, while others may choose to leave it uncovered (if they do not like how it looks).
Crib skirts are safe to be used (even when very small babies are using the crib) as they lay underneath the mattress and do not interfere with the sleep surface.
LET'S TALK MATERIALS
Cotton & Cotton Variations (Muslin, Bamboo, Jersey)
Cotton and Muslin Cotton are very popular options for materials used in crib sheets, as they offer a lot of breathability. The aspect of breathability in the crib sheet can be an important consideration, not just in the sense of baby being able to breathe through the material, but also for those little ones born during the warmer summertime months that will benefit from the thinner material allowing more airflow through.
Organic cotton is also a great material for parents who are concerned about having the most natural products possible for their little ones.
Muslin cotton
is the most breathable option, while bamboo cotton is the softest, best for babies with sensitive skin or sensory issues.
Flannel
Flannel has also been one of the most popular materials used in crib sheets for over 20+ years! One of the major benefits of
flannel
crib sheets is that the material helps to maintain body heat during the cooler months while still allowing the skin to breathe. Flannel is also an incredibly soft material that is great to add to your rotation of crib sheets throughout the seasons.
FINAL THOUGHTS
Bedding is a popular theme for friends and family shopping from registries — it creates the opportunity for loved ones to purchase a few gifts that all go together and it's something they can feel confident that you will both want and need!

As always, we recommend asking a doctor or sleep consultant when thinking about making significant changes to your child's sleep environment. Both Nestled locations, as well as the majority of our Snuggle Bugz stores, host FREE sleep clinics with our friends at Goodnight Sleep Site, where parents are invited to drop in and ask any questions they have regarding sleep and their little ones.

You can see more safe sleep essentials that can recommend here.
---