UPPAbaby REMI Playard Review
Jump to Section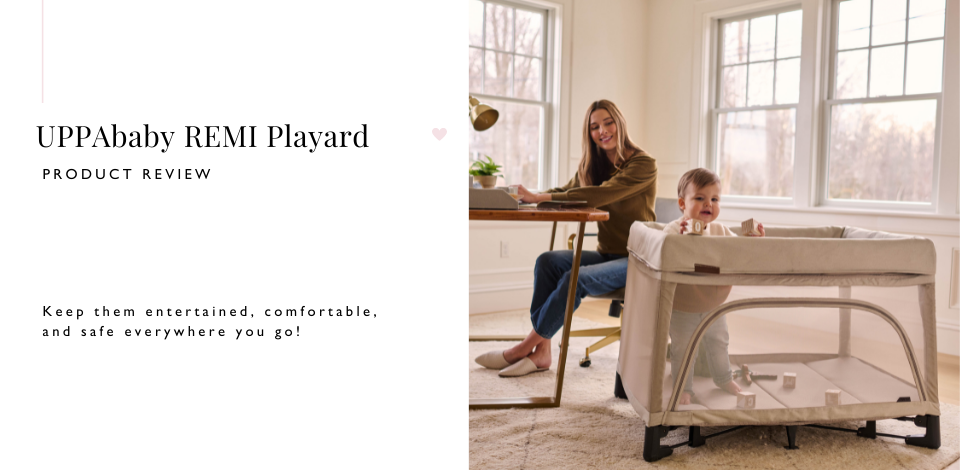 Wide-eyed, perpetually happy (if you're lucky!), and endlessly curious, babies love to play! When they're not looking for entertainment they are eating and sleeping! Kind of sounds like the perfect life, right!?!
Sure, for them it's great, but parents can be left in a constant state of exhaustion trying to stay on top of things.
If only there was a way to help keep them entertained, comfortable, and contained, all at the same time.
Well here comes the
UPPAbaby REMI Playard
, a compact and lightweight play zone that can be used at home or taken with you on the go.
The REMI is more than just a 4-sided baby fence. We'll break down how it can be a game-changer for you and your wee one.
VIDEO REVIEW

REMI AT-A-GLANCE
THE SPECS
Dimensions (folded): 11" L x 10" W x 28.5" H
Dimensions (unfolded): 40.5" L x 26" W x 28.5" H
Playard Weight: 20 lbs.
Playard Suitable from birth to 35" tall
Bassinet Suitable from birth to 20 lbs.


The REMI is a lightweight
playard

 
that's available in 4 colours to match any home decor:
Once removed from its storage bag, the REMI is easily set up by pressing down on its centre hub until the playard pops open. No stress here! Collapsing it is equally user-friendly — just pull up on the hub's handle. With a single touch, using the REMI really couldn't be any simpler!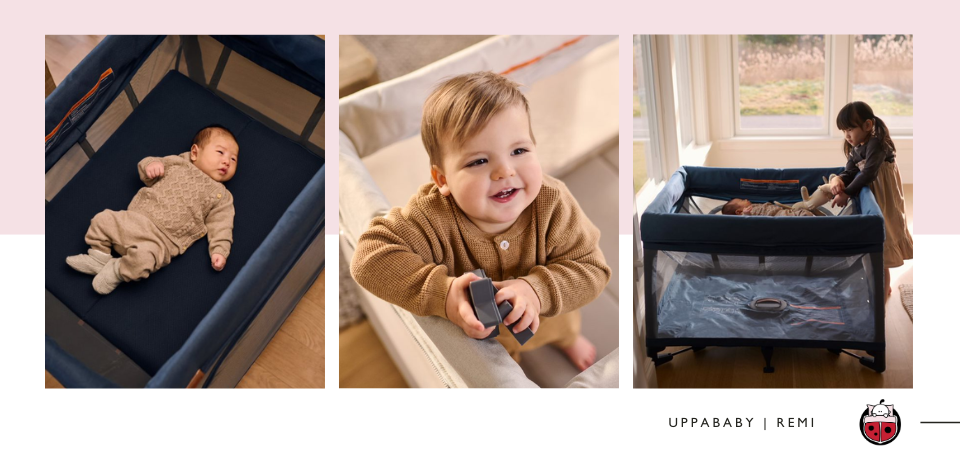 COMFORT FEATURES
UPPAbaby designed this playard with your baby's comfort in mind, especially when it comes to temperature regulation!

For starters, it has an open-air design, with 4 mesh walls for ventilation and 360° views, so your baby is free to take in the sights uninhibited.

Supporting baby is a machine-washable, triple-layer mattress with top and bottom mesh to keep baby cool and comfortable. The REMI also includes an organic cotton mattress cover for extra softness. The mattress support boards allow further ventilation, which can be removed for washing if required.

The playard also uses a raised design which eliminates any drafts coming through the floor and disturbing naptime.

Another really handy feature, is the zippered front access panel that parents can use to soothe children on their level, rather than standing over them and reaching down into the playard, which can be a bit of a struggle for caregivers with mobility issues.


ROCK-A-BYE BABY BASSINET
The REMI is more than just a playpen — it can be transformed into a bassinet for your newborn using a provided sling that zips onto the playard's interior.

To fit the mattress in the sling, you'll have to remove two of its panels. Similar to when in playard mode, the bassinet sling has plenty of mesh for comfort and breathability while your little one is dozing.

UPPAbaby also makes a few neat accessories for the bassinet, which we'll get into below.


A HIGHER STANDARD
The REMI is GreenGuard Gold Certified. This means that it has very low chemical emissions and is resistant to mold and bacterial growth. A product must be rigorously tested and scientifically proven to meet this certification, so you can rest easy that there are no materials in the REMI that could potentially harm your child.

What about sleep safety?

In America, playards can be certified "sleep safe", however, these products often don't meet Canada's standards. While there is no testing in Canada for sleep safety at playard level, we do have stringent regulations for deeming a bassinet safe for unsupervised sleep.

Parents can feel confident knowing that UPPAbaby's REMI has met and exceeded all playard regulations required by the Canadian government, who has given the REMI their seal of approval as a great solution for baby to play, rest, and sleep soundly (approved for sleep in bassinet mode — from birth to 20 lbs.)

As for sleep at playard level, in the end it's your decision. We understand busy parents are looking for convenient on-the-go sleep solutions for their little ones. There are many products on the market that fit the bill, so do your research! In the end, go with your gut. You know your child best!

However, as always, we would still advise you to err on the side of caution and always be present when your child is asleep — whether using bassinet mode or playard mode.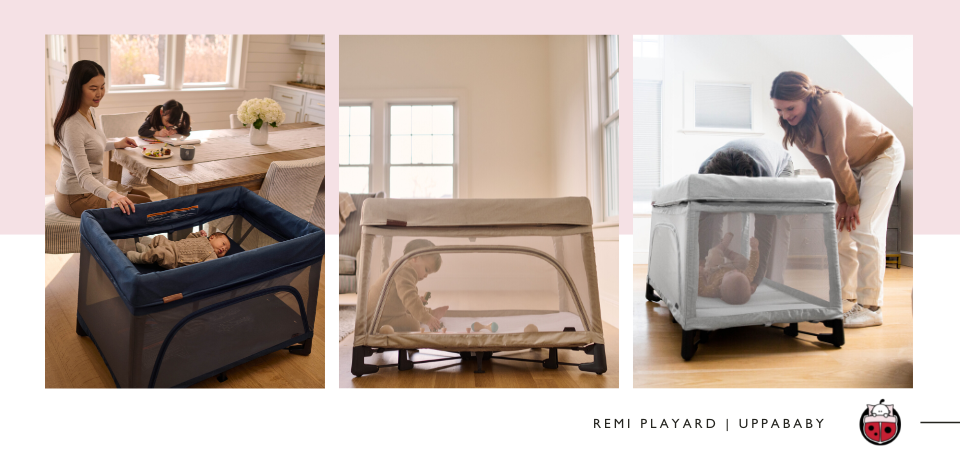 ATTACHMENTS AND EXTRAS
While the REMI works great on its own, you might want to add the following accessories to make life a little easier:
Changing Station

This
changing station
zips onto the REMI and rests on top of it, providing a comfortable surface for your child to lay on. When not in use, it folds flat and hangs down the side of the playard, out of the way until it's needed again.
In addition to the Station, you can also pick up UPPAbaby's
Changing Station Organizer,
which clips onto the playard and stores things like toys, creams, wipes, and up to 20 diapers at a time. Everything you need at arm's length!
Travel Bag

The REMI comes with a storage bag, but if you're planning on bringing it with you on a trip, you should probably use this
travel bag
instead. It's made of durable and padded luggage-grade fabric to fit the playard perfectly.
With this travel bag, you can also
register
it with UPPAbaby's TravelSafe program. This is a free service that insures your REMI in the event of airline-inflicted damage, so you won't have to pay to have it fixed/replaced.
Canopy

If you plan on using the REMI outdoors, using the
canopy
is a must. Its closed coverage not only keeps pesky bugs out, but it also blocks UV rays with UPF 50+ protection. The canopy also works well for reducing the amount of light that enters the playard, which is a lifesaver during naptime.
Mattress Covers

UPPAbaby produces a
Waterproof Mattress Cover

 
and an
Organic Cotton Mattress Cover.
The former is ideal for protecting the mattress from any accidents your young one might have, while the latter is a breathable, ventilated option for extra comfort. Of note: REMI comes with a mattress cover, but it's always good to have an extra on hand.
FINAL THOUGHTS
The
UPPAbaby REMI Playard

 
is a must-have for parents looking for a portable space for their child to safely play and nap. With an emphasis on both comfort and function, you can take it wherever you go — be it a friend's house, an afternoon at the park, or even on vacation. Its easy setup, multi-use design, and baby-friendly features make it another winner from UPPAbaby.
---
---