UPPAbaby VISTA V2 Stroller Review
Jump to Section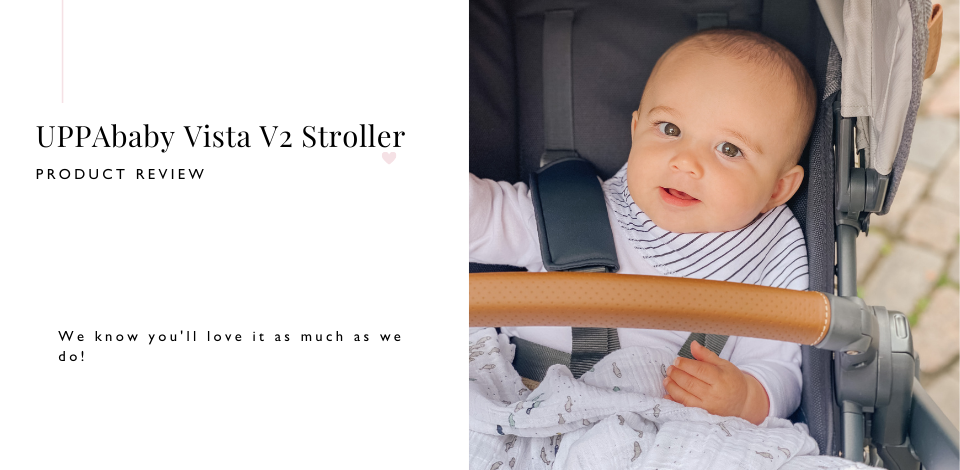 If there was a baby stroller hall of fame, you better believe the UPPAbaby VISTA would feature front and centre. Having received the nod of approval from pragmatic parents and Hollywood elite alike, this coveted full-size expandable stroller tops the wish list for parents-to-be around the world.
The latest evolution of the VISTA —
the

 
VISTA V2
— offers all the outstanding features parents have come to know and love, plus exciting upgrades that push this stroller to a whole new level of excellence.
What makes this stroller so special? We are SO glad you asked. The VISTA V2 boasts many great features and benefits to make parenthood more convenient.
Let's dive in.

EXPANDABLE AND VERSATILE
THE SPECS:
Folded - 17.3" L x 25.7" W x 33" H

Unfolded - 32.8" L x 25.7" W x 39.5" H

Stroller Weight: Frame + Seat: 27 lbs

Bassinet Weight: 8.8 lbs


For first-time parents looking for a versatile, functional, and adaptable stroller, the VISTA V2 is hard to beat. The VISTA V2 was designed to meet the needs of growing families, offering multiple configurations to accommodate a second or third child, should the need arise.
The VISTA V2 effortlessly converts from a single stroller to a tandem double stroller with the purchase of a
RumbleSeat
* or when using the stroller with the toddler seat and included
Bassinet
. As your family expands, you can even attach the
Piggyback Glider Board
* to the back of the stroller for your toddler to catch a ride when their little legs get too tired.
The VISTA V2 can also instantly become the ultimate Performance Travel System. Simply remove the Toddler Seat, click the
MESA V2 Infant Car Seat*
directly onto the VISTA V2 frame, and off you go. No adapters needed!
*Sold separately. 


RECLINABLE SEAT
When it comes it little ones, versatility is a parent's best friend.

The VISTA V2 features a full-sized reversible Toddler Seat, which can be faced outwards to the world or switched to face the parent — great for those wanting to keep an eye on their baby as they stroll.

A toddler's wants and needs can change in a heartbeat, thankfully VISTA V2's multi-position one-handed recline can help you pivot in a snap. When your child falls asleep, you can softly recline their seat to a comfortable napping position without waking them. Five minutes later, when they are full of beans, move the seat upright so they can take in the sights.

The Toddler Seat has several adjustable features that ensure a comfortable ride for your child as they grow. The five-point no-rethread harness is super user-friendly, allowing parents to make adjustments easily by sliding the straps up and down. The Toddler Seat also boasts a deeper footrest and fully adjustable calf support, plus the generous 20" high seat guarantees even the tallest of toddlers can ride in comfort.

*Toddler Seat suitable from 3 months to 50 lbs. Second seat can hold up to 35lbs.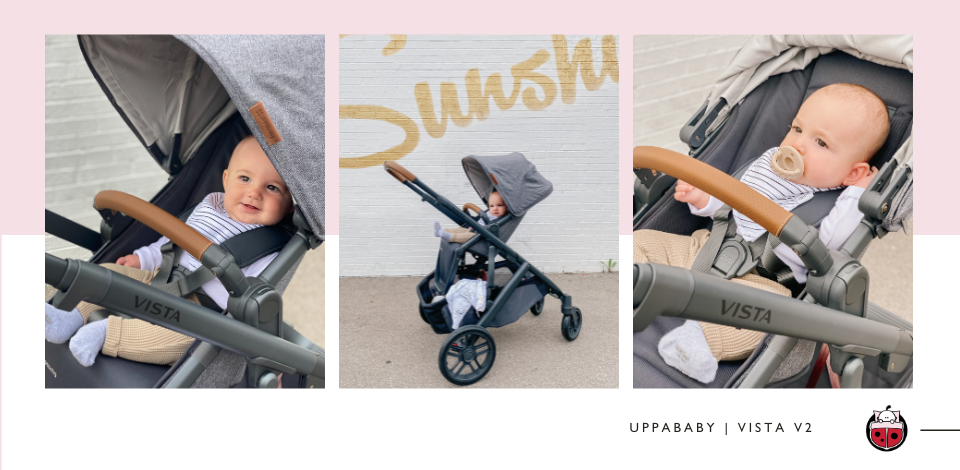 SLEEP SAFE BASSINET
There are three little words every parent-to-be can't wait to hear…included with purchase. If those words sound like music to your ears, prepare to be impressed. The VISTA V2 comes with a
sleep safe Bassinet
that attaches directly to the frame to create an instant pram. The Bassinet is suitable from birth to 20 lbs and is perfect for naps on the go. The intuitive design allows you to detach the Bassinet with just one hand and carry your sleeping infant peacefully anywhere. After all, a sleeping baby= a happy parent.
ADJUSTABLE CANOPY & HANDLEBAR
On a bright summer day, the sun's rays can damage a baby's delicate skin in a matter of minutes. Having a good quality stroller canopy is a must!

The VISTA V2 features a height-adjustable UPF 50+ canopy with a zip-out fabric extender to provide extra coverage. 2 air vent panels allow for airflow and keep baby nice and cool. Move the canopy down to create a cozy little cocoon for your baby to sleep in peacefully or slide it up to give growing children more space.

VISTA V2's adjustable handlebar moves up and down to ensure parents of all heights can push the stroller comfortably. The handlebar also features premium, full-grain leather for extra grip while pushing baby.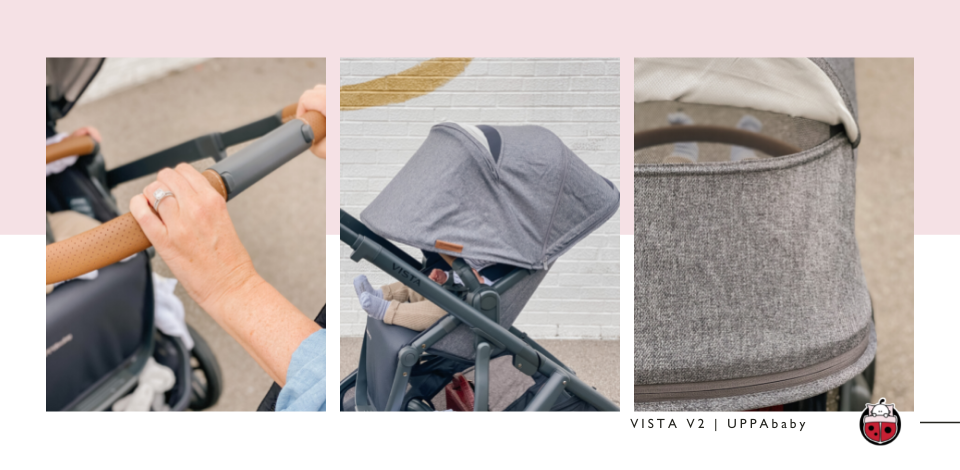 THE WHEELS
Take the road less travelled! Snow, sleet, sand — nothing can stop you and your baby with the VISTA V2.

The V2 features enhanced all-wheel suspension, softer tires, and independent shocks to ensure your future thrill-seeker has a smooth ride regardless of the road conditions.

In addition, handy visual indicators provide parents with peace of mind by clearly signifying if the front wheels are locked or unlocked:
 GREEN: Unlocked
 CLEAR: Locked


BIG BASKET
Diapers, wipes, toys…let's face it, babies do NOT pack light. While keeping your little one happy, fed, and dry often requires carting around a lot of extra gear, you can be sure the V2 has you covered. The VISTA V2's iconic extra-large, easy-access basket has us seeing heart emojis. Not only does this baby hold up to 30 pounds worth of stuff [we have personally done an entire grocery haul using this basket], but it's also super easy to move items in and out and there are convenient little pockets for parents to store their phone, water bottle, and adapters.
For added storage, check out the
Carry-All Parent Stroller Organizer.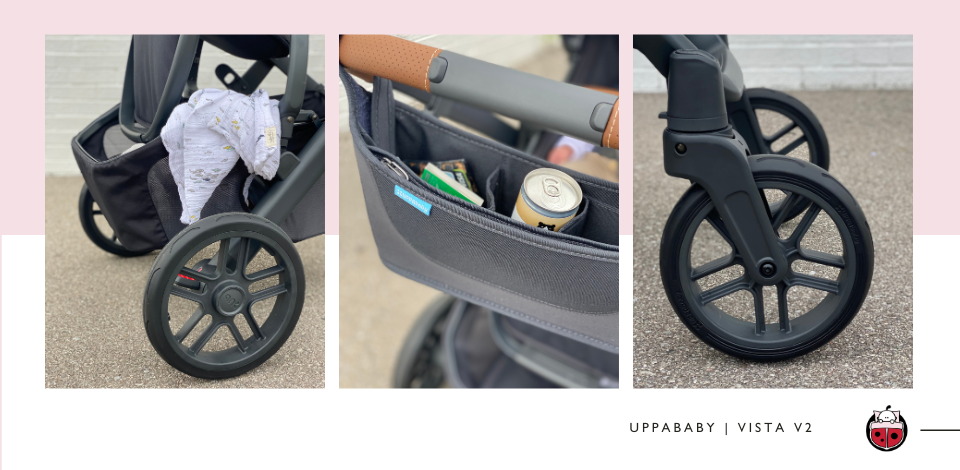 EASY FOLD
When the baby is fussing, your hands are full, and time is of the essence, the last thing you need to do is struggle to fold a poorly designed stroller. Luckily, the V2 features an easy and intuitive one-step fold that won't test your sanity.
To fold the stroller, simply:
Ensure the handlebar is in the top position and the Toddler Seat is forward-facing [or removed].
Press up on the levers on either side of the stroller handle with your fingers and the stroller will fold down and lock into place.
When folded, the stroller stands neatly on its own, so it can be tucked away tidily in your garage when not in use.
FINAL THOUGHTS
If you are looking for a stroller that can do it all, the
UPPAbaby VISTA V2
may be just the ticket. Not only does this stroller feature parent-friendly features that will make life with babe a breeze, it also has a high-end look and feel. Available in an excellent selection of swoon-worthy fashions accented with luxurious grain leather details, the VISTA V2 is the stroller to beat. So the question really is, which colour are you getting?
For more information on the Vista V2, check out our
product listing,
or discover more
 

must-have UPPAbaby stroller accessories
.
---