Gifts For New & Expecting Dads
Jump to Section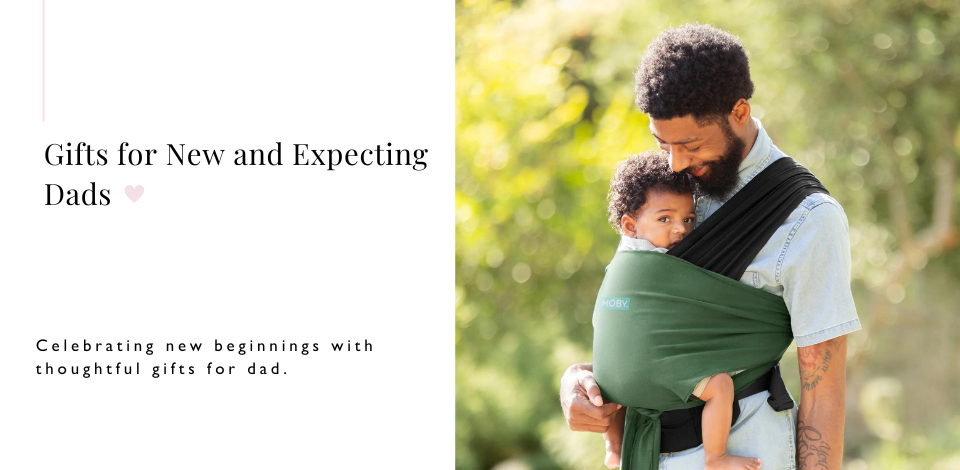 Whether Father's Day is fast approaching, your little one's arrival is just around the bend, or you just want to surprise the special dad in your life with a thoughtful gift to show you appreciate all he does for your family, we've got great gift ideas for you! Check out these must-have ideas that can help make life a little easier, more fun, and all-around dad-lier. After all, those dad jokes won't tell themselves!
(Psst. If you still need more gift ideas, don't forget to check out our earlier round up of
Gifts for New & Expecting Parents
.)
GEAR UP!
He's the pusher, the puller, the noted carrier of heavy things — and kids...don't forget those. These essentials help the father in your life bring along all the doodads he'll need for a non-stop day of being the strongest dad in the world (as far as the kiddo knows).
CARRY ON:
He knows how to hold 'em tight. The
Baby Björn Harmony Carrier
fits kids from newborn to the age of three with the adjustment of a few snaps, giving Dad a hands-free way to get extra close to the ones he loves. This parent-favourite 
carrier
is a must when out exploring those hiking trails. We also love that the Harmony Carrier is now available in a handsome dark green. For those extra-warm days, consider the
Baby Björn One Air Baby Carrier
made with breathable mesh fabric. For a full round-up of Baby Björn's carriers, click
here
.
SIMPLY DAD-WORTHY:
A minimalist
diaper bag
is a dad's utility belt: Diapers? Check. Wipes? Way ahead of ya. Paw Patrol gummies? Don't mind if I do. Life's just that much easier when everything fits into his new
Herschel Settlement Sprout Backpack Diaper Bag
, which includes an easy-wipe change mat for those, um, secret missions.
REMOTE WORK:
Whether he's working from home or catching up on Netflix after hours, the wireless
Nanit Pro Complete Baby Monitoring System
offers 1080p video and monitors baby's breathing motion (among other things), giving him the confidence to take some space while the little one sleeps safe and sound. Learn more about this must-have item for the techy dad,
here
.
GOT YOUR BACK:
A dad's car is his castle, so help him keep it neat (and relatively safe from the kicks of tiny invaders).
Diono's Stow 'n Go XL Car Organizer
has a place to stow everything you need to ensure a fuss-free ride, including three drink holders and an integrated tablet window.
ADVENTURE TIME
These gifts are for the active dad who has yet to find a path muddy enough, as long as there's enough trail mix involved. Plus, he's really, really sure this is the shortcut.
JOGGING STROLLER:
Whether he considers muddy trails, city sidewalks, or mall hallways his primary stomping ground, the
UPPAbaby RIDGE All-Terrain Stroller
is ready to inspire plenty of "I'm sure we can go that way, Honey"s. Tough, rugged, and ready to tackle any terrain, check out our
review
to learn more.
SPIN CYCLE:
Some kids bike before they run — often thanks to tireless, pedal-pushing dads everywhere.
Thule
makes a variety of bike connections, ranging from
bike seats to bike trailers
that are perfect for taking a spin with infants, toddlers, and young children.
DAD POWERED:
The
Veer Cruise All-Terrain Wagon
is a first-of-its-kind all-terrain crossover, in that it combines the best features of a modern stroller with those of luxury wagons. But all Dad needs to know is that it looks pretty darn cool and packs a mean suspension system. Family fun days have never been cooler! Learn all about the Veer,
here
.
EARLY LESSONS:
A dad's proudest moment? Watching their kid take off alone on a bike, knowing full well they got them there. That day can come a wee bit sooner with the
Joovy Tricyoo Kid Tricycle
, First Trike, a tough-built but easy-carrying tricycle that can be used by kids as young as two with a removable push handle. Flip a few parts around and the bike transforms to grow with your child.
KIDDING AROUND
These gift ideas are great for dads with older kids who love everything from pretend play to getting dirty in the mud. (Should we remind Dad it's his turn to do the laundry?) Don't be surprised if you catch him playing with these father-tested, kids-approved items after the gang hits the hay!
MAKE-BELIEVE MEALS:
For the dad who makes a mean pasta-butter,
Janod's stylish Kitchen Reverso
set is double-sided, meaning Chef can dish out Play-Doh pies on one side as the sous chef preps couch-cushion surprise on the other. (The secret ingredient is…you don't wanna know.) Elevate the kitchen experience by stocking up on
pretend food
.
ON THE JOB:
The
John Deere Mini Tractor
is the perfect way to occupy delight the kiddo while Pop spends time checking off his honey-do list. Even if DIY isn't his cup of tea, he'll be tickled pink watching his buddy drive by at a chippy 1.5 miles per hour while making real tractor noises.
ENGINEER IN TRAINING:
Bring him back to his childhood with the beautifully crafted
TenderLeaf Wild Pines Train Set
– equally worthy of living-room playtime and moments alone in the home office. The set features 30 pieces of track and many more accessories for a memorable shared experience.
DADDY'S LITTLE HELPER:
"I want to help, Daddy!" — five words that'll melt any father's heart. Make meal-time prep, crafting, and other toddler-friendly activities a shared experience with
Tripp Trapp High Chair
, a grow with me high chair that helps your kiddo reach counter height. 
HI PRESENTS, MY NAME IS DAD.
Novelty items are, well, novelties, but few gifts bring out the big guy's sentimental side quite like these sweet reminders that he's officially part of the club.
BEER ME:
Stereotype, shmereotype — if your family's newly minted father figure loves a cold craft brew, he'll love this
Pearhead New Dad Beer Mug
(and possibly some quiet time on the deck). Plus, it holds any type of bevvy, not just beer. Who'da thunk?
BUT FIRST, COFFEE:
For hot liquids, consider
Pearhead's #Dadlife Mug
. Because caffeine can be… integral to fatherhood.
DADA'S DILEMMA:
A tale as old as time itself. Jimmy Fallon's super-cute
Your Baby's First Word Will be Dada
was borne of his extremely relatable quest to win over his infant daughter. (Spoiler: Fallon came in at a respectable, but predictable, second place in that race.)
HEART, MEET SLEEVE
:
This
Finn and Emma Organic Graphic Bodysuit
lets the world know that Baby loves their dad. Because who wouldn't love that big lug? Plus, the buttery-soft cotton makes cuddles that much sweeter.
WRAPPED WITH A BOW
Whether they are adventure seekers, tech lovers, or just big kids themselves — we have fun and useful gifts for every new dad!
For more great gift ideas that literally have Dad's name on 'em, head over
here
. For more helpful suggestions for everyone on your shopping list, be sure to check out our other Gift Guide articles,
here
.
Happy Shopping!
---