Bugaboo Dragonfly Complete Compact Stroller
Jump to Section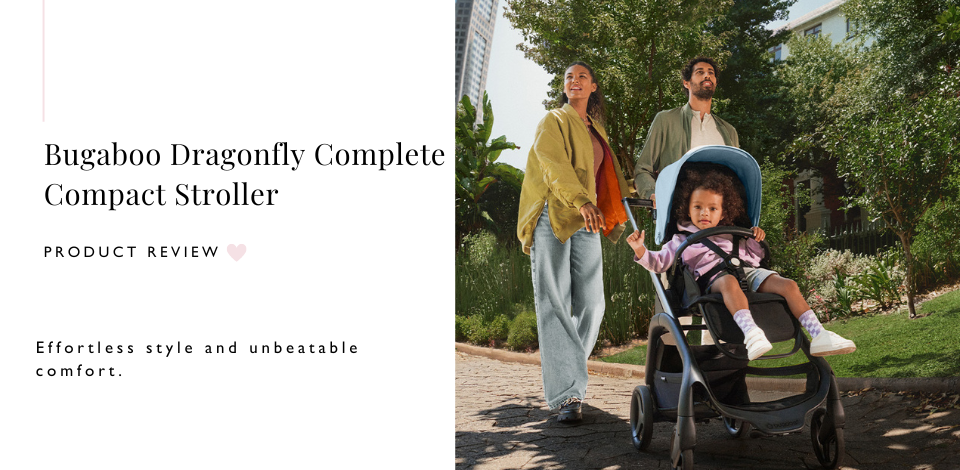 Does a stroller with a smooth ride, exceptional maneuverability, and the capacity to be your personal saviour in any city environment exist? It sure does — and its name is the 
Dragonfly Complete Compact Stroller.
The Dragonfly is Bugaboo's latest feat in a long line of parent-favourite strollers. Set to steal the spotlight from its predecessor, the Bee6, the Dragonfly has been dubbed "The future city stroller where comfort meets compact", designed to make your city explorations with baby a breeze.

Lightweight at roughly 20 lbs., it's perfect for parents who want a durable stroller without having to compromise on style or comfort. It also comes loaded with plenty of features that make it one of the most versatile and functional strollers currently on the market.

Want to know if the Bugaboo Dragonfly is a must-have for your family? Keep reading and we'll tell you all about it!


DAY ONE USAGE
THE SPECS:
Suitable for use from birth (with pram) or 6 months (with seat) up to 50 lbs. 
Dimensions: 41.73" L x 20.47" W x 40.94" H 
Folded Dimensions: 14.17" L x 20.47" W x 32" (pram) / 35.43" H (seat) 
Stroller Weight: 17.4 lbs. (with seat), 22.9 lbs. (with pram) 

The Dragonfly comes with a stroller seat that can be used starting from 6 months. However, by adding the Dragonfly Pram Body, you can use the stroller from birth! This gives your child a safe and comfortable place to lie while you're on the move. Want to know the best part? The pram connects to the stroller without any adapters!

Parents can also turn the Dragonfly into a travel system by attaching an infant car seat to the frame. The Dragonfly is compatible with a wide range of car seats with the proper adapters.

Additionally, the Dragonfly allows for either forward-facing or parent-facing seat positioning, depending on your (or your child's) preference.


DESIGNED FOR CONVENIENCE
Bugaboo designed this stroller with a ton of thoughtful features!

INFINITY LOOP DESIGN:
Not only does the Dragonfly exude style with its sleek infinity loop design, but it also ensures sturdiness and stability, providing a safe and comfortable ride for your little one on all your adventures.

SPACIOUS STORAGE:
Say goodbye to storage struggles! The Dragonfly features a generous 22 lbs. capacity under seat basket that can be accessed from any side. Not enough (let's face it, it's never enough)? Attach the extendable case to the front or rear of the basket, or even to the handlebar for quick and easy access to your essentials.

VERSATILE RECLINING POSITIONS:
The Dragonfly offers three reclining positions, including a near-flat position to ensure optimal comfort for your tiny passenger.

EASY LEG REST ADJUSTMENT:
With a simple one-hand adjustment, you can easily customize the leg rest to provide the perfect support for your child's tiny (but growing) legs.

COMFORTABLE HANDLEBAR:
The Dragonfly's handlebar extends to 41 inches high, accommodating parents of all different heights plus a leather-like wrap provides a soft and comfortable grip, making your strolling pushing experience a breeze.

FRESH FABRICS:
This stylish stroller is designed with soft and durable fabrics that are = machine-washable (a huge win) and water-repellant, keeping your stroller looking clean and fresh at all times

HIGH SEATING:
The seat height on the Dragonfly is a little bit higher than average (20 inches from the ground), which ensures you are nice and close to baby at all times. This feature also means will have to bend over a little less when baby starts to fuss.

VARIETY OF COLOURS:
Choose from four stylish colours — grey melange, midnight black, skyline blue, and forest green— to match your personal style and make a statement while out and about.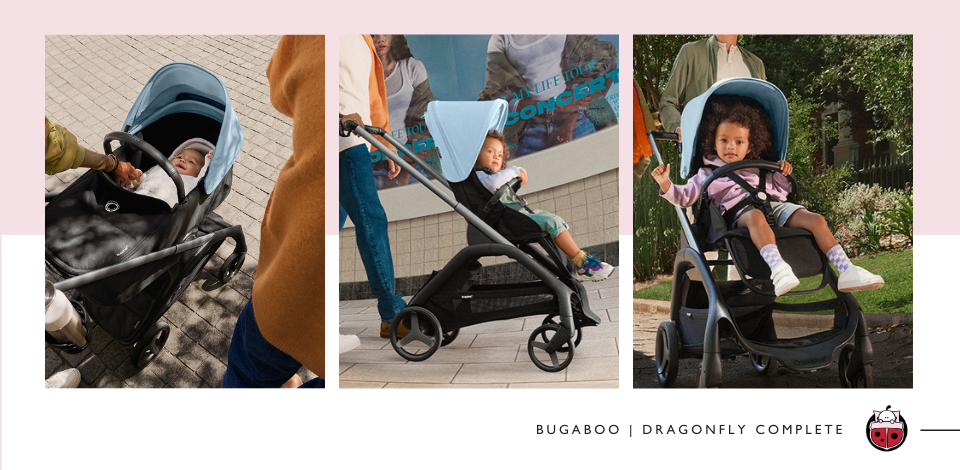 SIMPLE FOLDING
Folding the Dragonfly is so simple even your baby can do it! Okay, that's a bit of a stretch, but it is exceedingly easy.

Bugaboo designed a one-handed folding mechanism, allowing you to effortlessly collapse the stroller — even with the seat or pram attached. Simply press a button, push down, and voila! You're ready to store it out of sight or load it into your car for your next adventure.

Thanks to this clever design, you get three convenient options for transport — you can carry it via the centre tube, make use of the hands-free carry strap, or simply pull it along like wheeled luggage. Manoeuvring through crowded streets, narrow hallways, or busy airports becomes struggle-free, giving you the freedom to navigate with ease.


SAFE ROAD AHEAD
When it comes to your little one's safety, the Dragonfly stroller leaves no stone unturned.

With its simple-to-use buckle system and adjustable padded harness, you can ensure a secure and comfortable fit that grows with your child. Kids can also hold onto the seat's bumper bar for added security while in motion.

Worried about your sweetie getting a sunburn? Fear not! The Dragonfly's canopy offers UPF 50 sun protection, shielding your little adventurer from harmful rays. The canopy is also equipped with an extendable mesh panel that serves as both a peekaboo window and a ventilation point for non-stop airflow.

Bugaboo also includes an all-wheel suspension system and enhanced grip wheels, for manoeuvring the stroller with ease on any city surface. To top things off, side panels on the seat provide additional safety, giving you peace of mind as you stroll with your little bundle of joy.
 
DRAGONFLY ADD ONS
In addition to the pram and an infant car seat, you can add a number of accessories to the Dragonfly. Here's a complete rundown of Bugaboo products you can buy to supersize your ride!
Breezy Canopy 
Dragonfly Full-Size Breezy Sun Canopy
Car Seat Adapters

A JEWEL IN FLIGHT
The Dragonfly Complete Compact Stroller goes above and beyond when it comes to helping busy parents on the go.

Its high-end driving experience, lightweight frame, and easy manoeuvrability ensure you conquer any urban terrain with ease. From its reclining seat and adjustable leg rest to the padded harness and protective canopy, your child will have a comfortable ride day or night! Add in convenient folding, an abundance of storage space, and accessory expandability (not to mention using it with a pram or car seat), and you've got a true winner on your hands.

By combing safety, comfort, and convenience in a sleek and stylish package, Bugaboo's Dragonfly is a tough stroller to beat!
---