VEER All-Terrain Cruiser Wagon Review
Jump to Section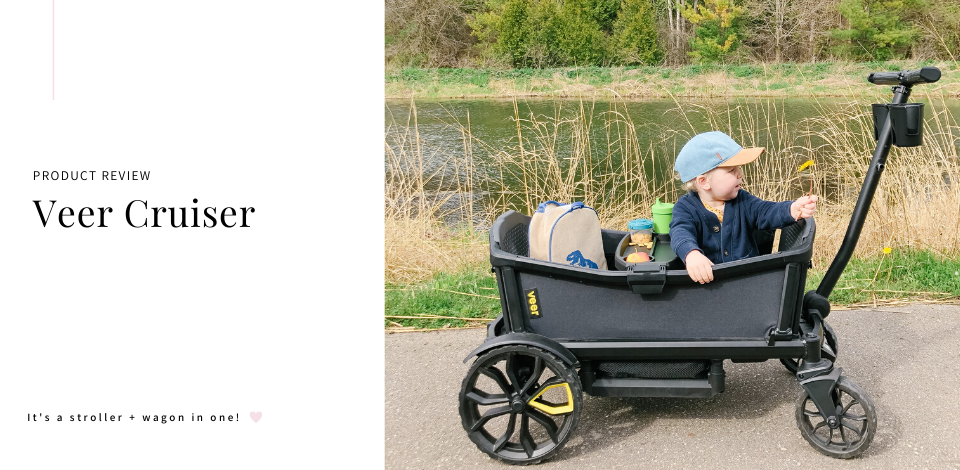 Toy wagons have been around since the 19th century, so it's about time the traditional "little red wagon" got upgraded. 
Enter the
VEER All-Terrain Cruiser Wagon! 
It's part premium stroller, part rugged wagon, and we are LOVING all the features that it has to offer.
Load it up with gear and beer if you are at the cottage and headed down to the lake, or take it for a spin on the trails for the ultimate all-terrain family hiking adventure. 
We promise you; it will keep up!
Below we've outlined 10 amazing features of the VEER Cruiser...the versatility of this "wagon" will surprise you!
OUR FAV FEATURES

1. Multiple Riding Modes:
Push it like a stroller, pull it like a wagon, or push it along like modern luggage. The design makes it surprisingly easy to maneuver and puts the power in your hands — literally. 


2. Mobility
The Veer Cruiser breaks down and can store easily in an upright position — the stow-and-go feature means less competition for what gets stored in the garage.


3. Cup Holders
Cup holders? Yes! Multiple cup holders to be exact.
It's no secret that parenthood is fueled with caffeine, so it only makes sense that each Cruiser comes with two cup holders and SIX attachment points!


4. Removable Snack and Drink Tray
 Keep the kids happy with accessible snacks and drink at their fingertips. Goldfish crackers + apple juice= peace and quiet (for at least 5 minutes).


5. A Luxury Ride
Low sidewalls, 360° views, contoured seats, vented seat backs, and an expandable footwell. Is it fair for the kids to have a nicer ride than Mommy and Daddy?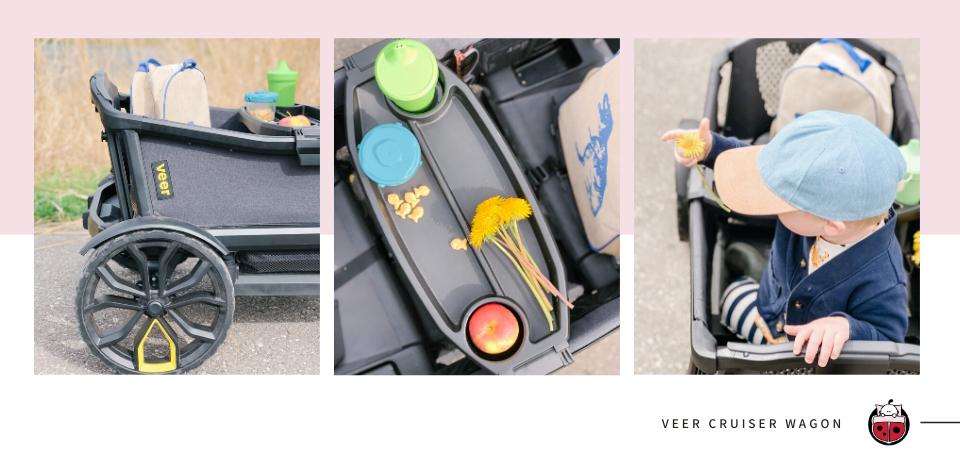 6. Interior Storage Pockets
Finally, a place for your little to store all of their treasures like the 47 feathers they collected down at the beach.


7. Cute Canopy
The Veer Cruiser comes with the ability to add on not one but two canopies — one per seat. This feature really takes the functionality of this piece of gear to the next level. Now you only have to worry about baby throwing their hat OUT of the wagon — not just taking it off.


8. Car Seat Compatibility
Now baby can come along for the adventure! Most major brands of infant car seats can attach using an
Infant Car Seat Adapter
(sold separately), so even the youngest family members can enjoy the ride along with their older siblings. Talk about convenience for the whole family!
9. Safety
We love that the seating is complete with 3-point harnesses for both passengers. It allows children the independence of being a "big kid" but peace of mind for parents knowing they can't go anywhere.

Additionally, Veer Cruisers include a safety parking brake and is the first in its class to meet all ASTM stroller safety standards and be JPMA certified.


10. Basic Black
You can't judge a book by its cover...but in this case — we'll allow it. The Veer doesn't just perform well but it looks great too! We love the sleek black on black design.



CRUISE ON!
There you have it, 10 reasons why the Veer Cruiser may be the right fit for your growing family!
Another thing we love about the VEER Cruiser is all the amazing add-on accessories.
If you are into adventuring, you might want to check out the
VEER Basecamp
a high-performance pop-up playard for your little ones. It attaches easily to the Cruiser so that you can bring it along wherever you may be going—no fuss, no hassle. For a full list of accessories for the VEER Wagon, click
here
. 
For parents with larger families, the
All-Terrain Cruiser XL
may be just the ticket. Boasting our favourite features of the original Cruiser, but with the ability to tow up to 4 children, the XL is one to beat. To read the full review, click
here
.
For more great options, be sure to discover our
Top Wagons of 2023
too!
---