Thule Shine City Stroller Review
Jump to Section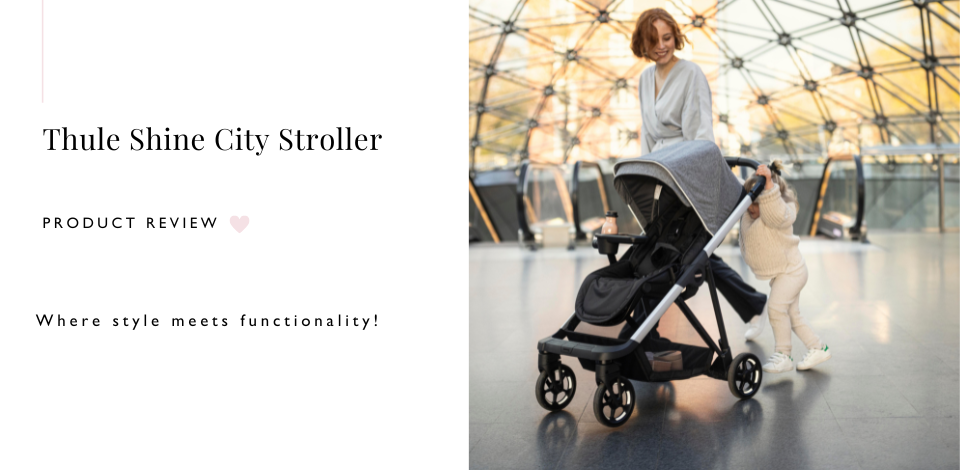 You might know
Thule
(pronounced Tool-ee) for its variety of camping gear and outdoor storage products. Well, they're also making the baby market take notice — and we are here for it! Given Thule's outdoorsy product lines, it comes as no surprise they have hit it out of the park with all-terrain strollers like the rugged
Urban Glide 2
.
But what about conquering the concrete jungles? City life has its own set of obstacles with baby in tow but Thule is up for the challenge. For those searching high and low for the perfect stroller to match your go-go-go city lifestyle, we are proud to introduce the
Shine City Stroller
.
With an easy-to-handle design, sleek aesthetics, and envy-worthy features, Thule's latest feat will have you cruising through the city streets with ease! Is this urban marvel just the ticket for you and your little one? Keep reading to find out!
NEWBORN TO TODDLER
THE SPECS:
Maximum Child Weight: 49 lbs. 
Cargo Basket Weight Capacity: 22 lbs. 
Unfolded Dimensions: 35.4" L x 20.5" W x 38" H 
Folded Dimensions: 27" L x 20.5" W 13.8 H 
Stroller Weight: 21.6 lbs. 
While the stroller seat is designed for babies 6 months and up, the Shine can be used straight from birth by adding any of the following items:
Items like the Inlay and Nest add flexibility to the stroller, allowing newborns to sit/lay safely up until the age of 6 months. At that point, they can graduate to sitting in the stroller's toddler seat. Parents can also create a
travel system
by using their
infant car seat
with the Shine. Of note, you'll likely have to purchase
adapters
to make the seat and stroller compatible.
SUPER SEAT
Even city sidewalks can be uneven and bumpy, so Thule provides kids with a generously padded seat for ultimate comfort during their rides. The seat is also reversible, allowing them to look at your smiling face or out toward the world! The seat recline is also quite generous and is adjustable to baby's preference (although it cannot lay in a flat position). Thule takes comfort one step further by including an adjustable leg rest, which keeps their calves elevated for ultimate relaxation. Also designed into the Shine is a step for kids to boost themselves into the seat without any help from mom and dad!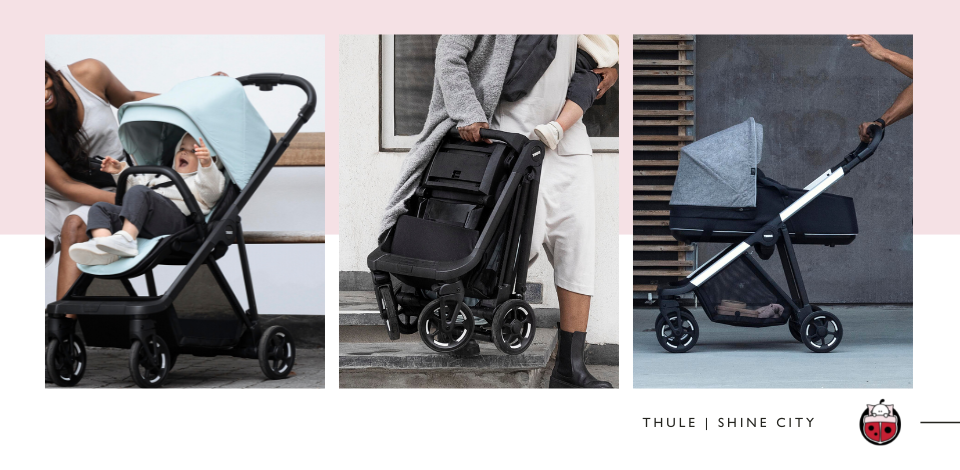 SAFE AND SOUND
The Shine City Stroller doesn't skimp out on the premium features either, making sure your child is well-protected and comfy, and you have everything you need to play chauffeur:

HARNESS: Kids stay strapped into the seat at all times when using the 5-point harness, which comes with easily adjustable straps for a perfect fit.

CANOPY: Covering baby's little noggin is a large UPF 50+ canopy to shield them from the sun. For more coverage, you can unzip a mesh panel that doubles as a peekaboo window, keeping airflow constant while you keep an eye on your prize.

BUMPER BAR: Thule includes a bumper bar to keep baby protected and give them something to hold on to while you're out exploring.

WHEELS: The Shine sits on a full suspension system with 4, puncture-proof wheels for tackling bumpy roads and paths with ease (or making tight turns in the grocery store aisles). The front swivel wheels can also be locked, adding stability on rocky terrain or when jogging with the stroller.

REFLECTORS: You won't always be using the Shine City during the daytime, so Thule added reflection strips on the wheels and canopy edges to help it stand out at night or in foggy weather.

HANDLEBAR: The one-hand easy adjustable handlebar ensures parents of all heights have a comfortable push.

RAIN COVER: Unfortunately the weather isn't always sunshine and rainbows. For days when you wished you stayed inside, an included rain cover keeps your precious cargo dry!

BASKET: Stay hands-free! Under the seat is an easily accessible, 22-lbs.-capacity basket for holding all the essentials you'll need for your day out (or carrying all your shopping bags). When filled, it helps weigh down the stroller. This gives it a low centre of gravity, so it won't tip over.
FOLD AND GO
Getting the Shine City into your vehicle or storage space is super easy and can be done in just three steps with just one hand!
Push/flip the seat forward. 
Depress the adjustable handlebar to the lowest setting. 
Push the button on the underside of the handlebar and pull the handle down toward your feet. 
Once folded, it compacts into a short, free-standing position (which is great for storing in small spaces) — and you can use the carry handle to move it around. As it's lightweight at only 21 lbs., you should have no issues lifting it in and out of your vehicle or carrying it up and down stairs.
THULE-RRIFIC
Thule
 has a new parent-favourite with the
Shine City Stroller
. Not only is it great to look at, but they've designed it in such a way that you'll never want to leave home without it! Easy to steer, comfortable for kids, and boasting features that will your life easier, you'll love using this 4-wheeled wonder!
---