Diono Radian Q Series Car Seat Comparison
Jump to Section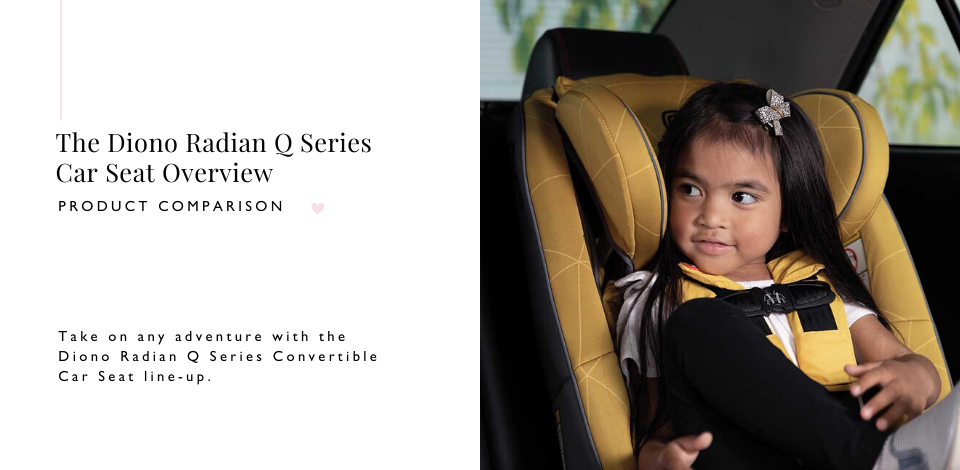 Diono
 car seats are known for their fun colours, and slim design that allows for wat we refer to as a "3 across install" aka having three car seats in the same row of a medium-sized sedan. So, if you haven't yet joined the #minivanclub, researching these 
Diono
 convertible car seats might be a good idea for your family. Diono has created an extensive 
range of car seats
, so you're your family can select the right seat for you [and your littles.] The Diono Radian Q Convertible Car Seat series include three levels of seats which are outlined below, along with the different features that are attached to each one.
Ready to research?
Read on!


DIONO RADIAN 3 QX ALL-IN-ONE CONVERTIBLE CAR SEAT
SPECS:
Rear-facing: 4-50 lbs
Forward-facing: 22-65 lbs
Booster mode: 40-120 lbs
Car Seat Weight: 25.8 lbs


The
Diono Radian 3 QX Car Seat
is a great option for families looking for a three-in-one seat. The price tag may be more than the
Diono
"R" models but the "QX, QXT, and QXT+" are worth the investment if you don't want to be purchasing a new seat every few years as your child grows. With the weight capacity ranging from 4-120 lbs, you will be sure to get the most for your money in this seat. We always recommend keeping your children rear-facing for as long as possible, so
Diono
's three stages of rear-facing options is ideal as your little ones grow. You can keep your child rear facing in this seat up to 50lbs.
So, what does the
Radian 3 QX
include? If you opt to forgo the traditional infant bucket car seat you'll love the included newborn travel high wedges to keep them safe and supported while they are so tiny. Additionally,
Diono
has included a two-in-one infant positioning liner and a safe anti-rebound bar for full rear-facing protection. This seat includes an automotive-grade steel core with six layers of interlocking foam, high-density plastic and steel reinforcement. Even though there is so much going on with this seat, it maintains its slim design.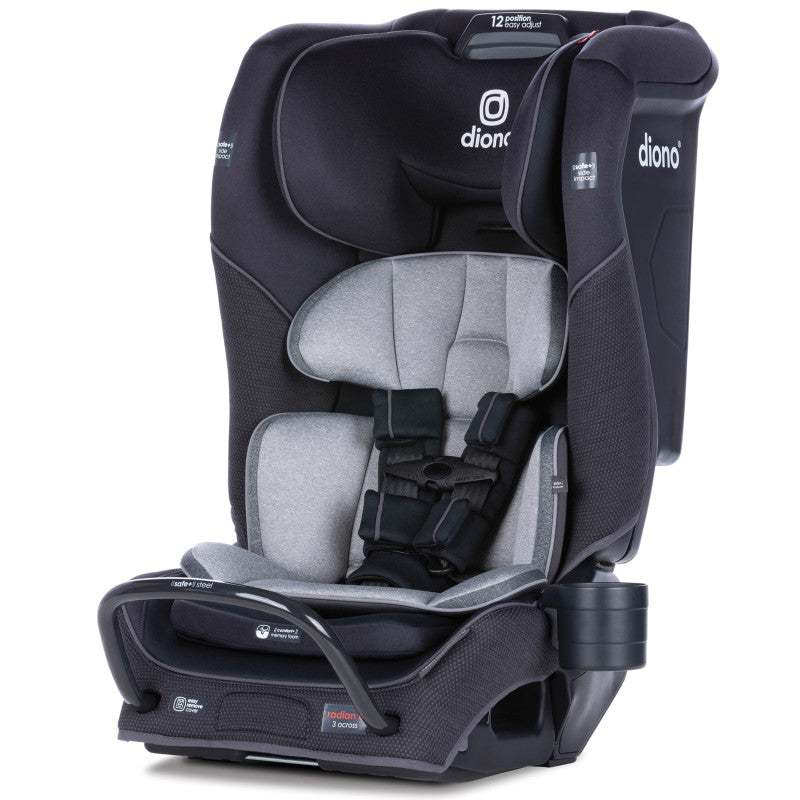 Diono
Sale Price: $47.99
Regular Price: $59.99
DIONO RADIAN 3 QXT ALL-IN-ONE CONVERTIBLE CAR SEAT
So, what's the difference between the Radian 3 QX and the Radian 3 QXT? Well, the Diono Radian 3 QXT has everything listed above plus these great additional features.


ADDITIONAL FEATURES:
Additional head support
Additional rear-facing options
A folding feature.
One of the first things you will notice about this car seat in contrast to the
3 QX
is the additional head support and padding for newborns and infants. We all know how frustrating and painful it is to watch your sweet babe fall asleep with their head hanging in an awkward position. This car seat helps rectify that situation! This seat also has one additional rear-facing option so your children can sit back-facing for longer. This can bring additional peace of mind when you're heading out on those long road trips! Finally, this seat has a folding feature making it easy to transport and store – especially on an airplane!
DIONO RADIAN 3 QXT+ ALL-IN-ONE CONVERTIBLE CAR SEAT
The final
Diono
seat in the Radian Q car seat series is the
Radian 3 QXT+
. If you're going for longevity and luxury, this seat is calling your name. So, what sets the
Diono Radian 3 QXT+
apart from the
3 QX
and
3 QXT
models? The 3 QXT+ has everything we spoke about above plus these additional premium features.
ADDITIONAL FEATURES:
Calf support
Cup holders
Premium fabric
Suitable for children weighing 4-120 lbs, the
Diono Radian 3 QXT+
has included calf support for those little legs to make sure they aren't hanging over the edge of the seat as they grow. It comes with cup holders for snack time and premium fabric for look and comfort. With additional mesh panels and a car seat protector, all while being machine washable, this seat is everything you will need and then some! As mentioned with the above seats, this seat may be packed with features but it can still fit three across a medium-sized sedan.
HAPPY TRAVELS!
So, now that you know
all
the details on the
Radian Q Series Convertible Car Seat line-up
, which one is the perfect match for you and your family?
We love that
Diono
has made a car seat with every family's needs in mind, while prioritizing safety and style. Check out our Related Content for more!
---
---