Jump to Section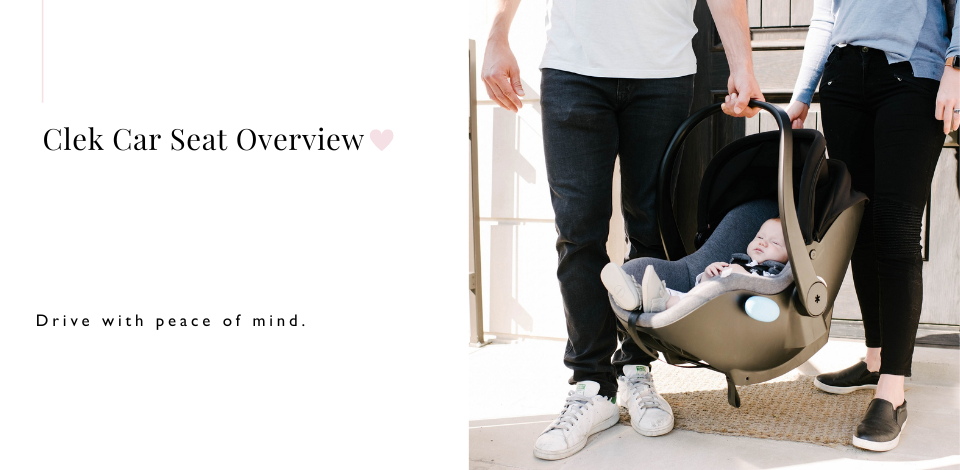 Time flies when you're a parent – one day you're driving your newborn home from the hospital in an
infant car seat
and the next thing you know, they are a big kid in a
booster seat
.
As your child grows, you'll need to ensure they have a suitable car seat — one that's focused on safety and comfort and meets the needs of their weight and height.
Enter
Clek
— a leading baby company that's made a name for itself by producing top-quality, innovative, and stylish
car seats
for children. Canadian-owned and operated, Clek has become a trusted brand among parents who want to ensure their sweet, sweet treasure is safe while on the move.
In this car seat round-up article, we'll look closer at Clek's various options and how they support your child during all stages of their car seat journey.
INFANT SEATS
First, you'll need an infant car seat — a rear-facing seat, designed for use from birth. Clek's infant car seats are suitable for babies between 4 to 35 lbs. and up to 32 inches in length. Additionally, both infant car seats can be attached to
strollers
to create a
travel system
(adapters may be needed).
LIING:
Available in a multitude of colours and designed and boasting great safety features, the
Liing
is one of Clek's most popular car seats. With a super-rigid base, the seat is easy to install via LATCH connectors and comes with a stabilizing load leg as well as EPP foam and side impact protection. While the carrier locks into the base, it can still be installed using only a seatbelt (ie. Uber, airplanes, etc.). If you wish, you can purchase an
extra base
for a secondary vehicle if required. An included infant insert ensures newborns have extra support for proper head placement, and we love that the Liing has an SPF 100+ canopy.
To read our
full review of the Liing
, head over to our Learning Centre.


LIINGO:
The
Liingo
is a "lite" version of the Liing. It still has an abundance of foam and comes with an infant insert to keep your child snug and protected at all times, but it forgoes the need for a base by designing LATCH belt clips into the shell that connect to your vehicle's anchors. Parents can also secure it with European belt routing if they wish. Clek designed the Liingo to work with their
base
, however, this is a separate purchase. The other difference is that there is no load leg on the Liingo.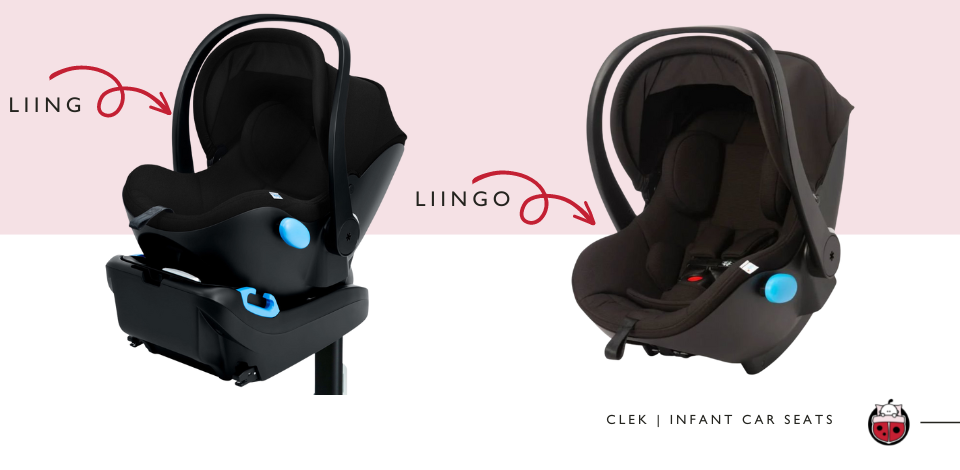 CONVERTIBLE SEATS
Once your child outgrows their infant car seat, they'll move up to a convertible car seat. This seat is designed to be used in both rear-facing and forward-facing positions. In rear-facing mode, the Foof can accommodate children from 14 lbs. to 40 lbs. (or 43"), while the Fllo can accommodate children up to 50 lbs. In forward-facing mode, both seats are designed for children between 22 lbs. to 65 lbs. (or 49").
FLLO:
Boasting over 10 colour options, Clek's
Fllo
seat is not only safe but narrow as well — allowing you to sit 3 across in your backseat (perfect for parents with multiple little ones). One of its best features is the anti-rebound bar, which prevents rebounding when rear-facing in a frontal collision. Additionally, the bar keeps the seat from rotating during side-impact collisions. An adjustable headrest provides comfort and protection as well, with the base of the seat designed to transfer crash forces away from your child and into the base. Installation can be done via LATCH or European belt routing, and it comes in your choice of fabrics that range from soft comfort to sustainably sourced and free of flame retardants.
For the full in-depth review of the Fllo, click here.
FOONF:
Dubbed "The Mother of All Convertible Car Seats", the
Foonf's
reputation precedes it. Suitable for children up to 65 lbs. or 49 inches in height, parents can get plenty of use from this seat. Designed with near-indestructible steel and a magnesium substructure, it's another safety-focused seat, with rigid LATCH connectors, energy-absorbing foam, side impact protection, and a steel anti-rebound bar. For the fashionista parent, Clek offers this seat in 14 different colours with various fabrics so you're bound to find the perfect one to match your car's interior.
For the full in-depth review of the Foonf, click here.For more information, check out our

 

Fllo vs. Foonf

 

article that outlines the differences between these two seats.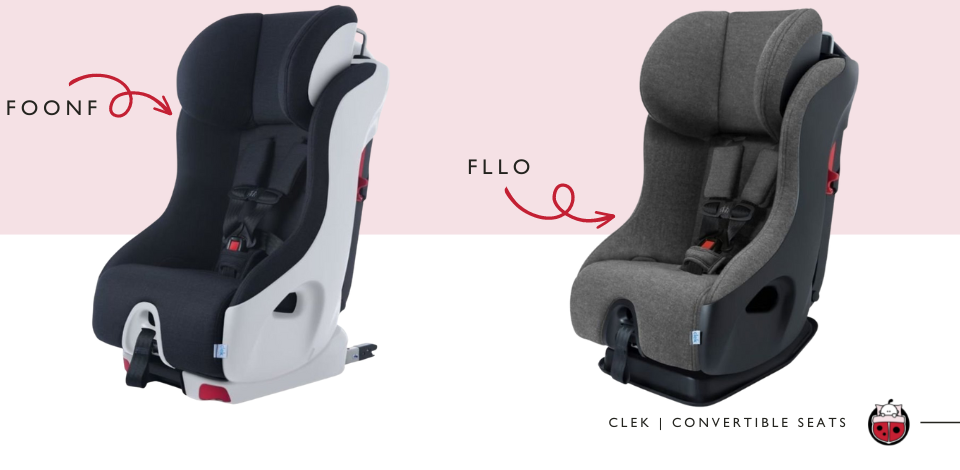 BOOSTER SEATS
Rounding off the final leg of your child's car seat journey is booster seats. These seats are for older children who have outgrown their convertible car seats but are not yet tall enough to use the vehicle's seat safely. Clek has two great options to choose from. Both boosters are suitable for children starting at 40 lbs. (or 40"), however, the Oobr maxes out at 100 lbs. (or 57"), while the Olli is suitable up to 120 lbs.
OOBR:
Just because this is a booster seat, doesn't mean Clek skimped on safety features. For starters, the
Oobr

 
comes with rigid LATCH connectors and uses a high-impact copolymer frame for enhanced protection. Like its other seats, Clek gives kids a reinforced, EPP foam headrest for comfort and safety in the event of a collision. We also love that the Oobr's reclining high back can be fully removed, allowing you to use the Oobr as a backless booster.
For an in-depth look, check out our
 

full review of the Oobr Booster Car Seat
.


OLLI:
Unlike the Oobr, the
Clek Olli Booster Seat
is backless from the get-go — it's also a fraction of the price to boot! Weighing just 5 lbs. and equipped with a carrying strap, you can virtually take this booster anywhere you need to. It raises kids 4 inches for a better seat belt fit and works with the UAS connectors to provide excelled overall safety. Designed with dual armrests, Clek gives you a choice of colours and fabrics, and they also include a detachable side cup holder that can be tossed in the dishwasher for quick cleaning.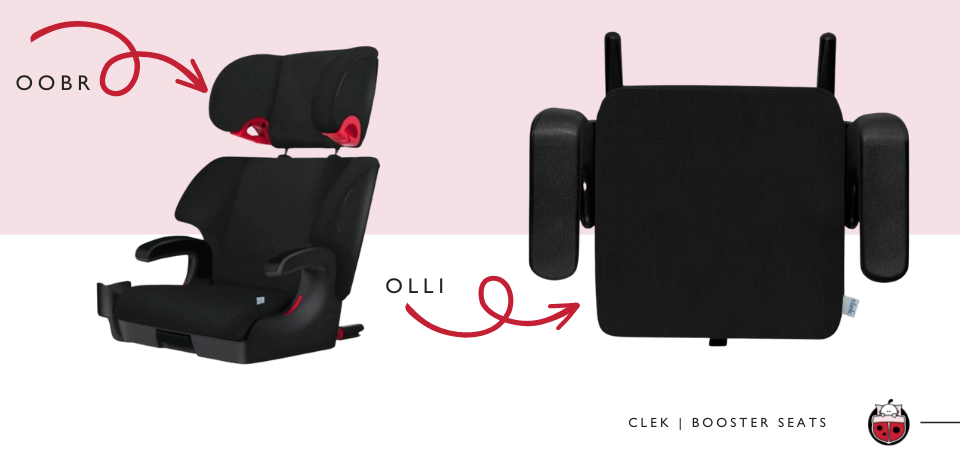 CLEK HAS YOU COVERED
Clek
's seats have been engineered with the utmost safety in mind. Regardless of which one of Clek's
infant seats
,
convertible seats
, or
booster seats
you are using, parents get a product made with high-quality materials every time. Not only are they comfortable for kids to sit in for long periods of time, but they're also uber-durable so you'll never have to replace them! With an abundance of styles to choose from, we're sure you'll have no problems finding the right Clek
 

car seat
for your little one that perfectly complements your vehicle's decor.
---