Baby Registry Product Picks for Multiples
Jump to Section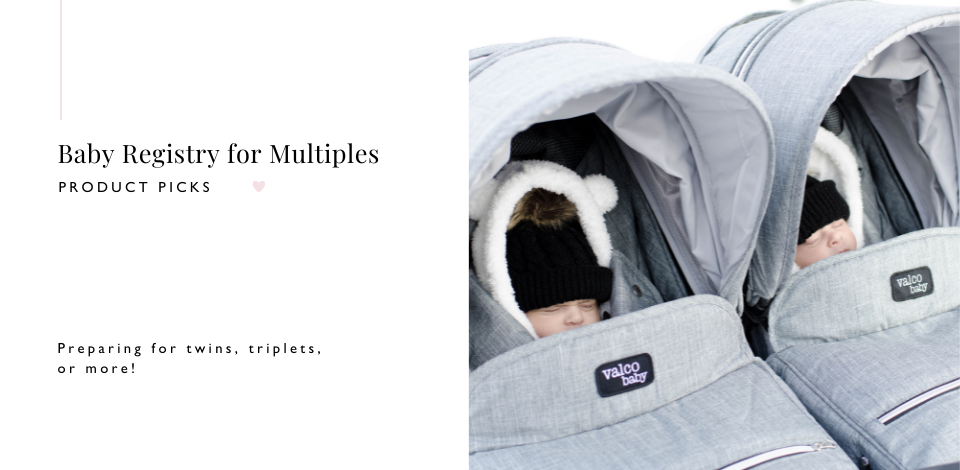 Congratulations! You just found out you're having twins, triplets or more!
Having a baby is an exciting time for new parents and finding out you're having twins doubles that excitement. But, because it's not quite as common, there tends to be a lot more questions.
From "
do we need 2 of everything?
" to "
how am I going to afford 2+ babies?!
" – you're not alone, which is why we've compiled some product picks to consider when building your
Baby Registry
for multiples!
DOUBLE THE ESSENTIALS
The goal with doubling essentials is to minimize germs spread between babies. This includes
bottles
,
pacifiers
, snot suckers, etc. If this requires colour-coding with stickers or nail polish, do it.
Grabbing 1 of each colour of these
8 oz Bottle 2-Packs
by
Comotomo
will help you easily distinguish between which bottle is for which little. We also
love
the
Pacifier Combo
's by
BIBS
that come in a variety of stylishly paired colours!
TWO INFANT SEATS
Since you'll be carrying
two
Infant Seats
with you on a daily basis instead of just one, we recommend the
Nuna PIPA
, the
Nuna PIPA Lite
, or the
Nuna PIPA Lite LX
infant seats.
Super safe and stylish – they are also the lightest on the market, with the
Lite
weighing in at under 5 pounds!
For our full review of the
PIPA series
, check out
this article
where we break down everything you need to know about the three models.
TWO SOUND MACHINES
If you're planning to have your babies sleep in different areas of the house, a
sound machine
for each sleep space is recommended. A
white noise machine
will help drown out the noise of siblings and allow them to dream right through their womb-mates fussing!
TWO BOUNCERS
There are a lot of items that you can manage having only one of with multiples, but a
bouncer
isn't one of them.
You're going to need a safe, dependable spot to put both babies down when you need to run to the washroom or unpack the groceries. Check out our
Top Bouncers
article for a breakdown of all our favourite picks. 
A SAFE PLAY SPACE
As your newborns grow into mobile infants, it won't be as easy to strap them into a bouncer and use the washroom. A safe spot to put your mobile babies takes a little bit more creativity.
This
PlayView Enclosure
by
Skip Hop
works as a room divider or freestanding "baby jail". Toss a
playmat
underneath and some age-appropriate toys in this space and feel confident turning around to unload the dishwasher!
SPACE SAVING HIGH CHAIRS
Twin parents LOVE the lobster-style high chairs that clamp onto islands or counters. They don't take up any floor space in your kitchen, and are easy to pack up and bring to the grandparents' or on vacation. The
lobster high chair
by
Phil & Teds
is a top seller!
Note: These seats are not compatible with every island, table or countertop. Please refer to the specifications on the product listing before purchasing.
FEELING EXCITED?
We're so excited for you to welcome your new bundles of joy, and hope that this article helped you feel prepared for their arrival.

Any twin parents out there have additional must-have products or tips? Share with fellow parents of multiples in the comments below!
---