The Second Baby Checklist
Jump to Section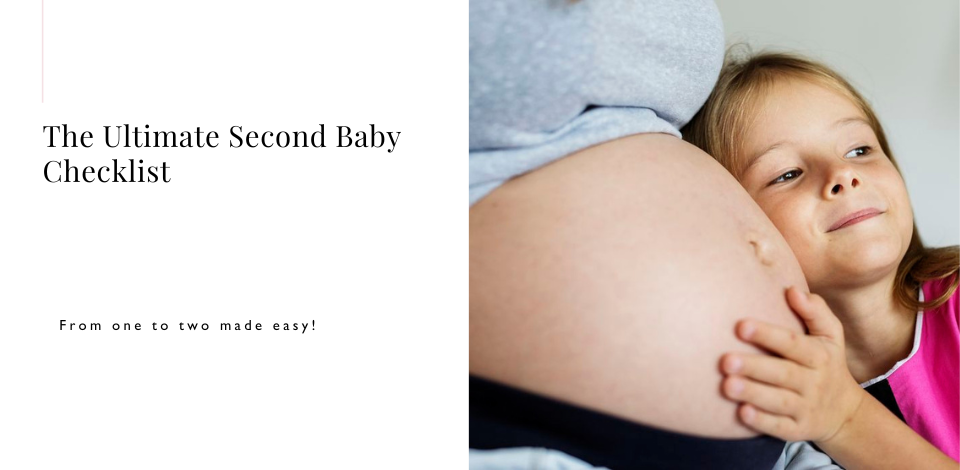 Having a child is an exciting adventure for new parents! It's a time filled with discovery, growth, and wonder that usually leads to a second child sooner rather than later.
Though you've graduated to Supermom and Superdad status, you'll still need to be prepared for your newest bundle of joy.Hand-me-downs from your first child will likely be available, but there will still be items you'll need to buy for baby number two. If you're lucky, you may have them gifted to you during your
sprinkle shower
.
If you're unfamiliar with the term, a sprinkle shower is a mini shower for parents having their second child. Attendees give smaller gifts rather than the big-ticket items first-time parents need.
So if you're planning on going to a sprinkle shower, or you're having your second child, keep reading to find out how our Ultimate Second Baby Checklist covers all your bases for bébé numero deux!
BABY MONITOR
A secondary camera or baby monitor is invaluable for keeping a watchful eye on your newborn.
We highly recommend the
Nanit Pro Complete Baby Monitoring System
. Controlled via app, it allows you to monitor your children on your phone or device. Not only is it broadcast in high-definition, but it also has two-way audio, monitors your baby's breathing, and allows parents to split-screen multiple cameras at the same time (perfect for families with two children).
For more options, check out our Learning Centre article,
Top Baby Monitors
.
STROLLER FOR TWO
The logistics of pushing around multiple strollers on a day out with children is downright incomprehensible!
The easiest solution is to attach a second seat to your existing stroller (if it has the capability) or purchase a double stroller.
Our
Tandem vs. Side-by-Side Stroller
article gives you an in-depth rundown of these strollers and which ones will work best for you and your sproglets.
RIDE-ALONG BOARD
Depending on the age of your first child, you may want to go the route of using a
ride-along board
with your original stroller.
Designed to hold toddlers up to 55 lbs., the board attaches to the rear of your stroller. This gives your first child a place to stand (or sit) while your second child is in the stroller's seat. Parents can then push the stroller along with both children secured to it.
BABY CARRIER
If you didn't join the babywearing club the first time around, the demands of having a second child will surely change your mind.
Using a baby carrier makes multi-tasking with multiple children so much easier, whether you're going on walks, running errands, or doing outdoor activities like hiking.
Check out our
Top Carriers
 article to get a better idea of which baby carrier can enhance your lifestyle.
DIAPER BAG ESSENTIALS
You most likely have a leftover
diaper bag
, but it's probably been severely depleted due to inactivity.
Update it with the following essentials:
TIME FOR A GLOW UP
Having a second child may also be the perfect excuse for parents to consider upgrading any outdated products they might have.
For bedtime, the
4Moms Sleep Bassinet
is one of the first motorized bassinets to incorporate app control, allowing parents to customize baby's sleep motions and sounds directly from their device.
Another product many parents upgrade for their second child is their baby's high chair. This could be due to getting rid of the first one too soon, or simply because they're not happy with the one they currently have. Whatever the reason, we explore high chairs in-depth in our
Top High Chairs
 article, highlighting the best in baby chairs like the
Clikk
and
Tripp Trapp
.
A GROWING FAMILY IS A HAPPY FAMILY
Baby number two is a joyous occasion for any family. Parents are seasoned the second time around, and won't find the prep work as overwhelming as it was with child number one. That being said, getting your ducks in a row now will help you relax and really savour that special time with your newborn later.

With this checklist both parents and newborns should have no trouble adjusting to their new life together.
---
---