Tandem vs. Side-By-Side Double Strollers
Jump to Section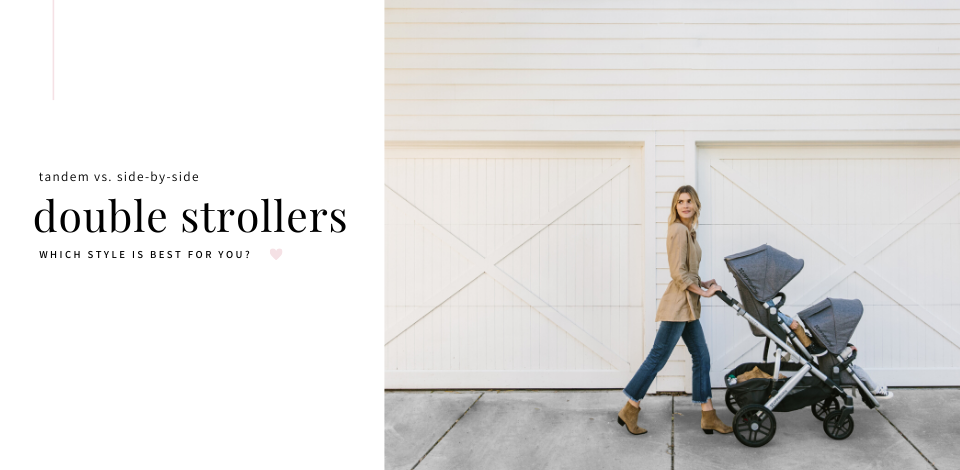 Expecting your second child?
Whether you were shocked to find out that you are expecting twins or if baby number two was perfectly planned, it's time to start thinking about how you will transport your growing family from Point A to Point B with all of their stuff in tow.

So, what type of double stroller is best for you?

Today we are dispelling myths and breaking down the pros and cons of tandem vs. side-by-side double strollers. 


WHAT'S THE DIFFERENCE?
You've probably heard of the term convertible stroller or expandable stroller. Simply put, "convertible" and "expandable" means you can transform your single stroller into a double by adding on a second seat. Tandem is a term that refers to having those stroller seats stacked on the frame stadium style. See the image below for a visual reference.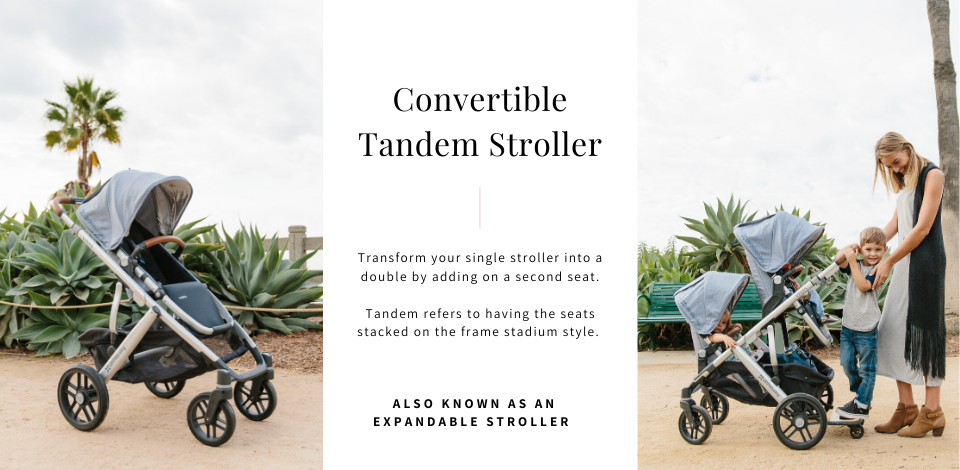 CONVERTIBLE STROLLERS
From a family planning perspective, a convertible stroller is a great option if you are warm to the idea of more children in the future. This gives you the ability to use your stroller in single-mode and when the time comes you can purchase the second seat and adaptors if required.
Shopping for multiples?
No problem! Simply purchase the second seat right away and Voila!  You've got yourself a double stroller. Each stroller brand uses a different term to refer to their second seat attachment – you'll hear everything from second seat kit, sibling seat, toddler seat, extension set, and rumble seat.

So, why do those second seat terms matter?

When researching weight limitations, for instance, it is important to take note of which seat the manufacturer is referring too. In some cases, second seat attachments have a lower weight capacity and have different adjustment abilities and configuration limitations to consider.

Learn about our Top Convertible Strollers of the Year, here.

CONVERTIBLE TANDEM STROLLERS
SIDE-BY-SIDE DOUBLE STROLLERS 
The Bugaboo Donkey5 is one of the only convertible strollers on the market that expands from a single stroller (mono) to a side-by-side double stroller when in "duo mode".
Most other side-by-side double strollers come with two seats ready to be used right out of the box. Your little passengers will sit [you guessed it] side by side to enjoy the view together and the stroller must always operate as one complete unit. Both seats don't always have to be used – but the second seat cannot be removed.
Learn about our Top Double Strollers of the Year, here.
SIDE-BY-SIDE STROLLERS
SPORTY SIDE-BY-SIDE STROLLERS
**denotes all-terrain wheels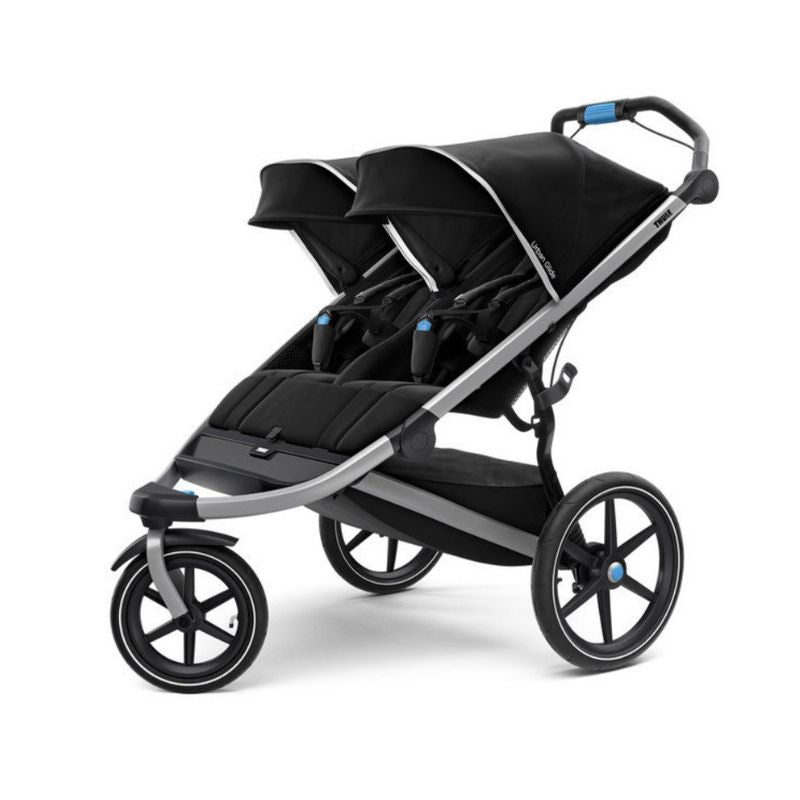 SIDE-BY-SIDE MYTHS BUSTED
MYTH #1:
A side-by-side double stroller is big and bulky and doesn't fit through doorways.
FALSE! Most side-by-side doubles strollers fit through most standard doorways — the largest we carry is 29" wide. Most standard doorways are at least 32" in order to accommodate wheelchairs.
MYTH #2:
You can't customize a side-by-side double stroller.
FALSE! Most side-by-side strollers offer an individual canopy per seat, individual recline, adjustable leg and calf support per rider, and can accept 1 or 2 infant seats [with the use of adaptors.]

Some, like the Bugaboo Donkey5 or Valco Baby Snap Ultra Duo allow you to re-arrange your seats to parent face or face towards the world (because every child is different!). Many also allow for the addition of a bassinet on one or both sides to accommodate newborns without a car seat.
MYTH #3:
Side-by-side strollers are SO heavy.
FALSE! This factor depends on the brand. Valco Baby makes some of the lightest side-by-side strollers on the market with the Snap Duo's weighing in at just 24 pounds.


THE PRO'S & CON'S
SIDE-BY-SIDE
Pro's:
Easy maneuverability with one-handed push
Easy to fold without having to remove any seats first
Both children are always within arm's reach
No fighting over who gets which seating position
Higher weight capacity per seat
Seats recline flat vs. The "c" position of tandem strollers
A side-by-side is often less expensive than a convertible stroller + the cost of a second seat
Con's:
Takes up more trunk or garage space as the second seat cannot be removed
The width of a side-by-side is sometimes tough to maneuver when in tight spaces [think the aisles of a department store]
Smaller under-stroller basket
Possible sibling rivalry when seated right next to each other
TANDEM
Pro's:
Can be used as a single or a double stroller
Multiple seating options and configurations to choose from
Multifunctional with the ability to forward face or parent face
Flexibility to remove the second seat when not in use
Con's:
Though flexible in many ways there are some limitations with a tandem double stroller.
Limited legroom for the rider in the rear position
The second seat generally has a lower weight limit to keep track of
In some cases, the second seat has limited ability in order to accommodate multiple configurations e.g. the UPPAbaby RumbleSeat can recline but the leg well cannot be adjusted
In order to make your stroller a double, you must purchase a second seat for an additional cost of $299.99-$549.99 depending on the brand


WHAT WILL IT BE?
Still deciding which stroller is "the one" for you? 
Check out our Related Content below for reviews on some of our most popular strollers!
Happy Strolling + Happy Shopping! 
---