Must-Have Indoor Play Solutions
Jump to Section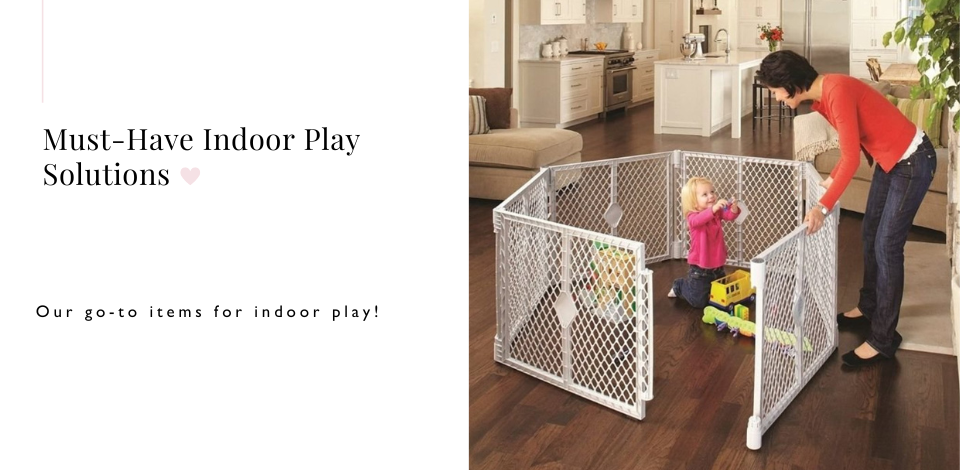 When Mother Nature has ruined your outdoor plans and you're left wondering how to occupy your kiddo all day, there's no need to stress. Consider it the perfect opportunity to spend time with your little one and to help them explore their senses, coordination, motor skills, and more!
For this round-up, we are diving into our favourite must-haves for all your indoor play adventures. Whether it's raining cats and dogs, or winter is rearing its ugly head, we've got your covered!
So, put away your
rain boots
(or snowshoes), and let's jump in!
CREATING A PLAY AREA FOR BÉBÉ
First and foremost, on those long dreary days, you'll want safe play area options for your little bébé. Whether your baby isn't quite moving around yet or they are constantly exploring every nook and cranny of your house, you will want designated areas in your home where you can easily keep them safe and busy. If you decide to keep babe contained in one spot or opt to go full-on free-range baby is totally up to you!

We recommend a mixture of both!


KEEPING BABE CONTAINED
If you want to keep your little one safe in one spot, we highly recommend a
playard
,
inflatable play area
, or a
gated area
in your home.
Trust us when we say this will save your sanity on a long day indoors! When nature calls and you need to run to the loo, where are you going to put baby? A playard! When you need both hands to prep some snacks or meals, where are you going to put your little one? Inflatable play area! If you need a moment to just chill worry-free, where are you going to put your roaming tot? Gated play area!
With either of these options, you can easily add in some of your little one's favourite
toys
,
board books,
or
stuffies
to encourage their independent play — more on toys below!
We personally LOVE the
BabyBjorn Play Yard Light

 
because it is lightweight, compact, and ridiculously easy to set up and move around the house. The mattress rests on the floor which means your baby can use it well into their toddler years. It also has a breathable, mesh fabric, so your little one can easily keep a curious eye on you or the raindrops outside. Check out our review
here
! For other playard options, check out our
Top Playards of 2023 article
here.
The
EverEarth Inflatable Play Area
is another great option for infants and toddlers six months and up. With a quick inflatable setup and eco-friendly materials, this relaxed play space was created so parents can have peace of mind while their little ones crawl, walk, or play with their favourite toys.
For your little crawlers and tots, we recommend the free-standing
Superyard XT Gate by North States
. This product is perfect for creating a safe and engaging play area in homes with open floor plans or large spaces. It comes with six interlocking panels that are pre-connected and easy to set up. It also comes with skid-resistant pads, so it won't slip or scratch your precious floors.
FREE-RANGE BABY
For those moments when you want to be more hands-on and let your little one freely toddle around, we recommend laying down a
playmat
. These are perfect for your little rollers, new crawlers, and of course...tummy time! Simply lay down a mat and some
sensory
or
musical toys
to help your little one engage their senses and learn how to interact with their surroundings. For your older kids, you can also use the mats as a designated
puzzle
or craft zone to help them explore their fine motor skills.
Many play mats are wipeable and easy to clean! So, if you decide to host an indoor picnic or are brave enough to let your kiddos explore finger painting, you can easily protect your floors and wipe up their ooey-gooey mess.
Our fave play mats are the patterned
Gathre Leather Mats - Mini+ and Midi+
or the
Gathre Leather Circle Mats
. Whether it's the World Map, Canada Map, or the Village print, your little ones can keep engaged by tracing the lines or driving around little
toy vehicles
to practice their hand-eye coordination.
For your teeny tiny babe practicing tummy time, we recommend the
Gathre Paded Mini
. Made with a cushy memory foam and signature wipeable faux leather, the padded mini provides a comfortable spot for your baby to relax while supervised.
INDOOR ACTIVITIES
Activity Gyms and Centres
Activity gyms & centres
are an excellent way to encourage learning, exploration, and play on those long dreary days indoors. Many gyms and centres are equipped with music, lights, textures, and toys to engage all your little one's senses and promote healthy development.
We love the
Skip Hop Silver Lining Cloud 3-Stage Activity Centre
which can be used for sitting, swivelling, bouncing, playing, cruising and more! With 25+ developmental activities, this centre alone could keep your babes occupied for hours… okay maybe not hours, but you get the point! As your teeny tiny grows it converts to a play table with a plastic chalkboard surface for drawing, playing, and whatever else your little one's heart desires!
The
Skip Hop Farmstead Grow & Play Activity Gym
is a great option to stimulate baby's senses with engaging textures, sounds, and graphics to explore. Perfect for tummy time, your little one can rest on the bright watermelon wedge pillow and practice their fine motor skills by "picking" their own veggies.
Baby Bouncers, Swings, and Rockers
Bouncers, swings and rockers
are other popular products to keep your baby contained and entertained while you enjoy some much-needed hands-free time.
The
Jolly Jumper Exerciser
helps your little one develop coordination, rhythm, and balance as they bounce and giggle away. It also helps strengthen their muscles while providing firm support for your baby's spine.
The
Nuna Leaf Grow Swing with Toy Bar
also keeps your baby safe and secure in one spot while providing an ultra-smooth, quiet side-to-side motion. Your baby can relax or engage their senses with the dangling plush toys on the moveable toy bar. This seat also grows with baby from toddler to big-kid size up to 130 lbs.
For more bouncers, swings, and rockers, read about our top picks,
here
!
Activity Tables
As your kiddos get older, they'll want to freely explore the environment around them.
Activity tables
are a great way to keep them engaged as they explore their senses, motor skills, coordination, and more. Many activity tables come with adjustable heights and levels which allow your child to learn at their own pace.
We are big fans of the
Skip Hop Explore & More Let's Roll Activity Table
. It keeps your baby and toddlers engaged with 20+ developmental activities that encourage sensory development, hand-eye coordination, cause & effect, simple counting, and object permanence. It features two stages of play — floor and table — perfect for ages six to thirty-six months.
The
Janod Sweet Cocoon Activity Table
is another great option, especially for parents who love the wooden, Montessori vibe! This
wooden
table encourages your toddler to learn and have fun with a circular train rail, stacking trees, rotating gears, and more!
RAIN, RAIN — GO...OR STAY
Rainy or snowy days don't have to be a Debbie Downer. We hope that some of these must-have indoor play solutions will help you pass the day away with joy as you watch your little one explore the world around them within the comfort of your own home!
---