Maxi-Cosi Moa 8-in-1 High Chair Review
Jump to Section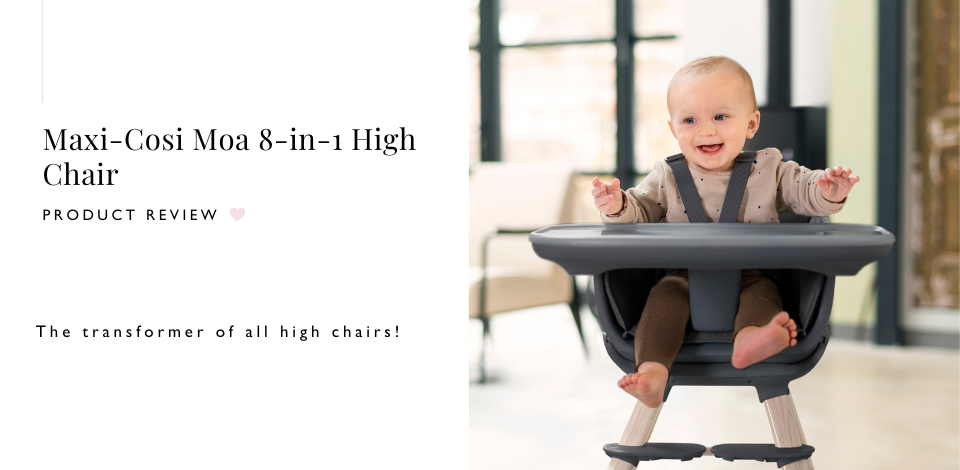 Hey there, fellow parents! Are you tired of high chairs that take up too much space and are a pain to clean?
Look no further than the
Moa 8-in-1 High Chair
from
Maxi-Cosi
!
This bad boy (or girl) is the ultimate multi-tasker. It can transform into eight configurations to fit your child's needs, no matter their size or age. Plus, this high chair looks great, is a breeze to set up, and it's super easy to clean (hallelujah!) — you'll wonder how you ever survived without it!
So, grab yourself a cup of coffee (or a glass of wine — we won't judge) and let the Moa take care of the rest!
IT'S A TRANSFORMER
THE SPECS:
High Chair / Booster Seat: For children who can sit up unassisted to 50 lbs. 
Stool: 3 years to 50 lbs. 
Chair Weight: 16.53 lbs. 
Chair Dimensions: 15.55" L x 13.66" W x 20.55" H 
For use from roughly six months up to around five years old, the Moa is a grow-with-me high chair that can be set up in eight ways.
The first two configurations are a standard high chair and a toddler high chair. The difference between the two is simply the removal of the feeding tray (which turns it into a toddler high chair). When the tray is removed, you can push tit up to the dinner table so your little one can eat with the family!
Configurations three and four use the seat as a high booster. When placed on a dining chair, small feet flip out from the underside of the seat to give it a few extra inches of height. Parents can then use it with or without the feeding tray. For security, the included straps should be wrapped around the chair to keep the booster in place.
The next two configurations are as a low booster (with or without the tray). The only difference between the low booster and the high booster configurations is that the underside feet aren't deployed. With no feet, the low booster sits in a lower position.
Finally, configuration seven allows you to remove the entire seat and use the remaining base as a stool. Configuration eight transforms the chair into a two-piece low stool and table for your child to play at or work on activities.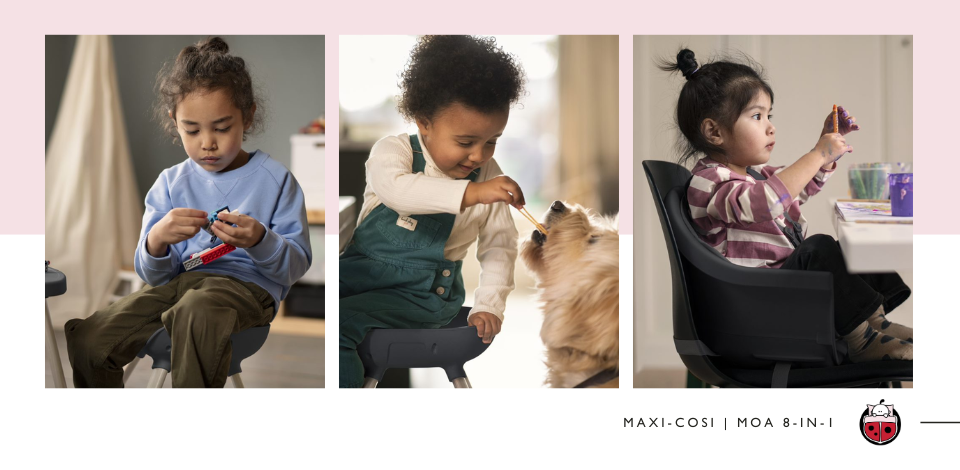 EASY USE
Unlike some rival products, Maxi-Cosi makes this high chair one of the easier ones to assemble. There's no need for tools, screws, or additional accessories when putting the chair together!

Once assembled, the Moa stands at a lightweight 16.5 lbs., making it a breeze to move around the house and take it from room to room!

Maxi-Cosi's also mindful that you're busy and have precious little time to fuss around when getting your baby ready for mealtimes. For this, they've included a convenient 5-point harness that keeps your baby in place and is easy to buckle/unbuckle, even when wrangling a wiggly toddler in and out.

As previously mentioned, the included feeding tray is fully removable (with a release button on its underside), plus your baby should have zero comfort issues when you position the adjustable footrest to their preference.


NEAT AND TIDY
The Moa has a sleek and modern look, mixing a muted color palette with wooden legs, giving it a timeless look that will match any home decor.

The cushioned seat is padded well for baby's comfort and it's also water repellant to combat any spills during meals (oh, there will be spills!). Additionally, if you find it's getting grungy, you can toss it into the washing machine for effortless cleaning!

Finally, the feeding tray comes with a translucent cover that's dishwasher safe, but giving it a quick wipe works just as well.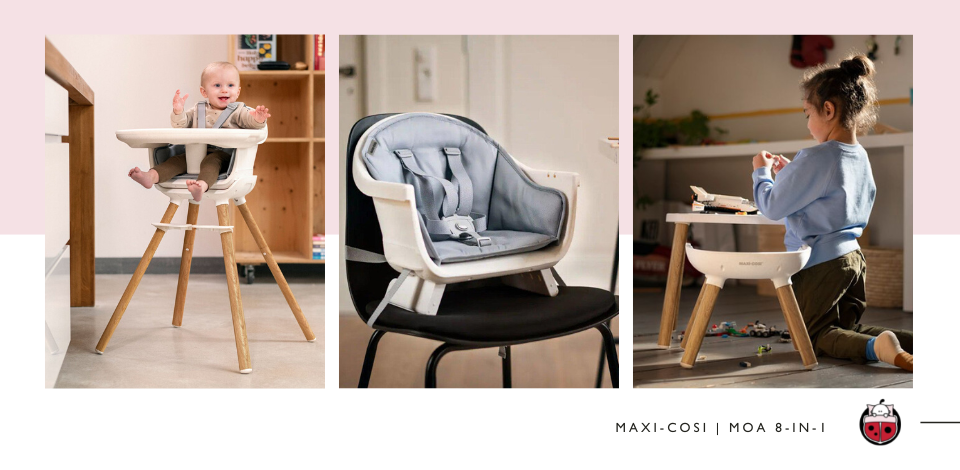 RIDING HIGH
The
Moa 8-in-1 High Chair
is a convenient and practical solution for parents who want a chair that will grow with their child and make mealtime easy peasy. With its multiple configurations and easy-to-clean design, it's a versatile investment that will last you for years. Plus, its sleek and modern design ensures it looks great in any home.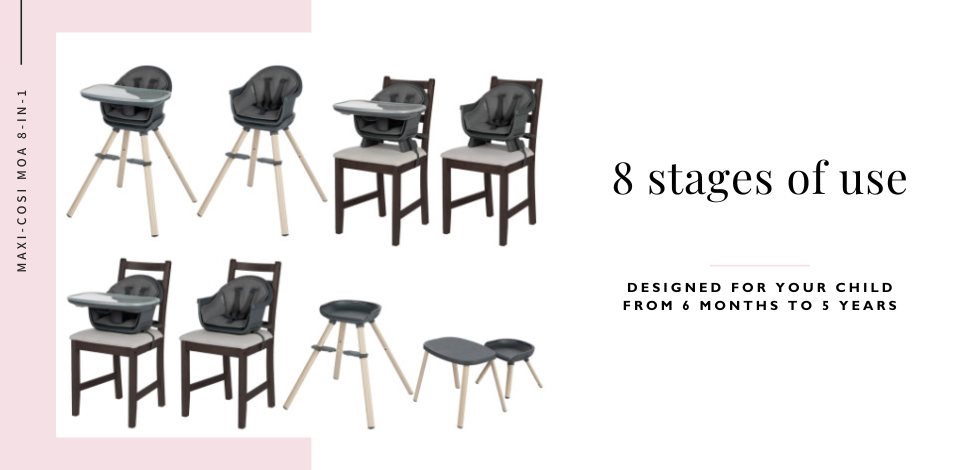 Say goodbye to cluttered mealtimes and hello to stress-free feeding!
---