Medela Freestyle Hands-Free Breast Pump
Jump to Section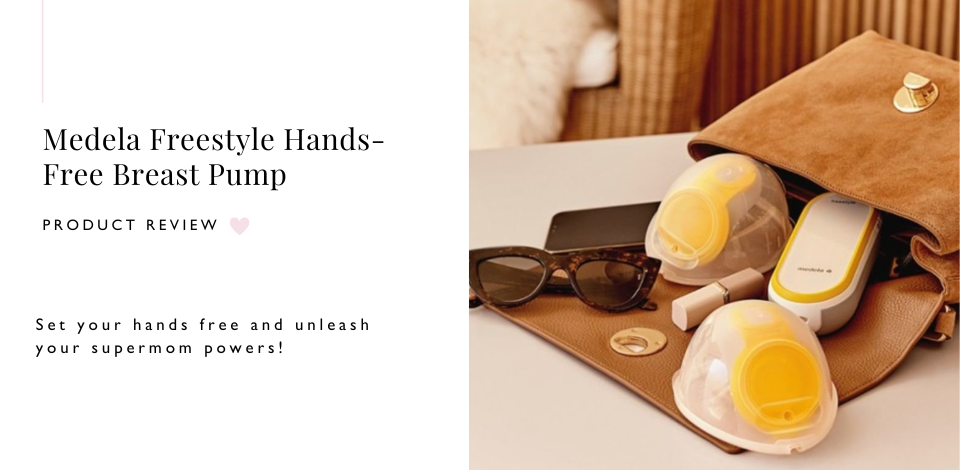 Breastfeeding is one of the most rewarding (and dare we say, challenging) aspects of parenting.
It can be overwhelming to figure out how to balance nursing with the demands of daily life. That's why the introduction of a new, innovative pump like the
Freestyle Hands-Free Breast Pump
 by
Medela
is exciting news for parents everywhere!
Medela's smallest and first wearable hands-free double electric breast pump is designed with modern parenting in mind. It's lightweight, portable, and easy to use, making it the perfect solution for busy moms on the go. As a bonus, it's also gentle on sensitive breasts, making it comfortable to use for extended periods!
So come with us as we explore all the features that make this a
breast pump
you'll love using.
Improving on Innovation
WHAT'S IN THE BOX?
1 x Freestyle Hands-free Breast Pump (motor unit) 
1 x tubing
2 x cups 
2 x membranes 
2 x 24mm hands-free cup breast shields 
2 x 21mm hands-free cup breast shields 
1 x power adaptor and USB-C charging cable

Medela's Freestyle Hands-Free Breast Pump improves on its previous Freestyle Flex model by providing moms with a pump system that can be concealed inside their nursing bras. The portability is a lifesaver, as it's small enough to use virtually anywhere — at home, at the office, or even while driving!

The Freestyle has an anatomically shaped design for a natural appearance and increased comfort (gone are the days of having two large containers strapped to your chest!).

The pump motor is lightweight at only 0.6 lbs., and comes with a lanyard for attaching to your wrist, but it's also small enough to fit in your pocket. The cups are similarly lightweight at just 2.68 ounces each and they maximize milk expression by reducing breast tissue compression.

Included in the box are both 21mm and 24 mm shields so you'll have a perfect fit, and the cups are also fully transparent. This allows you to perfectly align them with your nipple and ensure milk is properly flowing.

Medela has also made this new model slightly quieter than previous ones, which had a reputation for making a "quacking" noise while the unit was on.


Technology Takeover
There's an app for everything these days, so why not for your breast pump as well?
Downloading the free Medela Family app for
iOS
or
Android
allows you to log pumping sessions, track milk expression, and view pumping progress via Bluetooth.
Medela's 2-Phase Expression technology is designed to draw out your milk by mimicking your baby's natural sucking rhythm. It starts quickly to stimulate milk flow and then slows down for more efficient and comfortable pumping.
On the pump unit itself, you'll find the following display elements:
Bluetooth indicator 
Stimulation phase indicator 
Vacuum level display 
Battery display 
Power indicator
Expression phase indicator 
Multifunction display 
You'll also get the following control elements at your fingertips:
Let-down button 
Increase vacuum button 
Decrease vacuum button
Start/Pause button 
On/Off button 
Being an on-the-go portable pump, the Freestyle comes with a rechargeable lithium-ion battery that takes about 2 hours to fully charge. In cases where the battery is fully drained but you need to pump ASAP, you can plug in the power adaptor and start pumping after a 15-minute charge.
Of note:
For optimum pump and battery performance, it's recommended that you only use the power adaptor that comes with the breast pump.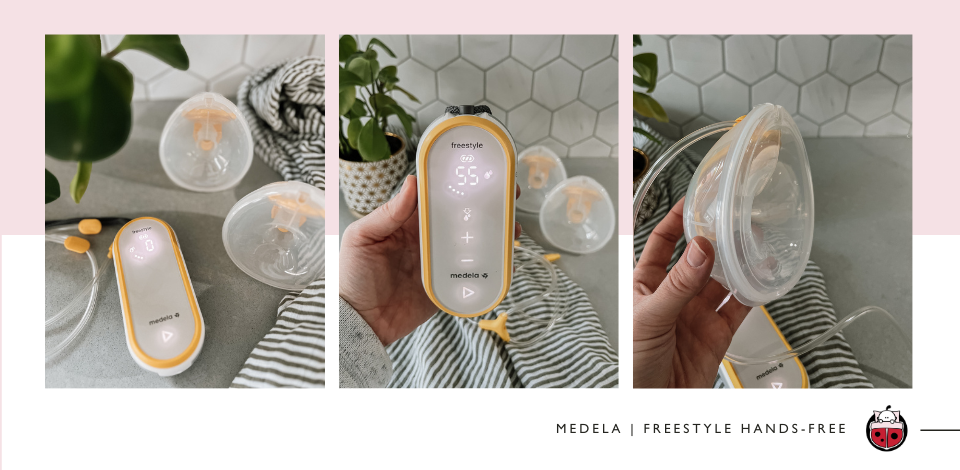 Easy Cleaning
Medela knows your time is precious, which is why they've made it super simple to clean the Freestyle! The tubing, breast shields, membranes, and cups can all be separated so that soap and water gets into every nook and cranny. While they're dishwasher-safe pieces, we'd recommend washing each part by hand and air drying them, as the high dishwasher temperatures can potentially discolour and/or warp the plastic. To sanitize the cups, you can either place them in a boiling pot of water for 10 minutes or quickly microwave them with Medela's
Quick Clean Micro Steam Bag
.
Pump You Up
The
Freestyle Hands-Free Breast Pump
is a no-brainer for moms who are looking for an easy and efficient way to pump breast milk. Whether you're at work, out running errands, or enjoying a day out with the family, this pump will ensure that you don't miss a beat in your busy schedule. With its innovative features, comfort settings, and cutting-edge technology, it's no wonder parents everywhere are raving about it.
---