Top Toys for Pretend Play
Jump to Section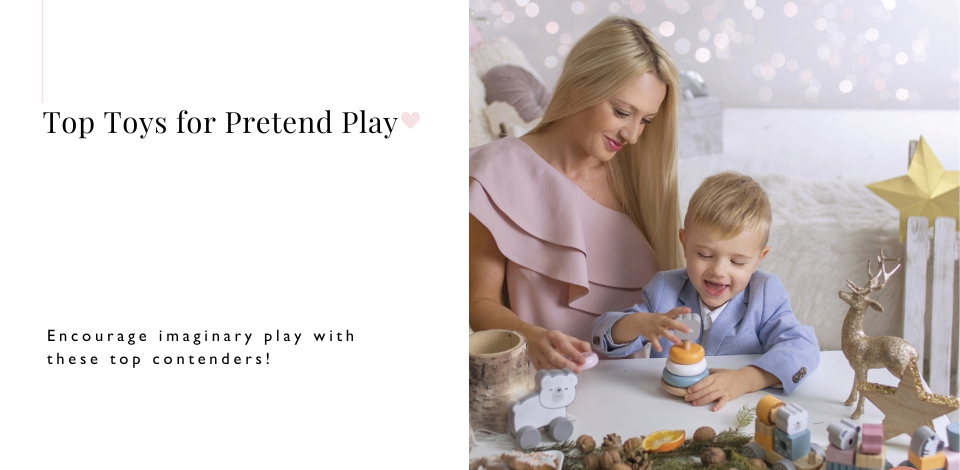 Whether it's the holiday season or you are celebrating your little one's birthday, you know what that means…
PRESENTS!!

While special events and milestones are about getting together with family and celebrating, getting a bunch of cool stuff is certainly the icing on the cake.

Watching your sweetie discover their specially chosen gifts is a magical experience, but picking a gift your little one will enjoy long after the big day can be a bit of a challenge.

For this round-up article, we are bringing you our top toys for pretend play. These toys will ignite creativity and imagination in your children, ensuring they have years of fun finding new ways to make-believe.


AROUND THE HOUSE
Toys that mimic household items are a great way to familiarize kids with the items they see every day but can't actually use yet. Kids love to be just like mom and dad, so these toys allow them to be your mini-me while staying safe.


EVERYDAY FOOD
Children can learn all about different cuisines by using these fun food group items:


DESSERTS
If your kid has a sweet tooth, they'll never want to put these dessert toys down!


CAREER TOYS
It's never too early to dream about what you want to be when you grow up. Get their creative juices flowing with these fun career-themed toys:

CASH REGISTER: This register is a classic from Fisher Price, and is both entertaining and interactive for children to learn all about the exchange of money for goods.

SHUTTEBUG CAMERA: Maybe your child will grow up to be the next Ansel Adams! They can start practicing with this wooden, multi-lens toy camera from Begin Again.

DOCTOR'S SUITCASE: Playing doctor is something all children do, and they can have lots of fun with this suitcase that includes a stethoscope, reflex hammer, and thermometer (among many other items).

DENTIST SET: There's always an uptick in children who are interested in dentistry after watching Hermey the Misfit Elf in the Christmas special "Rudolph the Red-Nosed Reindeer". Now they can learn all about molars, bicuspids, and the wonderful world of teeth!
MAKE-BELIEVE TIME
Kids love to role-play when playing make-believe. Pick up some of these items to keep your little one entertained for hours.
CREATE SOME MAGIC
Kids get endless amounts of joy from playing with toys and using their imagination. From everyday household items, to foods and playsets, there's no shortage of potential gifts they'll be delighted by. By using our gift guide, you won't be stuck for an excellent idea for the little one in your life.

You can browse our full list of Pretend Play products here.
---