UPPAbaby G-link V2 Double Umbrella Stroller Review
Jump to Section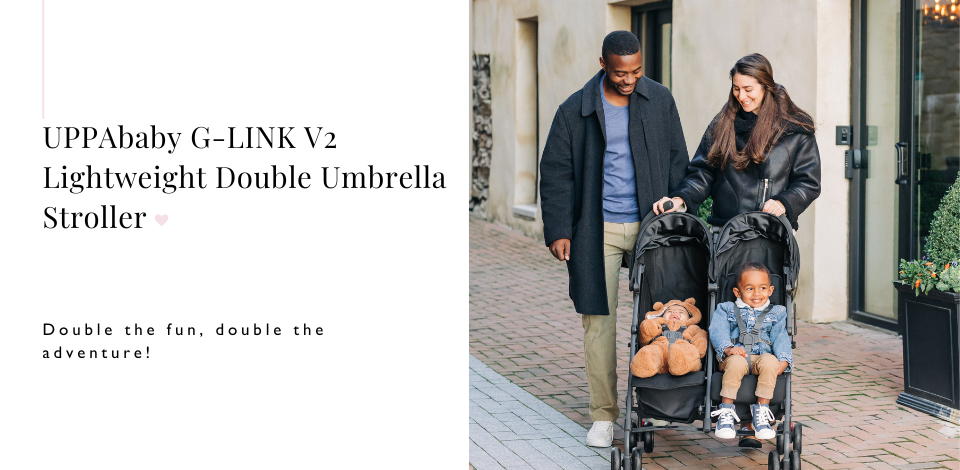 Some say double the trouble; we say double the fun!

Are you expecting twins? Perhaps you have two little ones that need carting around? Life with multiple children is a beautiful, messy adventure, so we want to take one thing off your plate by introducing you to one of the top-ranking
double strollers.
The new 
UPPAbaby G-LINK V2 Lightweight Double Umbrella Stroller
is a modern stroller option for life with two little ones 3 months and up. With its flexibility, comfort, and quick compact fold, this lightweight stroller from
UPPAbaby
is bound to be at the top of your must-have list.
Without further ado, let's dig into the details of your little duo's sweet new ride!
Flexibility & Comfort
THE SPECS:
Recommended Use: 3 months up to 55 lbs (per seat)
Stroller Weight: 22.3 lbs 
Assembled Dimensions: 27.5" L x 28.5" W x 42" H
Folded Dimension: 40" L x 20" W x 14.5" H 
As a parent, you will quickly learn that no two children are the same. With that in mind, the G-LINK V2 is designed with independent, one-handed reclining seats. Gone are the days when both seats had to recline at the same time. So, when it's nap time for one and sightseeing for the other, you don't have to fight tooth and nail to keep each kiddo happy.
The spacious seats come with three reclining positions, easy-to-use buckles with 5-point harnesses, and adjustable shoulder straps with three different heights to keep your little ones safe through toddlerhood.
In addition to the generously padded seats, the adjustable leg rests and rubber footrests keep your little duo's feet from dangling, so they will be comfortable on all their wild adventures.
For extra comfort on windy or rainy days, we recommend adding the
 

G-LINK V2 Rain Shield
.
Light & Narrow
At a mere 22.3 lbs., the G-LINK V2 is light as a feather (well, almost). Weighing a couple of pounds and inches smaller than its predecessor, this updated model is easier to haul up and down stairs.
This stroller's lightweight and narrow design is further complemented by 4 sets of wheels (vs. the traditional six), which make it super easy to push and maneuver.
At 28.5" in width, it is narrower than many double strollers, allowing it to easily move through doorways so you won't get stuck having to leave your stroller outside while you browse through stores.
For those who are feeling brave enough to explore Disney with your dashing duo, the dimensions comply with their current regulations! If travelling by plane, we highly recommend using the
Travel Bag accessory.


Quick, Compact Fold
When you have two boisterous kids around, the last thing you want to do is spend precious time struggling to fold your stroller. Thankfully the G-LINK V2 folds in a snap with a quick, simple fold with little effort and no foot action — say goodbye to stubbing your toe in your flip flops!

With the all-aluminum frame and multiple carry handles, you can easily fold in seconds and pop the stroller over your shoulder or on your hip as you tackle the stairs with ease.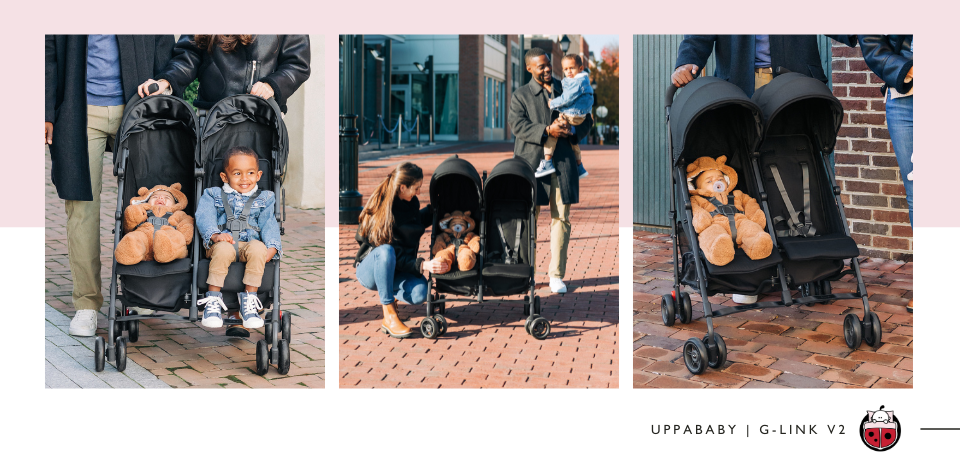 Canopy + Storage
The G-LINK V2 improves on the older model with extra-large, multi-panelled canopies and pop-out UPF 50+ sunshades to protect your kiddos from the sun and shield brightness during naps.
There are storage pockets on the back of each canopy so you can keep all your essentials within arm's reach. This model also includes an easy-access oversized basket which can hold up to 10 lbs.
On your adventures, you'll want to stay ready for anything. Luckily, this stroller includes a removable cup holder for your water bottle, so you can easily stay hydrated as you push around your tiny duo. For additional storage and accessibility, we recommend the
Carry-All Organizer
.
The Final Verdict
We hope you'll love the
UPPAbaby G-LINK V2 Lightweight Double Umbrella Stroller
 for your little ones as much as we do! With easy maneuverability, a quick, compact fold, improved sun coverage, storage accessibility, and lightweight and narrow dimensions, this stroller is at the top of our must-have list for growing families. Right now this stroller is available only in JAKE, a stylish and modern colour, but in July you will also be able to pick it up in GREYSON too. Both fashions feature a new true carbon frame, ensuring the G-LINK V2 matches every sense of style!
For more information on the
UPPAbaby
G-LINK V2, check out the 
product listing
for all the details.
For more great options to accommodate your expanding brood, be sure to check out our
Top Convertible Strollers
 and
Top Double Strollers
.
---