BabyBjörn 8 Piece Dinnerware Set Review
Jump to Section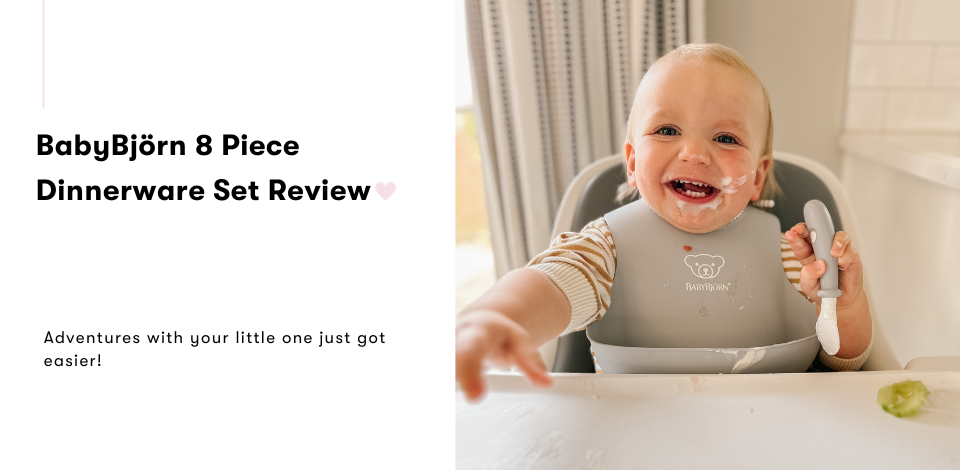 Feeding your child can feel a lot like an Olympic sport; it requires patience, endurance, and the right equipment — even then, you may end up with more food on the floor than in your child's mouth. Eventually, there comes a time when every parent must put down the spoon and fork and prepare their little one to start feeding themselves. Lucky for you,
BabyBjörn's 8 Piece Dinnerware Set
has you covered.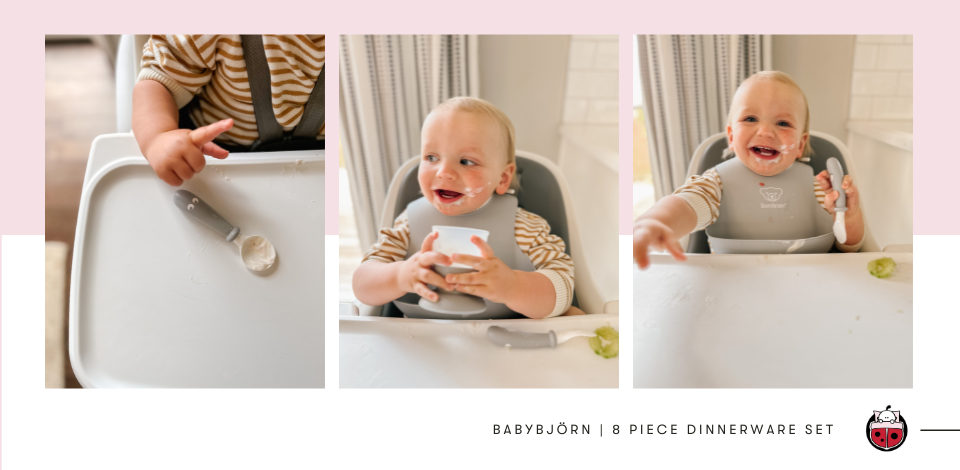 When your child has the hand-eye coordination and motor skills to tackle self-feeding, this
dinnerware
set will set them up for success.
The set contains:
1 plate
1 compartmentalized plate with three divisions
2 spoons
2 forks
1 cup
1 bib


In addition to freeing up your hands to enjoy your own dish during meals, this dinnerware set is a crucial piece of baby gear that will support your child's independence and motor skill development starting from just 12 months old.
From the design, materials, and usage, let's break down what makes this
BabyBjörn
product a game changer.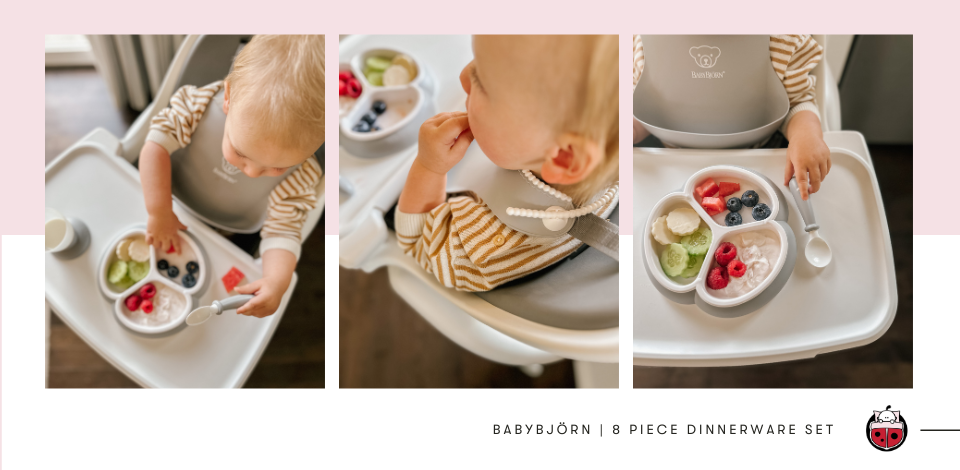 DESIGNED FOR LITTLE HANDS
THE SPECS:
Plate Dimensions: 7.7"L x 7.7"W x 1.4"H
Plate Weights: 0.32 – 0.37lbs
Spoon and Fork Dimensions: 1.4"H x 4.7"L
Spoon and Fork Weight: 0.04lbs
Cup Weight: 0.15lbs
Cup Capacity: 100ml
Bib Dimensions: 7.5"-11.8" neck size
Suitable for Ages: 12 months to 3 years old
Each piece in this set works together to make your baby's self-feeding journey effortless. Each piece is made with carefully selected, high-quality materials that are completely BPA-free and designed with your child's ease and mobility in mind.
What about mom and dad? Don't worry, BabyBjörn thought of you too! No long hours scrubbing away at the sink are necessary — this set is dishwasher safe, making cleaning up trouble-free.
PLATES:
Let's start with the plates. Both the regular and compartmentalized plate weigh less than 0.40lbs, making them light and easy to use. When your baby is just starting off their foodie journey, the compartmentalized plate is great to help them visualize different food on their
 

plate
and choose one food item to explore at a time. The divided sections can also be used to keep more liquid-y foods separated — stopping your meals from getting too soupy (at least until baby gets their jam-hands hands in there). Both plates feature a lip and trefoil-shaped design to make it easy for your little one to scoop out the food.
Bonus points: the inside of the plates can be detached from their base to make cleaning easier.
FORKS & SPOONS:
This set comes with two sets of forks and spoons. These essential dinnerware tools are extremely light and easy to grip. They are specially designed to fit your child's tiny hands, so they can comfortably use them while eating. The shape of these
utensils
also prevents them from sliding down into the plates, preventing baby from holding a food-covered fork or spoon.
CUP:
Then you have the equally featherlight cup that can hold up to 100ml of liquid. This is the ideal
starter cup
for your child as it is easy to grip. In addition, the frosted design allows your little one to see how much liquid is in the cup to help prevent spills — it also helps mom and dad know exactly how much should be poured into the cup.
BIB:
The last piece of this dinnerware puzzle is the bib. This adorable
bib

 
features a soft neckband that can be adjusted to fit your child's neck perfectly. We love the generous spill pocket at the bottom that effectively catches any displaced food and prevents messes.
THE AESTHETIC
There is no denying, this dinnerware set is adorable. The unique clover shape of the plates gives this set an extra boost of cuteness and parents can choose from one of four pastel tones;
pink
,
blue
,
green
, and
grey
.
Whether you'd like your dinnerware set to match your kitchen's décor or you just want to achieve the perfect Instagram baby aesthetic, the look and feel of this dinnerware set is flawless. So go ahead and snap some pics. Your child's meals have never looked so darling!
EVERYDAY BENEFITS
The
8 Piece Dinnerware Set
from
BabyBjörn
is a great addition to your day-to-day parenting routine.
Each piece of the dinnerware set is made baby in mind, and it promises an undemanding cleaning process with several safeguards to prevent messes when in use (hallelujah!). This set makes it easier for your child to be self-sufficient and improve their dexterity from a young age while giving you hands-free time. Speaking of hands-free, BabyBjörn is famous for its high-quality baby carriers. To learn more, check out our Baby Carrier Round-Up Review,
here
.
For more mealtime favourites, click
here
.
---