Jump to Section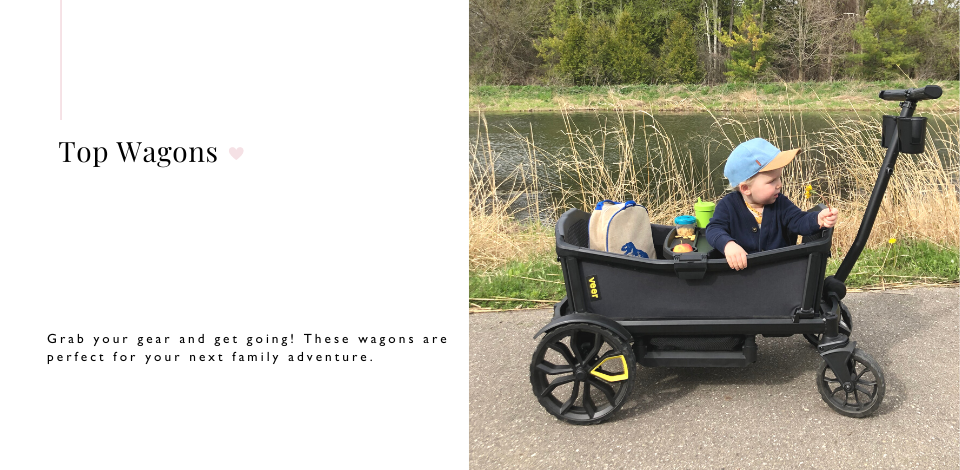 Going on day trips with young kids can be challenging. Not only do you have to make sure you bring everything to keep them going for the day (ie. diapers, toys, food, and drink), but you'll quickly find out they probably don't enjoy walking as much as you do.
While
strollers
can make things easier,
wagons
are the better choice for long hours outside the house. Not only can they hold multiple children, but they're also more durable and can be used for many years (strollers tend to max out around the age of 3).
So without further ado, let's jump right into the top wagons of 2023!
VEER ALL-TERRAIN CRUISER WAGON
The Specs:
Ages: 0 - 5+ years
Dimensions (Open): 37″ L x 20″ W x 25″ H Dimensions (Folded): 37″ L x 20″ W x 14″ H
Wagon Weight: 32.5 lbs.
Wagon Weight Capacity: 55 lbs. and 45" H per seat
Dubbed the Rolls-Royce of wagons, the
VEER All-Terrain Cruiser Wagon
is a top seller that's extremely popular with parents...and for good reason.
One of the lightest and most compact wagons in its class, the All-Terrain is designed to fit into cars and can even be gate-checked with most airlines. VEER's premium construction is evident with the wagon boasting a military-grade aluminum frame, rugged tires with suspension, and waterproofing on all fabrics and hardware. When it needs a cleaning, just hose it down for quick restoration — easy peasy.
This cruiser also meets impeccable safety standards (it's both ASTM and JPMA approved), and dual-seats with matching 3-point harnesses keep your little ones secured at all times. A one-touch foot brake keeps the wagon in place when parked, so you don't have to worry about it rolling down any hills when you and the family stop to check out the sights.
VEER makes it easy for any parent to push, pull, or push along (like upright luggage) the wagon on any terrain. It has a versatile handlebar that locks in the upright position and can also be adjusted and rotated to your preference if unlocked. Premium rubber wraps the handle to ensure a firm grip at all times.
Additionally, a car seat can lock onto the frame (
adapter
required), and VEER makes really useful accessories like a
Comfort Seat,
 a compatible
storage basket
,
retractable canopy
, and
travel bag
for the All-Terrain. Mesh pockets, storage wells, multiple cup holders, and a snack/drink tray are also included to make sure your kids have everything they need on your day out.
To read our full review of the VEER Cruiser, click
here
. You can learn more about our fav must-have accessories for the Cruiser,
here.
For those with additional kids in tow, you may consider super-sizing your ride with the 
Cruiser XL Wagon.
 You can read our review of this wagon
here
.
WONDERFOLD LUXE DOUBLE STROLLER WAGON
The Specs:
Ages: 6+ months
Dimensions (Open): 37″ L x 20″ W x 25″ H Dimensions (Folded): 37″ L x 20″ W x 14″ H
Wagon Weight: 55 lbs. (with seats installed)
Wagon Weight Capacity: 200 lbs. (45 lbs. per seat)
If you're looking for a mini-crib on wheels with room for two, look no further than the
Luxe Double Stroller Wagon by WonderFold.
With raised seating for better interaction with your kids, it has a deep carriage which allows children plenty of room to move around — which increases the odds of everyone getting along nicely on your family outings. While you can lift them in and out of their seats, kids also have the option of climbing in on their own using a zipper door on the front of the wagon. Included 5-point harnesses keep them secure when needed, and the seats can be reclined or fully removed depending on your preference.
A polyester canopy with full UV protection shields your tiny passengers from the sun's rays (it's adjustable or removable), and the interior fabric can be taken out when it needs to be cleaned. 4 XL polyurethane tires touch the ground for a smooth ride while simultaneously adding flexibility and durability to the wagon's base.
You will have no problem bringing along all your necessities, the Luxe Double Stroller Wagon provides plenty of storage space with multiple pockets, and it also includes a detachable rear basket. The vegan leather-wrapped handlebar adjusts for your comfort and a foot brake allows you to lock the unit in place when needed.
While it's a beefy wagon at 55 lbs., it's easy enough for anyone to push and collapses to a respectable size for storage purposes — which face it, we all desperately need more of.
WonderFold also makes a
4 Seater Stroller Wagon
. 
To learn more about WonderFold's exciting line-up of wagons, check out our wagon round-up, 
here
.
KEENZ XC 2 PASSENGER STROLLER WAGON
The Specs:
Ages: 6+ months
Dimensions (Open): 37" L x 20" W x 57" H (26.5" W including wheels)
Dimensions (Folded): 26" L x 20" W x 45" H
Wagon weight: 46 lbs.
Wagon Weight Capacity: 216 lbs. (55 lbs. per seat)
If you're in search for a heavy-duty option, the
Keenz XC 2 Passenger Stroller Wagon
comes with everything you need for a fun day out with the kidlets.
Unlike the majority of wagons on the market, this one sports double handlebars for pushing or pulling from either end. A versatile UV-resistant canopy system covers the wagon and includes a roll-up "sunroof" when vitamin D is needed. Blackout panels can be deployed for additional UV protection or for privacy during naps and changings.
The XC wagon is a safe bet, coming with 5-point harnesses, reflective fabrics for low light situations, and JPMA stroller certification. The interior has raised cushiony seats keeping kids close to parents and mesh walls for premium ventilation. The seats are also fully reclinable or removable, and Keenz provides a snack and drink tray for flawless feedings on the go.
Rounding out the wagon are durable, all-terrain wheels that pair with a 4-wheel spring suspension system for a flawless ride, as well as an abundance of storage and pockets for transporting all your essentials.
Of note, Keenz also offers a
 4 Passenger Stroller Wagon
for larger families. Want to learn more about what Keenz has to offer? Check out our round-up review, click
here.


GET GOING
Whether you are going for long walks, hitting the beach, or spending the day at the zoo, investing in a durable
wagon
is a must. It makes your day so much easier, as you can transport your children and all your essentials in a stylish and practical unit that keeps them happy and comfortable all day long.
---