Transitioning from Bassinet to Crib
Jump to Section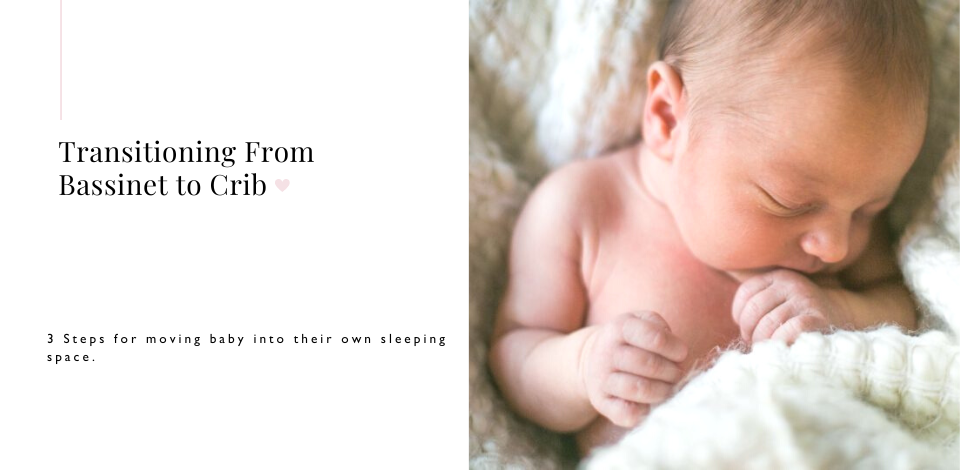 Eventually, the day will come when it's the right time for your little one to stop being your roommate. Just with any sort of change, it will take some time and a bit of patience. It can be a difficult and confusing time for new parents but there is plenty that you can do to set baby up for success.
3 STEPS FOR MOVING BABY INTO THEIR OWN SLEEPING SPACE 
When you're making changes to your baby's sleep, it's a great time to revisit the tools and techniques you're using to make sure safe sleeping practices are being used. In addition to a safe sleep environment, you also want to be sure you are doing what you can to make the baby's environment as conducive to sleep as possible.


CREATE A SAFE SLEEP SPACE
Even though your child is now out of that newborn stage, remember that they still don't need anything extra inside their crib. You should be using a certified standard crib, with a firm mattress and fitted crib sheet. Remove any stuffed animals, blankets, pillows, and bumpers.

Use a sleep sack instead of blankets — they will keep baby warm, but also keep them safe.


SET UP A SUCCESSFUL SLEEP SPACE
Once you've set up a safe crib for baby to sleep in, there are a few other things you can do to help everyone adjust to their new sleeping arrangements.

Adjust the Lighting
Ensure their new room is dark for both daytime and nighttime sleep.

Check the Temperature
Is the room adequately heated or cooled? If you are still feeding baby during the night, be sure you now have a comfortable space set up in the baby's room with everything you need.

Use a Video Monitor
You will be able to check on baby without disturbing them, and it will help you know when to go in and when to give them the chance to put themselves to sleep on their own. 


HAVE A ROUTINE AND A PLAN
It is important to make sure that both parents are on the same page and agree on how to best transition your baby before you begin. It will take some time before baby feels safe, so here are a few options that can help make the transition less bumpy.
Move the crib into your room first and let baby get used to it. 
Move the crib back to your baby's room once they've adjusted. 
Try getting baby to take naps in the crib during the day before transitioning at bedtime. 
Start by staying in the room during the initial stage of transition, until baby falls asleep. Slowly shorten the time you stay until baby doesn't need you there anymore. 
Stick to the same sleep routines and schedules you were using before transitioning, so there aren't too many new things to adjust to all at once.


GIVE IT TIME
Depending on your baby's temperament, the transition process can be pretty simple or a tough road. Most babies will take a little while to get familiar with their new sleeping environment, and you'll need to give them some time to adjust. There may be a bit of fussing or crying, but they will work it out, and may even surprise you with how well they sleep snuggled in their new space.
---
---