Jump to Section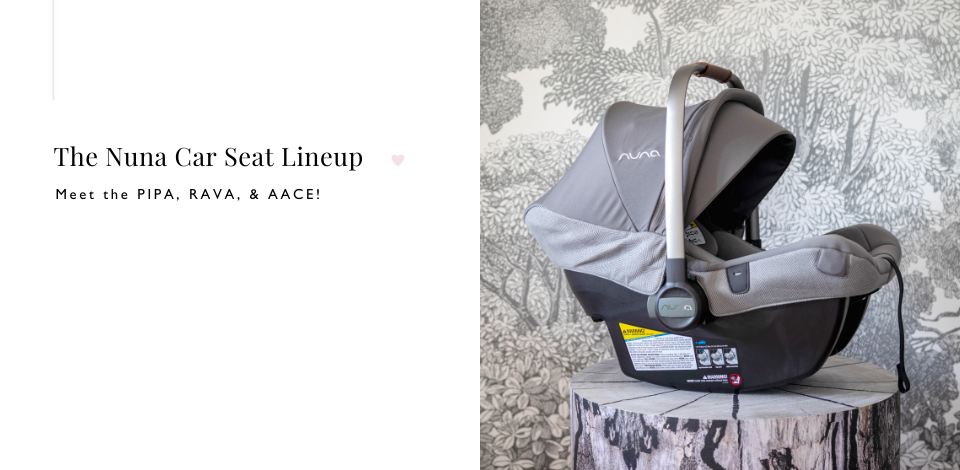 Nuna
 has become one of the most popular baby gear brands over the last few years – and for good reasons as they have a car seat for every age and stage you may need. Each car seat offers versatility, style, safety, and extra little touches that are making them a go-to choose for Canadian parents.
Haven't yet heard about the 
PIPA
, 
RAVA
,
ROYL
, or 
AACE
?
Well, keep reading because we sharing everything, we know about the 
Nuna
 car seat lineup below.
PIPA Series
Let's break it down for you, there are 3 PIPA series infant seats to choose from.
We compare all three of these car seats and their features in this article to help you decide which seat is best for you.

While the OG PIPA has the best canopy of all three [includes a peek-a-boo window, flip-out eye shade, and a dream drape] they all boast 50 UPF coverage. All these infant car seats are easily compatible with the Nuna MIXX stroller to create a travel system.
Read the full in-depth review of the PIPA Infant Car Seat, here.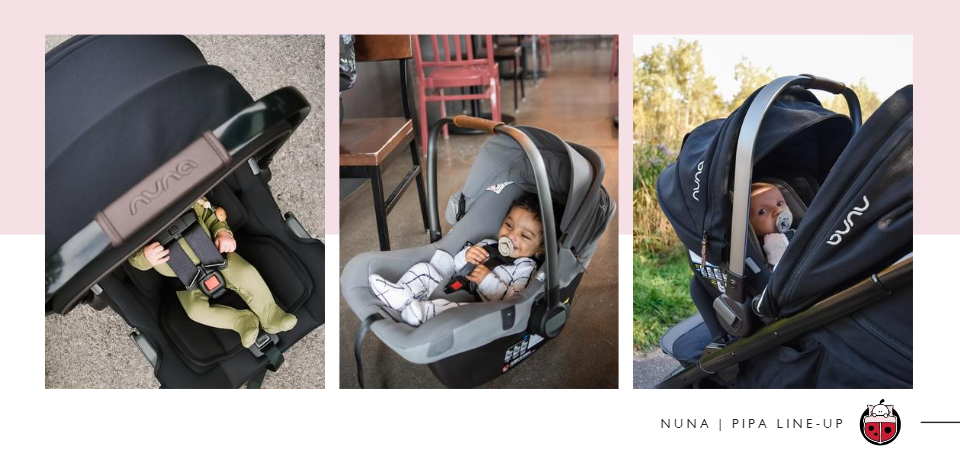 RAVA Convertible Car Seat
Next up is the very popular Nuna RAVA convertible car seat. We would say this is your next stage seat once your little one outgrows their PIPA infant bucket set but you can use the RAVA from birth! There are two stages of use with the RAVA:
Rear-facing 5-40 lbs. and up to 49" tall 
Forward-facing 25-65 lbs. and up to 49" tall
Parents looking for a modern car seat to match the interior of their vehicle are often drawn to this seat – but there is more to the RAVA than just its exterior.

Read the full RAVA product review HERE, or just take our word for it that it's a great seat. We love the no re-thread harness that allows you to adjust the seat easily as your little one grows, and we've even gone over the safety features of the RAVA in this article.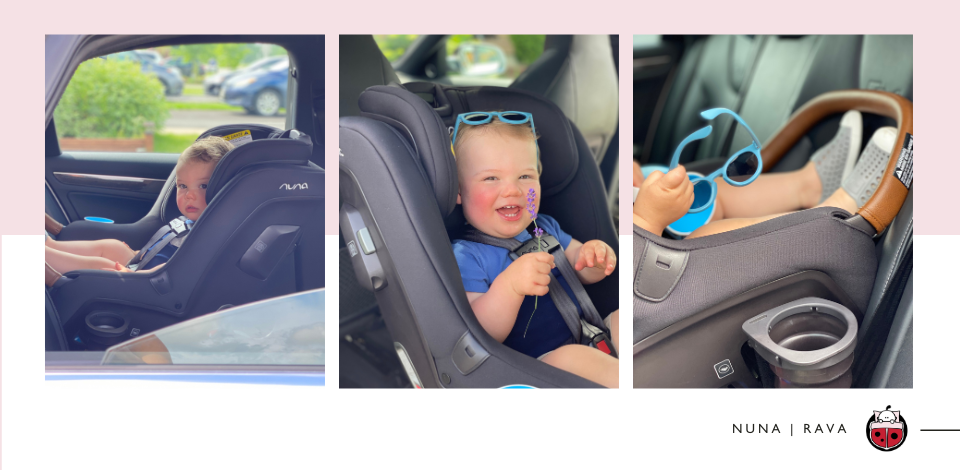 ROYL Harnessed Booster 
The Nuna ROYL Harnessed Booster Car Seat is a top-notch choice for parents seeking a reliable and secure car seat that grows with their child. With impressive weight limits and a plethora of safety and convenience features, it's a standout option in the world of car seats. There are three stages of use with the ROYL:
Forward-facing (with built-in harness) suitable for children 30-65 lbs or up to 49" with vehicle belt and tether

 


Forward-facing (with built-in harness) suitable for children 30-40 lbs or up to 49" with UAS and tether

 


High-back booster suitable for children 40–120 lbs or 38"–57"

 

This car seat accommodates children in both the harnessed and booster modes. It has an impressive weight limit, starting from a minimum of 25 pounds when used as a forward-facing harnessed seat and extending all the way up to 120 pounds, when used as a high-back booster seat. This weight range ensures that your child can use this seat for an extended period, providing excellent value for your investment. 
Safety is paramount and the Nuna ROYL excels in this department. It features a robust 5-point harness system, offering superior restraint for smaller children. As your child grows, the harness can be easily removed to convert the seat into a high-back booster mode, which still maintains a high level of safety with its side-impact protection and energy-absorbing foam. 
Additionally, this car seat offers convenience features such as adjustable headrest and harness height positions, making it effortless to customize the fit as your child grows. Its breathable, machine-washable fabrics ensure easy maintenance, and the sleek design adds a touch of sophistication to your vehicle's interior. 
Dive in a little deeper with our review of the Nuna ROYL Harnessed Booster Car Seat. Its impressive weight limit, coupled with its array of safety and comfort features, make it a top contender.  
For an easier transition from RAVA to ROYL, check out this article.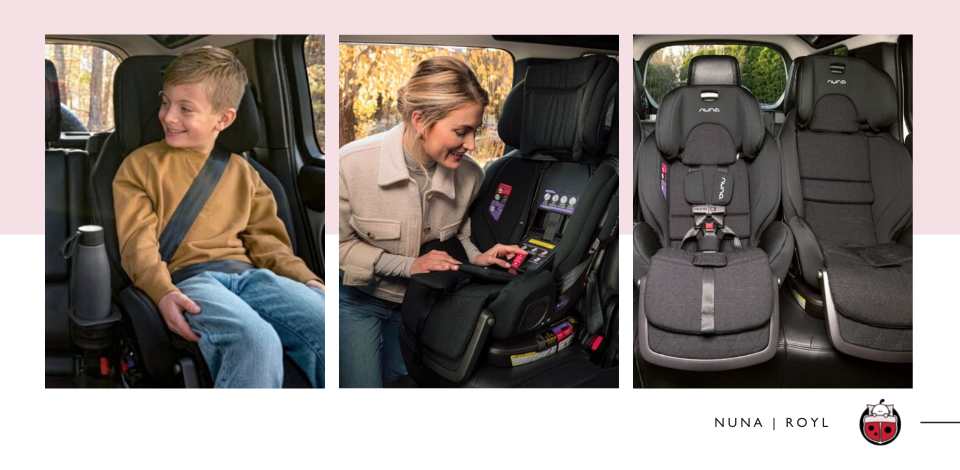 AACE Booster Seat
Rounding out the Nuna family of car seats is the AACE Booster Seat. We love the 10-position adjustable headrest that allows the seat to grow up – and grow out! Yup, the sides of this seat can expand in width to accommodate a bigger body. We love that this shoulder system works simultaneously with the headrest and is so simple to adjust as needed. This seat really does grow with your child – you can even adjust the seat depth to accommodate a bigger bum or growing legs. Plus, when the time comes the AACE can be converted to a backless booster – and you know we love a good old 2-in-1.

There are two stages of use for the AACE:
High back booster: suitable for children 40 - 110 lbs. and 38" - 60" tall.
No back booster: suitable for children 50 - 120 lbs. and 38" - 60" tall.
You can read our full product review on the Nuna AACE booster seat here.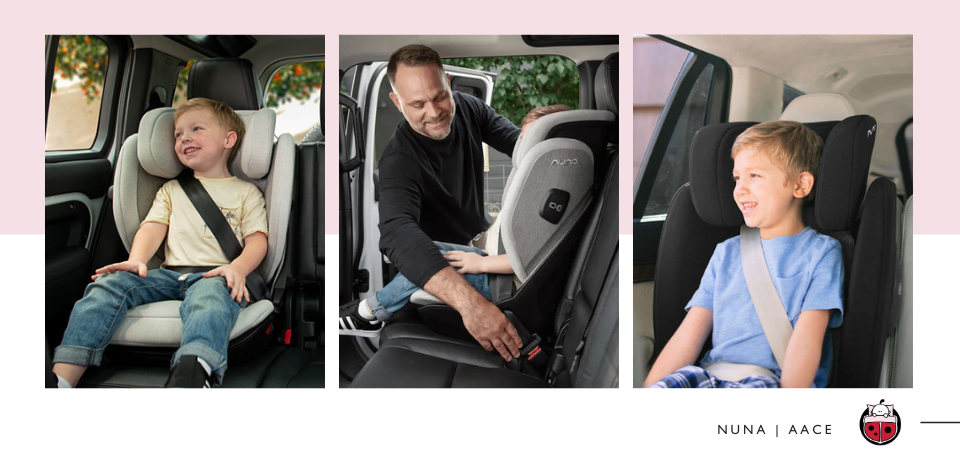 Safe Travels!
There is no doubt about it – Nuna makes a beautiful looking car seat and Canadian parents are drawn to the simplistic look and included extras.

So, what do you think? Is a Nuna car seat in your future?
---