WonderFold Wagon vs. Veer Cruiser
Jump to Section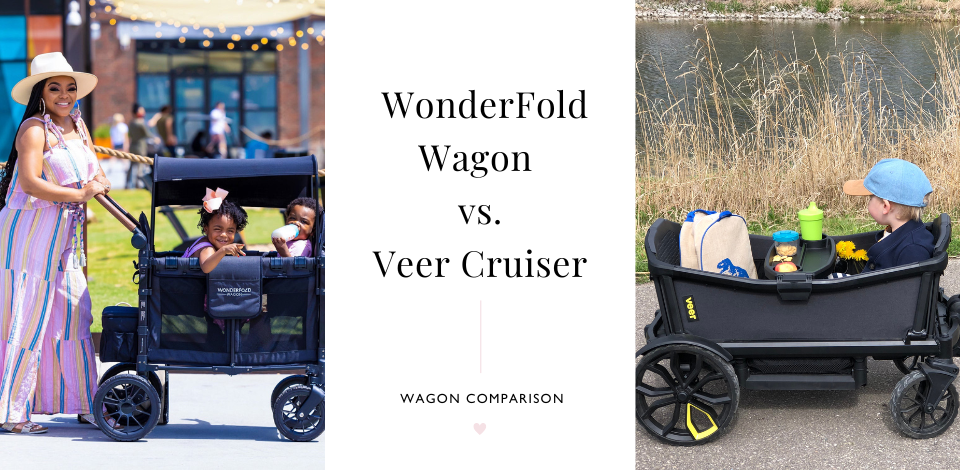 Wagons are a wonderful way to tote around your growing family and all your extra gear on your family adventures. Whether you are pushing your kids through the sand, pulling them through the trails, or strolling around the zoo,
wagons
are the perfect comfort ride for both parents and tots alike. Not only can they be used to carry multiple children, but unlike most
strollers
, they are more durable and can be used for many years past the age of 3.
But we don't need to tell you that, you're here because you've finally decided you need a sweet new ride, but you're not sure which wagon to get…right?
Let us help you decide!
We are comparing two of our top-selling wagons, the
WonderFold W2 Luxe Double Stroller Wagon
and the
Veer All-Terrain Cruiser Wagon
.
Keep reading for all the juicy details!
THE SPECS
Veer All-Terrain Cruiser Wagon
:
Ages: 0-5+ years 
Weight capacity: 300 lbs (55 lbs per seat) 
Dimensions: 37"L x 20"W x 25"H 
Folded Dimensions: 37"L x 20"W x 14"H 
Wagon Weight: 32.5 lbs. 
WonderFold W2 Luxe Double Stroller Wagon
:
Ages: 6+ months 
Weight Capacity: 200 lbs (45 lbs per seat) 
Dimensions: 37"L x 20"W x 25"H 
Folded Dimensions: 37"L x 20"W x 14"H 
Wagon Weight: 55 lbs (with seats installed) 
As you can see, both wagons have the same dimensions when open and folded, but the Veer has a higher weight capacity per seat and weighs less. This may not be a huge deal when out and about on family walks, but when pulling the wagon up hills and through tough terrain it may be a deal breaker.
WALL-TERRAIN WHEELS & SUSPENSION 
Veer Cruiser: All-terrain, large rugged tires; aggressive front suspension; rear wheel fenders. 

WonderFold Wagon: All-terrain XL polyurethane tires; suspension and bearings.

Both wagons have all-terrain wheels and suspension making for a smooth, flexible, and durable ride. The Veer, however, has the bonus of the rear wheel fenders — if you are ever worried about mud or pebbles flying up in your wagon or your face!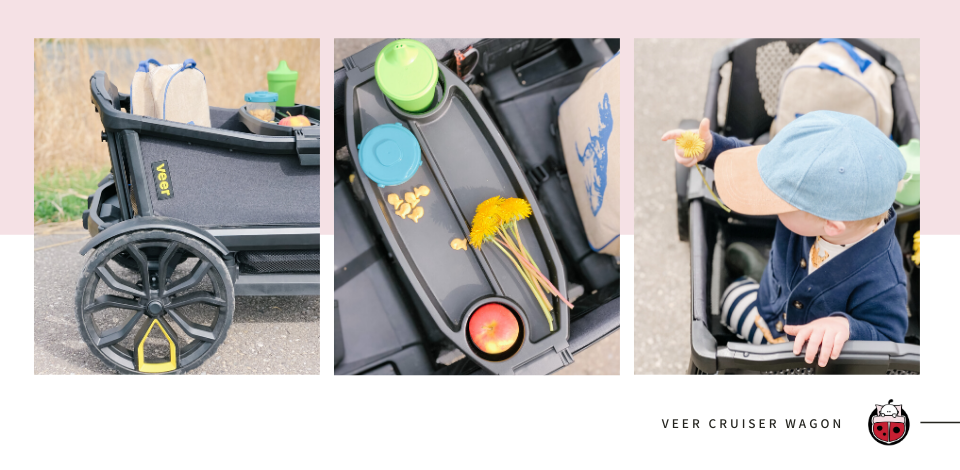 SAFETY & BREAKS
Veer Cruiser: Meets ASTM stroller safety standards and is JPMA certified; one-touch foot break; 3-point harness.
WonderFold Wagon: Meets ASTM stroller safety standards; one-step foot brake system; 5-point harness.
When it comes to transporting your children, safety matters. Both strollers meet the necessary safety standards and have an easy one-step foot brake system, but the WonderFold uses a 5-point harness for that extra added layer of safety.
However, for an extra charge, you can purchase the
Veer Comfort Seat for Toddlers
which offers the option of a 5-point harness.
HANDLE & MANEUVERABILITY
Veer Cruiser: Adjustable and rotatable handle with premium rubber wraps; push, pull, or push-along (like luggage).

WonderFold Wagon: Vegan leather-wrapped adjustable push handlebar; optional strap for pulling wagon (included).

Parents of all heights will appreciate the versatility of adjustable handles on both the Veer and WonderFold. Veer has premium rubber wraps on its handle and the WonderFold has vegan leather-wrapped handlebar, both ensuring a firm grip.

Veer takes it one step further with a handlebar that also rotates and locks into position when fully upright.

Both wagons can be pushed or pulled, but Veer can also be pushed along like luggage!


SEATING & COMFORT
Veer Cruiser: Seating for 2 (birth to 5+ years); expandable footwell.
WonderFold Wagon: Raised, reclinable seating for 2 (6+ months); adjustable canopy with full UV protection; deep carriage with zippered mesh panels; front zipper door.
When transporting your little ones around on day trips, comfort matters. You don't want your little ones all squished together causing the inevitable foot wars, complaining about the sun shining in their eyes, or their tiny bums being sore.
Both the Veer and the WonderFold have ample foot room. Whether it's the Veer's expandable footwell or the WonderFold's deep carriage, either option will help your kiddos keep their feet to themselves.
Each wagon comes with seating for two. The Veer's seats are contoured with a vented back, whereas the WonderFold's are raised, reclinable, and can be fully removed. The WonderFold also has a front zipper door for your kids to climb in themselves!
For the tiniest little loves, Veer takes their seating up a notch with the cruiser
Nap System
, which turns your cruiser into a JPMA safety-certified bassinet — suitable from birth up to 20 lbs!
When it comes to comfort and protection from the sun, the Veer has the option of purchasing two separate
canopies
(one for each seat), while the WonderFold comes with an adjustable canopy with full UV protection that covers the entire wagon and accommodates growing children.
CAR SEAT ADAPTABILITY
Veer Cruiser: Car seat compatibility with an adapter.

WonderFold Wagon: No car seat adaptability.

The Veer trumps the WonderFold when it comes to car seat adaptability. With the right adapter, you can lock just about any infant car seat onto the cruiser's frame!


MATERIAL & FRAME
Veer Cruiser: Military-grade aluminum frame; durable water-, stain- and fade-resistant fabric side walls.

WonderFold Wagon: Steel frame; removable interior polyester fabric with vegan leather cover; easy to clean.

We all know how disgustingly dirty kids can be and how hard they are on their things, so you want a sturdy wagon that can handle the wear and tear.

Luckily, both the Veer and the WonderFold are made with tough, long-lasting materials that can withstand the pressures of young children and rough terrains.

When it comes to cleaning off all their dirty handprints, the WonderFold has removable fabric for easy cleaning, whereas the Veer's seating is hose-washable for those easy, quick cleans.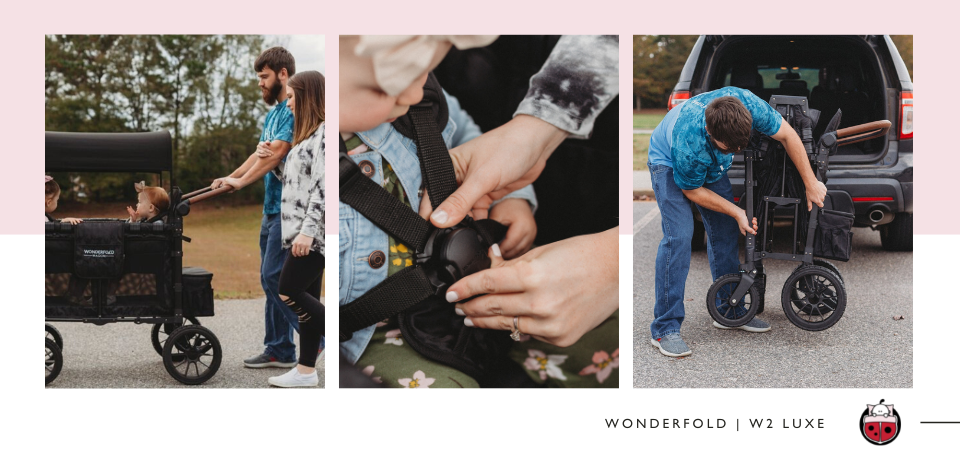 STORAGE & ACCESSORIES
Veer Cruiser: Snack-drink tray; 6 mesh interior pockets; 4 storage wells; 2 cup holders all included (expandable up to 6 cup holders).

WonderFold Wagon: Storage space with pockets on all sides; detachable rear basket.

Storage is a big deal if you are out and about with your littles all day. Who wants to be carrying around extra bags and snacks and drinks when you can just store it in your wagon?

Both the Veer and the WonderFold have ample storage space, but the WonderFold has the bonus of the detachable rear basket and exterior mesh pockets. If you want to have this option in the Veer, it will come at an extra cost.

Unlike the WonderFold, the Veer comes with a snack-drink tray for all your littles' snacks and two cup holders. If you want this feature in the WonderFold, you will have to purchase the add-on.

Speaking of add-ons...


SUPER-SIZE YOUR RIDE
If you are looking to beef up your ride, each wagon comes with additional add-ons that can be purchased separately.
Whether it's comfort seating, extra storage, or cup holders, both brands have you covered. But the Veer comes out on top with plenty of extras to super-size your ride.
Veer Cruiser ADD-ONS:
WonderFold Wagon ADD-ONS:
For those in need of even more space for their growing families, each brand has you covered. The
Veer All-Terrain Cruiser XL Wagon
and the
WonderFold W4 Luxe Quad Stroller Wagon
each hold 4 passengers!
SO WHICH ONE WILL IT BE?
Decisions, decisions, decisions! Which one will it be? Whether you choose the
Veer
for its newborn compatibility, luxury features, and lightweight design, or the
WonderFold
for its removable seating, deep carriage, and included canopy, you can rest assured that your tiny passengers will be riding safely and in style on all your family adventures!
---