Car Seat Safety 101- Protecting Your Precious Cargo
Jump to Section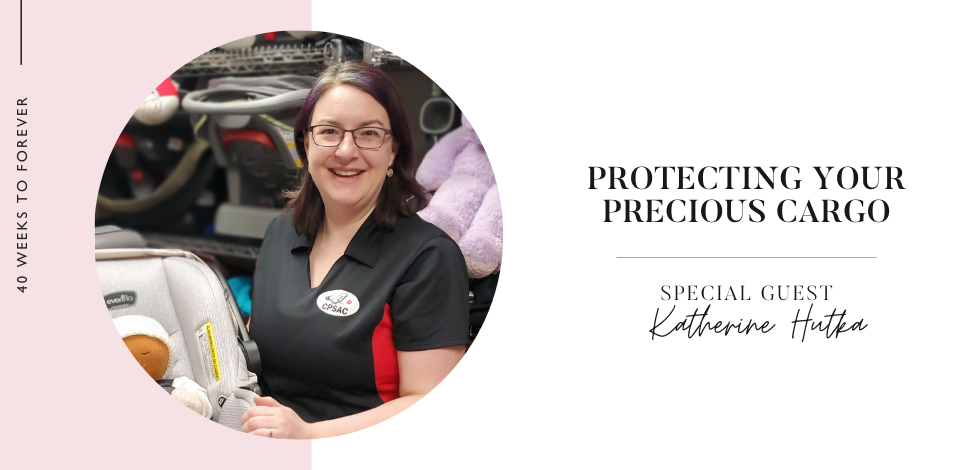 Safety first.
Always read your manual.
Bum at the back of the seat.
Chest clip at armpit level.
Rhianna was wrong when she said, "shut up and drive, drive, drive" because there is actually a lot to remember before you do. You've just had a baby and to say you might be overwhelmed is an understatement. You are learning how to breastfeed, you are logging pees + poops, dealing with lack of sleep, and you also need to become a car seat pro. The good news is you can start your
car seat
safety education NOW and by the time baby comes you will be feeling confident to head out on the highway.
Helping you find the right
car seat
for your vehicle and keeping your little ones riding safe is our top priority at Snuggle Bugz. So, in episode 6 of the 40 Weeks to Forever podcast we are chatting with Katherine Hutka,
President of the Child Passenger Safety Association of Canada
about all things Car Seat Safety & Protecting Your Precious Cargo. Katherine has YEARS of experience educating parents & parents-to-be about the importance of car seat safety. Our very own in-house product expert and registered Child Passenger Safety Technician [
CPST
] Haleigh Ryan also joined us to dispel some common car seat myths, discuss laws vs. best practices, and even set the record straight on a question that we get asked all the time - are all car seats REALLY created equal?
We know that parenthood is more than just
jammies
and
Jellycat
bunnies – so we trust that you will take away a lot of valuable information from our conversation with Katherine and Haleigh. 
Why is car seat safety so important?
So, we know that in Canada, one of the primary ways that children are hurt or killed in Canada is through unintentional injury, and especially motor vehicle collisions. And we also know that car seats save lives. And that properly used, a car seat can reduce the rate of injury or death by up to 71% for children. So, we know that it's really important, injury and unintentional injury, is the primary reason that children are hurt or killed in Canada, and that car seats are the solution.
Where is the safest spot in the vehicle to install my car seat?
We want to see babies in the backseat, and we want to see them facing the rear of the car. But I hear that your question is really, do we want them on the side or in the middle? In some European countries, it's the norm to put babies in the front seat. So, it's important to always address that, the safest place for any child under 13 is in the backseat of the car. But when it comes to either the middle or the sides, statistically we know that the middle is the safest spot. You know, it's the furthest point from any intrusion or any collision point on a vehicle. But that said, you know, we know that what we're looking for is a safe installation. And so sometimes the middle seat may not always be a place where you can achieve a safe installation. Maybe there's a, like a hump there, or maybe the seat is very, very narrow and the car seat, you just can't get it installed snugly, you want to make sure that it's tight that it can't move more than one inch, where it's attached to the vehicle at the belt path. And sometimes that can be harder to achieve in some vehicles in the center seat. And we also know that many people have more than one child. So, I like to reassure parents that any spot in the backseat is a safe position for their child.
Why is it important to keep our kids rear-facing for as long as possible?
We know that it is safe and safest for a child to stay rear-facing for as long as they still fit their larger rear-facing seat. And so that might be at two, until two years old. It could be until three years old, or it could even be until four years old and beyond. So, we now have rear-facing seats that go to 30 pounds, 35 pounds, 40 pounds, 45 pounds or even 50 pounds. So, we're looking at moving a child from that, that infant that rear-facing only seat until their next stage seat and then we want to keep them rear-facing for as long as they can still fit that car seat rear-facing.
BUCKLE UP!
If you are looking for the perfect car seat for your little one, we've reviewed some of the BEST in our round-up article
Top Infant Car Seats of 2021
. For your researching pleasure, we've shared the following infant seats:
LISTEN ANYWHERE, ANYTIME!
On this season of 40 Weeks To Forever, we are chatting with both moms and experts, who are sharing encouragement, advice, and answering some of the most common questions all parents have (some you didn't even know to ask)!
---