What is Baby Led Weaning?
Jump to Section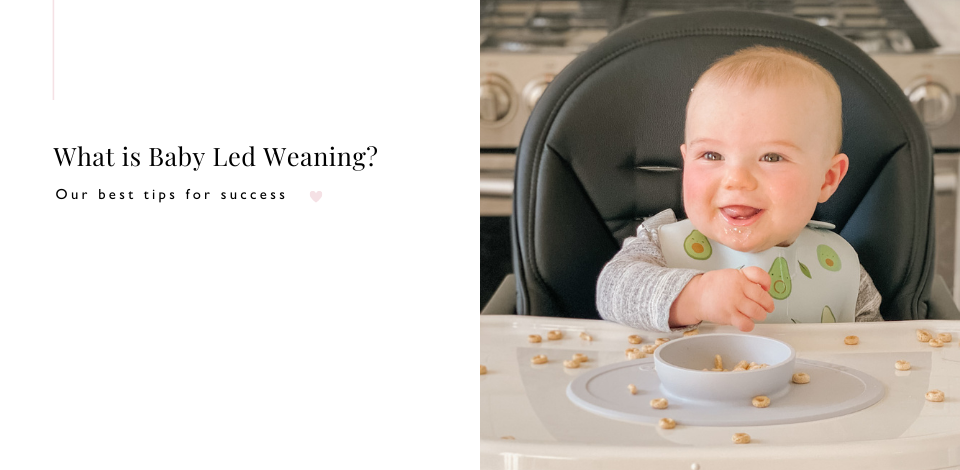 You've purchased your 
infant car seat
, 
stroller
, 
playard
, and now it's time to start using your brand new 
high chair
 and 
feeding accessories
 – hello cute 
bibs
 and 
spoons
! If your little one is around the 6 month mark and showing signs of readiness then it just might be time to embark on babes first foods journey!
So, how do you know if they are ready?


WHEN TO START
Why 6 months? While this has not been the case in past generations, it is now the suggested start time - especially because babies shouldn't have a tongue thrust when they start eating. A tongue thrust is when they automatically push food back out of their mouths with their tongue. By the time your baby is six months old, the tongue thrust should be long gone.
If your baby can sit up on their own for a little bit of time without falling over is a strong sign that baby might ready to eat solid food. They will still be wobbly at this time but that's ok!
Finally, if baby is staring at you like they want what you're eating, and this is combined with the previously mentioned milestones, you are probably good to begin solids!
If you've started to research appropriate first foods for baby then you may have stumbled upon a newer method called Baby Led Weaning – today we are going to "dig in" on what it's all about.
BABY-LED WEANING 101
Baby Lead Weaning, or BLW, is a newer method of feeding that gives your child the control to feed themselves. Essentially, you skip the purees [goodbye, sweet potato face mask!] and begin introducing solid foods from the beginning rather than traditional spoon feeding by the parent. With BLW you'll want to cut foods into long thin strips that your little one can easily hold themselves in what is referred to as a pincer grasp.

So, what's a good first food for BLW? Think avocado, banana, or believe it or not a strip of moist meat. You'll want to make sure that all of the food served is soft enough for your child to mash with their little gums. A great test is to ensure you can squish the food easily yourself between your thumb and finger. Giving your little one the independence to feed themselves finger foods may seem strange to those who have never heard of the method before but there are so many benefits!


IT'S A TIME SAVER
No need to spend hours in the kitchen steaming and pureeing your heart out. With baby led weaning your child can eat the same foods you would usually serve your family. No need to make a separate "kid friendly" meal for your child, instead just serve them fork tender foods from your plate. This comes in handy especially when the family is at a restaurant or headed to Grandma's house for dinner. Though it never hurts to leave home armed with snacks like fishies and cucumbers, right?


CHOKING & BLW
Gagging is very common but you may be sweating just thinking about the idea of baby led weaning – and if that's the case, then it might not be the right method for you. The truth is that studies show that as long as you are serving fork tender foods and avoiding such items as nuts, chips, bones, and sticky foods, there is no increased choking hazard.

Remember that your little one can pick up on your anxiety, so it's important to take things slow if you are feeling nervous. You want you and your child to be relaxed for their first interaction with food – enjoy the process!
ALLERGIES & BLW
Just like the traditional first foods route when it comes to allergies, the key is to introduce all potential allergens as early as possible. Studies have shown that regular exposure of allergens over time can help prevent allergic reactions. That being said, you will always run the risk of baby having an allergy. But it could be a reaction the first time, or the fiftieth time they eat it. It's one of those things we can't live in fear about.


MIX IT UP
We are not saying that you need to ditch the pouches and big "airplane spoon" bites altogether. Find a method that is enjoyable and comfortable for both you, your partner, and your little one. You can actually create an approach that combines the best of both worlds. Let your little one lick, chomp, and explore early on while also giving them opportunities to use a spoon. You can give them some practice by loading up a spoon and passing it to babe with a puree for them to still try feeding themselves.

You do you, Mama!

Just remember:
Keep the salt to a minimum
Always stay with your baby while they are eating
Be prepared, it's going to be messy!
This information was taken from Episode 5 of the 40 Weeks to Forever Podcast where we spoke with Megan, a Registered Dietitian from Feeding Littles. You can access the full interview here.
---