How to Choose the Right Glider for Your Nursery
Jump to Section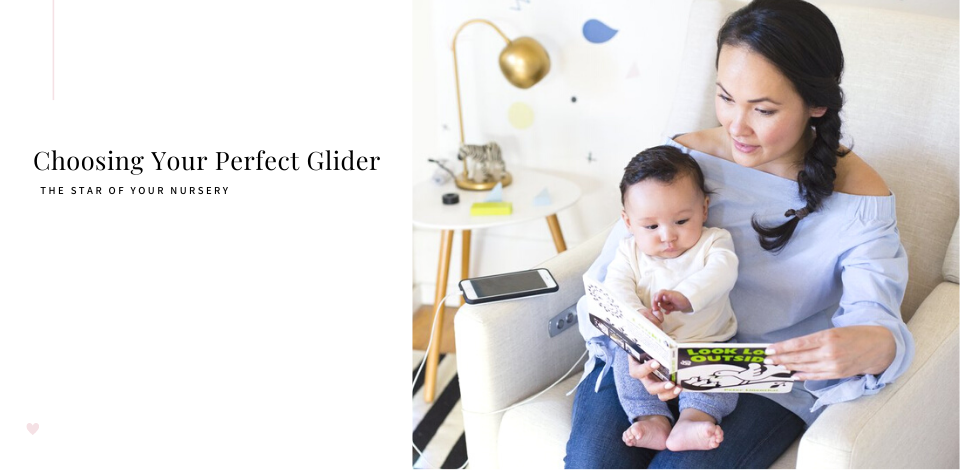 Choosing a
glider
for your
nursery
can feel pretty stressful and overwhelming – there are SO many different options out there, it can feel almost impossible to pick the one that's going to work the best for you. You want something that is ultimately going to be comfortable for you to sit in, feed baby in and spend a LOT of time in.
A lot of first-time (and returning!) parents often ask "which glider is the best one?" and the reality is that there is no "best"
glider
, but there can be a best glider for YOU. Your perfect glider may be different from someone else's, and there are a couple of different factors that can play into this decision-making process. 
Are you ready? Let's get into it!
FEATURES TO LOOK FOR
Here are some of the key features to look for when you're testing out
gliders
that don't get talked about as often:
When you're sitting all the way back in the chair, are your feet still able to touch the ground? This is an important thing to consider when you're trying out chairs as having your feet touch the ground when you're sitting fully back in the chair will ensure that you are able to get in and out more easily, as well as providing better lumbar support.


Are you able to get out of the chair using only one hand? The reason we recommend trying this one while you're testing out your options is that you will have your little one with you when getting in and out of the chair and this will occupy one of your hands. Some chairs have deeper seats and can be more difficult to get in and out of for people of shorter stature.


Is this something that you are looking to use as a long-term piece of furniture in your home? For some parents, your chair will be used only as your nursing chair and then it will get passed on, donated or moved to a new home. For others, they are looking for something that will transition into another room later on once it is no longer needed in the nursery. Taking this into consideration while browsing for different options can be important as if this is something you may want to transition into another room in the future, you may opt to choose something with a more versatile look so that it has more potential to match with other furniture.
BEFORE YOU BUY
Now that we've talked about the lesser-known things to look for, let's talk about some of the other things to look for when buying a glider:


Lead times – depending on the brand of the chair, lead times for products that we don't currently have in stock in our warehouse in Burlington can range anything from 6 weeks up to 14 weeks. The sooner that you are able to come in and take a look at some of the options you are interested in and start narrowing them down, the better chance you will have of receiving the chair within a desirable amount of time.


Price range – the prices on gliders have a vast range and can from $500 up to almost $3000 depending on the brand, style, material, and functionality of the chair. As mentioned previously, if you are looking to keep the chair as a permanent fixture in your home once you are no longer using it in the nursery, you may choose to invest in something that can be easily paired with living room furniture as well.


Comfort – your personal comfort level when sitting in your nursery chair is probably THE most important thing to take into consideration when shopping for this piece – because you are likely going to be spending a LOT of time in your nursery chair, you want to make sure that it is something you can sit in for a long period of time and feel comfortable and relaxed.


Aesthetic – the aesthetic of your glider can factor into your decision-making process if you are planning on moving the glider into another space later on, or if you are styling your nursery in a specific way. The colour, size, and shape of the glider can influence the overall theme of your nursery.


Functionality – the functionality of a glider can vary depending on the style and brand of the chair. Some of the functions that you may want to consider are:

Manual Recline vs. Motorized Recline
Swivel Base vs. Gliding Base
Rocking Chair vs. Glider


READY, SET, GLIDE! 
Your nursery
glider
is something that you will want to ensure suits your needs. Having a chair that you feel don't feel comfortable in or that you find hard to use can definitely put a damper on how you feel about your
nursery
and using the chair.  We want you to cozy up in it and feel like you have a safe haven to nurse, snuggle, and read books with your little one as they grow.  
Did you know that there are over 20+ different models of chairs on the
Nestled

 
showroom floor?  Plus, an even bigger selection is available to order that can be
viewed through their website. 
Remember, there is a perfect nursery glider out there for everyone!
---