Jump to Section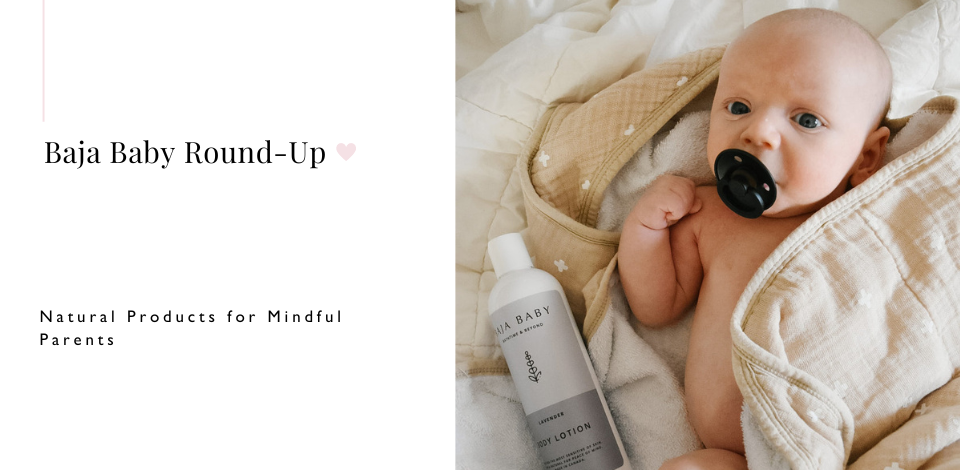 Are you tired of searching the ingredients list to make sure there are no harsh chemicals, dyes, or perfumes in your little one's
skincare
products? Then look no further than
Baja Baby
, a line of all-natural shampoos, lotions, balms, and more — all designed to take the worry out of soothing skin.
Baja Baby was founded with the goal of bringing clean, all-natural products to families and babies with sensitive skin. This Canadian-owned and operated company formulates, manufactures, and tests in small batches to ensure every jar and bottle meets its eco-minded quality standards.
In addition to using 100% natural, plant-based ingredients, all Baja Baby products are gluten-free, vegan-friendly, and PETA-approved cruelty-free. Their ingredients and manufacturing processes are Environmental Working Group VERIFIED,™ so you can trust that everything you're putting on your little one's hair or skin is free from Sulphates, Paraben, and Phthalates. Their products are made from the purest glacial water and are PH-balanced. Most importantly, everything is 100% satisfaction guaranteed — if you're unhappy with a product in any way, they will refund your money, no questions asked.
LET'S GET SOOTHING!
Baja Baby products are made with sustainable & ethically sourced, 100% all-natural, plant-based ingredients that gently nourish and moisturize baby's skin and hair. They have a great selection of products for your daily needs:
Baby Lotion
,
Shampoo and Body Wash
,
Conditioner
,
Detangler
,
Face and Body Ointment
, and
Diaper Balm
.
Let's take a closer look at each one to find the product that's right for you.
BABY LOTION
This lotion works like a probiotic for the skin. Packed full of nutrients and goodness, it's designed to hydrate all skin types in the safest possible way. Organic avocado oil, organic grapeseed oil, and organic sweet almond oil work together to nourish and protect babies' skin naturally 
Clinically tested, hypoallergenic, and as clean and green as an ingredient profile can be, this incredibly gentle lotion works like a dream on any skin type, but particularly the most sensitive skin. 
Available in 3 scents: Citrus, Lavender, and Unscented. 
SHAMPOO AND BODY WASH
There is no safer baby shampoo option on the market than Baja Baby baby wash. While this organic baby shampoo was designed with newborns in mind, it's perfect for children of any age, especially those with sensitive skin or cradle cap.
If you're a probiotics lover, then you'll also appreciate that this organic baby shampoo contains no chemicals. Instead, Baja Baby uses live enzymes to prevent microbial growth within our natural baby wash. 
Available in 3 scents: Citrus, Lavender, and Unscented. 
CONDITIONER
Safe bath times are now a guarantee for your little one, as Baja Baby has worked tirelessly to develop an organic baby conditioner that's filled with plant-based products. These vitamin-enriched formulations promise to condition the hair while reinforcing its structure, naturally. 
This is an ultra-lightweight conditioning cream; perfect for baby hair that needs only gentle conditioning. Gentle enough for everyday use, but still works its magic if used every once in a while. A little goes a long way — apply sparingly to the ends of the hair shaft for shiny, smooth hair! 
Available in 3 scents: Citrus, Lavender, and Unscented. 
NATURAL DETANGLER
This hair detangler can be used on wet or dry hair and makes brushing easier and stress-free, while adding shine and softness to hair! This product can be used at any age and on all hair types. 
Free from sulphates, parabens, mineral oils, nanoparticles, artificial fragrances, and silicone. 
Lightly scented with coconut extract, bergamot, orange peel, and ginger root essential oils for a fresh and revitalising brushing experience. 
FACE AND BOY OINTMENT
Helps to calm, soothe and heal dry patches on baby's face, head, and body to leave skin looking and feeling healthy and smooth. Great for irritated or flaky skin! 
Ideal for relieving redness and dryness from conditions such as baby acne, drool rashes, cradle cap, eczema and/or psoriasis.
Made with shea butter, green tea powder, and cucumber extract. 
NATURAL DIAPER BALM
A smooth, non-greasy balm from Baja Baby to help soothe dry, delicate skin and prevent chapping, cracking, or roughness caused by continuous diaper changes. 
Made with calendula, beeswax, lavender, and tea tree alongside other pure, natural ingredients to soothe and moisturize irritated skin.
TO SCENT OR NOT TO SCENT?
UNSCENTED: The unscented collection is perfect for parents who only want to inhale the precious smell of their own baby — a completely fragrance-free product with no essential oils added, making them ideal for the most delicate baby skin. These products might be unscented, but don't let that fool you — they still totally deliver on performance.

LAVENDER: Gently scented with essential oils, the lavender collection is naturally calming and invokes tranquillity. Lightweight in texture with a heavenly lavender scent, these products are designed to suit all hair and skin types — even the most sensitive skin— and are great for the whole family.

CITRUS: Zesty and fresh, you can keep your baby's gentle skin moisturized and their hair clean and conditioned with this collection that leaves you with the delicate aroma of orange blossoms. Packed full of all-natural nutrients, this collection works with all skin and hair types.


WORRY-FREE SKINCARE
Baja Baby
is your source for all-natural bath and
skin care products
. You will love their commitment to creating all-natural, cruelty-free products that are safe and enjoyable to use. But in case you're still debating whether or not to try some (or all!) of these awesome products, keep in mind they offer a 'no questions asked' 100% satisfaction guarantee, and they have dozens of 5-star reviews from other Snuggle Bugz customers — so you know lots of littles already love Baja Baby.
---