How Baby Jogger Grows With Your Family
Jump to Section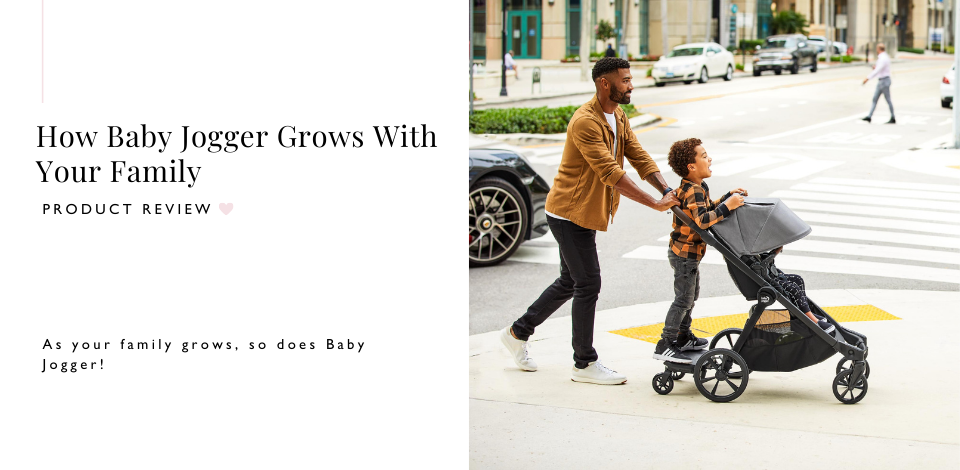 A growing family is a happy family!
As much as we would like babies to stay little forever, that's just not possible. As they change, so do their needs — and the needs of mom and dad.
With this in mind, 
Baby Jogger
 has designed a slew of future-proof products that will keep up with your family as it changes and grows. Many of Baby Jogger's products can be used with each other to help make life easier for busy parents. This makes it easy to add pieces to the system without worrying about compatibility issues.
Today we are exploring a few parent-favourite products that will be with you from the time newborn #1 leaves the hospital all the way through toddlerhood — they even have you covered if another baby or two joins the family.
Let's get to it!
CITY GO INFANT CAR SEAT
THE SPECS:
Suitable for children 4–35 lbs and up to 32" tall 
Car Seat Weight (without base): 10.65 lbs.
Car Seat Weight (with base): 16.65 lbs.
Dimensions: 8.7" H x 13.8" L x 27.7" W 


The City GO Infant Car Seat is a safe, comfortable carrier — designed to use from day one of your parenting journey.

The infant insert ensures even the tiniest of newborns fit securely. Once they outgrow it (usually at the five or six-month mark) you can remove the insert to accommodate your growing baby.

The seat can be installed with its base or used in vehicles without a base (i.e. taxi/Uber, airplane, etc.). Families with secondary vehicles can purchase an extra base for convenience.

The City GO shines where flexibility is concerned.

For example, let's say you're running errands and your newborn dozes off during the car ride. Instead of waking them up and transferring them to a stroller (and let's be real, babies hate being disturbed during naptime), you can simply connect the City GO to a stroller*. Stroller seats are too big for newborns to safely sit in, so attaching the car seat to the stroller ensures your child is secure and saves you from carrying your child everywhere when running quick errands.

So which stroller does the City GO connect to?

*To connect the City GO to a stroller, you'll have to purchase an adapter.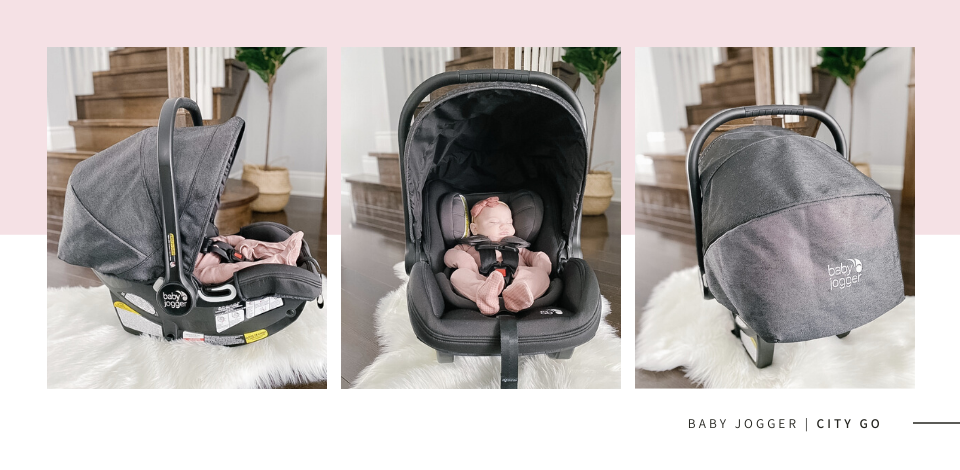 CITY SELECT 2 STROLLER
THE SPECS:
Suitable for children up to 45 lbs 
Dimensions: 35" L x 23.8" W x 41.1" H
Folded Dimensions: 12" L x 24" W x 38" H 
Stroller Weight: 26.71 lbs 


Baby Jogger's City Select 2 Stroller can be configured in a staggering number of variations — 24 to be exact! However, this all depends on the number of accessories you add to the stroller.

The City Select 2 is a high-quality stroller and is built tough for use on any terrain.

It comes with a fully adjustable seat that children can relax in while mom and dad push them around town! For safety purposes, it's advised they only sit upright in the stroller seat around the 5 to 7-month mark.

But the fun doesn't stop there when it comes to this stroller…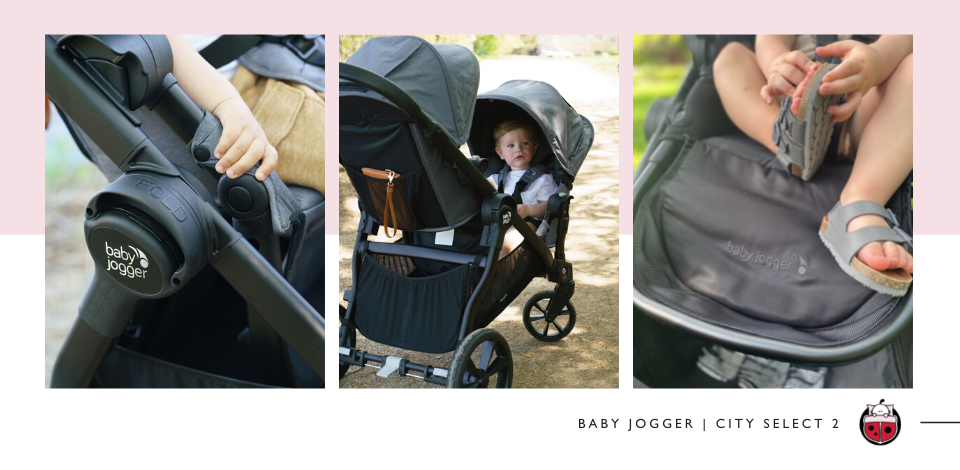 CITY SELECT 2 ACCESSORIES
Baby Jogger offers a range of accessories for customization of the City Select 2:


1.  EXTRA SEAT 

The City Select 2 Second Seat Kit transforms the stroller into a double stroller, which is great for parents of twins or rapidly expanding families.

Holding an additional 45 lbs., this kit includes mounting brackets for hassle-free attachment. You can also position the seats in 4 different ways — facing each other, facing away from each other, both facing in, or both facing out.

Like the seat on the Select 2 Stroller, it comes with all the same features for a comfortable and safe place for children to rest.


2. GLIDER BOARD

Say you just added baby #3 to your family, but your oldest is still a little young to walk reliably without getting tired or arguing. Never fear, Baby Jogger's Glider Board is a fun accessory designed to help parents with multiple kids. The glider is also great if you have a toddler who likes to explore and keeps getting out of the stroller every two minutes.

Equipped with 2 sturdy wheels for a smooth ride, the board attaches to the stroller's rear axle for a secure platform to stand on. Kids can then hold onto the handlebars while mommy or daddy pushes them along with the stroller. Holding up to 45 lbs., the glider's surface has an anti-slip coating to keep the rider in place and can be folded up, so it's out of the way when not in use.


3. PRAM

If you'd prefer your newborn rest in a pram, you can attach the City Select 2 Deluxe Pram to the stroller instead of using the City GO car seat. Prams allow infants to lay flat, whereas a car seat doesn't have this capability. Car seats also have a 2-hour time limit, for safety and developmental reasons.

Supporting newborns up to 25 lbs. (or 6 months old), this all-black pram comes with a plush quilted mattress for luxurious comfort and ventilation to keep fresh air flowing. It also protects baby from the elements with a UV-rated canopy, wind guard, and foot cover.


4. CONSOLE

Food is fuel and a must when you're on the go, which is why Baby Jogger created the City Select 2 Parent Console.

Fully insulated to keep food and drink cool/warm for long periods of time, the console attaches to the stroller's handlebar for convenient access. It includes a dedicated cup holder, a large, covered storage pouch, and a secondary storage pouch that can double as an additional cup holder.
GROWING WITH YOU
Baby Jogger's products accomplish two important things. First, they give parents a comprehensive system that can be used in various stages of early childhood development. Secondly, their well-designed and comfortable products make it easy for both parents and children to fall in love with them. If you are just starting your family and you don't know where your parenting journey will take you Baby Jogger is a great option. Whether you end up being a one-and-done family or having a few more sproglets down the road, you can count on the versatility of Baby Jogger's products to accommodate your needs.
---