UPPAbaby MINU vs. MINU V2 Stroller
Jump to Section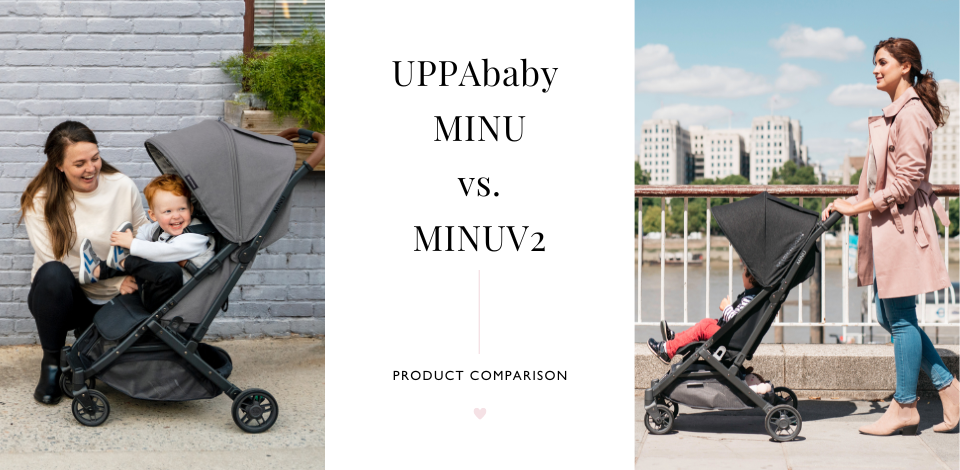 It's always a new adventure for your little one when they venture out of the house!
Sometimes these adventures are an all-day affair, other times they are simply a trip into town to run a few errands. When heading out for the latter, the last thing you want to do is lug around a huge stroller everywhere you go.
Luckily,
UPPAbaby's

 
MINU strollers help make those quick trips easier. They're significantly smaller and lighter than a full-size stroller, which can be bulky and weigh upwards of 30 lbs.
Parents have come to know and love the original
MINU,
but the new
MINU V2

 
has now joined the party and is ready to mix things up. If you're wondering what the difference between these two strollers is, you've come to the right place. Get comfy because we're diving in.

THE SPECS
The MINU is UPPAbaby's first generation model of their travel stroller line.
Child Weight Limit: Suitable from 3 months to 50 lbs.
Folded Dimensions: 11.5" L x 20.5" W x 23" H 
Unfolded Dimensions: 35.5" L x 20.5" W x 41" H
Stroller Weight: 14.8 lbs. 
The
MINU V2
is, as its name suggests, the newer version.
Child Weight Limit: Suitable from 3 months to 50 lbs. 
Folded Dimensions: 11.5″ L x 20.3″ W x 23″ H 
Unfolded Dimensions: 35.5" L x 20.3" W x 41" H 
Stroller Weight: 16.9 lbs. 
Comparing specs, the only differences are a slight discrepancy in the strollers' folded width and a 2.1 lbs. weight gain in the newer V2.
A CONVENIENT TRUTH
Truth be told, these two MINU strollers have a heck of a lot in common. However, the MINU V2, being the newer model, does have a few upgrades.

But first, let's go over their commonalities.

Convenience is the name of the game with MINU strollers.

For starters, a single-release button opens and collapses the unit in one swift motion. Babies fit perfectly in the 9-inch deep seat, which reclines for additional relaxation. These strollers are sturdy and easy to move, plus feature a handle wrapped in REACH-certified leather for a comfortable grip.

The canopy can be extended to cover your little buddy and provide them with UPF 50+ sun protection, while a magnetic peekaboo flap helps with ventilation and monitoring.

Underneath the seat is a substantial amount of space for storage which can hold up to 20 lbs., and a rear pocket houses any valuables you bring along (perfect for your cell phone).

UPPAbaby also includes a shoulder strap to carry the MINU when collapsed.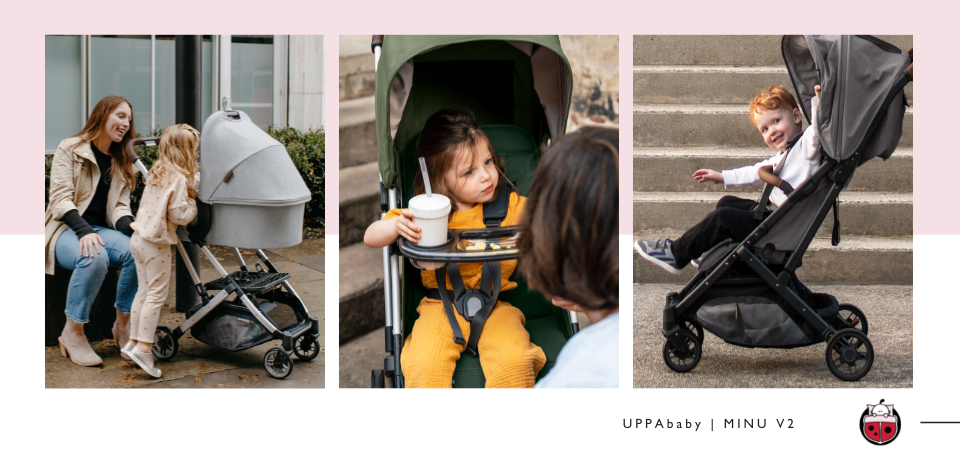 THE WHEELS ON THE STROLLER GO ROUND AND ROUND
Helping smooth out your baby's ride is a 4-wheel suspension system and four foam tires. Both MINU's have airless tires, so you'll never have to worry about getting a flat! While these tires aren't the most rugged on the market, they can easily withstand terrains like gravel and lawns (just don't expect to do any serious off-roading).

When the stroller is stationary, simply secure it with the flip-flop-friendly pedals located next to the rear wheels. The right pedal keeps it in place, while the left pedal unlocks the stroller when you're ready to get moving.


ROAD TRIPPIN'
MINU strollers are designed for travel, making them one of the top choices to bring on flights. They're small enough to be gate-checked and can even fit into most overhead bins when used with the appropriate travel bag. Both the
MINU TravelSafe Bag

 
and the
MINU V2 Travel Bag
are made from high-quality, luggage-grade, 600 denier material and can be worn as a backpack for easy transport.
We'd also recommend registering with UPPAbaby's TravelSafe program before your trip, which insures your stroller (at no extra cost!) in case the airline damages it during transit.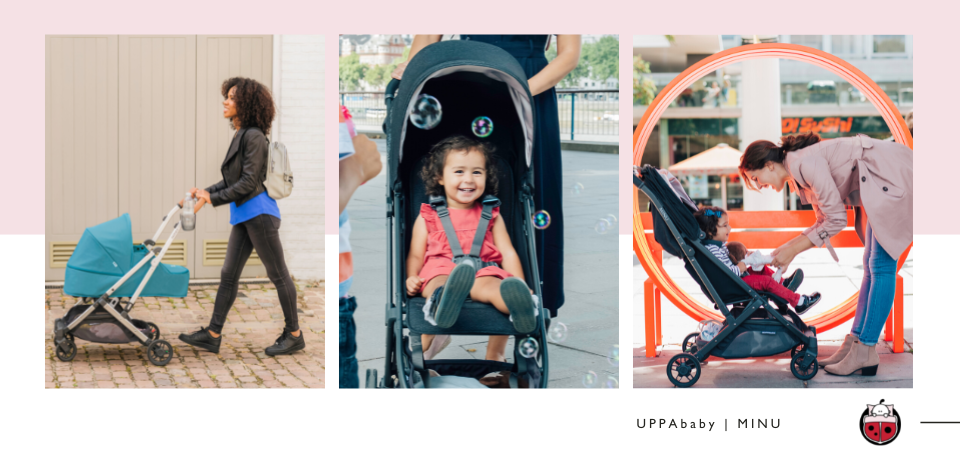 MORE THAN MEETS THE EYE
MINU strollers are very versatile, and you can add accessories like a
 

cup holder

 
and
snack tray
for when your little one gets the munchies.
Additionally, the stroller can accommodate newborns when you add UPPAbaby's
From Birth Kit
bassinet (a companion
 

rain shield
for it is sold separately).
Speaking of wet weather, both the MINU and V2 have an optional
 

rain shield
you can purchase as well.
Finally, UPPAbaby's
MESA Infant Car Seat

 
can also be attached to the MINU stroller frame using an adapter, rivalling the flexibility of their high-end
CRUZ
and
VISTA
models.
ONE OF THESE THINGS IS NOT LIKE THE OTHER
So what are the main differences between these two travel strollers?
Colours: The MINU is available in three colours, whereas the MINU V2 has five colour options. 


Belly Bar:

 

The MINU V2 includes an attractive leather-wrapped front bumper bar

 

to protect babies and keep them from falling out of the stroller (it also gives them something to grab onto). A bumper bar can be

 

purchased separately

 

for the MINU, but the downside is you'll need to remove it every time you collapse the unit. 


Adjustable Footrest:

 

The V2 features an adjustable footrest that can be lifted when your child is little, then lowered as your child grows. Weight: The upgraded MINU V2 weighs 2.1 lbs. more than the original. Canopy: Both canopies provide wide coverage, however, the MINU canopy pops out (and, in our opinion, isn't as aesthetically pleasing), whereas the V2 has a proper extendable canopy that unzips. 


Unfold:While the fold on both models is the same, the opening mechanism on the V2 is spring-loaded, which helps make unfolding the stroller a little easier — which is great when you have your hands full. 


Bassinet mode:

 

Another handy feature about the MINU V2, is that with adaptors you can use the

 

V2 Bassinet

 

and use the stroller from birth.


EENEY, MINU, MINY, MOE
The
MINU V2
stroller is great for quick trips around town and when you need a less bulky stroller for vacations. While the V2 predominantly shares the same features as the MINU, it does have a few handy new ones and a couple of additional colours, so you can find the perfect one for you. Regardless of which colour you pick, you can be sure your MINU V2 is the perfect adventure companion for both you and your baby. So get out and explore!
---
---