Jump to Section
Yipee for Pip + Phee!

Becoming a parent is one of life's greatest joys and comes with lots of things to feel grateful for and celebrate. However, parenting can also pose its own unique set of challenges, from sleepless nights to endless diaper changes, not to mention, the struggle of trying to decide what products are right for your bundle of joy. With so many options on the market, it can be hard to know where to start. This is even more important when it comes to the fabrics that touch your baby's delicate skin. That's where Pip + Phee comes in.

Designed with both parent and baby in mind, Pip + Phee's sleepers, hats, bibs, and bows are contemporary, soft, and make sense for the environment too (that deserves a celebration).

So, let's explore Pip + Phee's products and discover how they can help make your life as a new parent just a little bit smoother.


BAMBOO WHO?
Not only is bamboo the favourite snack of our furry friends, the Panda, but it's also used to make some pretty amazing materials too, including high-quality fabrics. Why, you ask? Well, bamboo is a superstar when it comes to absorbency and breathability, making it perfect for keeping your little one dry and comfortable. Plus, it's naturally hypoallergenic and antibacterial, which means fewer germs and less sneezing.

If that's not enough, bamboo is also one of the most sustainable materials on the planet, growing faster than any other plant and requiring very little water. It also absorbs more carbon dioxide from the air and releases more oxygen into the environment than cotton does. So not only are you doing a favour for your baby, you're also doing a favour for the environment. Now, that's what we call a win-win situation!


TOP 3 THINGS WE LOVE
There are many reasons to love Pip + Phee, but here are our top 3, and we think you'll agree. ;)

1. Wide Selection of Colours
Pip + Phee offers a wide range of colour options to choose from, all of which complement each other, so you can mix and match knowing your sweet babe will always be coordinated and ready for their close-up (come on, you know you'll be sharing an adorable insta-pic). 

2. Temperature Regulating 

While it can be particularly difficult to decide what to dress baby in based on the weather (oh, Canada!), Pip + Phee makes things simple, thanks to its amazing bamboo material, which will naturally help keep baby cool in warmer weather and warm on cooler days.
3. Comfy Cozy
The blend of bamboo and spandex gives Pip + Phee's products a super silky, soft fabric with the perfect amount of fit & stretch, that won't irritate sensitive skin.
Bonus points are given for Pip + Phee's fabrics being OEKO-TEX Standard 100 Certified, meaning they have been tested for harmful substances and are determined to be harmless for human health.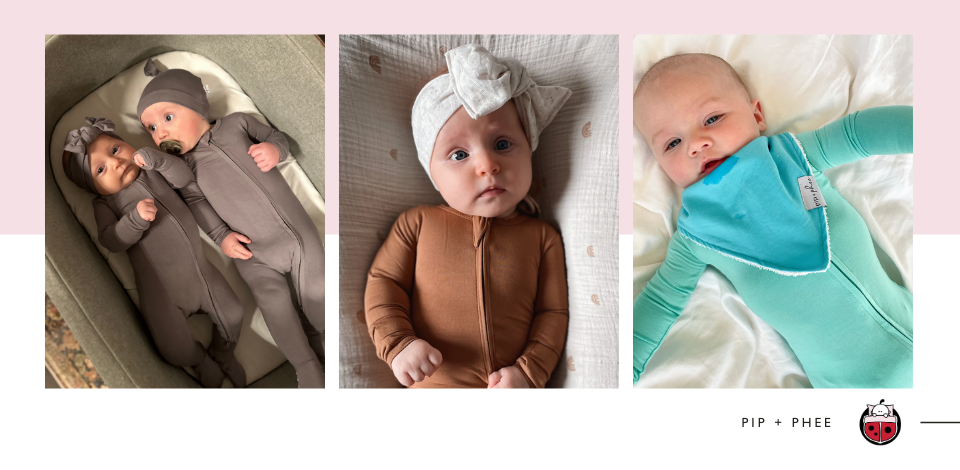 PRODUCT ROUND-UP
BAMBOO FOOTED SLEEPER:
When your little one is spending up to 18 hours a day sleeping, they'll be spending a lot of time in a sleeper, so you will want to make sure they're wearing only the best. With Pip + Phee's Bamboo Footed Sleeper, you can rest easy knowing they're in the perfect fabric for any season. Temperature-regulating, breathable, and oh-so-comfortable, your baby is sure to love these footed sleepers as much as we do. Parents can choose from 13 swoon-worthy colours with sizing options for newborns through to 18 months. The sleepers also feature a two-way zipper, fold-over mittens (on newborn and 0-3-month sizing), foot grips (on 3-6-month + sizing), and ankle elastics to keep even the squirmiest little feet in their place. Washing is easy too, just machine wash on cold and tumble dry on low heat.

BAMBOO SLEEP BAG:
If you want to give your little one the feeling of being wrapped up in a cozy blanket, without all the potential risks that come with that, the Pip + Phee Bamboo Sleep Bag is the way to go. The Sleep Bag is silky smooth to the touch and has convenient features like two-way zipper for easy diaper changes, tag-free neckline, is machine washable and can be tumbled dried on low. The interior is durable, breathable, and comfortable, making it the perfect addition to your sleep schedule.

BAMBOO BOW:
Add a feminine touch to any of your baby girl's outfits with the Pip + Phee Bamboo Bow. These beautiful bow headbands take even the simplest of sleepers and turn it into a statement! Plus, they are super soft and stretchy enough to fit newborns as well as bigger babies, so your sweet girl can step out in style for months to come with this adorable bow.

BAMBOO KNOT HAT:
Whether you want to add an extra cute touch to your baby's OOTD or you need to protect those precious ears from a chill, the Pip + Phee Knot Hat has you (and your baby's ears) covered! Made with the same silky soft material and colourways as the rest of Pip + Phee's products, baby will never look cuter or be cozier! Plus, you can adjust the look of the hat by retying the knot to provide either a floppier or more snug look.

BANDANA BIBS:
Cool accessory or functional feature? You decide! Either way, Pip + Phee's Bandana Bibs are ready for anything. These lightweight and flexible bibs have a super soft bamboo outer layer and absorbent terry backing which can take on even the biggest of drools. Coming in the same classic 8 colourways that Pip + Phee offers, the Bandana Bib is sure to be the best addition to any outfit.
PIP PIP HOORAY!
There are so many reasons to love the options from Pip + Phee. Seeing just how much detail they incorporate into their products to provide high-quality, sustainable items that will last, is truly a reason to say — Pip Pip HOORAY! We know that your family will love and enjoy each and every piece.

For additional care instructions and more details on Pip + Phee's incredible line-up, click here.
---