Bugaboo Giraffe vs. Stokke Tripp Trapp High Chair
Jump to Section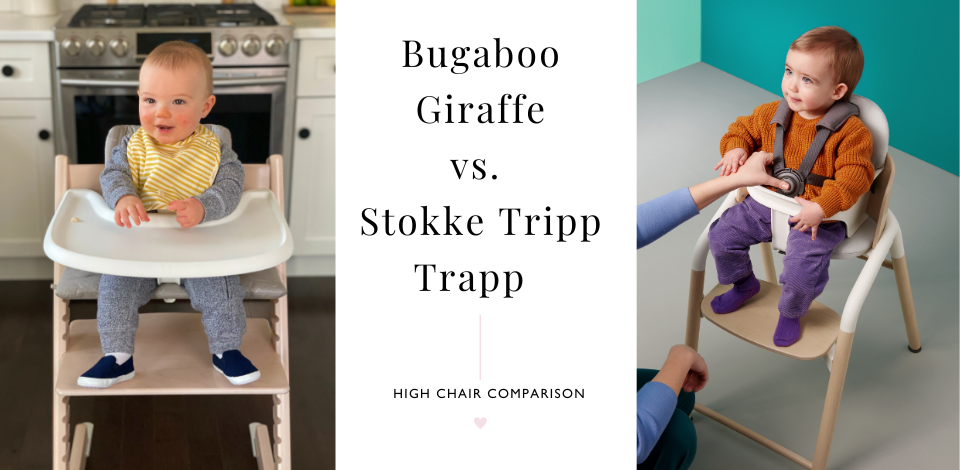 Amidst the vast array of high chairs available to the modern parent, a great quest looms to find the one that shall reign supreme! Okay, perhaps "great quest" may be a bit dramatic, but if you are like most parents, you are on the hunt for a great quality product that will stand the test of time.
Let's face it, not all high chairs are created equal. Some are portable and fold up nice and small; others are built for longevity with tons of adjustable features to keep your child comfy as they grow. If you're looking for a
high chair
with innovative features and a sleek design, you would be hard-pressed to beat the
Bugaboo Giraffe Complete High Chair
and the
Stokke Tripp Trapp High Chair.
These two heavy hitters offer many of the same features, so we wanted to take a closer look to see how they stack up. Which one will be worthy of accompanying your little one on their culinary adventures? Keep reading to find out!
THE SPECS
BUGABOO GIRAFFE:
Dimensions: 23.2" L x 21.1" W x 30.1" H 
Chair Weight: 11 lbs. 
STOKKE TRIPP TRAPP:
High Chair Dimensions: 19.3"L x 31.1"W x 18.1"H 
 Chair Weight: 15.4 lbs. 
From this quick comparison, you can see the Stokke Tripp Trapp weighs a few pounds more than the Bugaboo Giraffe and is considerably wider and shorter. You may be looking at the images of these products and think they are polar opposites — to be fair, they do have two very different aesthetics. But…surprise! By digging a bit deeper, you'll find them to be very similar.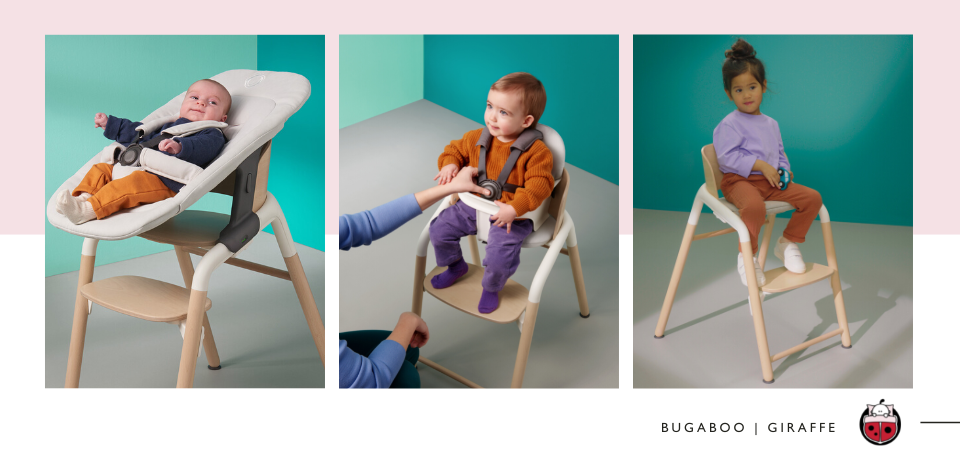 SHARED FEATURES
CONVERTIBILITY
Both the Bugaboo Giraffe and Stokke Tripp Trapp are convertible high chairs. This means they can be converted into different configurations to suit your child's age — starting from newborn all the way up to big kid and beyond.
THEY'RE EUROPEAN
There's an old saying that Europeans are simply better at life, and the construction of these chairs would certainly support that! Built strong and sturdy for years of use, the Bugaboo Giraffe is Dutch-design, while the Stokke Tripp Trapp is Norwegian. Both can hold a ridiculous amount of weight (the Giraffe has a capacity of 220 lbs. and the Tripp Trapp holds 242 lbs.), which is a direct result of the craftsmanship and materials used. These chairs are eco-conscious, using sustainably-sourced European beechwood that meets EU timber regulations and will last for generations.
ERGONOMIC DESIGN
Kids grow up quickly! One minute they are a sweet smiling infant, the next, they are a disgruntled toddler determined to see how far they can throw their food across the kitchen. Regardless of which phase you're in, it's important to keep them in ergonomically correct positions. Both high chairs have a strong, upright back, and adjustable footrests to keep little legs in the proper position as they grow.
GROW WITH ME
Both high chairs are designed for use after your child is six months old, however for the few months of your child's life, you can attach a Newborn Set to either chair frame. This is a bouncer your newborn can lay in safely while the chair elevates them to table height. Babies need a lot of TLC during this time, so the bouncer allows parents to keep an eye on their little one, while freeing up their hands to enjoy their own meals. Please note: both the
Giraffe Newborn Set
and
Tripp Trapp Newborn Set
are sold separately. After the 6-month mark, kids can sit in the chairs' baby set. A snug harness on the baby set ensures your little one doesn't fall out of the chair when they get a case of the squirms! As they grow, the baby set can be removed and the chair can be used as a dining chair or elsewhere around the house.
FOOD TRAY
To keep mealtime messes confined (and you can bet there will be some), both
Bugaboo
and
Stokke

 
include a detachable tray for your little one to turn into their own Jackson Pollock masterpiece! Removing the tray also makes it easier to move your child in and out of the seat, and allows kids to be pushed right up to the dinner table for family meals.
CONVENIENT CLEANING
Both chairs can be cleaned by simply wiping them down with a damp cloth. Additionally, the trays can be tossed in the dishwasher and cushions can be washed in the laundry machine, making mom and dad's job a lot easier!
WAYS THEY DIFFER
Surprisingly, there's actually very few differences between these two high chairs.

As we mentioned earlier, the size and weight of these chairs is slightly different. In addition, Bugaboo offers the Giraffe in 3 colours, while the Stokke Tripp Trapp has a whopping 11 colours for you to choose from.

Finally, the Giraffe has a more traditional high chair look, though it definitely boasts a more elevated design than most other high chairs on the market. The Tripp Tapp on the other hand, is more in line with a contemporary style you'd find at IKEA.

ACCESSORIES
You can purchase the
Bugaboo Giraffe Complete High Chair Set
, which comes with the chair, baby set & harness, and a tray. If you wish to use it for their first 6 months, you'll need to purchase the
Newborn Set
. Bugaboo also offers the
Baby Pillow Set
and

 
Junior Pillow
for use with the chair as your child grows. Additionally, you can turn the Newborn Set into a free-standing rocker by connecting it with the
Giraffe Rocker Frame
.
The
Tripp Trap High Chair
comes with the chair,
baby set
& harness, the
Stokke tray
, the Tripp Trapp
Classic Cushion
, and extended gliders for added stability. To use the chair during the newborn phase, you'll need to purchase their
Newborn Set
(they also offer a
reversible cover
), or you can buy the
Tripp Trapp Newborn Bundle
and add in the
Baby Set
and
Stokke tray
as they grow.
WHICH ONE IS RIGHT FOR YOU?
So our journey comes to an end. These
high chairs
are so similar we had a hard time deciding on a winner.
For only a few dollars more, the
Stokke Tripp Trapp
offers a slightly more well-rounded chair right out of the box with lots of colour options to fit any decor. That being said, the
Bugaboo Giraffe High Chair
is also a beautifully designed product that will look great around any kitchen table. In the end, the deciding factor will likely come down to your desired aesthetic. Which chair is more attractive is pretty subjective and up to you to decide.
What we do know is that both chairs provide a place for your little one to sit securely and comfortably, enjoying their meals with the family.
For more information, check out our in-depth reviews of the
Bugaboo Giraffe
and
Stokke Tripp Trapp High Chair
. For more great high chair options, be sure to check out our top picks of the year,
here
.
---